As we continue to see face-to-face meetings decline, sales professionals increasingly rely on sales tech with 65% using CRM systems and tools.
And there is no shortage of companies on the market who sell CRM software (see: the search engine of your choice).
So what is a CRM system? What can you do with it? How do you pick the best one?
In this article, we'll define CRM software, explain why you should use one, outline 7 elements of what to look for in a CRM platform, and answer a few questions about CRM software in general.
Let's get started.
What is a CRM system?
A CRM (aka, Customer Relationship Management) system incorporates all the processes and operations related to maintaining and developing your business' customer relationships — lead tracking, pipeline management, sales, customer satisfaction, and so on.
Think of a CRM system as a digital filing cabinet. Every conversation with potential or current customers gets its own file, making it simple and efficient to reference and to create reports that ultimately, helping teams make better decisions.
A CRM system is quite powerful. And with great power comes great responsibility, so says "Uncle Ben" Parker in Spiderman.
In the pre-CRM world, businesses relied on spreadsheets to manage business processes. CRM technology means many — if not most — of these systems are now automated, customer lifecycle activities from lead management to sales and post-purchase experiences now live in the CRM.
While CRM platforms started as auxiliary systems for sales teams, they are now used in more departments, including sales, marketing, and customer service.
At its core, a CRM empowers teams to track performance, segment audiences, and organize work. CRMs serve as the single source of truth to make better decisions and improve communication.
EXAMPLE #1: As a sales manager at a medical clinic, you could use a CRM tool to:
Manage patient and doctor-generated health information
Triage patients to specific physicians
Oversee prescriptions of chronically-ill patients
Organize patient outreach activities
Drive loyalty programs
House marketing campaigns
EXAMPLE #2: As the owner of a real estate company, you could use a CRM tool to:
Manage properties
Measure revenue by agent
Organize tenants and prospective buyers
The bottom line: Whether you're a small business with just a few employees or an enterprise managing large teams, CRM systems are essential to maximize your efforts.
Is a CRM system necessary?
Short answer: Yes.
With very few exceptions (freelance writer, politician, teacher, etc.) a CRM is necessary. If you have more than a handful of clients, if you manage prospects and leads and customers, if you run a team, CRM software will be your BFF.
Can you operate without one? Sure. Can your run a successful business with only pen and paper? Of course. But it's a lot harder, certainly less efficient, and the possibility for errors goes up significantly.
With the increasing volume of data most sales teams deal with and the high personalization current customers expect, CRM software becomes crucial for the success of any organization.
Research from LinkedIn suggests that 79% of decision-makers feel reluctant to talk to sales professionals who don't know much about their company. The same study reveals that 9 out of 10 sales reps believe trust is vital for closing the deal.
Trust and personalization are highly correlated.
As Dale Carnegie stated in his seminal book, How to Win Friends and Influence People, "The only way on earth to influence other people is to talk about what they want and show them how to get it."
Managing customer relationships means engaging with emotions: desires, goals, frustrations, fears, and so on.
The right CRM helps turn raw data into actionable insights about your audience — a competitive advantage no matter the size of your organization or the industry you are in.
monday.com's Work OS enables teams to build a custom CRM specific to how your organization works:

Each and every lead will be assigned a salesperson, tagged with the appropriate status, and include details such as deal size, demographic information, and contact info.
While the data is essential to have, on its own data doesn't tell the full story. The true power of a CRM is in the outcomes:
Better customer service by notating customer preferences that are easily accessible
Higher efficiency and productivity since the marketing automation can send emails in bulk, automatically log calls, and trigger actions based on criteria you've set
Improved customer segmentation by grouping customer information with tags and specific fields
Streamlined internal communication tools that keep everyone on the same page and able to make more informed decisions
Personalize your service: store valuable insights about your customers, including past conversations, demographics, and psychographics to provide a more personalized experience.
Improve organization: keep all your documents and customer information organized and handy for everyone in your team.
Increase transparency: consolidate your data into a single source of truth and improve decision-making.
Foster productivity: collaborate with your teammates and speed up communication between departments.
With benefits like that, it's no wonder companies are so keen on adopting a customer relationship management tool.
But not all CRM systems are created equal.
The traits and characteristics of the best CRM solutions
If you search "CRM software" on Google, you'll end up with 2,320,000,000 (or so) results.
If you search "CRM software" on Capterra — one of the largest software reviewing networks — you'll get thousands of results.
Suffice to say, choosing the right customer relationship management software is not easy and often varies based on a lot of factors. This abundance of options may lead to "analysis paralysis."
The ability to store customer information and make your life easier are table stakes. You also need a CRM that will grow with your organization, constantly update itself, and provide the features necessary for today and for the future.
To help you on your search for the right CRM, here are XX traits and characteristics to consider when shopping for a CRM:
1. Contact management
Contact management is a must for CRM platforms. Again, table stakes.
monday.com allows teams to easily store customer data and organize contacts based on the criteria that are most important. Email addresses, phone numbers, all communication, and birthdays, to name a few.
monday.com "remembers" this information so you don't have to: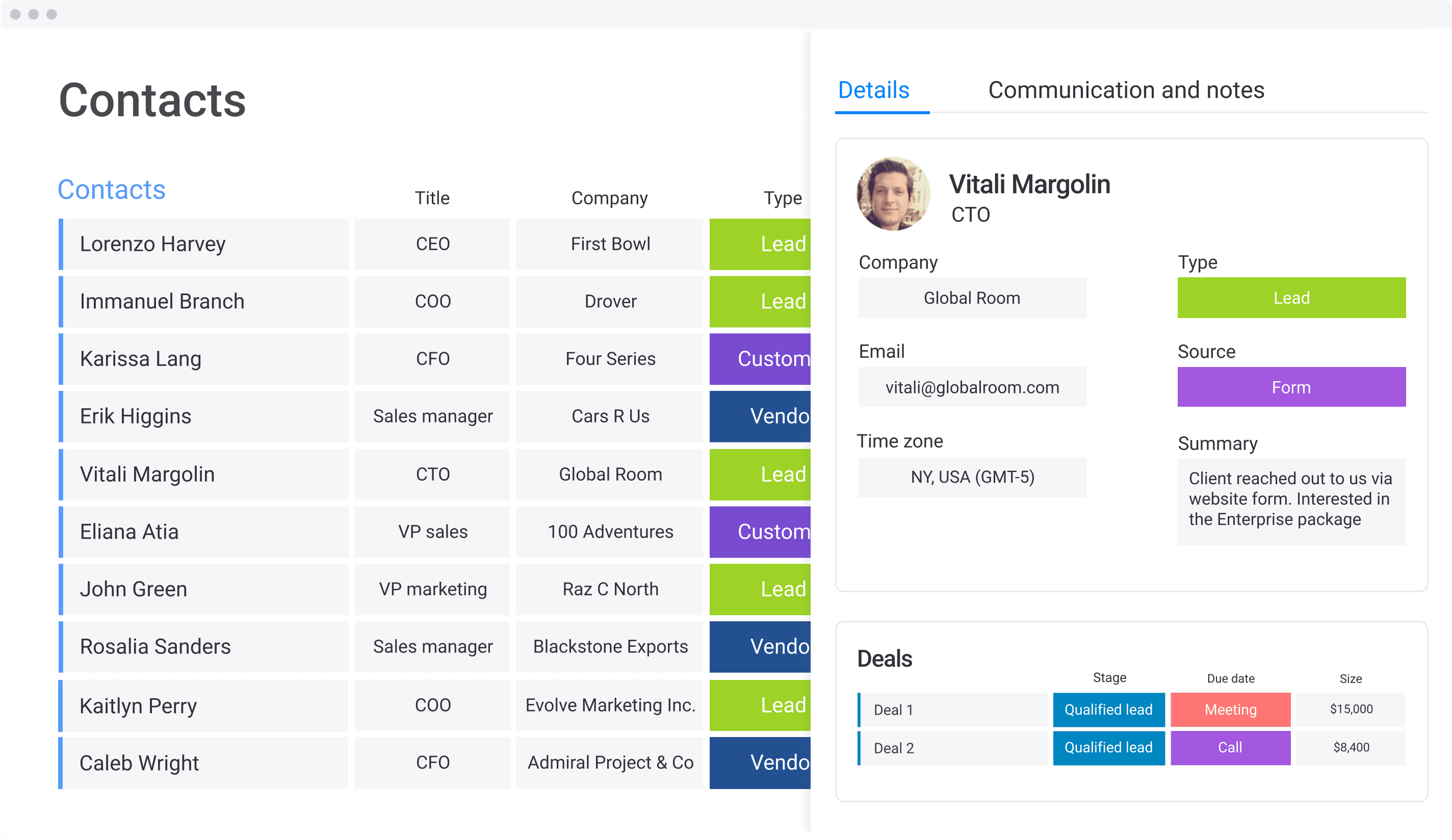 And that's just the tip of the (CRM) iceberg.
You can also share these customer profiles with your team, schedule notifications based on conditional data, tag team members, and keep relevant documents (contracts, proposals, agreements) — handy for all.
2. Workflow automation
Workloads are not decreasing. Plates on not getting lighter.
As priorities grow, the need for high-quality marketing automation increases.
monday.com automates your busy work, mitigates human error, and provides teams and employees the bandwidth to get more work done.
Leverage the power of over 250,000 human actions, including recurring tasks, notifications, status changes, due dates, dependencies, and more. Here is how we view automation: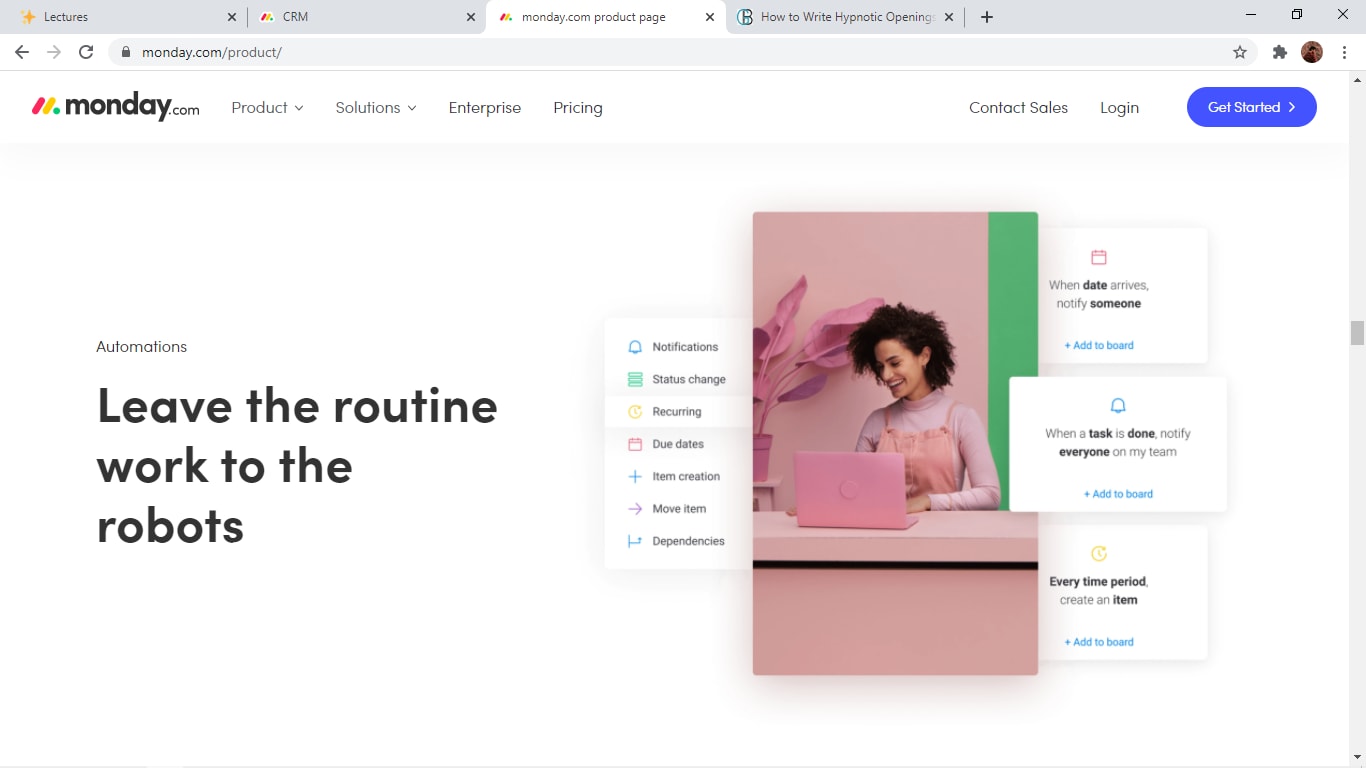 Set your marketing automation, customer relations, and status updates on autopilot. Cut down on the amount of sent emails while providing an all-in-one source of truth that the entire team can rely on.
Create "if this, then that" automation recipes that help not only save time but improve service quality.
EXAMPLE: Your marketing team added a lead generation form on your sales page.
Create an automation to notify a specific sales rep when someone fills out the form. Here is what it looks like:

Taking it to the next level, set up an automation so the form fill triggers an email via an integration (more on integrations in the next section).
Automations can also be used to notify the team each time a free trial is about to expire.
These are just a few examples of what you can do with our automations. The sky's the limit — you can automate almost anything.
And setting up these automations is pretty straightforward … a couple of clicks with a dash of creativity will build the perfect automation recipe.
3. Integrations
Some CRMs can stand on their own, but most will be that much more powerful (and efficient) by integrating with technologies you already have in place — email marketing, MS Office, Google Drive, Zoom, and so on.
Choosing the best CRM integration can save countless hours and resources.
monday.com has dozens of integrations ranging from marketing software and software development tools to project management tools. A CRM integration can provide visibility in real-time that isn't possible with traditional software.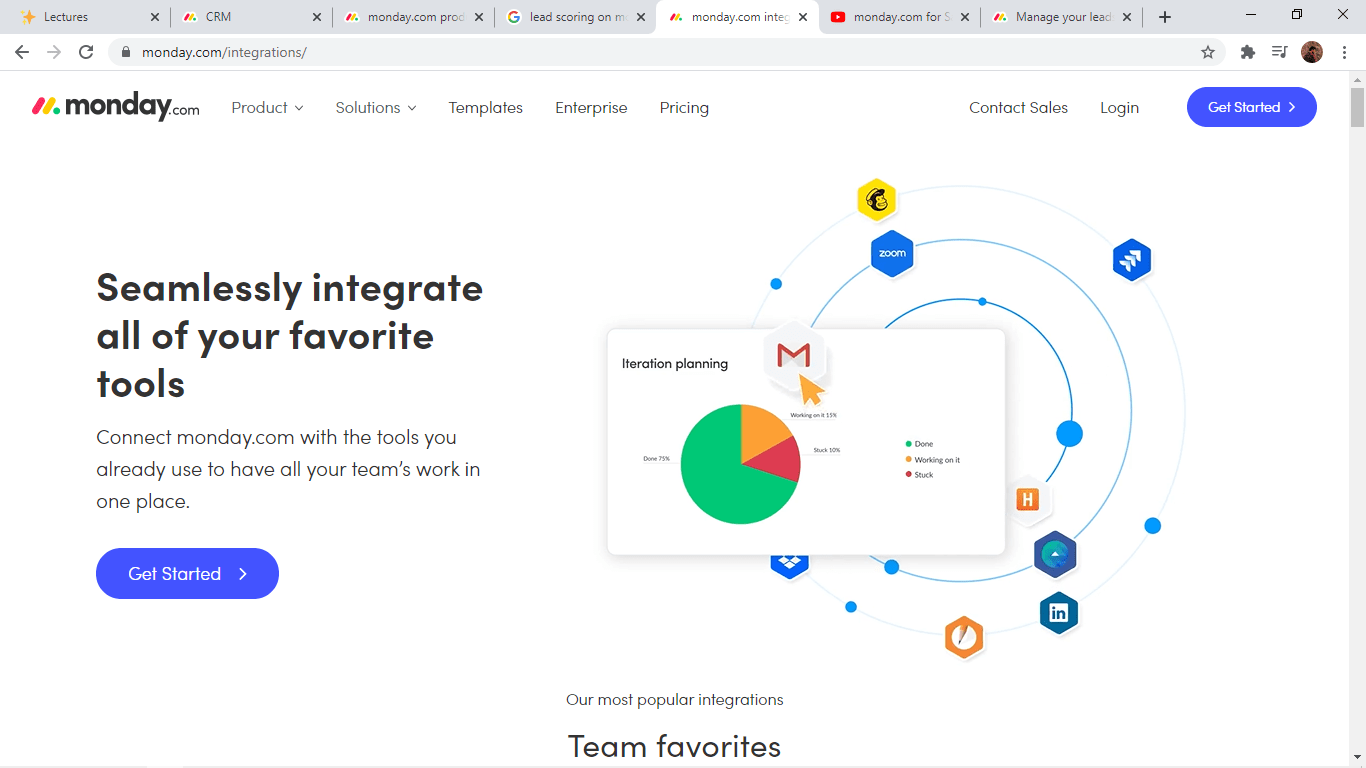 Integrations and automation work hand in hand.
EXAMPLE: Your remit is to improve communication across the sales team and optimize workflow.
One option is to integrate monday.com with Slack and create an automation to notify #sales channel each time the status of a client changes. Or … turn Zoom meetings into items automatically so you never miss client calls.
With our integrations center, you can create all of these — and much more.
4. Pipeline management
Sales is about generating new leads and managing existing ones. The top sales reps tend to be those who can effectively manage their pipeline.
Pipeline management is the process of breaking down your sales cycle into stages and overseeing and directing prospect interactions at each stage.
Without the right systems in place, this process can be tricky.
Our Sales pipeline template means teams can structure all the steps involved in a traditional sales process — from the first touchpoint to the closed/won stage — and manage all leads visually.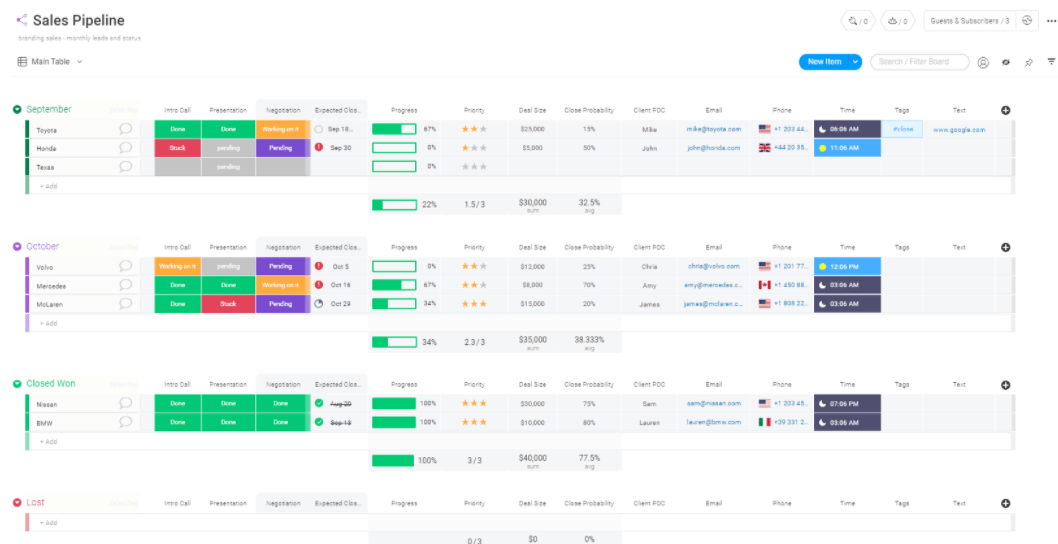 This template is fully customizable and you can set it up in minutes.
5. Flexibility & Ease of Use
If the CRM training lasts a week or longer, it may be a system to avoid. There is no reason teams should not realize immediate value. The software should be "out of the box" intuitive. .
Your CRM also needs to evolve and grow as your organization changes.
Any effective CRM program must be flexible — adapting to your needs as they develop.
If you grow, the platform must be able to handle that growth.
If you want to implement a new process, the platform should allow you to do it.
If you want to get creative and design something completely new, the platform must be customizable enough to get it done.
The monday.com Work OS gives immediate access to more than 30 columns, dozens of dashboard widgets, and 200+ templates — fully customizable with built-in drag-and-drop functionality.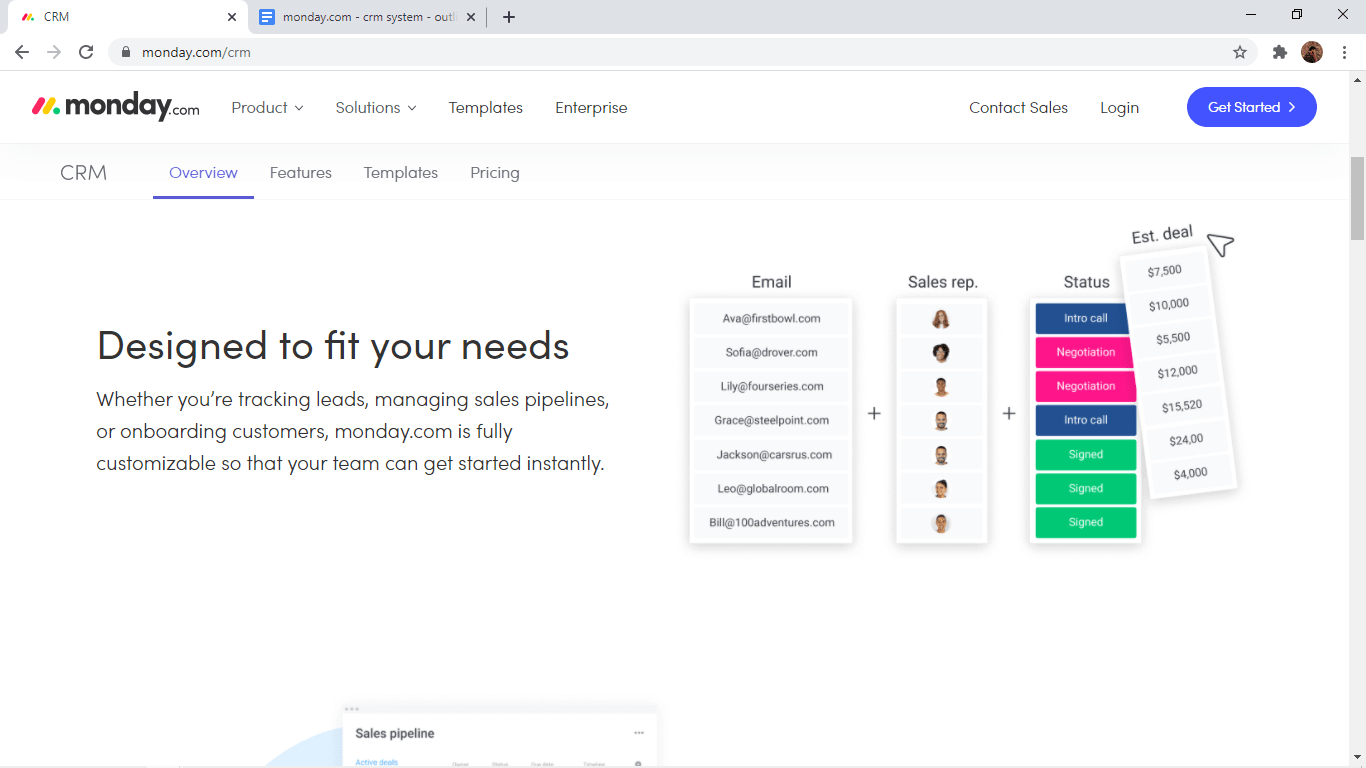 BONUS: We provide access to our low-code apps framework, which enables you to build the exact work, CRM, or project management system you want, using monday.com as the foundation: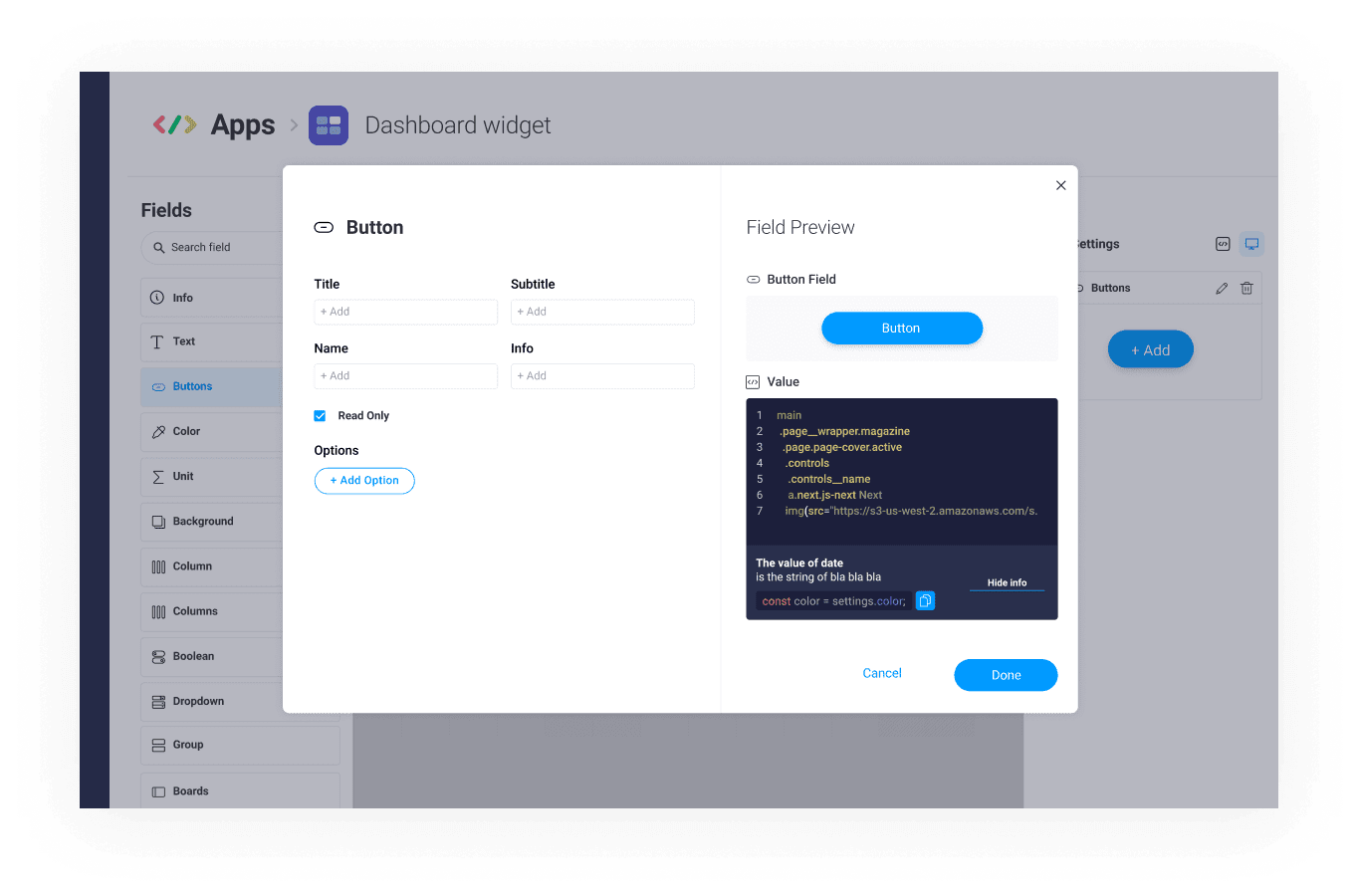 6. Collaboration & Communication
Very few organizations operate in a silo. We rely on other humans and teams to do their jobs so we can do ours.
The CRM software you choose should enhance your ability to collaborate and communicate. If sales managers can't get timely updates or sales reps lack the ability to prioritize customer engagement, there will be a problem.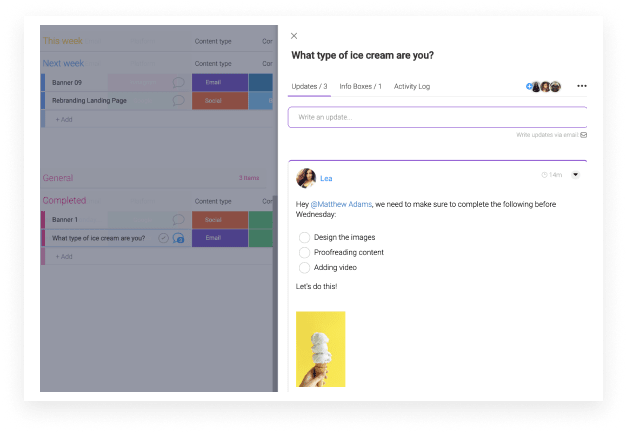 Tagging and notifying teammates is a crucial feature. So is integration with your favorite instant messaging and video conferencing apps.
monday.com is collaborative by nature.
From the very moment an account is created, teammates can be added and start working together to manage marketing, sales, or customer support.
Our Timeline view makes it easy to oversee schedules — who is doing what when. This means you are more likely to meet deadlines and get more work done.
But that's not all. We offer all the features necessary to optimize teamwork and work more efficiently.
Some of these features include:
Task management: assign tasks to team members and measure progress with ease.
Real-time messaging: communicate with your teammates in real time and get rid of back-and-forth email chains.
Video chat integrations: integrate Zoom or your favorite video conferencing app.
Reminders: set reminders to ensure every task is completed on time.
Comments: add context on items and provide feedback on deliverables.
7. Multi-device + cloud-enabled
Cloud-based CRM systems reign supreme. Accept no substitutes.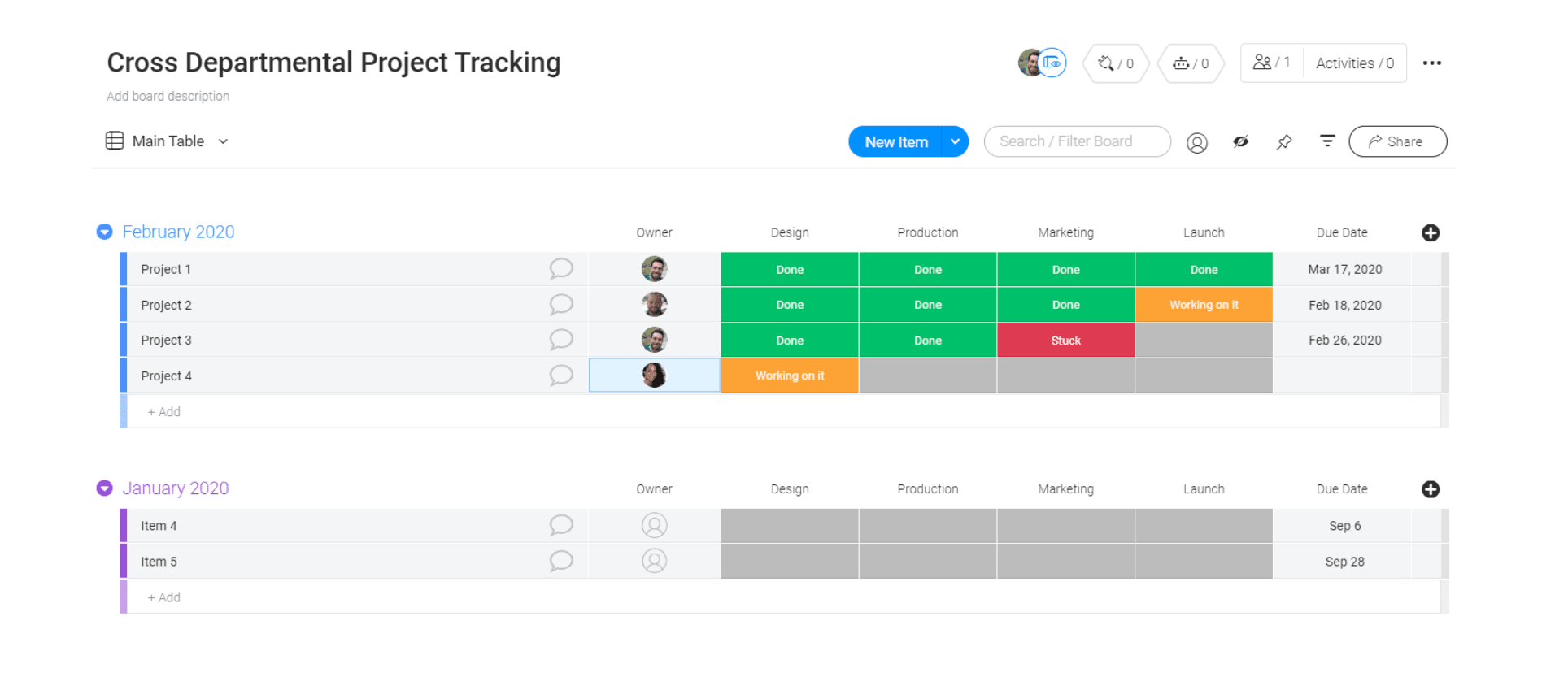 Cloud-based CRM systems are invaluable to the busy professional who is always on the move and needs the flexibility to work from home or on the road.
Operating in the cloud provides your entire organization with greater flexibility since all your customer information is accessible from any computer or device.
Data recovery is a breeze since everything is stored off-site in multiple locations. There's also very little software maintenance required. Plus, you get increased security for your data, which should help your peace of mind.
8. Data dashboards
An image is worth a thousand words.
A well-designed visual can turn even the most complex of concepts into something graspable to anyone.
monday.com provides customizable data dashboards and multiple visualizations so you never miss what's most important to you.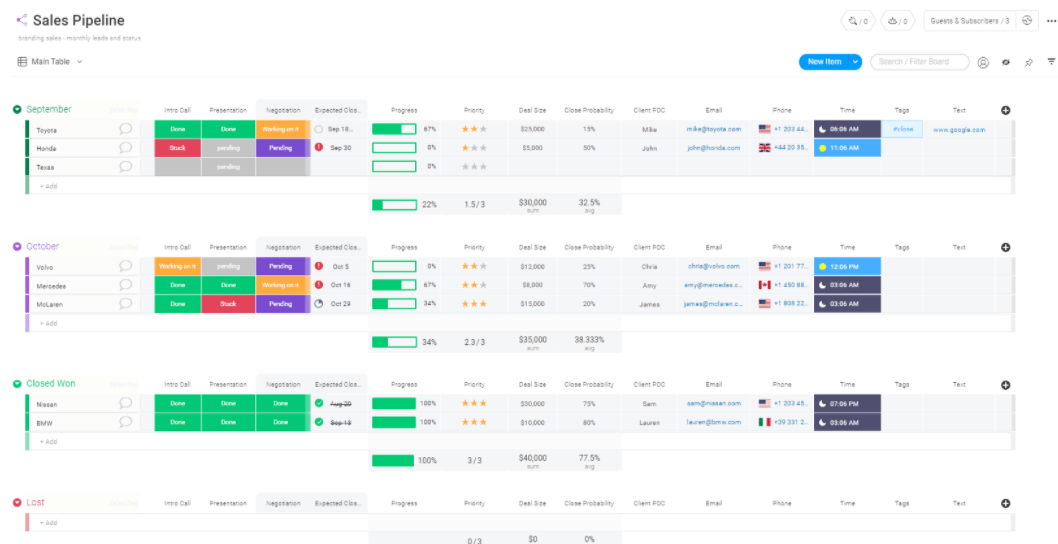 Some of our visualizations include: Gantt Chart, Timeline, Workload, Calendar, Map, Kanban, and more.
With more than 20 widgets available, design any dashboard you can imagine.
Note: If you want to take a closer look at all of our widgets and exactly what you can do with them, you can check it all out here.
So ... what is the BEST CRM solution on the market?
The biased answer is monday.com. However, our Work OS is not just CRM software — not in the traditional sense, anyway.
monday.com is a fully customizable Work OS. It's a platform upon which you can build a CRM system exactly the way your team wants and needs.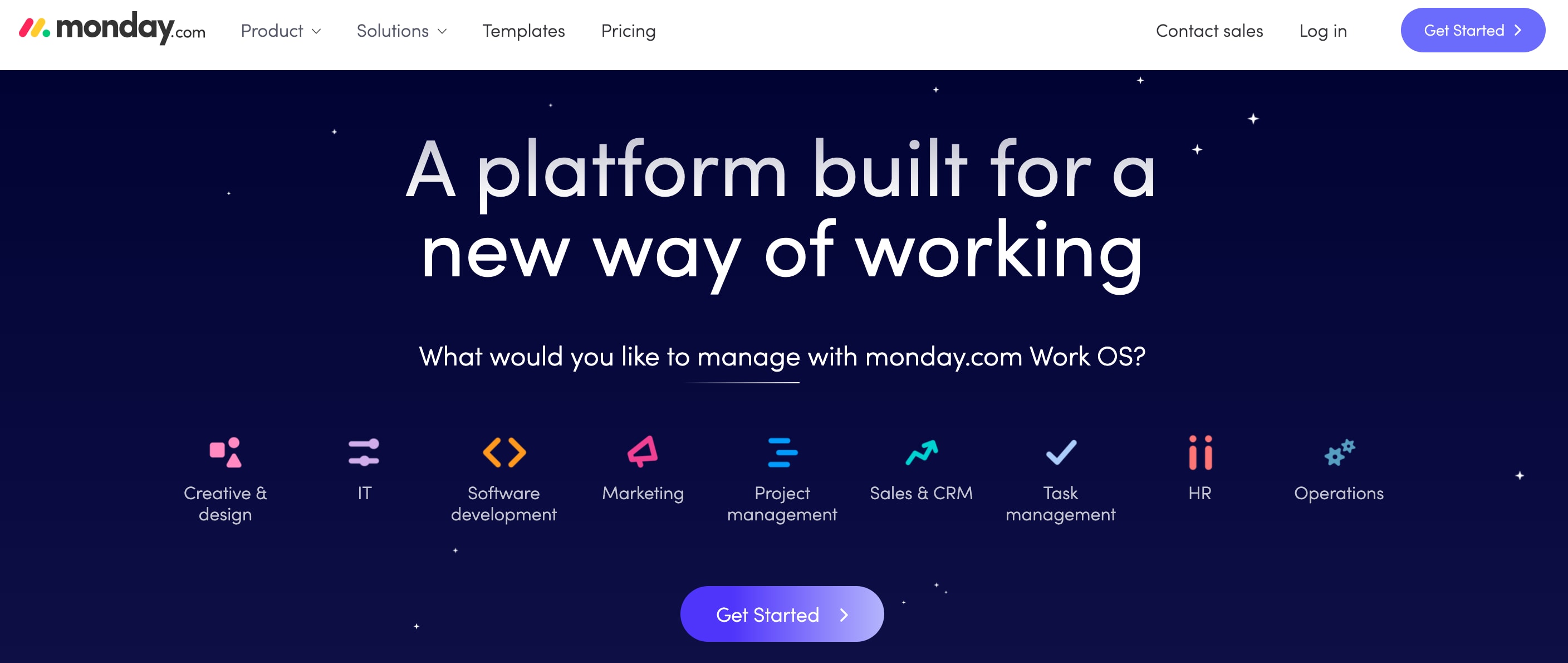 But that's just barely scratching the surface.
You can use our platform to manage projects of any size, oversee employees and teammates, handle HR operations, develop software, work remotely, streamline creative processes, and much more — ALL IN ONE PLACE.
Our CRM-specific features include:
Pipeline management: see the progress of your leads at a glance and get control over your sales pipelines.
Customer engagement: track every customer interaction with ease and gain valuable insights on how to increase customer retention.
Team collaboration: centralize your communication under one roof and improve collaboration across departments.
Marketing automation: organize and manage your marketing team and operations in one place.
Customizable dashboards: visualize your data in a way that makes sense to you.
Reporting: customize your reports and share valuable customer information with clients, stakeholders, and teammates.
Workflow automation: automate your most repetitive work and use that time into more productive initiatives.
Integrations: seamlessly integrate all your favorite tools and apps.
Contact management: keep the information of your clients and prospects handy for everyone.
To learn how to use monday.com to build an effective CRM platform, here's a quick video:
No matter the industry you're in, the right customer relationship management system can boost your lead conversion, increase sales, improve your customer support, and help you get the most out of every customer interaction.
If you're looking for a robust platform that's also flexible and easy to use, then monday.com is the right option for you.
Try our customizable CRM template today and see how our CRM system can start working for YOU!