Your CRM should be the central place for all customer communications but it often can become just part of your company's collection of tools and software — most of which don't integrate with your CRM. In fact, companies use a whopping 900 applications on average — only 28% of which are integrated in any way.
Integrating as many tools as you can with your CRM improves customer experience and breaks down the silo of information that often exists within each of these tools. In this article, we'll discuss why CRM integration is so important and how to execute it on monday.com. 
What is a CRM and why is it valuable?
A CRM is a type of software that bridges the gap between an organization and its customers by consolidating a variety of customer-related information into a single database for streamlined access and analysis.
By organizing and tracking all details of your company's customers in one central place, it's easier to foster processes for good customer relationships and a good experience. With a CRM, you can manage the entire customer experience from marketing to sales and support, all on one platform, saving you a lot of time.
What is CRM integration?
CRM integration is a seamless connection between your CRM and any other software applications that your company relies on for day-to-day operations. This includes cloud applications, legacy infrastructure, and on-premises software.
CRM integrations allow data to flow to, from, or between your CRM and those other applications. This creates a CRM system that allows your CRM to always host a complete, accurate picture of your business and customers. For example, on monday.com you could either use it as a CRM and integrate with Gmail or you could use monday.com for work management and add a Salesforce integration.
How CRM integrations can help
If your CRM isn't integrated with other relevant tools within your organization, then your employees are making decisions about customer communications and sales without all of the information they need.
Without a CRM integration, data is siloed, and that will negatively impact lead generation and your bottom line.
For example, if your email marketing tool isn't integrated with your CRM, your sales team has to track down important data in multiple places. This could cause them to miss time-sensitive opportunities for outreach, like if the person they've been chasing for the past 2 months just downloaded the latest whitepaper.
CRM integrations can also help mitigate the effects of poor cross-team collaboration. Within your organization, each department has multiple pieces of software and systems, all of which house data and information on your customers. 57% of business leaders say that their CRM is fragmented for this very reason — all departments have their own version of a CRM.
Below is an example of a situation that could be avoided if a CRM integration was in place, keeping everyone on the same page.
Say a customer shares a positive review of your product and tags your organization and two members of your organization reach out to her — the marketing team, to ask her to be a part of your ambassador program and the legal team with a cease and desist note for improper use of your logo. These conflicting messages together make a bad customer experience.
What CRM integrations are needed?
The section above outlines just a few use cases for CRM integrations. Here are a few more functions you'd want to consider:
Email marketing
Business intelligence
Accounting
Marketing automation
Scheduling apps and calendars
Ecommerce
Workflow management
Ready to try some out for free? Start with a trial on monday.com — no credit card required!
How to integrate your CRM system
First off, you want to make sure you choose a CRM that's able to be integrated with the other tools your organization uses. Some popular options include tools like Salesforce, Copper, and Pipedrive. But many business teams use monday.com's work operating system (Work OS) to build a custom CRM that suits their needs. Our CRM template includes functions to help you collect CRM data and data from other software, as well as automate status updates and communications.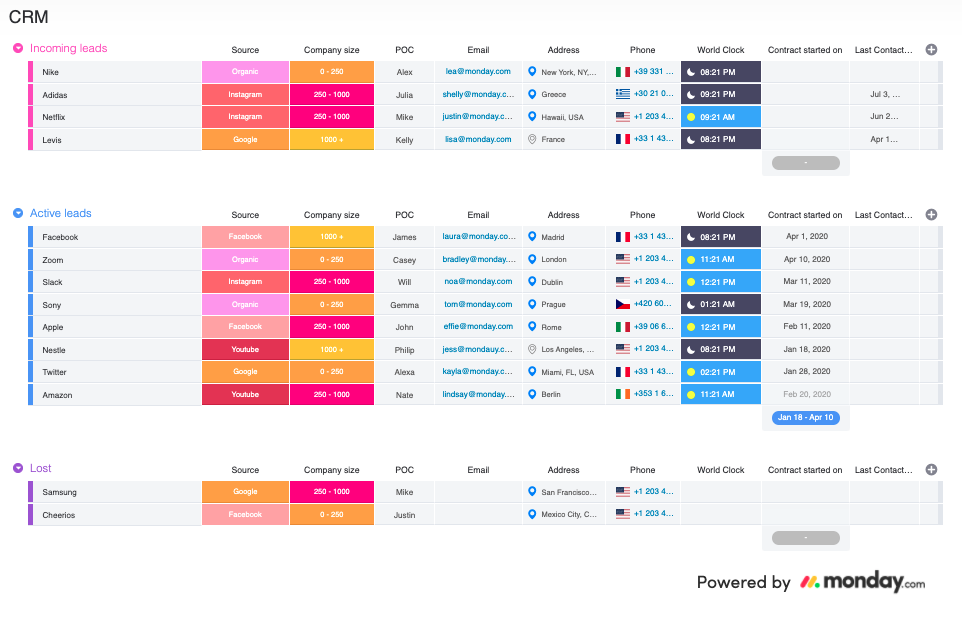 For more detail on how to set up a CRM using monday.com, check out this video:
While monday.com is a complete work management platform, we know it's not the only tool you have in your arsenal. This is why — like all CRM software — monday.com works best as a CRM solution when integrated with other tools throughout your organization.
So let's dive into how to set those up.
How to set up integrations within your CRM
To integrate your monday.com CRM with another tool, you'll want to first travel to the main board that houses most of your CRM information. Then, at the top of the board, select the plugin symbol to "plug in" your tool.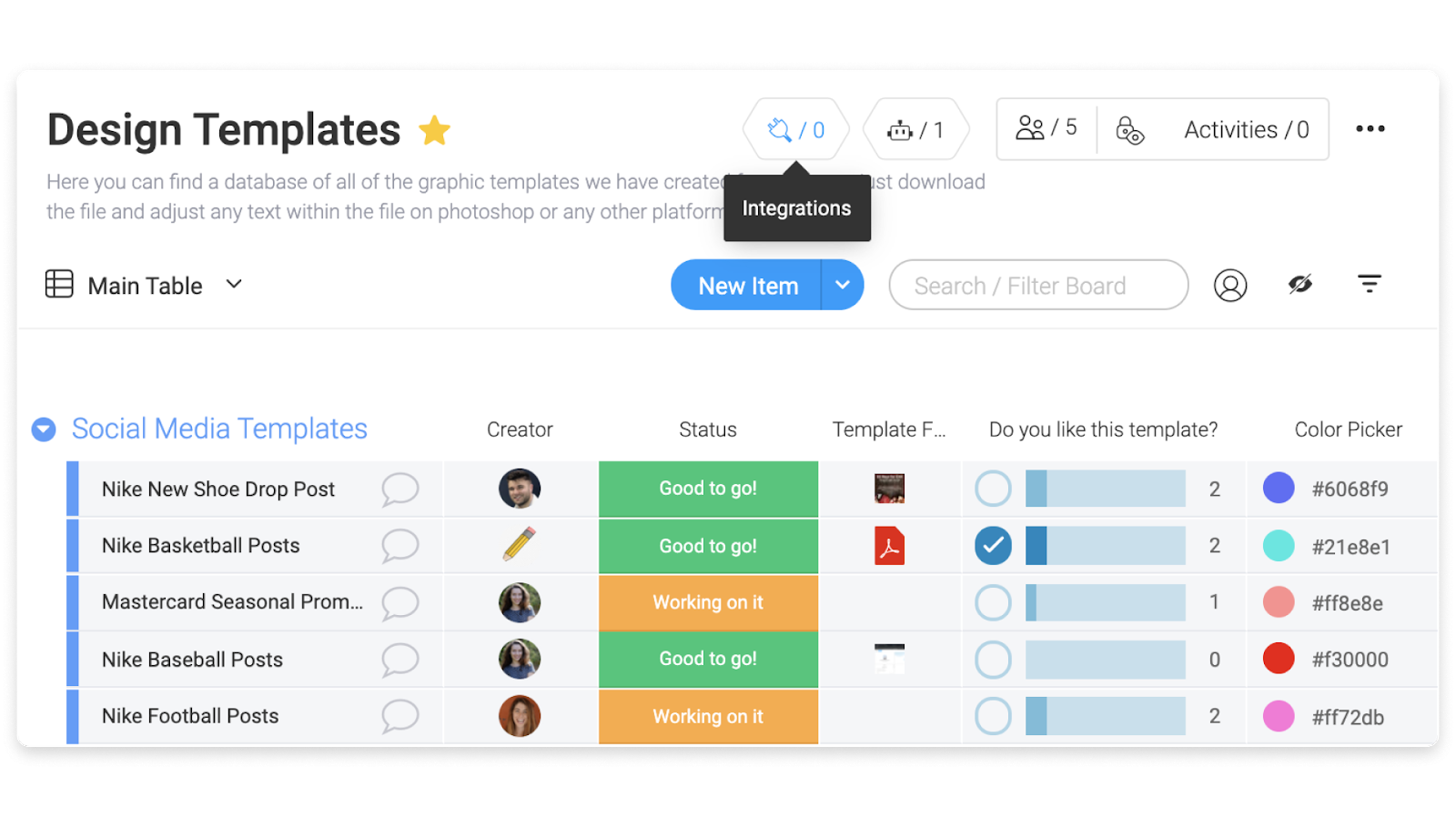 From there, you'll be presented with a window that allows you to search for the tool you're looking to connect with monday.com. Keep in mind that if you don't see something on the list, you can likely make it work through integration with Zapier.
From there, you'll be prompted with questions regarding how you'll want each integration to function. This includes which data you'll want to be shared with monday.com, which data you'll want monday.com to share with the software you're integrating, and whether or not you want it all to happen automatically or manually.
CRM integration examples on monday.com
Let's look at how you can integrate your CRM on monday.com with some customer favorites:
Zoom
Slack, 
Mailchimp
Zendesk
Gitlab
Here's one example of how an integration between Zoom and monday.com might work to improve customer satisfaction:
When you integrate Zoom with monday.com, you can automatically add valuable data to your CRM when meetings are set or completed with clients, and automatically notify other members of the team who might want to know. When information like this is accessible to everyone, redundant communications are minimized, making for a happier customer.
It's also common to integrate your organization's main communication tools with your CRM, like this example of an integration between Slack and monday.com: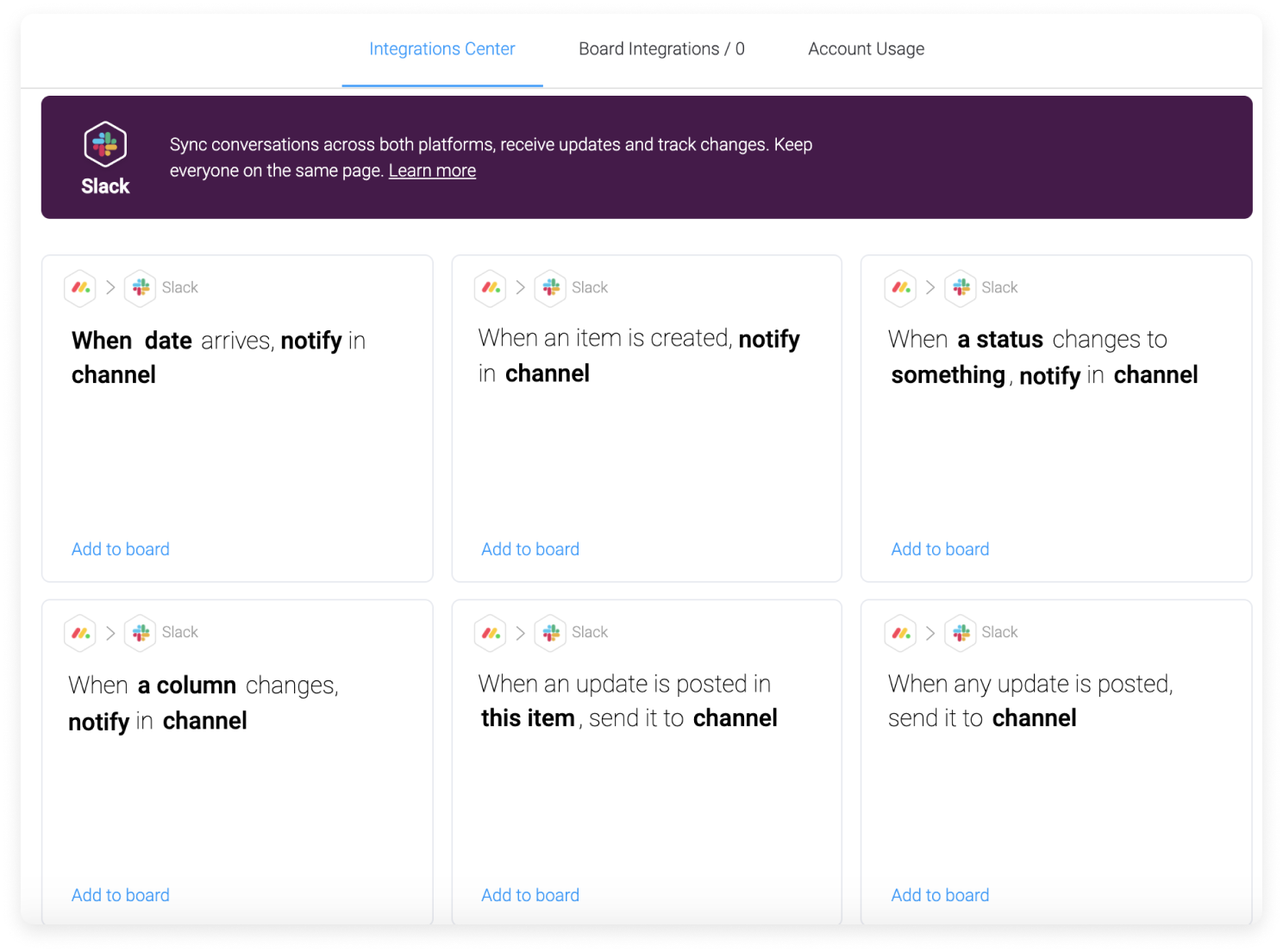 Once you've integrated Slack with your CRM board, you can automatically send information from Slack to monday.com by specific channels. You can also notify Slack channels when items are created, updated, or completed in monday.com, for seamless communication between the two tools. Automated communications to customers, leads, and prospects are also important to track within your CRM, and are often accomplished with email marketing software or marketing automation software.
Here's an example of what that integration might look like between Mailchimp and monday.com: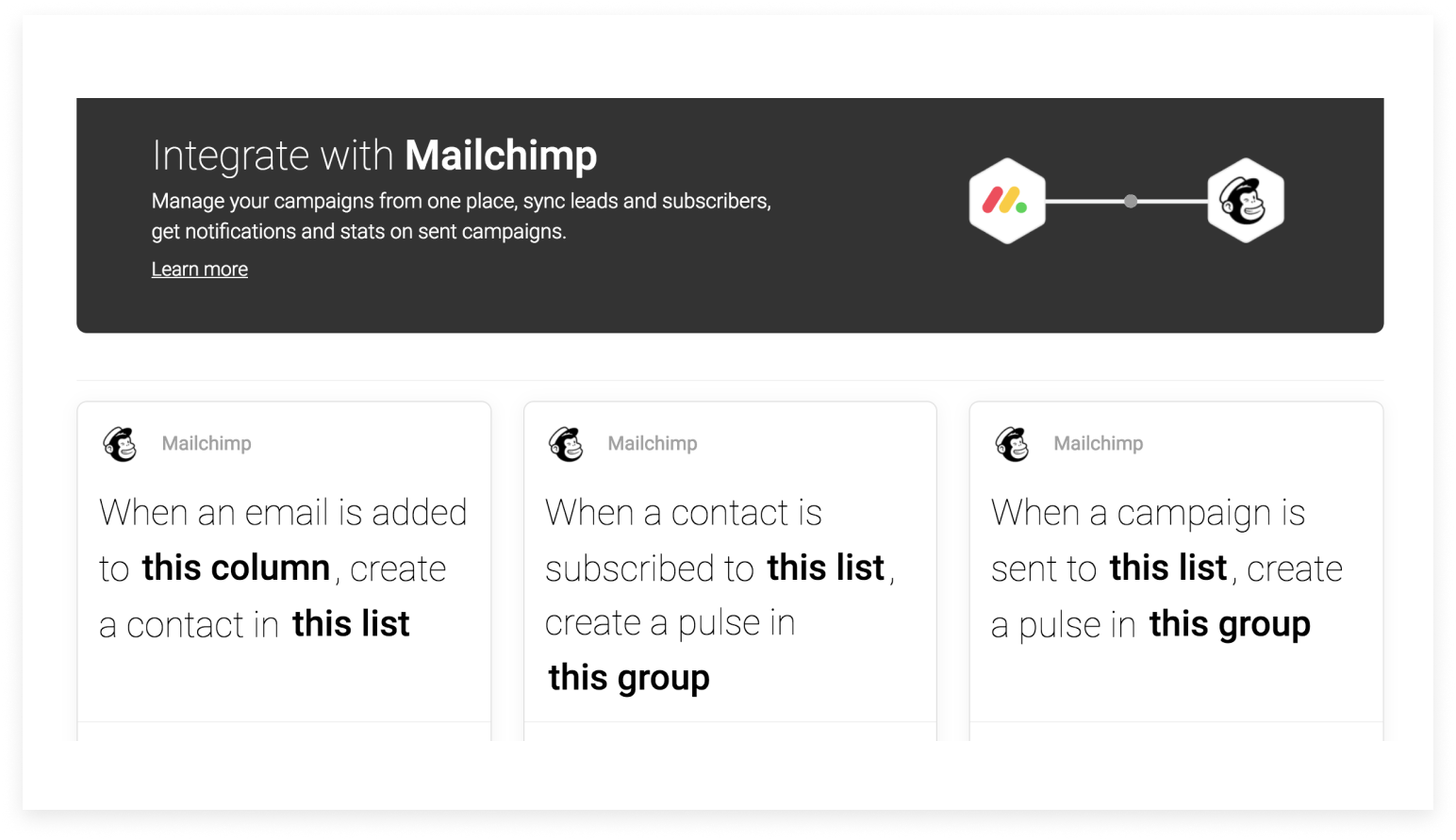 These are just a few examples of some of the automation that can happen when Mailchimp is integrated with monday.com. You can automatically trigger drip campaigns when lead status changes, or create contacts and change lead statuses when people respond in a certain way to your email campaigns. In addition to the marketing team sending those automated emails, the customer service team has a lot of communications with customers that you'll want reflected in your CRM.
Here's an example of what an integration between your monday.com CRM and Zendesk would look like: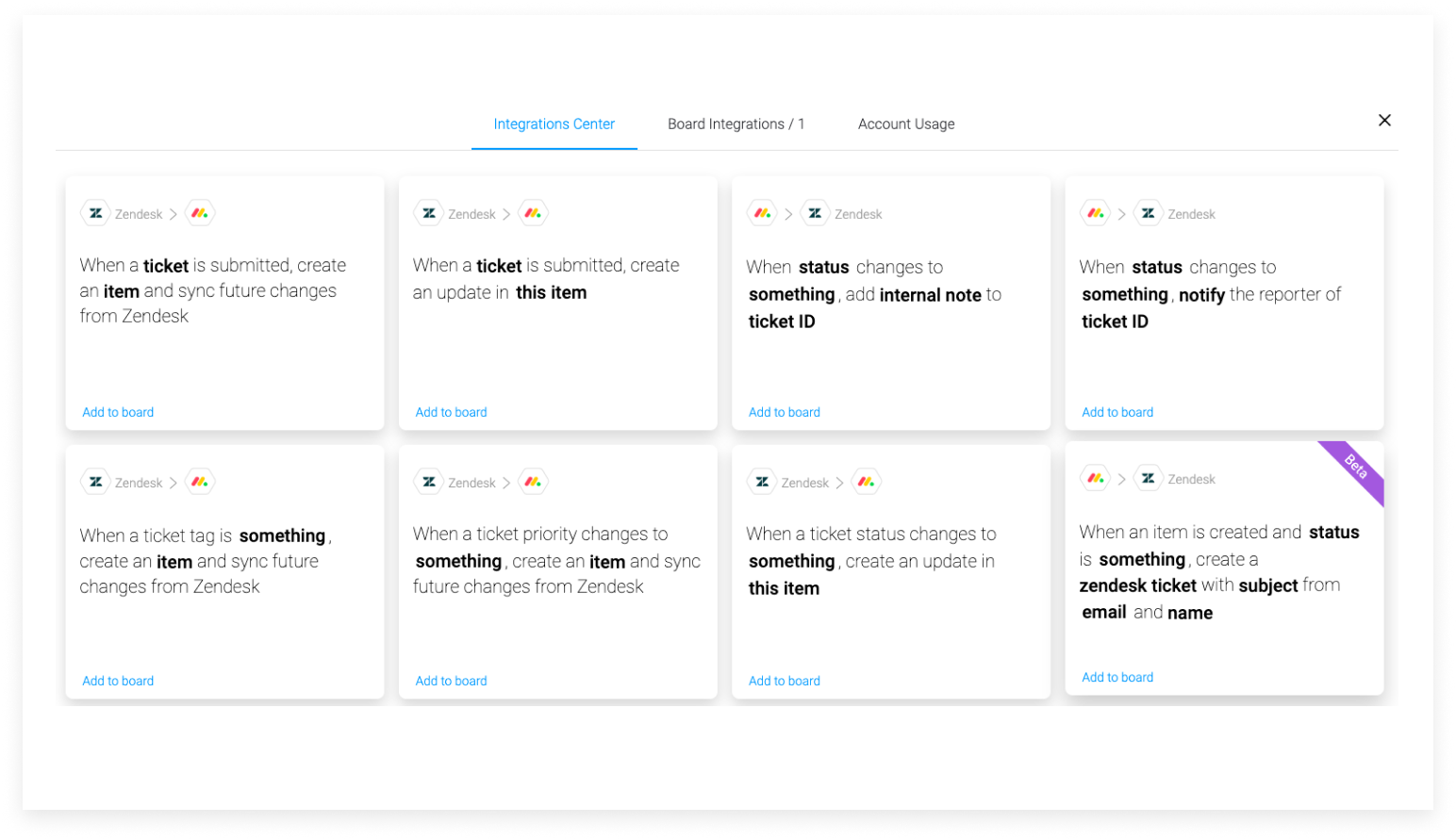 Once your Zendesk instance is connected with your monday.com CRM, you can share data between the two platforms regarding which customers currently have live requests and the status of each ticket. You can also change the status of leads and contacts in your CRM, based on their status in your customer service team's ticketing system.
As a final example, let's walk through how the activities from your engineering team can sync with your CRM using this example between GitLab and monday.com: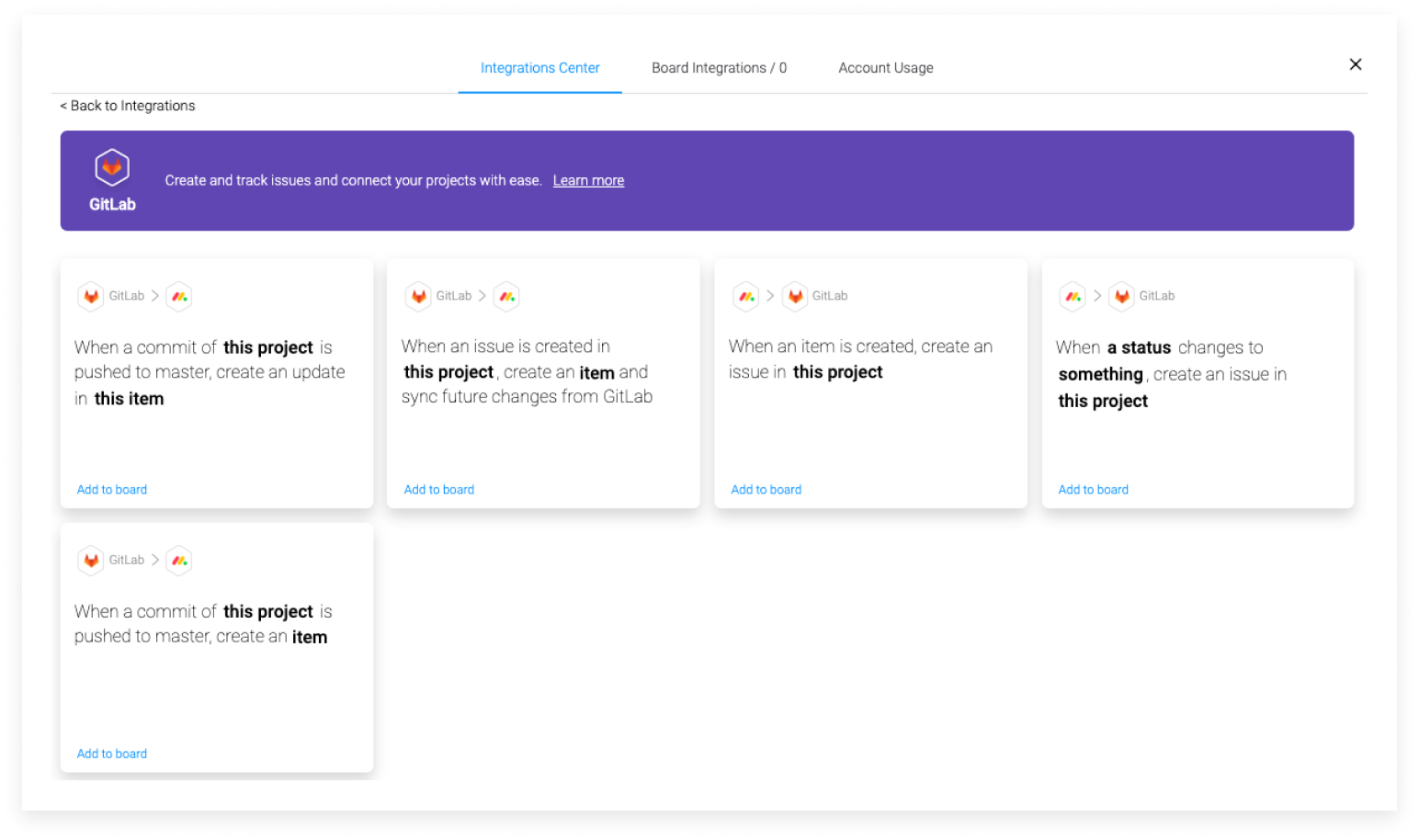 With GitLab integrated into your CRM, you can automatically notify the right people on your sales and account management team when products or features releases will directly impact their clients or pipeline.
These examples just scratch the surface — there are so many tools out there that may need to be integrated with your CRM. Here at monday.com, we want to assist our customers in fully integrating their CRM so that data is never siloed.
Save time and improve customer experience with CRM integrations
If your CRM isn't fully integrated with other tools that house customer data across your organization, you're risking gaps in your customer experience that lead to lost revenue and miscommunication and can leave an overall bad taste in your customer's mouth. Close those potential gaps by using monday.com as a central CRM to make sure data from everywhere is in one place.
monday.com integrates directly with the other tools that your organization is using, including project management tools, software development tools, marketing tools, communications tools, common CRMs, and more.
Not a monday.com customer yet? Get started today with our CRM template.