Around 54% of workers say they could save around 5 hours a week by automating some of their work.
If you've got cutting-edge workflow software — something like monday.com — you'll be able to automate mundane tasks, see where everything stands in real-time, keep colleagues in the loop at all times, and all while working on a visual platform.
Read on to learn exactly what you should look for in workflow software in 2021 and which tools you should consider to make your team's life a little easier and a whole lot more colorful.
Most important features to look for in workflow software
Ultimately, the job of a workflow management system is to streamline the end-to-end processes of your organization.
In short, this means speeding up operations and facilitating collaborative work between teams.
But what exactly should you look for in agile workflow software?
1. A cloud-based tool
Since many teams are now remote or globally-distributed, it's smart to invest in cloud-based workflow management software. That way your team can access workflows wherever they are.
2. Workflow automation
If you truly want to save time and supercharge efficiency, workflow automation is the key.  Right now, half of organizations are automating processes to increase efficiency.
Workflow automation increases efficiency in two main ways:
It automates recurring tasks
It moves items through the workflow automatically
On the one hand, that means your team spends less time on menial admin and more time on their jobs.
On the other, it means that fewer jobs and deadlines are missed thanks to automated notifications and reminders.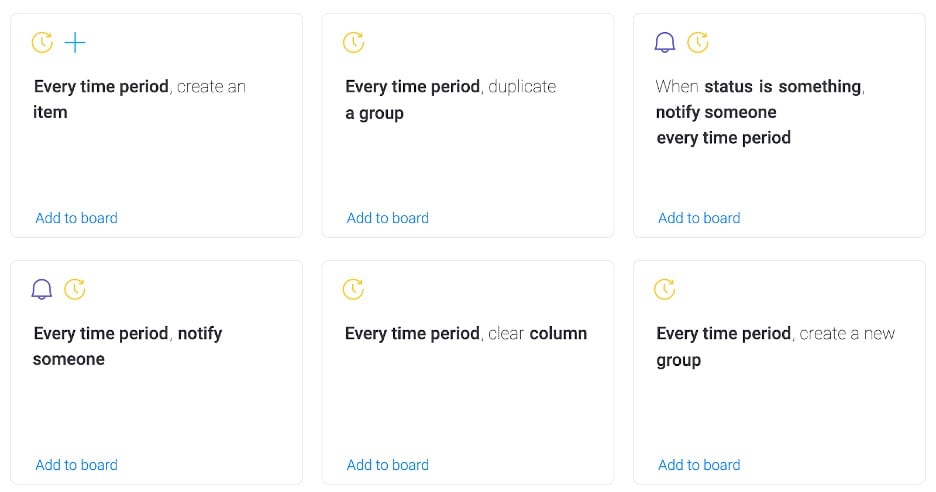 3. Extensive, modern features
When it comes to workflow software functionality, think about which features are going to boost accountability, increase efficiency, and enhance collaboration.
Key functionalities to look for include:
Individual and team item assignment
Advanced scheduling
Multiple workflow views (Kanban, Gantt Charts, Calendar, etc)
Progress tracking
Communication tools
Customizable notifications
Reporting
Document management
4. A no-code platform
You need a tool that's user-friendly, otherwise no one's going to use it (and you'll be spending hard-earned money on something that gathers dust in the corner).
It's no use choosing a workflow management tool that requires a computer scientist to operate it.
If you want seamless collaboration on workflows, you need a code-free workflow tool that makes it easy for anyone to design, change, and manage those workflows.
Something (dare we say it?) like monday.com and its customizable, code-free workflow templates:
Keep an eye out for tools that offer comprehensive libraries of pre-built workflow templates.
 Not only does this speed up the process of building digital workflows, it also offers a straightforward solution for the less tech-savvy members of your team.
To build customized workflows, look for a workflow or project management software with a drag-and-drop editor rather than something that requires complex coding.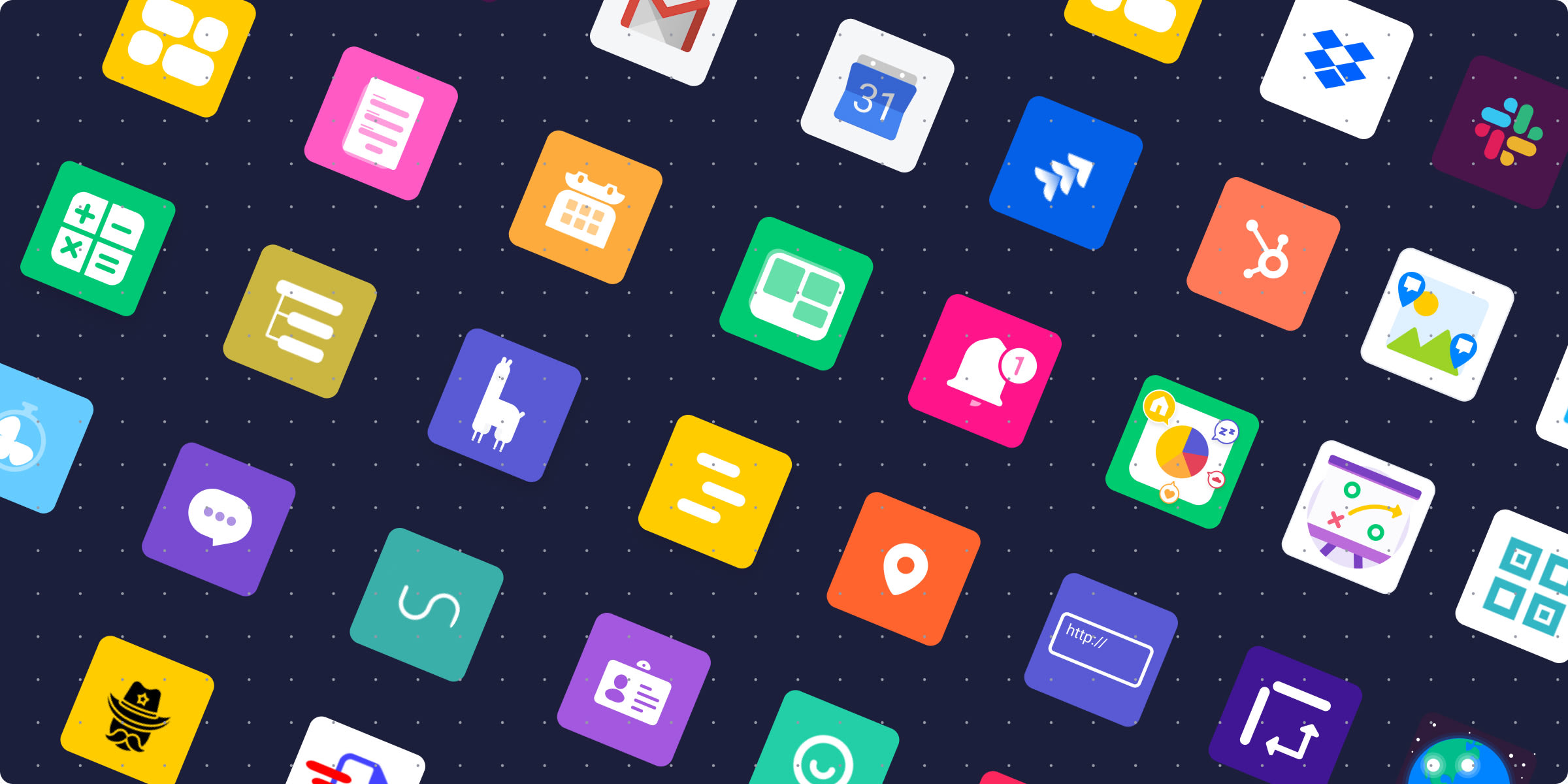 5. Seamless integrations with the tools you already use
From sales software to payment platforms, most teams harness a patchwork quilt of tools to drive end-to-end processes.
Your workflow app or software should pull all these tools together for a streamlined workflow so your team no longer has to keep flicking between tools.
Make sure you check which integrations are available before you commit, don't just presume.
While monday.com integrates with over 40 applications, so you can keep using the tools you know and love, just in a more centralized fashion.
Need workflow software? Try these!
By streamlining your processes into a highly-visible, intuitive workflow management tool, you improve team efficiency and reduce room for error.
Without further ado, here are some great workflow software to check out:
1. monday.com - the all encompassing Work Operating System
Not only is monday.com super simple to use for just about anyone, but it also offers a ton of features that increase workflow efficiency and nurture team collaboration.
Let's first take a look at a few of our core features:
Code-free workflow builder: design, change, and manage complex workflows on monday.com, no matter how much of a technophobe you are.

Ready-made templates: get up-and-running in no time with our

library of premade workflow templates

we've made and the

templates our customers share

Intuitive easy-to-use platform: onboard your team quickly with our highly-visible dashboards that make sense to everyone

Multiple views: enjoy 360-degree visibility on workflows by switching between Table, Kanban, Gantt Chart, Timeline, Calendar, and Workload view
Now, let's talk about the benefits:
1. Everything is highly-visible.
As soon as you head to a workflow in monday.com, it's obvious what's going on.
Brightly-colored status bars, super-familiar symbols, and our multiple view functionalities make it a breeze to keep a handle on multiple workflows at once.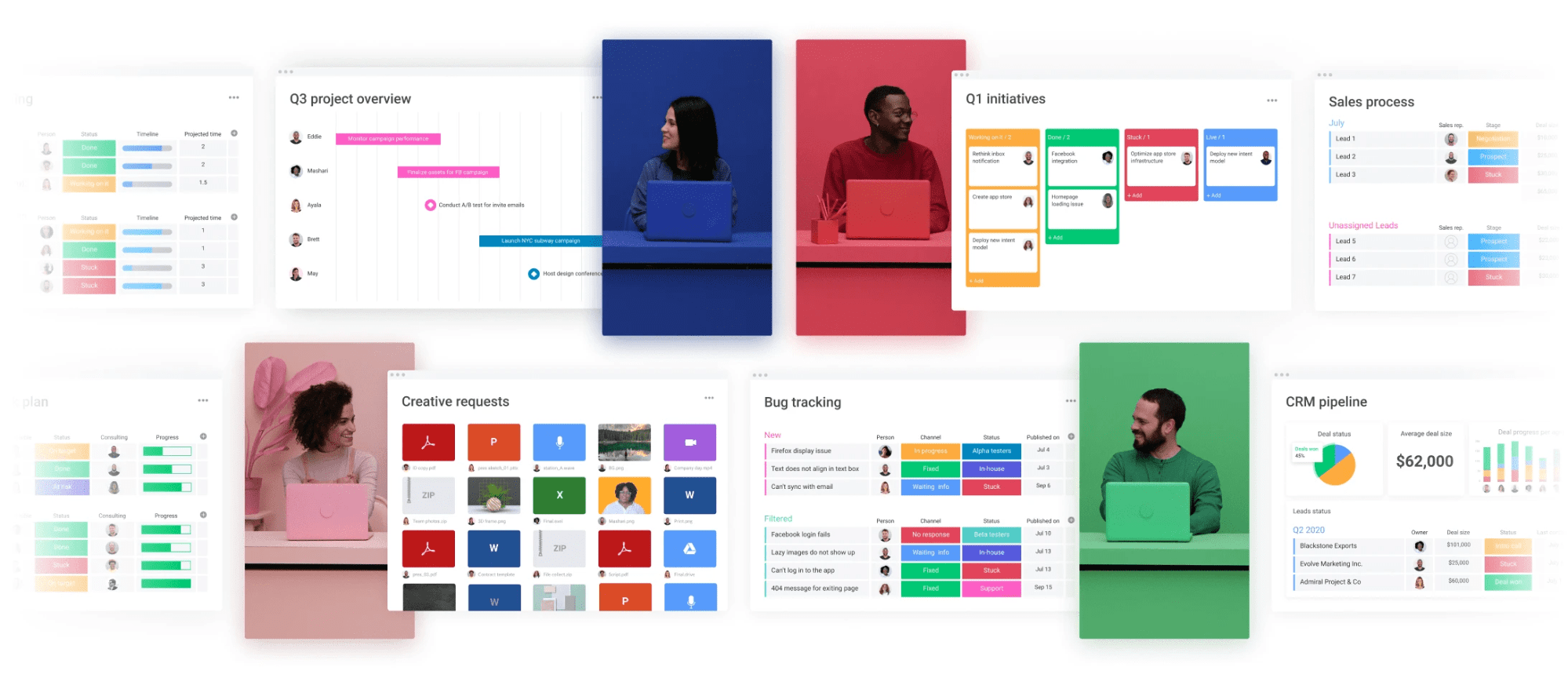 2. It's accessible to everyone.
Designed to be intuitive, you don't need to spend an arm and a leg on fancy corporate training to use monday.com. Not only is the platform super easy to understand, we've got a whole world of free resources to help learners get going.
3. It makes collaboration easy.
Each aspect of your dashboard — from status updates to document sharing to automated notifications — is designed to keep those who need to know, in the know.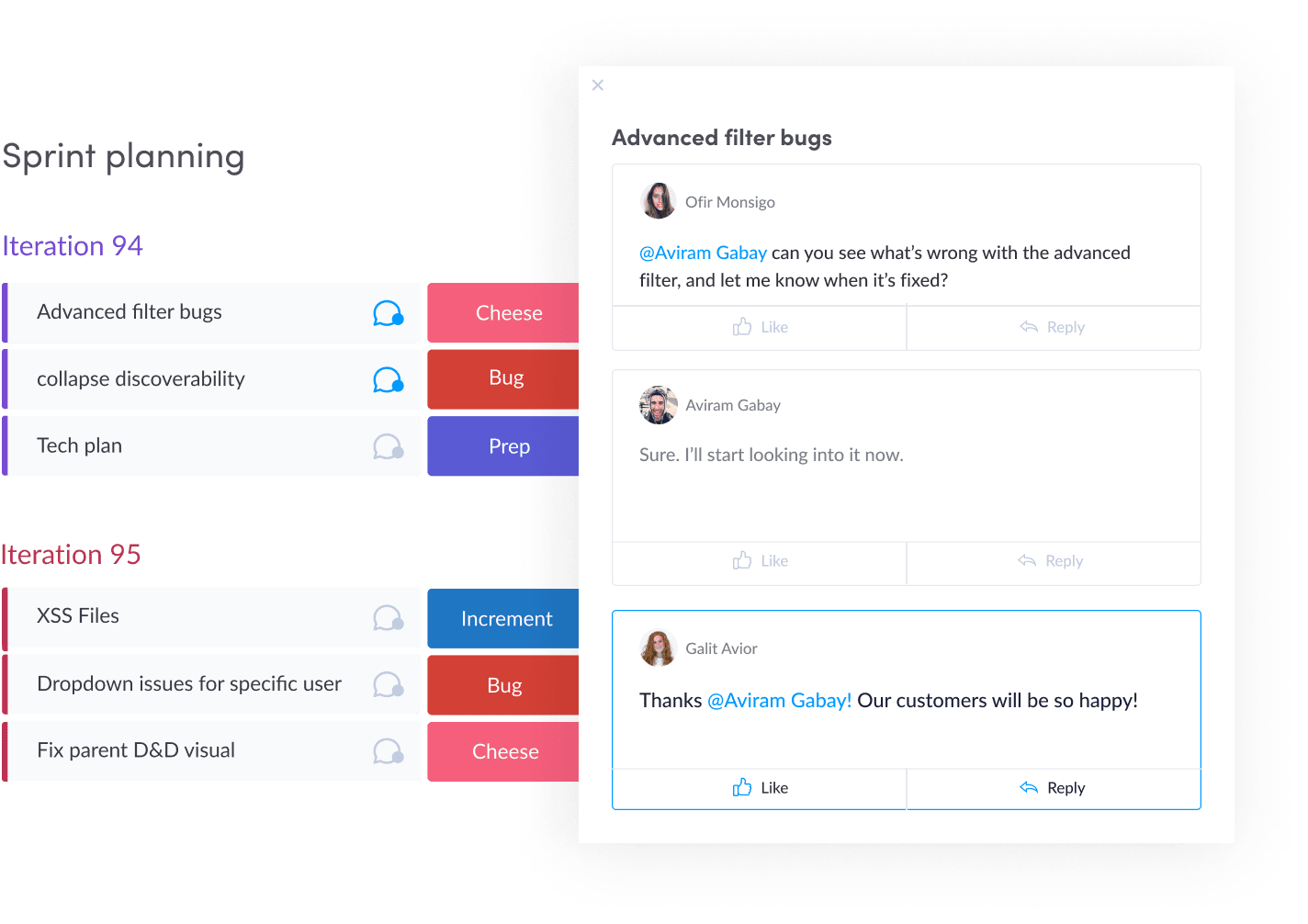 4. It's easy to identify (and eliminate) bottlenecks.
Because monday.com is designed for visibility, it's quick to see what's clogging up your workflows. Thanks to automated notifications and highly-visible progress-tracking, you'll see a bottleneck before it becomes a crisis.
5. It keeps workflows on track.
Intelligent, automatic routing keeps tasks flowing through your workflows so everything stays on track, meets deadlines, and reaches exactly who it needs to when it needs to.
6. It improves efficiency.
monday.com's Automation Recipes cut out menial admin so your team can focus their energy on the work that really counts. Likewise, thanks to a long list of integrations, you can reduce friction in your workflows so processes slide along seamlessly.
2. Pipefy - for the Kanban fans
Pipefy is a workflow management solution that uses the Kanban framework. Users can assign tasks and move them along customizable pipelines.
You can create task cards, assign them to team members, and fill out the details for each stage.
You can view these tasks as a Kanban board or in list-view, but, since there's no timeline option, Gantt Charts and Timeline/Calendar views aren't available.
You'll notice the checklist option is quite handy for creating sub-tasks in your cards and that you can write updates in the comments as tasks progress. However, there's no other way to communicate with team members besides tagging them in task cards.
3. Wrike - for experienced PM software users
To navigate to your workflows in Wrike, you have to head to the right project, sort through the folders, and search for the right task.
Wrike's good for automating workflows, but it can get pretty complex, so may not be beginner-friendly.
Anyone without prior experience with workflow automation software is probably going to need intense training.
Want to know how monday.com compares to Wrike on comparison site G2? Check out the chart below: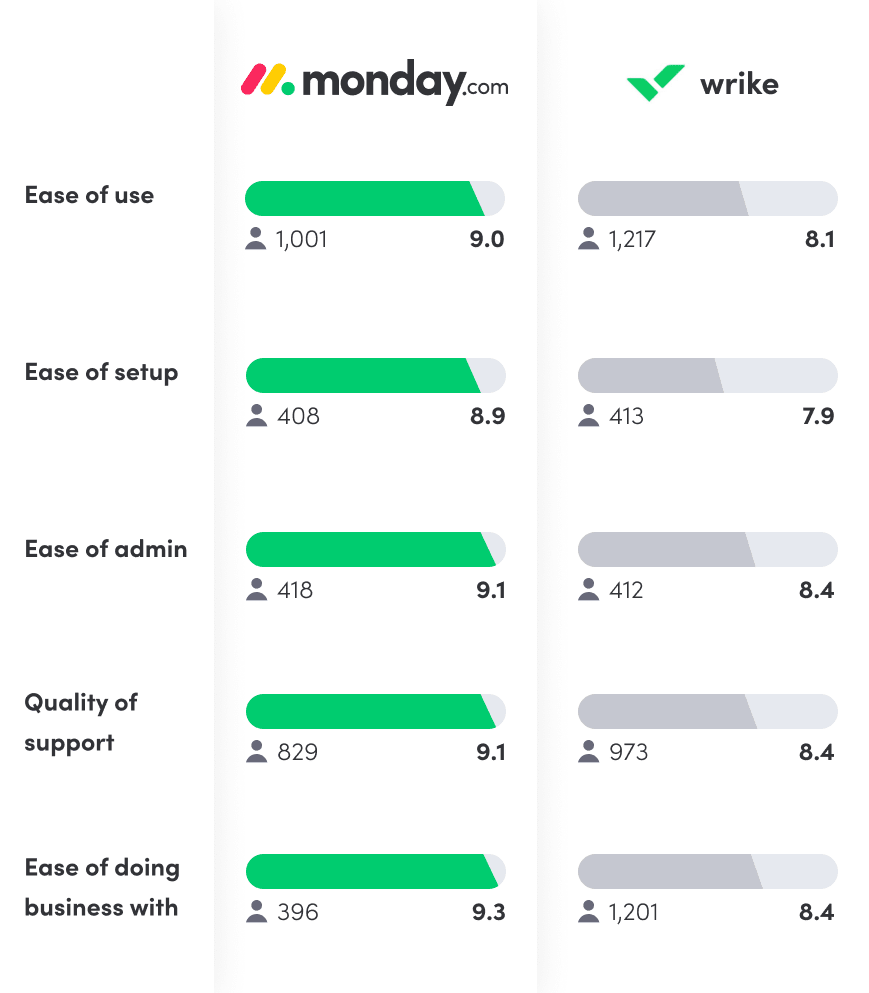 4. Asana - easy, minimal interface
Asana is a task management software that mostly suits ongoing projects.
While it's straightforward to assign tasks to individuals, you can't assign tasks to multiple individuals or whole teams. This is a roadblock if you want more than one person to work on the same task at once.
Also, Asana only offers limited view options, so if you want Kanban and Gantt views, it's not for you.
Each project has a special page where you can view its progress, but tasks only have the option to be marked as 'incomplete' or 'complete'. This means it's not always clear how far along each stage of the workflow is.
Asana has limited automations so that users can automate recurring tasks, but only if you're paying for the two pricier packages.
5. KiSSFLOW - for workflow automation
Kissflow is a workflow automation tool designed for automating workflows.
Designed solely for business process automation, KiSSFLOW isn't ideal for teams that rely on heavy collaboration. For example, there are no deadline functionalities or scheduling tools.
Essentially, Kissflow exists for passing tasks from A to B, without human intervention.
Kissflow integrates with a good variety of tools but is missing some of the top CRMs, like Salesforce, Pipedrive, and Zoho.
6. Trello - the beginner's Kanban tool
Trello is another project management tool that uses the Kanban framework.
You can create cards, assign them to team members, affix deadlines, and move them through the customized pipeline.
View your tasks in Kanban and Calendar mode, but other view options are quite limited.
Trello's Butler feature allows teams to automate simple recurring tasks and create one-click buttons that perform many functions. Unlike monday.com, however, you can only automate tasks on one board.
7. hygger - prioritizing over everything
hygger is a workflow software based on helping teams prioritize tasks that will provide the most impact for the least effort.
Users can track task status, create dependence, and organize workflows into horizontal 'Swimlanes'.
However, it doesn't offer a lot of automation options and the list of integrations is a little sparse.
How monday.com increases workflow efficiency
Workflow management software should make everyone's life easier, more transparent, and more efficient.
monday.com automates mundane tasks, notifications, and streamlines your workflow to keep everyone on track in real-time.
Here's how:
1. We cut out repetitive tasks
Do you find yourself repeating the same tasks all the time? It's time to use automation recipes.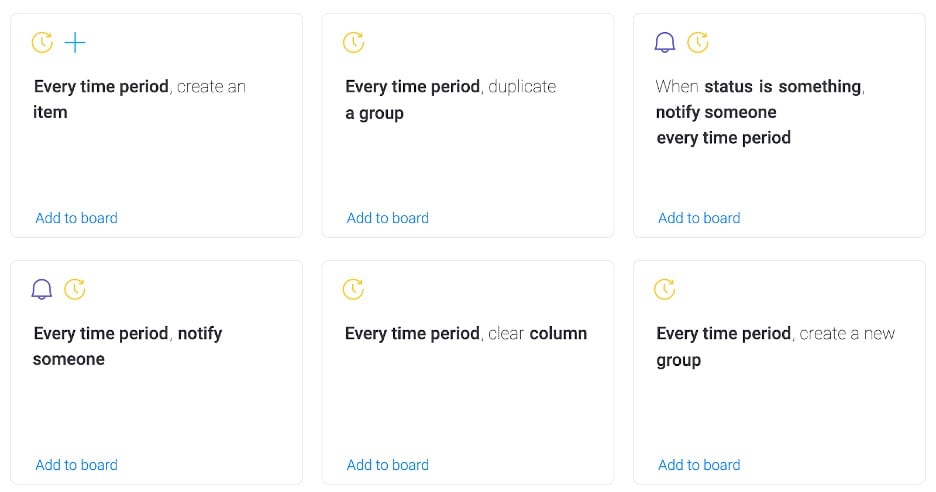 Using the Automation Recipes, you can set repetitive tasks to execute on their own.
For example, you could automatically:
Clear out all completed tasks every few months
Add a new Sprint group to your board when it's time for a new Sprint
Notify approvers when a task hits the approval stage of the workflow
Add a call to a team member's workflow at the beginning of each week
Set reminders to notify relevant team members about recurring events
Email the finance department automatically when invoices are due
And more, the possibilities are endless
2. We help you keep everyone in the loop
Here at monday.com we really value collaboration and transparency.
Our workflow features and templates are designed to make sure everyone's on the right page (and software).
You can automate notifications to reach out to your teams when dates arrive, statuses change, workloads pile up, and more.
You can also easily tag colleagues and stakeholders to make sure everyone has the latest updates at all times, from any device.
Boost your business process management with the right workflow software
Your workflow solution should make your team's life easier.
Look for a workflow tool that works for you and avoid tools that require years of employee onboarding.
That's why you should check out monday.com 🙂
Not only is our workflow management system highly visible and extremely intuitive, our library of automations cuts out repetitive tasks and grooms your workflow into a sleek-running operation.
If you haven't tried monday.com for free yet, go ahead and take advantage of a free 2-week trial, no credit card required!