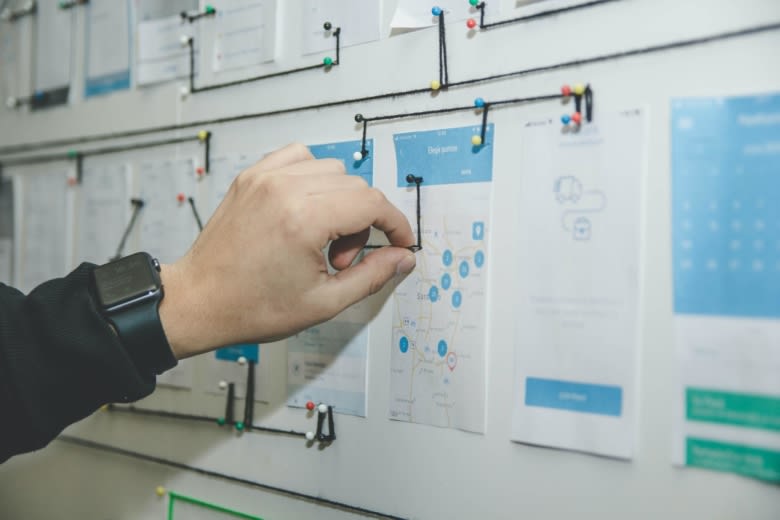 How to make a Gantt chart
If you manage a team, you know that sometimes you wish you could be everywhere at once.
You want to see what's happening, when it's getting done, who's going to do it, whether it's on-budget, and everything in between.
But unless you're some sort of superhero, the closest you're going to get to being everywhere at once for your team is making sure that everybody's working with an up-to-date Gantt chart.
Gantt charts are one of the oldest and most reliable tools in a project manager's shed, but don't worry if the phrase is lost on you because we're happy to walk you through it.
This article will explain what a Gantt chart is, how to make a Gantt chart manually, and how to make a Gantt chart using monday.com.
What is a Gantt chart?
A Gantt chart is a project manager's bread and butter.
It's essentially a fancy bar chart that shows activities, tasks, or events alongside the time your team spends on each.
The chart includes an X-axis (time) and Y-axis (tasks). You can then use them to plot out what your team is working on and different stages or milestones within each task.
Each task on a Gantt chart is generally represented by a bar, Where that bar is at any given time tells you:
What your team's task list includes
Each task's start and end date
Scheduled task duration
Where project tasks may overlap
The project timeline
Why is it called a Gantt chart?
The first Gantt chart was created in the 1890s by a Polish engineer named Karol Adamiecki. Unfortunately, his creation never got translated into English —  and so when an American engineer and project management consultant named Henry Gantt came along about 15 years later, Gantt got the credit.
Tough break, Karol.
Back in the days of yore, Gantt charts were drawn out by hand, and every time a project or task status changed, it'd need to be totally redrawn.
Mercifully, creating a simple Gantt chart is now fast and easy thanks to Gantt chart software and (even better) project management software.
How do you create a Gantt chart that your team will actually love using?
Gantt charts are pretty straightforward.
Although no two charts look totally alike, they all start with an X-axis and a Y-axis. The horizontal X-axis represents your project timescale, and your Y-axis represents your task list.
From there, just…
Create a task list for your project. For each task, include a set of milestones or mini-milestones that represent different levels of completion.
Figure out who's responsible for each task.
Forecast how long each task will take. This is normally done by days, weeks, or months. If your project team is super agile, you can break it down by hour.
Identify which tasks are independent (or "floating"), and which tasks depend on the completion of other tasks.
After you've got all this information, you can start to create a critical path on your bar chart. A critical path is just a fancy way of describing the trajectory that a task or project follows.
If your tasks are more complex and depend on one another, your various critical paths might link up to form a network diagram.
A network diagram is sort of like a series of interlinking critical paths where a task's milestones regularly cross over with the milestones or subtasks of other jobs.
It looks like this:
After plotting each critical path or a network diagram, you'll have a (relatively) simple visual representation of your team's organizational or project plan.
This includes their entire workload, everyone's progress, and the date your team members expect to complete each milestone.
Like the sound of Gantt charts so far? Read our guide on 4 rules for Gantt charts every manager needs to know.
There are plenty of ways to make Gantt charts. We can walk you through how to make a Gantt chart in Excel and how to make a Gantt chart in Google Sheets, for starters. But, if you want to get the job done fast and simple, you've got to check out monday.com.
How do you create a Gantt chart on monday.com in less than half an hour?
If you've come here in search of the best Gantt chart software, we've got great news: you've found it.
It's incredibly easy to create your own Gantt chart on monday.com.
No, seriously. We're talking about (literally) three steps:
After signing up or logging in, create a new board and add your project's tasks and the due dates for those tasks.
Add a "task timeline" column to your board.
Go to "views" and choose the Timeline or Gantt view.
That's literally all there is standing between you and Gantt chart project management glory.
With the help of a Work OS like monday.com, every member of your team can update their project tasks independently, and then the critical path for that task gets updated in real-time so you're up-to-date on project progress.
When it comes to project management, the Gantt chart is the real OG. Teams have been using them for over 100 years to keep track of critical paths and get jobs done.
It's fairly simple to create a modern Gantt chart manually, but not simple to keep it up-to-date. That's why the best and brightest managers use a project management platform like monday.com to keep it all up-to-date in real-time.
Ready to start managing your project plan with professional Gantt charts? Find out how monday.com can help you get the job done.
One platform for better teamwork
with monday.com Work OS
Get started