Insurance companies have a lot to manage on a daily basis. Their teams are chasing leads, making appointments, calling clients, managing claims, and more. But to take your business to the next level, you'll need to streamline processes and ensure that your agents can manage multiple tasks without dropping the ball.
This is where a powerful CRM can be invaluable. In this article, we're going to look at what a CRM brings to the life insurance business, and what to look for in a great CRM.
What is a life insurance CRM?
If you're working in insurance, you'll know how fiercely competitive the market is. Customer relationship management (CRM) software can help insurance agents strengthen client relationships and manage their daily workflow. Whether you're looking to organize all your leads, manage multiple policies, or track your claims, good CRM software will empower your insurance agents to close deals faster and increase client retention.
In short, CRM software can help insurance agents strengthen client relationships and manage their daily workflow.
Why is a good life insurance CRM important?
Life insurance is a specialized product, and nurturing customer relationships lies at the heart of it. With a good CRM, agents will be able to organize their workflow, track opportunities, and use automation capabilities to improve their efficiency.
Put simply, a powerful CRM platform can help insurance companies track and analyze data, understand their target audience, and provide personalized services and solutions.
With this in mind, here are some of the benefits of investing in a good insurance CRM solution:
1. Centralized data management
CRM software gives insurance brokers centralized access to crucial data, including:
Lead and prospect contact information
Customer contact information and account history
Customer interactions and communication
New policy applications
Policy renewal dates
2. Improved customer service
Insurance companies can use CRM data to increase customer satisfaction by delivering a personalized customer experience. This can have a knock-on effect on customer attrition and retention.
3. Organized team collaboration
A CRM allows companies to coordinate and resolve cases in a transparent manner. Different teams and roles within the insurance industry, such as insurance sales, underwriters, and brokers, can work with the client to resolve issues and close deals through the sales funnel.
4. Seamless automation of manual tasks
CRM software can help insurance brokers save time and the hassle of working on repetitive tasks such as updating documentation, fixing appointments, and emailing policy files. For instance, monday sales CRM allows you to set up custom notifications to alert the insurance agent when you receive an email from a client.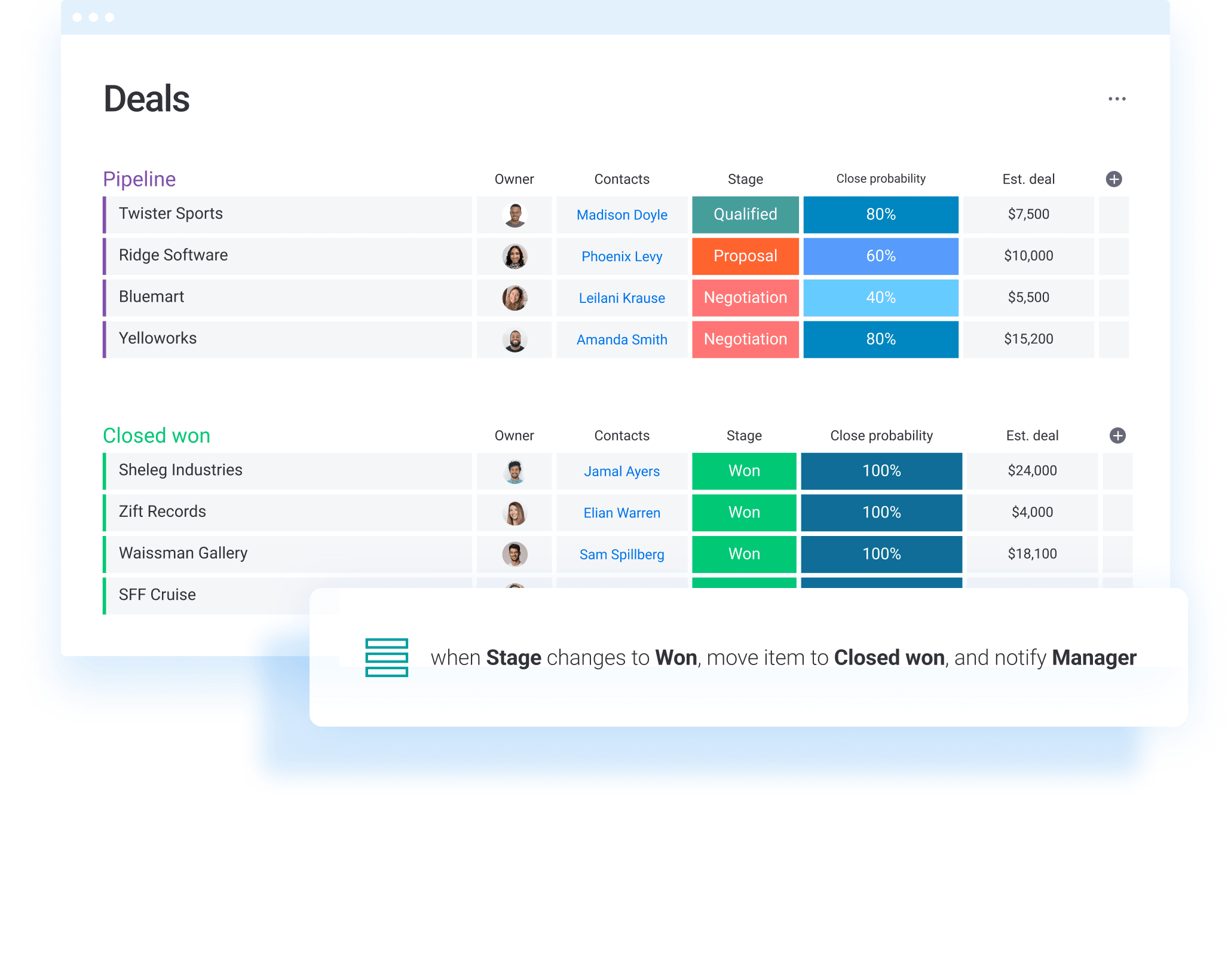 As we've seen, a good life insurance CRM is important for customer service, team collaboration, and importantly, client management. You can take a look at monday sales CRM now, or keep reading to see the ways a life insurance agent can use a CRM.
5 ways life insurance agents use CRM to streamline workflows
To better understand how a CRM platform can help life insurance companies, let's talk about the day-to-day role of an insurance sales agent. From selling life insurance policies to processing claims promptly, they are tasked with regularly dealing with prospective clients and managing customer relationships.
Here are five practical ways an insurance CRM software can directly help a life insurance agent in their daily workflow.
1. Lead generation and management
Insurance lead generation and management is arguably the most important part of an agent's role because it directly impacts sales revenue. In fact, generating leads is the top priority for many companies.
A CRM can help agents manage the tricky business of attracting new prospects and engaging them by acting as a centralized database to track, view, and categorize all prospects and leads. Take monday sales CRM, for instance. While it's not just a CRM, it has all the CRM functionality you'd ever need — plus a whole lot more.
For example, monday sales CRM easily helps you capture your leads, engage them via email communication, and manage your interactions with them through the insurance sales cycle.
2. Policy management
With a CRM, insurance agents are better equipped to handle every aspect of policy management related to customer acquisition or retention. This can be any task from checking policies, creating quotes, and generating reports to keeping track of customer updates, policy renewals, and selling opportunities.
When it comes to policy management, CRMs can help agents:
Keep track of every client journey through the sales process
Flag up opportunities to cross-sell and up-sell
Use customer data to offer personalized services and the best product for their needs
Luckily, monday sales CRM's super-flexible platform allows you to keep track of, well, everything. Our intuitive drag-and-drop dashboards help agents to view and track their customer's journey and information at a glance. They can even manage client accounts by priority, size, and expected close date.
3. Reporting
A CRM with the ability to visualize data and create detailed reports is a valuable tool. It can help companies in the insurance sector monitor agent performance, analyze trends, and generate financial forecasts. For example, if your data indicates that your leads are interested in travel insurance rather than life insurance, you can save agents time by ensuring they don't waste it pursuing the wrong leads.
monday sales CRM has customizable reporting features that can help you to manage post-sale activities in one place, so you can stay on top of client projects, sales activities, and forecasting.
So whether you're looking for the latest sales forecast or a list of current customers, you can quickly run and share reports based on your data.
4. Automations
CRM system automation takes a load off your insurance agents because they don't need to keep track of certain sales tasks.  Selling life insurance doesn't have to be a daunting task if you simplify the process through automation. You can set up notifications to remind you of an upcoming call or create automated alerts when a new lead comes into the system.
In fact, marketing automation — also a function in monday sales CRM — is a powerful tool that can be used to:
Generate and qualify leads from different channels, such as your website, inquiry forms, and social media
Communicate and engage with current customers via email
Streamline workflow and create tailored messaging to prospects and clients
For example, agents can increase renewal rates with a straightforward and quick renewal process via a targeted email marketing campaign when it's time for renewal. Insurance companies can automate these emails with content aimed at building customer loyalty early on. They can then send follow-up emails with clear call-to-action phrases to encourage renewals and confirm sign-ups.
In fact, with monday sales CRM, you can set up literally hundreds of automation recipes with a few clicks.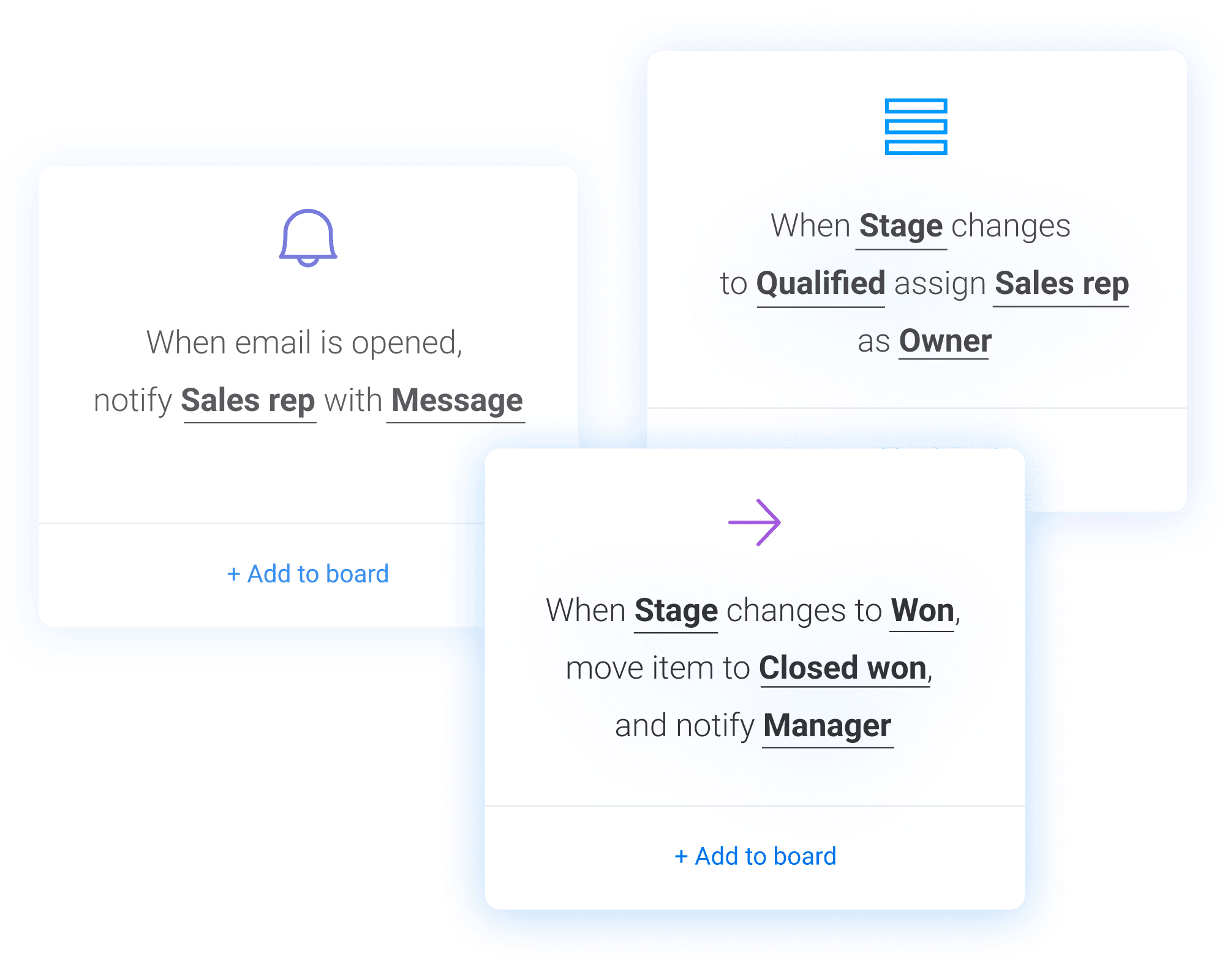 5. Mobile CRM
For those working remotely and on the go, accessing your work via a solid mobile CRM is essential. Agents are often expected to be available at any time in case an emergency happens.
This is why you need to have a good mobile CRM system that can allow you to work on your device easily and at any time. monday sales CRM's mobile app has great functionality and gives you an amazing on-the-go experience, allowing you to manage every customer interaction easily.
Why monday sales CRM is the ideal life insurance CRM
If you're looking for life insurance CRM for your team, you're in the right place. Because monday sales CRM is exactly what you need.
The truth is, we're so much more than just a CRM platform. monday sales CRM is capable of handling all your work, regardless of the size of your team or company.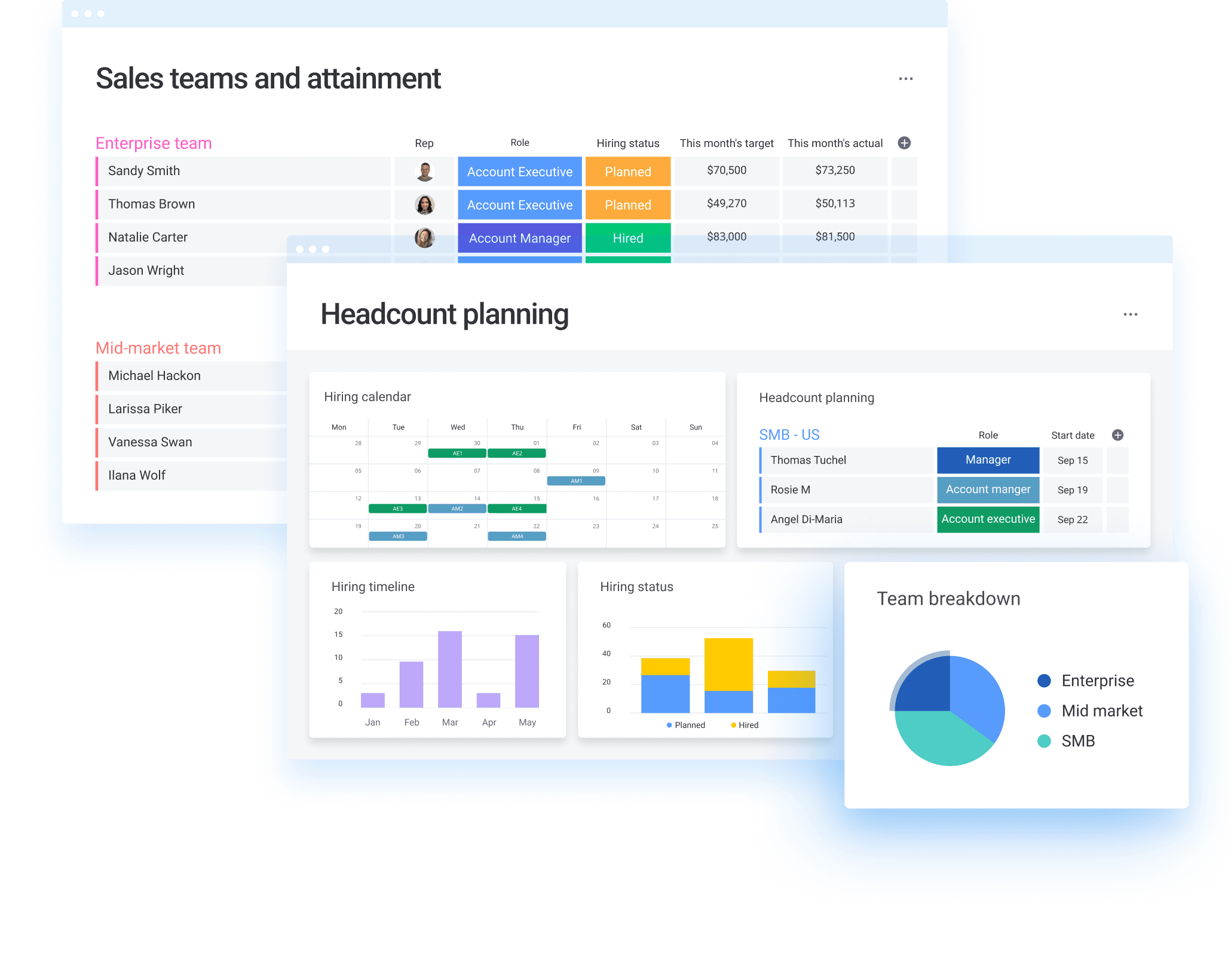 So whether you're an insurance broker, sales agent, underwriter, or manager, you can use our platform to collaborate with your teams and stay on top of all your tasks, processes, and workflows. In fact, we'd go as far as to say that monday sales CRM is a must-have for every insurance agency.
Here's why we're unique:
monday sales CRM truly allows you to place your customer at the heart of your business. You have centralized access to all your leads, prospects, and customers in one hub. Plus, you can track their journey from the minute they sign up with your business.
You'll love our attractive dashboards that can present sales data, life insurance policy claims, and other information in an appealing and easy-to-understand manner. You can see the bigger picture with different views or zoom in to check out the nitty-gritty.
Plus, monday sales CRM is fully customizable. Your team can use the platform to build their own apps and tools to support their ideas, projects, processes, and tasks in one location. Custom reports, custom automations — you name it, we can do it.
And we're also super flexible and support dozens of integrations with popular communication and productivity apps. You can also use our handy mobile CRM to track and update work whenever, wherever.
With all these factors in mind, you can get started with monday sales CRM now, or keep reading to see the most frequently asked questions.
Try monday sales CRM
Frequently Asked Questions
What does CRM mean in claims?
In the context of life insurance claims, customer relationship management (CRM) refers to a software platform that is designed to help life insurance companies boost the most critical part of business operations – claims and policy management.
What is a CRM used for in insurance companies?
With a CRM platform, like monday Sales CRM, life insurance companies can store and organize customer data, track customer interactions, manage sales pipelines, and much more.
What is the role of CRM in the insurance industry?
The role of CRM in the insurance industry is to help insurance companies to build stronger customer relationships, increase customer retention, and ultimately drive business growth.
Ready to choose a life insurance CRM for your team?
To sum up, every insurance agency can benefit from a CRM that is easy to use and intuitive. Whether your priority is to manage your workflow or automate routine tasks, a reliable life insurance CRM software that takes care of *everything* within a single platform is a must-have.
monday sales CRM's amazing functionality and rich array of features are guaranteed to increase customer engagement. Plus, it can be customized to suit exactly what your team needs.
Why not give us a go or check out monday sales CRM's features in more detail?
Other financial CRM industries: CRM for banking, Finance CRM, Mortgage CRM, Venture Capital CRM