Billions of emails get sent out every day, especially by businesses who rely on newsletter and email campaigns to get their messaging out to customers. To get them to stop and take notice of yours, it makes sense to invest in the best CRM with intuitive email marketing features to gain customer insights and manage workflows.
In this guide, you'll learn how email marketing with CRM software can help connect your sales and marketing departments to the customer journey for effective campaigns. We'll also explain how you can use monday.com Work OS as an email marketing CRM. Or you can get started with our custom experience on monday sales CRM.
What is a CRM with email marketing?
Customer Relationship Management (CRM) software keeps track of every interaction you have with your customers. It stores their sales history, contact information, and communications through your support channels, such as live chat and social media.
CRM analytics reveal key findings about your customers, which you can use to create powerful email marketing campaigns.
A CRM with email marketing software takes it a step further by integrating your email marketing campaigns. The result? More effective, specific marketing, focusing on individual email recipients and the stage in their buying journey. You can use it for client relationship emails as well.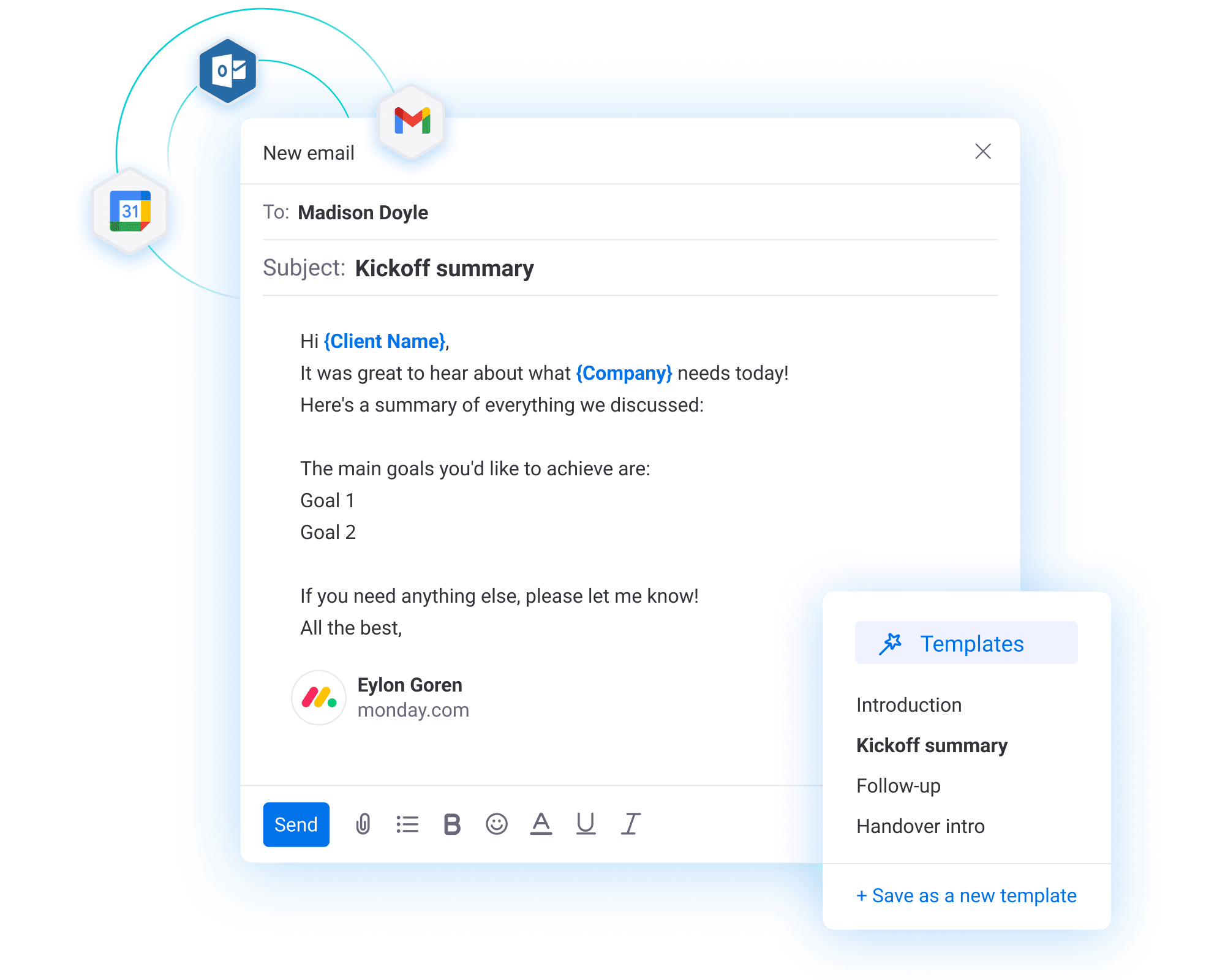 For example, you can schedule a specific email that reminds people who left items in their cart to check out. Or offer a special promotion email with a dedicated landing page to welcome back past customers.
In addition, with monday's new AI Sales Assistant you can compose and edit sales emails on the fly.
The reviews are in — best CRMs with email marketing features
Your CRM is one of the most important tools for nurturing customer relationships. To harness these relationships in your marketing, you can opt for a tool for email marketing with CRM built-in. Here are some of the most popular email marketing with CRM options.
1. monday sales CRM
monday.com's powerful Work OS provides users with a fully flexible, cloud-based workspace for real-time collaboration. Use the integrated apps and templates to build a system to match what your team needs, with CRM and email marketing tools. monday sales CRM is equipped for email marketing with CRM features and automations that save teams time and get them the insights they need.
A few powerful potential integrations you can take advantage of include Gmail, Hootsuite, and MailChimp. Unlike many of monday.com's competitors, the platform is code-free for effortless implementation and for the ability to make platform changes as your business grows.
monday.com is a robust, flexible, and free to use CRM, with paid options for larger teams.
How do you get started with combining your customer relationships and your email marketing? Check out how easy it is with monday sales CRM.
Read also: Sending html emails with monday sales CRM
2. Insightly
Insightly is a CRM solution for businesses of all sizes. Among the typical CRM features such as a cloud-based platform, customer service tools, and email templates, it also provides a platform to integrate email marketing.
There's a free plan with basic features, as well as paid options to unlock advanced features. Some users find the interface to be a little outdated, even though the tools are robust and easy to use.
3. Pipedrive
Pipedrive made its platform for sales reps to enhance lead generation, but it boasts a well-designed CRM with optional email marketing features such as drag-and-drop email template designs and email marketing automations.
They offer a free trial to try out their email marketing tools and paid options for full access to their platform. Email marketing is an add-on feature though, so be prepared to pay an additional fee to add this to the CRM.
4. Zoho CRM
Zoho CRM is an affordable CRM option for small to medium businesses, with a handful of features you'd expect from a CRM, including email marketing tools. It's a great option for businesses who want to integrate sales, marketing, and customer support into one place.
Their cloud-based platform provides real-time collaboration and task scheduling, although their user interface can be a little tricky to navigate at times. Zoho CRM comes with a free plan, plus paid options for more features to enhance your customer relationship management.
What are the benefits of combining email marketing with CRM?
Integrating your email with your CRM opens dozens of possibilities to support and optimize the efforts of marketing and sales teams. Here are some of our favorites:
1. Optimized segmentation
While typical lead-gathering tools like forms and email sign-ups are great, further segmenting your leads makes it easier to give them curated content and engagement.
When you automatically bring your leads into your CRM, you can then start parsing and sorting them much faster.
Read also: How to use email segmentation
2. Better personalization
Similar to segmentation, having crucial segmentation data and lead nurturing information in the same place where marketers and sales reps work makes collaboration much smoother.
Read also: How to get email personalization right
3. Synced analytics
Bridge the gap between sales teams and marketers by making key performance data accessible to both — on monday sales CRM, you can easily share boards, dashboards, and reports in a few clicks, all while having space to provide direct feedback and ideas.
4. Increased sales potential
With better insights and automated communication, email marketing with CRM sets your teams up to move faster, connect better, and hopefully win more deals.
Now, let's examine some of the top reviews for the best CRM with email marketing features.
Related templates to CRM with email marketing
Having a flexible platform that you can customize to fit your business means you'll get the most out of its features. Here are two monday.com templates to help you build the best CRM with email marketing.
Email marketing template
Eliminate the need to switch between platforms by using the monday.com Email Marketing Template in our powerful Work OS. It's a drag-and-drop workflow builder offering everything you need to create effective email campaigns. This template includes email design tools, automations, custom audience creation, and plenty of integrations with your favorite services.
More email marketing templates: Sales email template, Cold email template
FAQs
Can you use a CRM for email marketing?
Optimizing relationships with potential customers is the name of the game for both email marketing and CRM software. On CRM platforms like monday sales CRM, you can use integrations to connect your email marketing tools to better organize contacts, automate campaigns, and store customer data.
Which email service is best for email marketing?
Depending on your business goals, there are several email marketing services that can work well to create effective campaigns. For those starting out, AWeber and Mailchimp offer decent, beginner-friendly tools. For more detailed campaigns, Constant Contact and Ontraport provide advanced features. And for CRM-driven email campaigns, choose monday.com Work OS.
What are the 4 types of email marketing?
Email newsletters
Promotional emails
Retention emails
Acquisition emails
Build flexible email marketing campaigns with monday sales CRM
The most effective email marketing campaigns have your customer's specific journey in mind. Using a CRM with email marketing features lets you use customer data and insights to craft specific, automated emails, all in one platform.
To maximize your marketing strategy and deliver targeted messaging to your customers, choosing the best CRM with email marketing is a wise investment. For flexibility and powerful collaboration, consider using monday.com.