A centralized lead tracking software to better support your sales reps
Close more deals by combining the power of lead management software and a flexible Work OS. Rather than relying on several project management and lead management tools, create a centralized and automated hub for your sales team to smash their goals.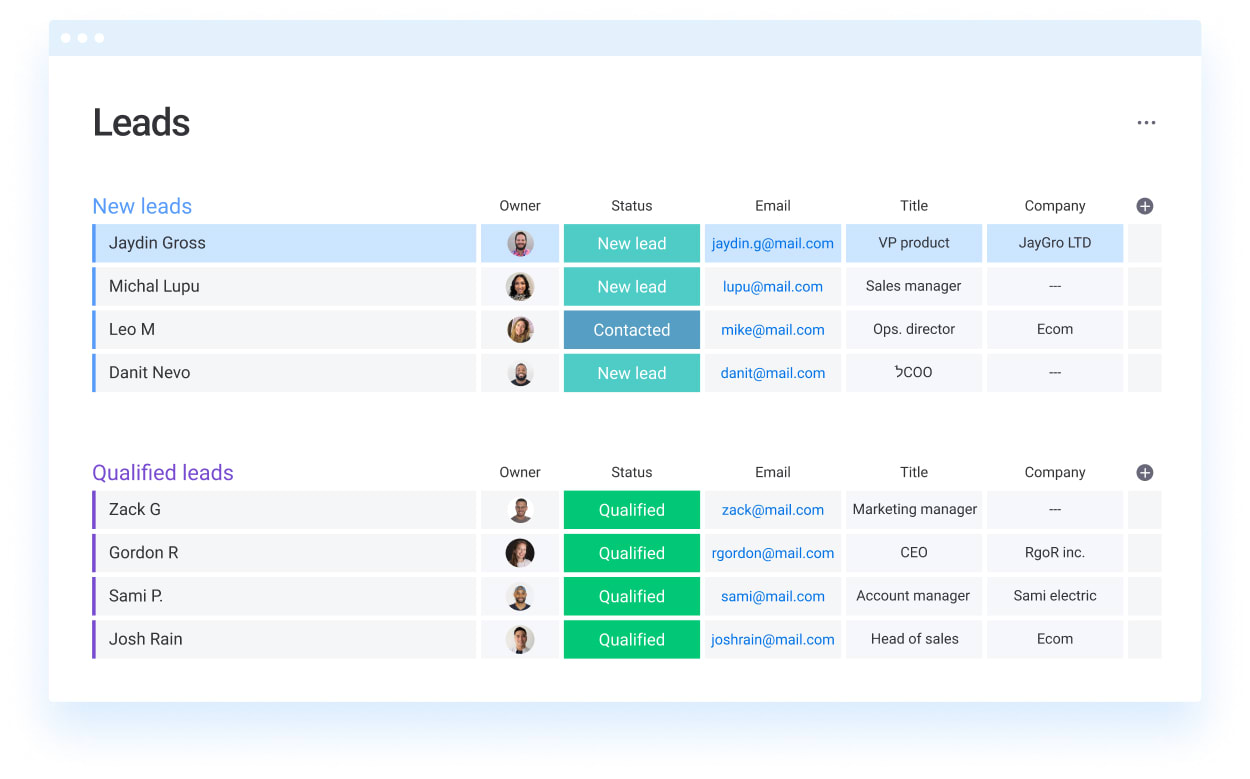 What to look for in a lead tracking software
Also known as lead management systems, lead tracking software helps small businesses and large enterprises alike to qualify leads, perform analysis, and ultimately nurture them in order to move them through the sales pipeline. Here are some of the top features you should look for in an effective lead tracking software:
Customizable dashboards to help you track progress and analyze data in real time
Automations to simplify lead tracking by adding automatic reminders to contact clients based upon the phase in your sales cycle
Integrations to easily consolidate data from a variety of apps you already use, so you can easily track every interaction your company has with a lead
Cash in on the benefits of lead follow up software with monday.com
While most teams rely on a plethora of different tools for lead tracking and managing the sales funnel, smart teams use monday.com Work OS. Customizable for any organization promoting any type of product and service, our platform can be quickly tailored to your sales and marketing needs.

WorkForms
Collect and organize leads and their information in one place where you can also enter lead scores. Use WorkForms to embed and create web forms to get new customers.

CRM
Get an instant business card-style overview of deals and leads, including contact information, stage, owner, value, and more to understand what needs to be done next.

Columns
Plug and play a whole host of customizable columns to craft your dream workflow — designate owners, calculate deals, and set custom priorities and statuses.

Dashboards
Increase visibility into your team's efforts and impact by easily building real-time dashboards — no developing experience required. Track performance and revenue in one place.

Automations
Automate repetitive sales processes and save valuable time. With automations you can set reminders, automatically assign leads to team members, and more.

Integrations
Connect your lead tracking software with the tools you already use, from social media platforms like Twitter and Facebook to other must-haves like Gmail and Hubspot.
Frequently Asked Questions
What are the 5 major steps of lead management?

Lead tracking software helps efficient teams move leads through the sales cycle and lead management process that typically includes these five steps:

Step 1: Lead capture
Step 2: Lead enrichment and tracking
Step 3: Lead qualification
Step 4: Lead distribution
Step 5: Lead nurturing

What are the features of lead management systems?

Here are some of the essential lead management system features you'll find on monday.com Work OS:

Lead Capture
Lead Activity Tracking
Lead Scoring
Lead Nurturing
Campaign dashboards
Analytics and reporting
Built-In communication via updates

While every lead tracking software will organize their leads differently — say Zoho CRM vs. Salesforce — the definition of a lead is standard. A lead is an unqualified contact or sales opportunities for a business and they include basic details gathered about individuals or representatives of organizations, which are usually collected from trade shows, seminars, advertisements, and other marketing campaigns.
A fully customizable lead tracking software made to work for you
152K+ customers across all functions use monday.com as their single source of truth to get work done. Optimize your sales operations from the start with monday.com.