Time tracking can be a headache if you don't have an effective system in place. Maybe you're chasing employees to submit their time tracking details each week and missing out on billable hours spent on low-value tasks such as emailing and filing. Perhaps you have a shared spreadsheet or, for some reason, maybe you're still tracking time on paper.
What you need is a timesheet template that works, and you need it now. In this article, we'll share a free timesheet template for Google Sheets that will streamline your time tracking system in minutes.
What is a timesheet template for Google Sheets?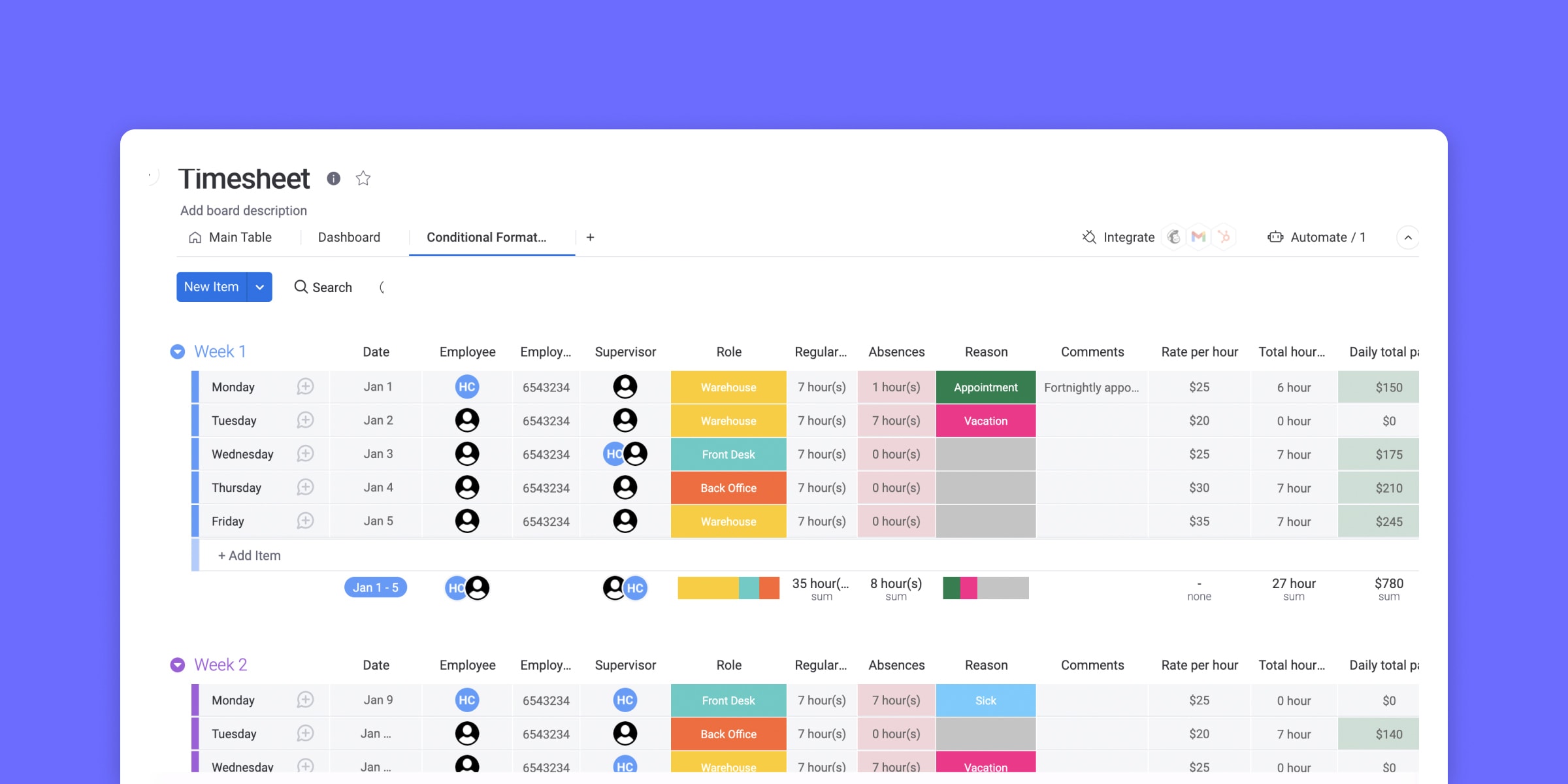 A timesheet is a time tracking tool you can use to track your employees' billable hours. It allows you to track time spent on a particular task, client, or project. A timesheet template usually consists of a spreadsheet-based document that employees use to log their hours worked on each task.
Of course, you can create a timesheet template from scratch, but with so many free options for time-saving templates in Google Sheets, why would you? Choosing cloud-based online time tracking templates like these allows your team to access and update their timesheets from anywhere, which is just one of the benefits of timesheet templates that we'll cover next.
Why use a Google Sheet template for time tracking?
The main purpose of timesheets is to ensure accurate client billing and payroll management, but a Google Sheets template for employee time tracking comes with other benefits, such as:
Cloud-based timesheets can help project managers with task and workflow management and make sure teams meet their deadlines
A Google Sheets timesheet helps employees with workload management, for example, reallocating tasks to team members who are less swamped
Hosting your timesheets on Google Sheets allows the whole team to track their time in one place
Google Sheets gives project managers, HR professionals, and accounting staff easy access to all the time tracking data they need, preventing information silos
Let's take a closer look at the benefits of using a timesheet template for Google Sheets in different areas of your business.
1. Project management
Project managers can use timesheets to see how long team members spend on each task and monitor progress against a project's deliverable schedule. If employees take longer than expected to complete their tasks, the project manager can better anticipate delays and manage the budget and overtime accordingly. A timesheet also shows project managers how much time team members spend on manual tasks, such as data entry, that could be automated.
2. Human resources
Tracking the time employees spend on their tasks allows HR professionals to monitor employee performance and identify areas for training and development. For example, if an employee takes longer than average to complete a specific task, they may need additional training to improve their skills. On the other hand, if an employee is faster than average at completing tasks, it may indicate they're highly skilled in that area and ready for career advancement.
3. Finance
Payroll error rate is one of the main KPIs that determines payroll efficiency. Timesheets save your accounting team time by reducing payroll errors and enabling them to automate the billing process. A timesheet template can make automatic calculations that reduce the margin of error, streamlining payroll efficiency, especially when dealing with larger teams.
E-book: When 65% of projects fail, here are 6 tips to improve workflows and succeed
Download
What are some examples of a timesheet template for Google Sheets?
Now that you're familiar with the advantages of using a Google Sheets timesheet template, let's look at some examples of timesheets and different use cases.
1. Accounting firm timesheet for Google Sheets
Accounting firms need to work efficiently since their bottom line depends on how much time their accountants spend working with each client. This means they need a streamlined way to track their time and bill their clients in an efficient and timely manner. An accounting firm might break down its timesheet by:
This allows them to see exactly how much to charge to each client or project and issue accurate and timely invoices.
2. Freelancer timesheet for Google Sheets
Freelancers usually work with diverse clients on a range of projects. If a freelancer has an organized, shareable way of tracking their time, such as a timesheet template for Google Sheets, it gives them a transparent way to collaborate effectively with their clients. Google Sheets allows freelancers to control permissions when sharing their timesheets with clients, such as view-only permissions.
3. Project management timesheet for Google Sheets
One of the most common uses of timesheets is to track a team's tasks. A busy project manager can save a lot of time by using a centralized system where employees log their hours.
While shared Google Sheets seem like a good idea, they can quickly become difficult to manage or inaccurate when being updated by multiple team members.
They might overwrite or change a colleague's information by mistake or use the wrong version of the document.
That's why we recommend using a platform like monday work management for project management time tracking. It centralizes and updates your time tracking data in real time and offers time-saving automations that reduce the margin for human error.
Get started
monday.com's timesheet template for Google Sheets
If you've been searching for a more accurate time tracking system aside from a basic timesheet template for Google Sheets, you might want to consider a full-featured platform like monday work management to make the most of online time tracking tools.
Our features allow you to track total hours worked at the click of a button and share time tracking data across all teams and departments. Acting as a time card calculator, monday.com helps you save time on manual data entry processes such as payroll and invoicing.
With the Time Tracking Column in monday work management, you simply click a button to start a timer on a task. The time tracker can then be paused for breaks, making it more accurate than manual time tracking.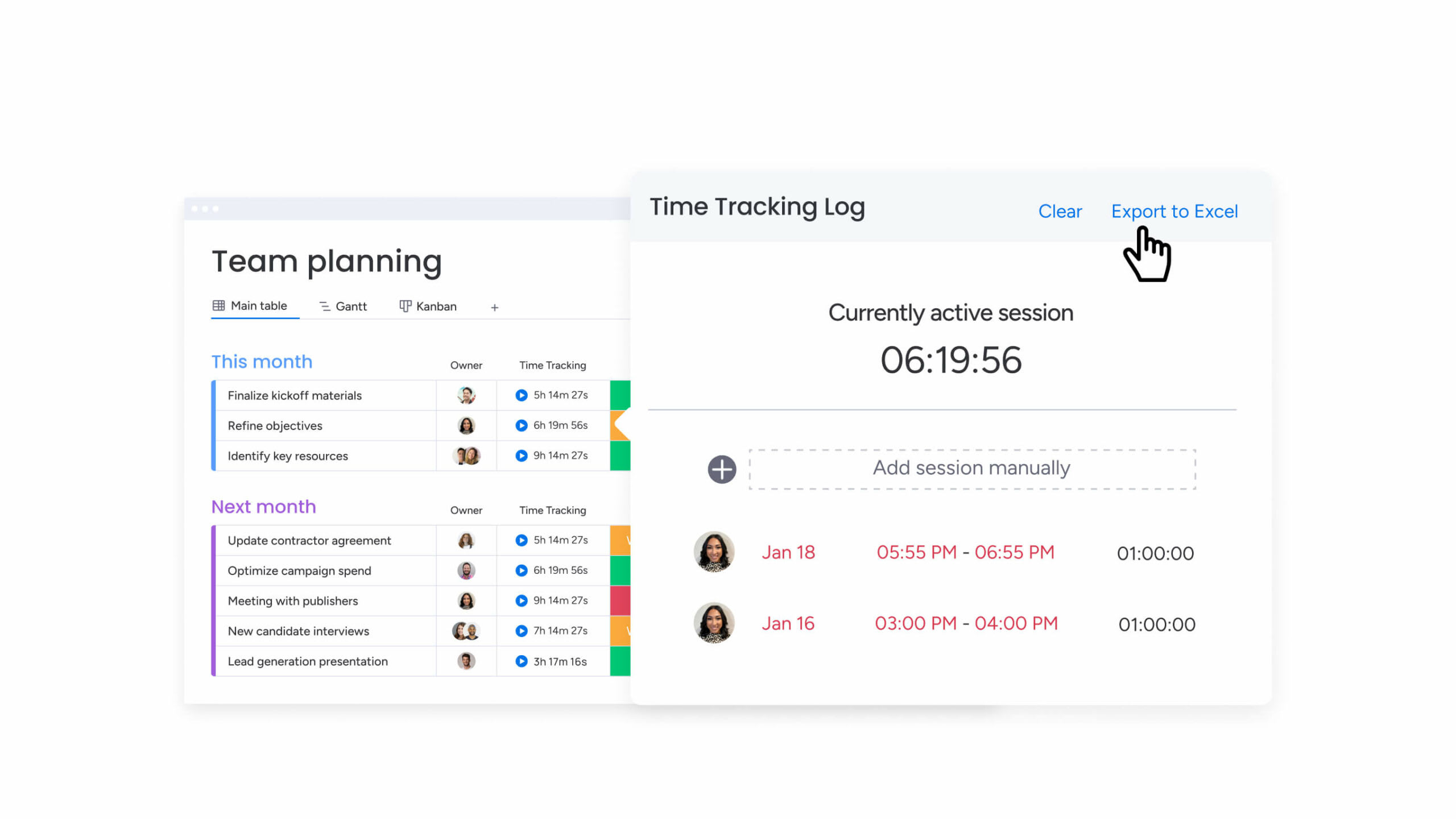 We've also created the Time Tracking Widget to give project managers an overview of the time their team is spending on tasks across one or multiple boards. You can zoom right out to view the entire team's tasks or focus on one individual team member.
Plus, monday work management's board views act as a versatile online timesheet and enable you to visualize your time-tracking data in any way you prefer. This way, you can easily and automatically generate reports and analyze time spent on a project.
E-book: When 65% of projects fail, here are 6 tips to improve workflows and succeed
Download
How to use a time card template for Google Sheets
Ready to start using time card templates for Google Sheets? Let's take a closer look at some of the different types of templates and their most common uses.
1. Hourly timesheet template
An hourly timesheet tracks the number of hours an employee works over a period of time. It's primarily used for employees who are paid at an hourly rate so that they can track the number of hours they work in a week or month.
2. Daily timesheet template
Use daily timesheets to track an employee's daily work hours. This type of timesheet is most commonly used for managing the time of salaried employees who work a traditional 9-to-5.
3. Weekly timesheet template
A weekly timesheet tracks the number of hours worked during a week. This type of template is often used by shift workers who work irregular hours or freelancers who work with several clients.
4. Biweekly timesheet template
Some companies prefer their employees to track hours on a biweekly basis. This frees up time for the accounting team by reducing the amount of paperwork they have to handle.
5. Monthly timesheet template
A monthly timesheet tracks the number of hours an employee works during a month. Like daily timesheets, they are most often used by employees working full-time hours.
FAQs about timesheet templates for Google Sheets
How do I make a timesheet in Google Sheets?
Log in to your Google account and go to Google Sheets. Open a new sheet and make a copy of the timesheet by easily pasting it in Google Sheets, or create your own by labeling and formatting columns.
How do you make a simple timesheet?
The easiest way to make a timesheet is to use free templates. However, if you want to make one from scratch, open Excel or Google Sheets and create a table using the appropriate fields. Decide whether your timesheet will be hourly, weekly, biweekly, or monthly. If you need more than one type, for example, hourly and monthly, you'll need to create 2 separate spreadsheets.
How do I log hours in Google Sheets?
Once you've created your timesheet in Google Sheets, all you have to do is start tracking your hours by entering them into the fields provided. One of the advantages of Google Sheets is that it automatically saves your work. However, you might want to consider keeping a backup copy on your hard drive just in case.
Effectively track work hours with a simple time card template
Whether you choose to use a biweekly, monthly, or daily timesheet template will ultimately depend on your team and the type of project you're working on. Still, if your project has many members as well as external contributors like freelancers, even time tracking with templates can be cumbersome. With so many different timesheets coming in on a daily, weekly, and monthly basis as all team members submit their timesheets, you can easily overload your accounting team.
Online time tracking tools like monday work management allow you to take the manual work out of checking hours, tracking time, and combining multiple employee time cards. This way, time tracking is streamlined and kept all in one place, replacing the need for multiple time card templates.