monday reviews is our latest blog series where we provide the facts about different project management tools – no BS and no hyperbole needed. Keep scrolling for our analysis and to learn more about all the project management tools out there. Enjoy!
On average, we spend 148 minutes everyday deliberating small decisions, from what shirt to put on in the morning, to what show to watch before going to bed, and everything in between.
If deciding which socks to don takes so much of our time and energy, how can you possibly be expected to select the right project management software—a platform you'll probably be using every single work day.
With 289 different project management tools and software (and counting!) out there, we're here to help you feel confident you're making the right choice for you and your team.
So, first things first:
What is Wrike?
Wrike, simply put, is a project and task management tool, albeit a more expensive one than many of its other competitors on the market.
On Wrike, each project can be broken down into individual tasks, and also includes other features, such as a timer to track time spent on tasks—though it is only available for business accounts.
That being said, it doesn't include very many ready-to-go templates, so there's a learning curve involved in getting started.
Wrike features: templates are tailored to only four sectors 
In terms of templates, Wrike only really focuses on four clusters: project management, marketing teams, creative teams, and software development. So while it is more overarching than some other competitors perhaps, like Jira for example, it may not be perfectly suited for people working for other industries, or looking for a way to quickly onboard and manage their projects.
So, Wrike's template may not be a great place for people looking for more options. Other Wrike alternatives like monday.com offer hundreds of ready-made templates to get you started instantly, no matter what industry you hail from.
Wrike also offers built-in time tracking, whereas other competitors like Asana only provide those capabilities through their integrations with other tools, like Everhour. Personally, we think time tracking is important, and therefore offer it too!
Wrike customer support: no response-time guarantee
Wrike provides several options for support, like through the Help Center, email, chat, and by phone. That being said, the company doesn't list a response-time guarantee, so you don't really know when you should expect your proverbial knight in shining software to come to the rescue.
If you prefer to speak to someone over the phone when needing assistance, you can click "Submit a Request" in Wrike's Help Center, and check the box next to please give me a call. While it is better than waiting on the line for hours on end, there is no telling when exactly your call will be returned.
Wrike does not indicate a different level of customer service or support between plans, but does offer its consulting, training, and support services at an additional, unidentified cost.
Wrike pricing: different plans for different pockets
Free – Wrike's most basic plan is free, and only available for teams of up to five people, it also has a limit of 2 GB of storage space. Wrike's free version also limits users to basic integrations, and limited views.
Professional – Wrike's professional plan costs $9.80 per user per month, and is only available for managing teams of up to 15 people. The professional plan also includes Gantt charts, the ability to share boards with guests, and up to 5 GB of storage space.
Business – Wrike's business plan comes with a price tag of $24.80 per user per month for teams of up to 200 people. The business plan grants users the ability to use automations, templates (though there aren't too many options), and customize

workflow

stages.
Enterprise – Wrike does not list a price for their Enterprise plans, but does offer user audit reports and 100 GB of storage space.
On top of its traditional plans, Wrike also has the following options:
Wrike for Marketers: this option combines the Business plan with Wrike Proof (approval for creative deliverables) and an integration with Adobe Creative Cloud. If Adobe Creative Cloud is important to you, check out the new

monday.com integration with Adobe Creative Cloud

!
Wrike for Marketers Performance: this plan includes reporting and integrations with both Salesforce and Marketo.
Wrike for Professional Services: this choice combines Wrike's Business plan features with automated workflows and time tracking capabilities.
Wrike for Professional Services Performance: this one also includes integrations with Quickbooks and Salesforce.
Wrike customer reviews: 4.2 / 5 on G2
On G2, Wrike garnered a customer satisfaction score of 4.2 / 5 on from 1,316 reviews to be exact.
But we personally think you deserve better! May we suggest a project management tool that garnered a whopping rating of 4.6 /5 on G2 and from 1,646 reviews no less?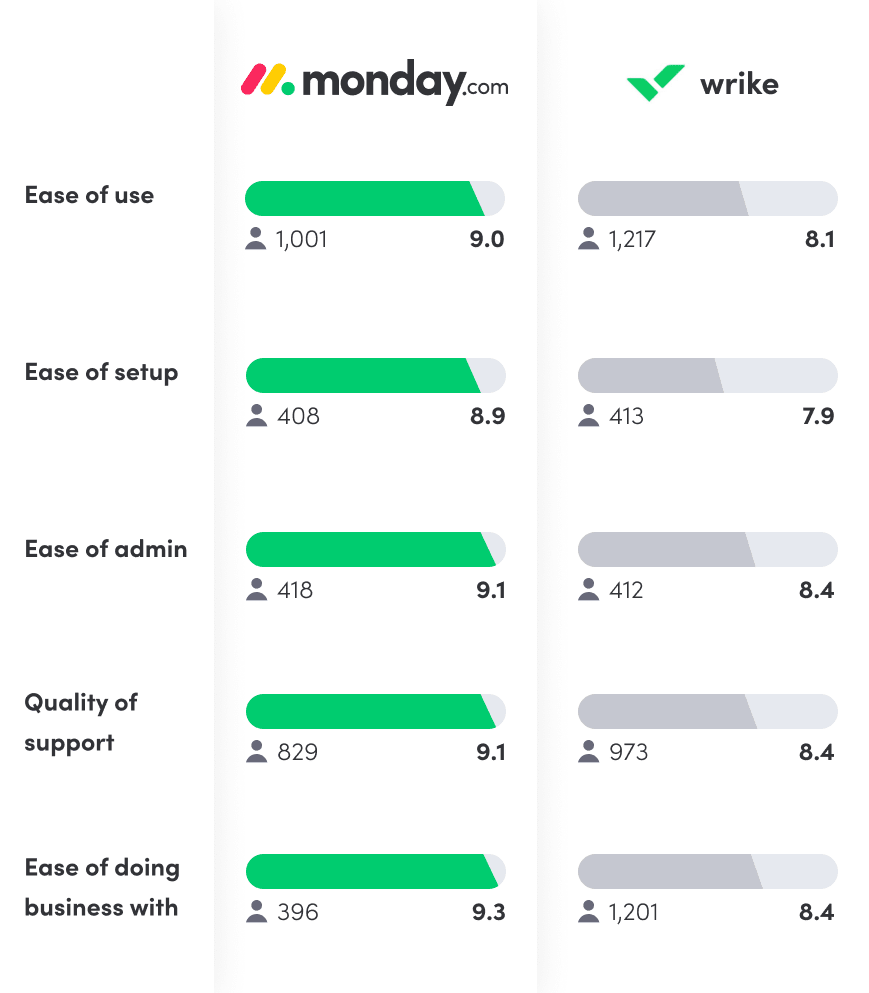 Enter monday.com Work OS: your ultimate Wrike alternative for 2021
With monday.com Work OS, you have access to a wide array of features that simplify project management from start to finish.
What is a Work OS, you ask?
A work operating system (Work OS) is a cloud-based software platform where teams can build custom workflow apps. You can create that amazing tool you've always dreamed of, whatever that may be or however that might look.
As a Work OS, monday.com offers the following capabilities:
Data visualization and analytics—all monday.com users with permissions to access a specific data source can create reports and visualizations within the platform. Our high-level dashboards and reports can become your single go-to place for data-driven decision-making, every time.
Permissions and governance—monday.com includes permission-setting features for who can view, update, and edit your data and boards. Teams can keep each other and their stakeholders up-to-date in real-time, while staying aligned with their organization's standards.
Low-code/no-code app creation—using our new monday apps marketplace, users, partners, and builders have the freedom to quickly build apps on top of the monday.com platform!
Looking for more information on what exactly a Work OS is, or what it can do for you? We have you covered with the full breakdown of a Work OS, check it out!
monday.com features: fully customizable, 24/7 customer support, and wait—there's more!
We know that sometimes you need help when you least expect it, or when it's least convenient. That's why our marvelous team of customer success wizzes are there to guide you 24/7.
Also, they have an average response time of less than 60 minutes so you can rest assured help is never far away.
Wondering what else monday.com is capable of? Here are just some of what our intuitive, visual platform can offer you:
Hundreds of ready-made templates to get you started in minutes
8 different visual workflows, like Kanban boards, Timeline views, Gantt charts, and more!
Create, customize, and share forms with your team members, stakeholders, and clients
40+ high-quality integrations so you can integrate the tools you already use
And much, much more!
How does monday.com pricing work?
Our pricing operates on a "price-per-person" model. How much you pay will depend on how many people are on your team, what features you're looking for, and whether you want to pay annually or on a monthly basis.
Our most budget-friendly option is our Basic subscription, designed for solopreneurs and smaller teams. For only $8 per person per month, Basic users get access to the following features:
The ability to create and share customizable forms
Communication with context and in real-time
Dashboards (1 board per dashboard)
Unlimited free viewers
iOS and Android apps
After that comes our most popular plan, the Standard. If you have a small-medium-sized team, this one's probably your best bet. Along with every feature our Basic plan includes, the Standard plan, costing $10 per seat per month, also includes:
Timeline and calendar views
Advanced search functions
Automations (250 actions per month)
Integrations (250 actions per month)
Up to three boards per dashboard
The ability to share boards with guests
If your team requires more intricate project management capabilities, then perhaps our Pro plan will be the best fit for you. Here's what you get inside Pro (on top of everything in Basic and Standard, of course) for $16 per month per person:
Private boards
Chart view
Time tracking
A formula column
Automations (a whopping 25,000 actions per month)
Integrations (up to 25,000 actions per month)
Up to 10 boards per dashboard
monday.com has an Enterprise plan available for larger teams, or companies who have complex workflows and need of enterprise-grade project management solutions and security. Enterprise has every feature from the other plans, in addition to:
Enterprise-grade security & governance

More automations and integrations
Advanced analytics and reporting capabilities
Multi-level permissions
A tailored onboarding process
Up to 50 boards per dashboard
Priority support
Not sure which one of our pricing plans is right for you? Check out our pricing page to play around with the different pricing options and find the perfect option to fit your team and budget!
Don't worry, every plan comes with a 14-day free trial—no credit card required— so you can try it out (and maybe even fall in love) before you pay and commit to it.
So, what are you waiting for?