Goals are something tangible they can see in the (near) future — a light at the end of the tunnel.
Any life or business coach will tell you that setting goals are the key to successful outcomes.
According to the author in this Forbes article, goal setting helps improve focus by triggering behavior, guiding focus, sustaining momentum, aligning focus, and promoting self-mastery.
These 5 outcomes can apply to individuals, teams, or organizations as a whole.
In this article, we'll dive into the power of setting weekly goals and daily goals, discuss SMART goals, and share a few monday.com templates and board views you can use to get started.
How time management and goals are related
Before we look further into goals, it's important to discuss time management.
Time management is having the ability to plan and control how you spend the hours in your day … so you can accomplish your goals.
Those who have practical time management skills are good at establishing clear goals and priorities – which helps identify which tasks are essential and those that are not as important.
In other words, time management and goal setting go hand in hand.
As we wrote about here, there are 8 essential time management skills to develop:
#1 on that list? GOAL SETTING.
That's right. The first – and arguably most important – step in effective time management is to define what you want to accomplish clearly.
Understanding what an ideal outcome looks like must happen first – before you can look at the other 7 time management skills.
Try our monthly goals template
Why goals are important
Goals are desired outcomes.
Goals are guideposts – helping individuals and teams know where to focus their energy.
Goals – whether weekly or daily – provide a high-level overview of what you want to accomplish for that week (or day). Ideally, goals align with your company's goals and mission statement.
Most importantly, goals help ensure individuals and teams stay motivated.
When it comes to goals, there are all sorts of timeframes – annual (usually company-wide) goals, quarterly goals (often tied to sales numbers), 12-week goals (as outlined here), weekly goals (team-focused "sprints"), and daily goals (usually for individuals).
No matter the timeframe, organizations, teams, and individuals must set goals, track them regularly, and do everything possible to achieve them.
The best goals are S.M.A.R.T. goals
If you want to reach your goals, you have to be "smart" about how you set them.
S.M.A.R.T. (Specific. Measurable. Attainable. Relevant. Time-Bound.) goals are well-defined, trackable, and measurable, helping hone in on what you want to accomplish – by when – and how you intend to get there.
Let's look at each part of S.M.A.R.T.:
Specific
Vague goals never seem to pan out. Goals must be simple, clear, and specific.
Example (vague) goal: "My goal is to lose weight.".
Example (specific) goal: "My goal is to lose 10 pounds over the next 3 months."
In a business context …
Example (vague) goal: "Our team will increase sales."
Example (specific) goal: "Our team will increase sales by 15% by the end of the year."
See the difference?
And we could be even more specific with our goal: How will we go about increasing sales? What will we change? What will we add to the mix?
Being specific with your goals reduces the possibility of misinterpretation and ensures a clear outcome for all.
Measurable
How will you know if you've attained your goal? First, you need some type of measurement in place to determine success.
Proper goal measurement allows you – and everyone on the team for that matter – to see how the goal is progressing at all stages of the project.
There are numerous ways to measure goals – reports, dashboards, KPIs and OKRs – and other visual means make it simple and straightforward to track daily and weekly progress against your goals.
Attainable (Achievable)
Based on past experience and the current budget and resources available, is this goal attainable, achievable, and realistic?
If the answer is not a resounding, HECK YEAH!, it may be time to tone it back.
Attainable goals balance realistic expectations with delivering satisfaction.
It's essential to push your goals – maybe even stretch them into BHAGs (aka Big Hairy Audacious Goals, a term coined in the 1994 book, Built to Last: Successful Habits of Visionary Companies). However, you have to be careful not to overdo it.
Your goals should live in the sweet spot – a delicate balancing act that ensures both your team and your stakeholders are satisfied.
Relevant
Should we really do this? Do we need to do this? Is this goal relevant to our team or overall project? How will it impact the overall company goal(s)? These are all questions you must ask (and answer) to ensure the goal is relevant.
If you uncover the goal is achievable but isn't relevant during this exploration process, adjust the goal or scrap it entirely.
Again, a relevant goal is one that's aligned to the overall success of the company.
Time-Bound
A goal with no end in sight? Eeks. A goal without any timeline attached to it is an endless project? Not good for anyone involved.
Goals must have checkpoints and endpoints (deadlines) to create a sense of urgency and keep teams on track and accountable.
Time-bound goals also help teams prioritize tasks and projects and allocate workload and resources accordingly.
For a deeper dive into SMART goals, read A complete guide to SMART goals: everything you need to know.
Try our monthly goals template
monday.com can help visualize your S.M.A.R.T. goals
Being able to see – and track – your goals is critical.
That's where monday.com comes in.
We have a robust library of over 200 fully customizable templates that make it super easy to get your team started today.
When setting and tracking daily and weekly goals, check out our project management templates or marketing ones.
In monday.com, ​​everything starts with a visual board. Our Work OS makes it simple to drag and drop nearly 3 dozen column types empowering you and your team to customize workflows that fit your style – due dates, status columns; you name it. Keep everything within the context of your actual project, workflow, or process.
Once you have your template, you can view the data in multiple ways:
… to name a few.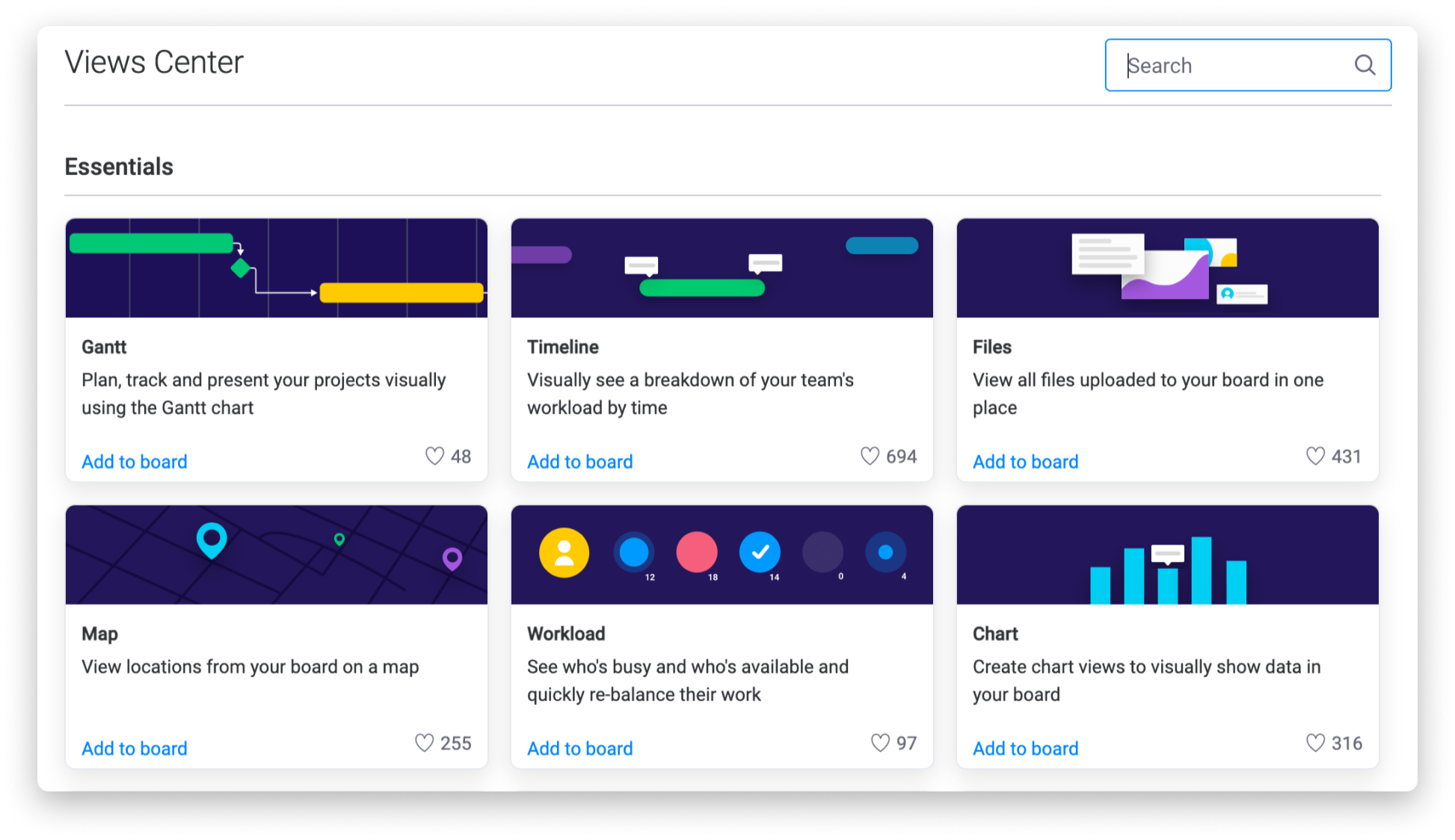 The board views allow you to visualize your board's information in multiple different ways in order to analyze and report on your board data.
Annual goals. Quarterly goals. Monthly goals. Weekly goals. Daily goals.
No matter the timeframe, monday.com's Work OS helps you visualize, track, monitor, and report on your goals.