There is no shortage of acronyms in the business world.
B2B. B2C. BD. SDR. BDR. CEO. CRO. CMO. Need more? Here are 123 of the most common ones. When it comes to setting business objectives and goals, the two most common measurement tools are OKR and KPI.
OKR stands for "Objectives and Key Results," and KPI stands for "Key Performance Indicators." OKRs, per CIO.com, "is a goal-setting framework that helps organizations define goals — or objectives — and then track the outcome. The framework is designed to help organizations establish far-reaching goals in days instead of months."
As aptly named KPI.org states, KPIs "are the critical (key) indicators of progress toward an intended result. KPIs provide a focus for strategic and operational improvement, create an analytical basis for decision making and help focus attention on what matters most."
This article will explore how KPIs and OKRs are similar, how they differ, and how both can be used to measure and evaluate success. Finally, we'll weave in how monday.com provides templates and resources for both tools.
More about OKRs
OKRs were first introduced to the business world in the 1970s by the "Father of OKRs," Andy Grove, CEO at Intel.
John Doerr learned all about OKRs thanks to an internal class taught by Grove. Doerr has since shared the theory of OKR with many others and even wrote a New York Times Bestseller, Measure What Matters in 2017, where he tells stories about how many large companies (Google, Netflix, Intel, Code for America, and so on) have used OKRs to grow their businesses.
As Doerr outlines, OKRs must have:
A single Objective (O): The "What," the big goal, the main thing you want to accomplish. The "O" informs your actions.
Several (often 3-5) Key Results (KRs): The "How," the benchmarks you'll track to meet your objective.
Doerr has some fantastic, real-life examples of OKRs here.  At monday.com, we have pretty much any template you need to get you started, including an OKR template.
This template helps teams:
Align moving parts: Define goals with complete transparency so everyone knows exactly what to accomplish each week and quarter.
Visualize goals: Centralized workflow in one visual workspace to see what everyone is working on.
Make data-driven decisions: Gain clear insights from results.
See the template for more benefits and grab a copy today.
More about KPIs
While the true origin of KPIs is unknown, there is some speculation they have been around — in some format — since the 3rd century. Suffice to say, KPIs have been an enormous part of how organizations track and measure desired outcomes for the past 100+ years.
KPIs serve as the business guideposts for many companies — helping to track how effective individuals, teams, and/or the entire organization is performing related to (key) business objectives. KPIs help assess whether or not teams are best utilizing budgets, resources, staff, and time efficiently.
At monday.com, we have a dashboard that will help keep track of your company KPIs:
This Company KPI dashboard is perfect for PMs (and other company leaders) to visually see a high-level overview of project KPIs — overall progress, workloads, budget tracking, time tracking, project progress, and more.
With monday.com KPI dashboards, you can select all relevant data from multiple boards, then filter for specific information, as necessary. You can further customize your KPI board by adding widgets (we have 15+ to choose from) — numbers, tables, battery, chart, workload, countdown, timeline, to-do list, and more!
We also have KPI boards specific to marketing and sales and customer success and pretty much any other team within your company. Here is what a possible Sales KPI dashboard could look like in monday.com: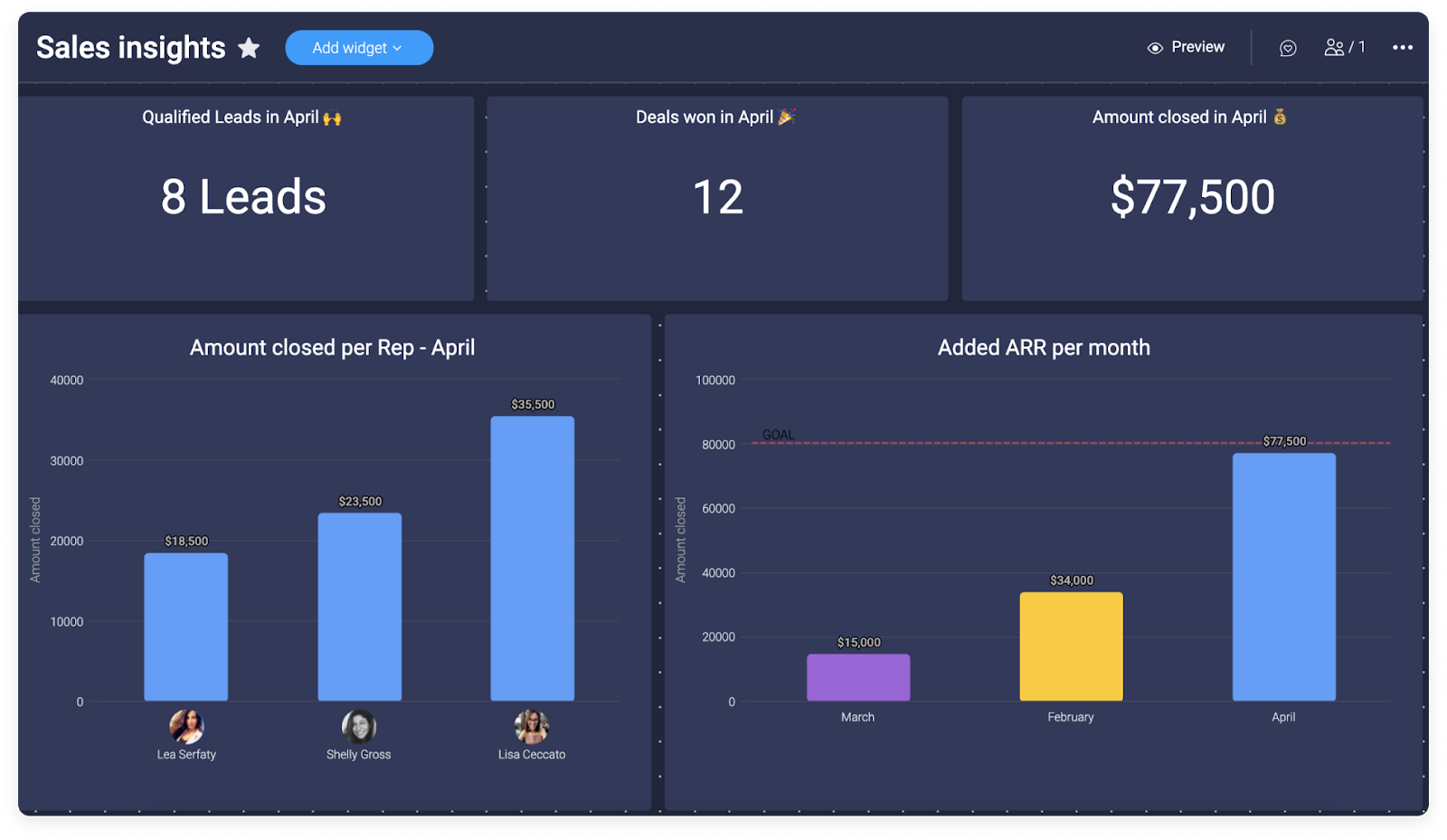 Instead of overall company metrics, we are viewing sale-specific ones — qualified leads, closed-won deals, total closed-won deal value ($), amount closed per rep over specific periods, and so on.
Similar to the company-wide KPI board, this one is fully customizable thanks to widgets.
KPIs vs OKRs: How they are similar
The best, most successful OKRs and KPIs are those who focus on objectives rather than goals.
As we discuss here, goals are vague. They provide a high-level context of what a project should accomplish and often align with the overarching company goal and mission.
Goals are your guides, your North Stars. They tell you what you hope to accomplish but not how you intend to get there.
Objectives, on the other hand, are specific. They clearly define the what and how of a project to achieve the overall goal. Here's what goals vs. objectives could look like:
See the difference? Now that our OKRs and KPIs are focused on goals let's explore how to best set those goals. We recommend using the S.M.A.R.T methodology of goal-setting.
Specific: Clear. Concise. Direct. In a perfect world, the objective should be so specific that anyone who reads it will interpret it the same way you intended. Focus on numbers, statistics, and deadlines.
Measurable: Infamous management consultant Peter Drucker once said, "if you can't measure it, you can't improve it." That applies directly to having measurable objectives — specifically focused on quality, quantity, costs, time frames, frequency, and so on. In addition, measurable objectives make it easy to compare or evaluate against a defined standard.
Attainable (or Achievable): Is this objective one the team can accomplish given the resources and timing? Attainable balances realistic expectations with delivering satisfaction. Try to find the sweet spot between a challenging objective and one that is attainable.
Relevant: Sometimes, we set objectives without considering the question, "should it be done and why?" Be sure objectives are aligned with business goals. If you find the objective or task achievable but not relevant to warrant its completion, get rid of it.
Time-bound: While it may sound obvious, there are (unfortunately) many objectives with no time component. For an objective to have any chance of success, it must include scheduled, milestone checkpoints and overall endpoints to track timeless — on-time, late, delayed, completed, and so on.
Focusing on S.M.A.R.T. objectives are hallmarks of both the OKR and KPI methodologies.
OKRs vs. KPIs: How they are different
While the net result of measuring objectives using the OKR vs. the KPI method are often similar, the intent behind them can be unique.
Generally speaking, KPIs have more reasonable goals, while OKR projects are more aggressive and ambitious. That being said, good KPIs and OKRs should not be unattainable (see S.M.A.R.T. goals).
OKR is about creating sustainable change in performance.
This "road trip" analogy is a great example to help understand the key differences between OKRs and KPIs:
How monday.com helps teams view OKRs and KPIs
As highlighted above, monday.com offers various templates and dashboards to help teams visually track and display OKRs and KPIs.
With all of these boards, we offer ways to streamline the process, including:
Automations: taking an event (i.e., the changing of status) to trigger an action (i.e., sending a notification)
Integrations: Connect monday.com with the tools you already use to have all your team's work in one place.
It's time to start visualizing your KPIs and OKRs!