You've spent hours on LinkedIn.
There are enough words in your email account's 'sent' folder to start writing a novel.
You've put in the work to close enough sales to last a few years. Right?
But then… nothing. Crickets. Tumbleweeds blowing in the wind. Silence.
And even if you do get some positive interest, your sales team doesn't have any way of keeping track of your leads, so they get lost in the muck and mire of a database that gives you nightmares.
There is a better way.
This article will give you a breakdown of what lead tracking software is, why it's important, and how sales teams can use monday.com to manage their leads, close more deals, and generate more revenue.
Why do many businesses struggle with lead management?
Out of every 18 sales calls made, an average of ONE person answers.
While returning a better response rate than calls, sales emails are still only opened by 1 in 4 people that receive them — let alone receive a reply.
The reason?
It's not a lack of skill. It's your process.
The top reasons most lead gen and management teams struggle are a lack of time and an undefined or poor process — which, for our money, are the same thing.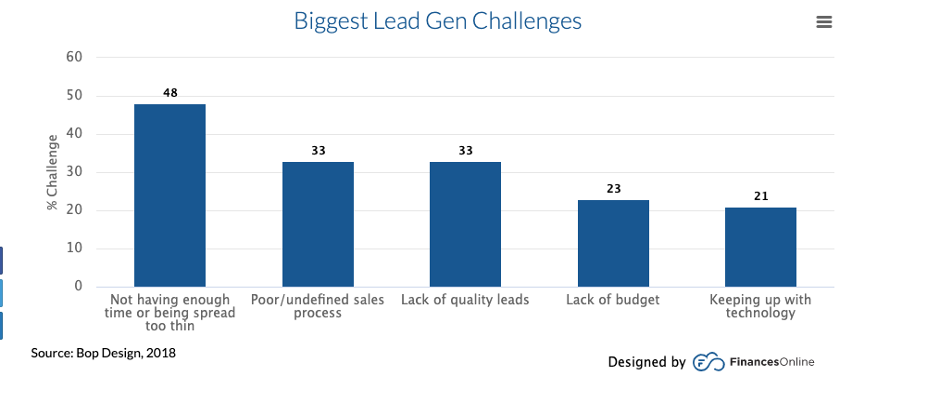 Take a look at the graph above. What do you notice?
Keeping up with technology wasn't anywhere near as much of a problem. Nor was having the available money.
The data suggests that a lot of teams struggle because they haven't got a well-fitting lead management solution — a strategy and platform in place (like monday.com) that manages their time and facilitates their lead's movement through an optimized, automated sales funnel.
What is the lead management process?
The lead management process covers the first identification of a lead all the way up to the sales team closing them.
When a possible lead is found, teams must make sure they fit the audience persona they're looking for.
After that, the lead is monitored closely. It's essential that teams get as much information as possible to make sure they're an ideal fit.
After enough information is gathered, the lead is passed on to the sales team to convert that user into a paying customer.
Sales lead tracking: how do I do it?
In the old days, you would write down your lead's information on a piece of paper. You'd take a comb to your slicked back hair, take a large drink of 11am bourbon, and call them a half dozen times until they blocked your number.
That was then, though, and this is 2021.
The best way to keep track of sales leads these days is with lead tracking software.
These platforms — of which monday.com is proud to be a part — allow you to upload lead information automatically, along with grouping them into different categories.
Here's how monday.com can help, if you're curious:
Up next, we've got a section dedicated to explaining lead tracking software in more depth.
What is lead tracking software?
Lead tracking software is the technology that helps you track a sales lead without the grunt work that robots were invented for. These platforms help you track the entire lead management process, as well as keep serving each customer after the sale is completed.
When you use lead tracking software, you will be able to easily set up the platform for your entire team. Once everyone is set up and you've built a lead management system, you will each be able to see how everyone is progressing.
Often, lead management software will be integrated with other management software — such as marketing automation.
Lead tracking software is also commonly referred to as a customer relationship management (CRM) platform or sales tracking software.
What are the features of good lead tracking software?
Right, so you have a rough idea of what lead management software is. You also know how to track a sales lead.
Platforms that enable you to track leads usually have the following features:
The ability to categorize your leads: when you capture leads, they will not always fall into the same category. You will therefore need a platform that allows you to group them based on how they serve your objectives.
Complete transparency in your sales pipeline: the last thing any sales team wants — or needs — is a dry pipeline. It's essential that your lead tracking software makes it clear when you have plenty of leads and when you may need to do a little more outreach or marketing.
Workflow management solutions: not every sales team will be at the same stage of completing a sale. The best lead tracking software will enable you to map out where each of your sales stands and provide full transparency.
The ability to share your workflow management with your colleagues: by knowing where every team member is when it comes to lead generation and the sales process stage they're at, you'll avoid duplication and needing to do more work than is necessary.
A monthly overview of your sales performance: measuring your monthly sales lead tracking statistics is essential for future planning. Besides offering a real-time overview, you can go through previous months to compare how you're doing now compared to then.
Good lead management platforms will enable you to track your leads wherever you are, on both mobile and desktop.
Moreover, you should have the option to integrate third-party apps that you use elsewhere.
Is monday.com a good platform for managing lead generation?
In short, absolutely.
As a fully optimized Work OS, monday.com is more than just an internal management software. In addition to measuring the progress of your individual projects and team campaigns better, you can also use monday.com as a platform for sales lead tracking.
Using monday.com for sales has been tried and tested by many major companies in the past. Small business magazine Entrepreneur is one of those happy clients.
Using monday.com's sales tracking software, Entrepreneur increased their digital sales by just under a quarter (23%). The publication also saved 11 hours each month on laborious duties like filling out spreadsheets manually.
Entrepreneur's VP of Innovation, Deepa Shah, broke it down:
"I've worked at multiple publishers and everywhere I'd go, we were always limited to tracking our sales campaigns by month.
At Entrepreneur, we also want to be able to track campaigns by salesperson; by agency; by brand. And, also be able to sum up all the numbers at the end of the year. And I've never been able to find a CRM that was flexible enough to let me do that."
But what particular features make monday.com good for lead management?
Ready-to-use templates: while our platform makes managing leads easier without templates, having a few makes that even simpler. One example is the sales process template.
[Embed image of monday.com sales process template]
Post-sales transparency: once you've sealed the deal, you can use monday.com to begin onboarding new customers and clients.
[Embed sales interface image from monday.com]
Fast integration: after signing up for monday.com, you can get your whole team started in a week or less.
[Embed image of team fully integrated in monday.com platform]
How do I build a lead management system with monday.com?
Creating a lead management system with monday.com is fast and easy. If you've already put together a sales tracking spreadsheet, you can import those contact details into your user interface.
It would also help if you customized your profile to fit your needs, such as breaking down leads by country and whether they're vendors or customers.
For a full walkthrough on building an easy-to-use system on our lead management software, check out the webinar we hosted below:
Using a lead tracker is easy; you just need to get started
Lead tracking isn't as complex as you might think.
Using the right software will make it even easier to track your sales activity. When you invest in a high-quality lead tracking software, you will gain a full overview of every sales process — allowing you to close them quicker.
Now you've finished reading this article, you should have a good base understanding of why lead tracking software is important. You now also know how damaging a poorly-defined sales process is for your business.
All that's left for you to do is decide which software is best for you and get started.
Are you ready to see how monday.com can help your sales team to improve your sales figures? Get started with a free 14-day trial.