For many who grew up before the internet age, an introduction to Kanban boards might have looked like a whiteboard filled with sticky notes across 3 distinctive columns — to-do, work in progress, and done.
While this might have been a fun and interactive way to have a team manage a task or project, a physical Kanban board did have its limits.
This became apparent when a task list started expanding, or when workflow was split across multiple teams, making it tedious and confusing to manage a physical board.
But today, the scene is completely different.
There are dozens of digital Kanban boards that can help a Kanban team view and manage their workflow easily. Everything from workflow updates to file management can be done with a few clicks.
If you're considering using an Agile methodology like Kanban for your project management needs, you're in good hands.
In this article, we'll take a deep dive into the basics. We'll cover a brief history of Kanban, its components, and what features to look for in an online Kanban board.
We'll also check out the best digital Kanban board available today (Hint: it's monday.com) so that you can see just how easy it is to set up a Kanban board on monday.com.
What is a Kanban board system?
The Kanban board system is an Agile project management methodology that helps organizations save time and maximize efficiency.
It involves the use of Kanban boards, which are a visualization tool that helps teams view, manage, and improve their daily workflow.
Envisioned as a simple planning tool, it was first used in Lean manufacturing by Toyota in the 1940s. It comes from the Japanese word Kanban, roughly translating to 'signboard.'
Taiichi Ōno, the then director of Toyota, applied the Kanban system to every stage of production to manage and optimize the flow of work. He successfully transformed that company into the household name that it is today.
But the Kanban methodology only resurfaced many decades later when it began to be used by IT and software development teams in post 2000.
In the late 2000s, Kanban began to be even more widely used by Agile and Scrum board teams in sectors such as marketing, sales, and recruitment that had straightforward workflow and repeatable processes.
A core practice of the Kanban methodology is to visualize your current workflow, limit time spent on work-in-progress (WIP) items and move things along from the 'doing' to the 'done' stage, through continuous improvement.
The main advantage of using a Kanban Board is that it makes all aspects of the project visible to everyone. The whole team is in the loop about who needs to work on what, project status, and deadlines.
Now let's talk about how a Kanban board works, and discuss its key components
What are the elements of a Kanban board?
A Kanban board is a visual signboard which tracks a team's workflow — work that needs to be done, work that's being done, and work you've completed.
Each board contains a series of columns and cards. The cards represent individual tasks, and the columns, the process or stage.
The Kanban system involves moving the card along from one column to the next in a continuous workflow, until the project is completed. It's sort of like a baton which needs to be passed on from one team to the next in a relay race.
Whether it's a physical or virtual Kanban board, it's key elements are the same, and are described below.
Board
This is your workspace and displays all details of your project, and various stages of your tasks.
It gives you the bird's eye view of your entire project, so that you can track all the moving parts and address conflicts or issues if they arise.
The board gives both project managers and their team complete visibility on ownership, deadlines, and status updates.
Cards
This is where a piece of work visually lives on your board.
Each Kanban card usually contains all the relevant information related to the task — title, description, owner, deadline, status, any attachments or files, and comments or notes added by team members.
Columns
Each board is split into columns, which represent different stages of your workflow. The columns can be a 'to-do,' 'work in progress,' or 'completed' column, or whatever you might want to name it.
Each card is moved along from the first column to the next as each stage in the process is completed. The process continues until the card reaches the final column, which is when the task or project is done.
What is Kanban board software?
Teams can choose to plot a Kanban roadmap using a physical board, such as a whiteboard, or by simply using a bunch of color-coded sticky notes on an office wall.
However, virtual Kanban boards offer teams an unparalleled level of convenience and flexibility.
They include useful features that can make it even easier to organize and manage workflow.
Over 75% of project managers say that it's necessary to use software with functionality such as collaboration and task management.
Here's how a Kanban board looks on monday.com.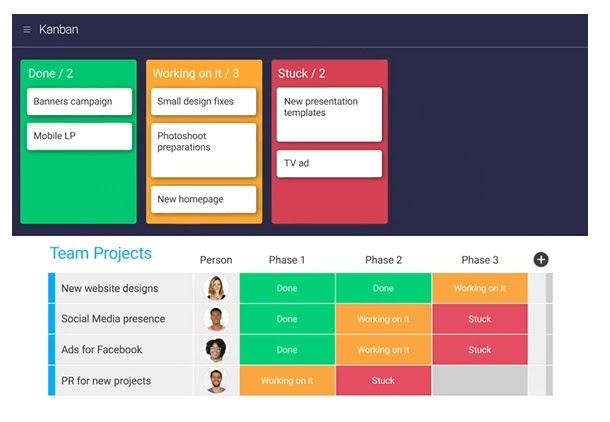 Kanban board software gives teams the ability to:
Manage and track their workflow easily from a single platform.
View and update their work from multiple devices in real-time.
Automate practices so that you save time doing repetitive tasks.
Communicate and collaborate easily with team members.
What are the pros and cons of using a Kanban board?
Using a Kanban board is great for teams who want to get a visual overview of their work.
Teams enjoy using the Kanban method because of its ease of use, visibility and flexibility when it comes to managing projects.
If you're a team leader or product manager who needs a simple way to view and manage multiple tasks, then the Kanban board is your friend.
But, like any other project management solution, Kanban boards too have their limitations.
To help you make an informed choice about whether the Kanban system is right for you, we've listed some key benefits and drawbacks.
Kanban board pros
Simple and user-friendly system that is easy to understand and use.
Gives a clear and concise visual overview of your workflow that can help you manage your work and team members.
Improves efficiency by helping teams quickly identify conflicts or issues and resolve them in a timely manner.
Improves collaboration by giving all team members shared responsibility, access to information, and allowing them to communicate easily within the same space.
Increases speed and productivity by helping teams access, communicate with team members, and update their workflow in real-time across devices and timezones.
Kanban board cons
The system only works for teams whose work can be divided into concrete steps or stages.
Not suited to a dynamic work environment as it relies on a workflow that is more or less consistent.
Become hard to use when there are too many interrelated tasks within a project.
While Kanban works for a simple and straightforward workflow, it needs to be used along with Scrum or other PM techniques to manage complex projects (I.e., Kanban doesn't manage dependencies between activities).
What are the must-have features of Kanban board software?
Once you've made the decision to use Kanban board software, you'll want to make a list of features that suit your needs and that of your team.
Here are some key features to consider:
Intuitive design interface
To save time onboarding and learning new software, you'll want a tool that is simple to understand and easy to use.
You'll also want to make sure that your software is flexible enough to meet the evolving needs of your team — whether this is an increase in the number of users, or projects, or even a change in your processes.
Centralized collaboration
Your Kanban software should have functionality that allows your team to share information and collaborate easily on tasks and updates.
This includes the ability to add or upload files and attachments, mention or notify team members, add comments, and communicate in the same space without having to leave the dashboard.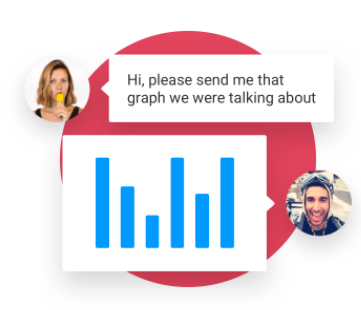 Customizable workboards
No 2 projects or team members are the same.
Customizable workboards give you the ability to modify features according to team preferences. These can include aspects such as customizable columns, themes, colors, or views.
If you're getting access to a library of pre-loaded, customizable templates — that's an added bonus.
Automations
Automating certain aspects of the process or automatically getting the software to complete recurring tasks for you, can help your team cut back time spent on the mundane stuff.
For example, you could set-up a notification that will send the task owner an email when a deadline is approaching, or automatically move a card to a column when a milestone has been achieved.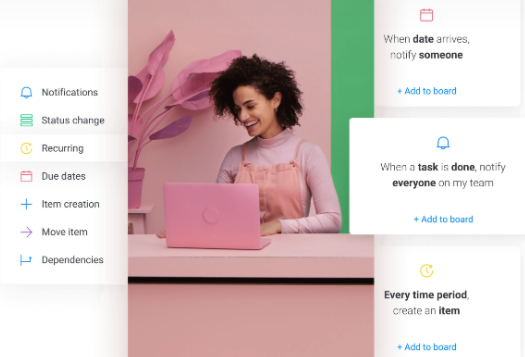 Integrations
Your Kanban board software should come with a number of integrations that allow you to seamlessly sync with all the software, tools, and apps that your team already uses.
These can include file-sharing, communication, calendar, email, app integrators, and developer tools.
Why monday.com is the best Kanban board to manage your project?
So far, we've looked at how Kanban boards work, we've examined its components, and we've gone through some top features to look for when you're hunting for Kanban board software for your company.
Once you've made the decision to invest in a Kanban tool, it's time to decide on the best software for you.
But, how do you decide which is the right option for your team's needs? A Google search adds to the confusion, revealing several names, each boasting a mind-boggling array of features.
Well, we believe we've got the solution for you.
Presenting monday.com. A fantastic Work OS that has been helping countless teams successfully track and manage their work, no matter the size of the team, or scope of the project.

Here's why monday.com is the right choice:
We have a fantastic visual dashboard with intuitive drag-and-drop functionality that makes it super easy and fun to work with.
The platform has powerful features that will enable team collaboration — allowing users to share feedback, files, or comments in a single place.
We offer multiple ways to view your data, such as Gantt charts, calendar view, timeline, and more. This allows for greater flexibility, in case you want a Kanban alternative.
There's a library of hundreds of customizable templates to make your life easier.
We make project planning seamless by centralizing your data and supporting integrations with your preferred tools.
Guide to setting up a Kanban board on monday.com
Not convinced?
Let's have a look at how you can easily set up a Kanban board view on monday.com.
First, we'll need to create a new board which is compatible with the Kanban style. Then, we'll need to apply the Kanban view to the board to transform your project data visually.
So,  let's say the goal is to track inventory for a hat-making company.
We're first going to build our Board with data. This includes the People column and the Status column.
The People column helps you assign responsibility for the task.
The Status column is an instant overview of where things stand. You could assign labels such as to-do, in progress, complete, or any other status.
Create your columns and cards based on how you want to classify your inventory. In this case, each item below is sorted in terms of the type.
The next step is to add additional columns with other important information, such as product number, color, stock, inventory etc.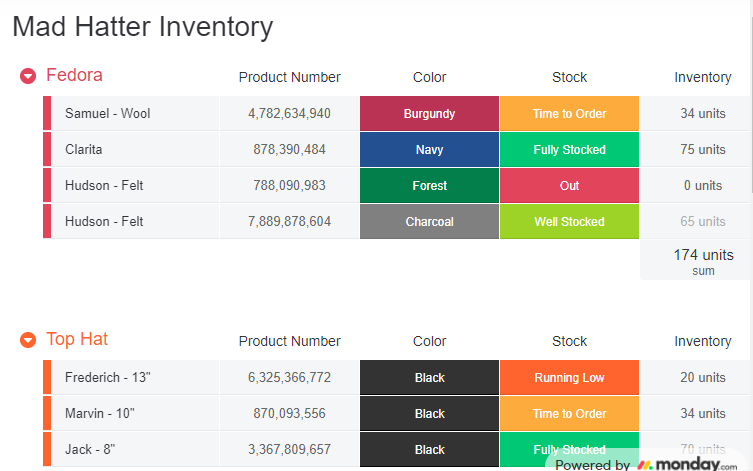 Once the data has been added, we'll apply the Kanban view to the board, by selecting this option from the drop-down menu as seen below.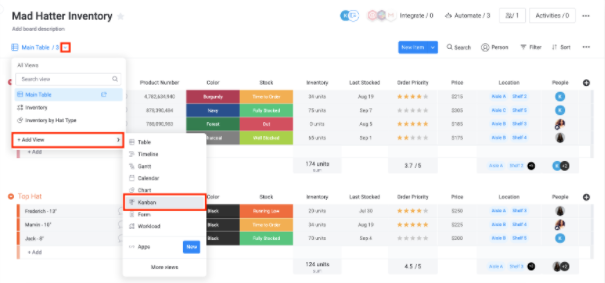 Once this is done, you can customize your board by moving columns around, adding additional details, or using custom colors of your choice.
And, that's a wrap. How easy was that?
Ready to choose?
Kanban boards are a simple and user-friendly project management tool that can help teams track and manage their daily workflow.  
Your choice of a Kanban board software depends on your needs. But, to help you make the best decision, make sure you compare all the top features and benefits listed above.
No matter how simple or complex your requirements are, monday.com's excellent Kanban board is guaranteed to help you track and organize your workflow efficiently.
Check out how you can use Kanban boards on monday.com to collaborate easily and get work done in a jiffy.