In the past, collaboration meant meeting in person to discuss projects and share materials. Everyone involved had to be sure they were prepared, or they'd have to schedule another meeting and lose a lot of time.
Today, however, file sharing software lets you send vital documents and deliverables instantly.
In this article, we'll explore why file sharing software is critical to succeeding in a remote environment, some file sharing application shopping considerations, and a few features to look for when weighing your options.
What is a file sharing program?
A file sharing program is an application or software solution that lets you send and receive digital files over a network.
In doing so, collaboration becomes much easier. You also have a central hub for file storage, streamlining your file management.
Here's a quick example of software with file sharing capabilities in action:
Why should you get file sharing software?
Even before the pandemic forced the idea of remote work to explode, file sharing software played a crucial role in ensuring team members could share ideas and get documents into the right hands.
Organizations could still share files in person, but a cloud-based application was more efficient than walking around an office building.
If you're going remote — either partially or entirely — getting a sharp file sharing program is going to be mandatory for your company's survival.
You may think email provides sufficient file sharing capabilities to get by, but it's easy to lose documents in long email chains. Not to mention emails may go to spam or trash, causing people to miss or lose crucial documents.
Chances are your employees also want an effective file sharing app if you don't already have one.
In a survey that M-Files administered to employees of various organizations, 88% of respondents expressed a desire for a central platform where they could search for documents.
The same survey found that 83% of respondents had previously had to recreate a document because they couldn't find it in their corporate network.
Think about how much time and productivity you might be losing because employees can't easily find the files and information they need. That's where the right file sharing software can save the day.
3 things to be aware of when getting file sharing software
Your ability to share files is vital to organizational success. After all, it's hard to collaborate without the ability to send documents.
But you're also dealing with sensitive company information, so there are a few things to consider when picking a file sharing tool.
1. The type of software
Here are 4 broad types of file sharing applications:
Cloud-based: a cloud-based file sharing service lets you send and receive files from anywhere and any device as long as you have an Internet connection. Files sync automatically, minimizing the need for updates.
Peer-to-peer: P2P file sharing software doesn't use a central server but, instead, lets you directly transfer files from one device to another.
Client-server: these store everything in a central location — such as a server — then provide it to any authorized parties that need the files.
System-native: these are built into specific operating systems and let you share files with other devices using the same OS within a local network.
Many organizations are adopting cloud-based file sharing applications as they go remote. These are often the best option due to their accessibility from any location and — in general — any device with an Internet connection.
2. The level of security
With the push toward virtual work, security is becoming more critical than ever before.
In 2020, the U.S. saw 1,001 data breaches. That's down from previous years, but the overall trend has headed upward for a decade and a half.
You don't want the outside world to see sensitive files that you share with others in the organization. When you're looking for a file sharing platform, spend some time inquiring about the security features the company uses — especially if you're in an industry with specific security standards. For example, file sharing software for healthcare organizations should be HIPAA compliant.
Some other features to look for include:
Expiration dates for shared links
Alerts for cyberattacks
Shared file password protection capabilities
Secure access methods like 2-factor authentication or adaptive authentication
3. Accessibility
Finally, you want your file sharing application to be as accessible as possible for any user who needs it, without sacrificing security.
In the M-File survey mentioned earlier, 86% of respondents said they often struggle to find the information needed to do their job.
This can waste a lot of time and energy that could be put to use elsewhere. Therefore, it should be as easy as possible to find the files needed — which is why features like a search bar are so handy.
For instance, monday.com's file view offers an excellent example of how a quality service makes files easy to find: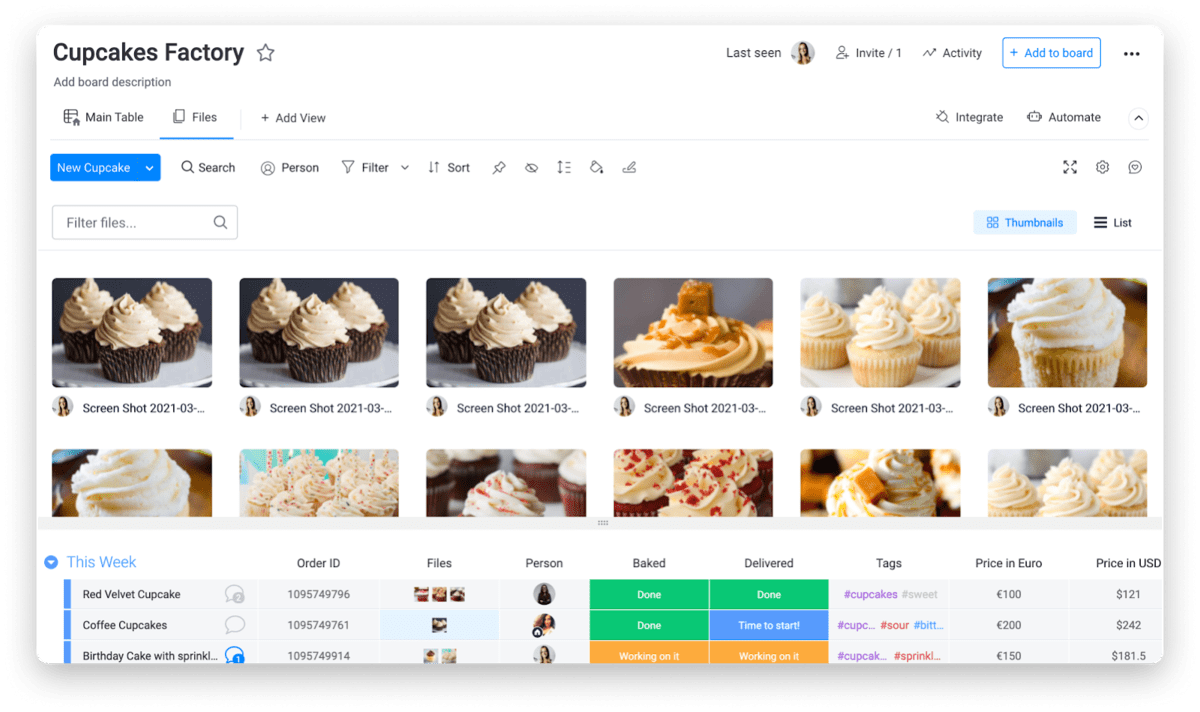 Notice how the search bar, sorting feature, and filtering are just a few of the ways monday.com allows you to track down files.
Team members should be able to access the file sharing software from anywhere, hence our earlier recommendation for a cloud application. File sharing applications with mobile apps or intuitive mobile websites are a priority.
4 key features to look for in your file sharing program
Keeping your internal documents safe and secure while collaborating is a top priority.
But now that you know some key considerations when looking for file sharing software let's explore some vital features you want in the program you pick out.
Communication tools
Collaboration requires communication, so your choice of software should offer multiple ways to chat with others in the organization.
For example, monday.com lets you leave comment-style updates on various board items. You can also like or reply to these updates and receive notifications about them.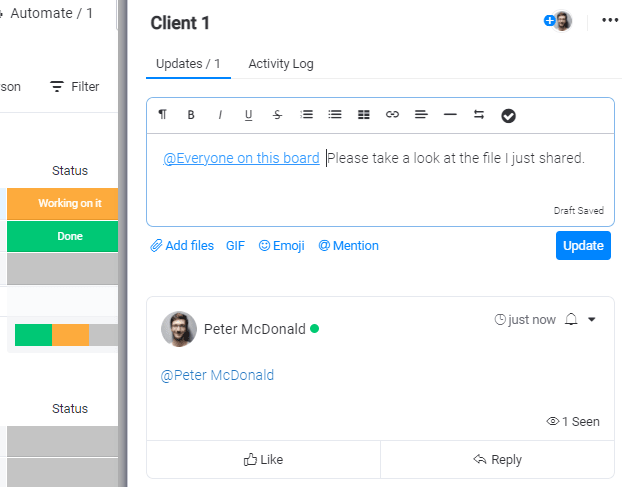 Perhaps you use outside communications tools to host video calls and send chat messages to others, though.
Luckily, monday.com integrates with top communication software like Slack: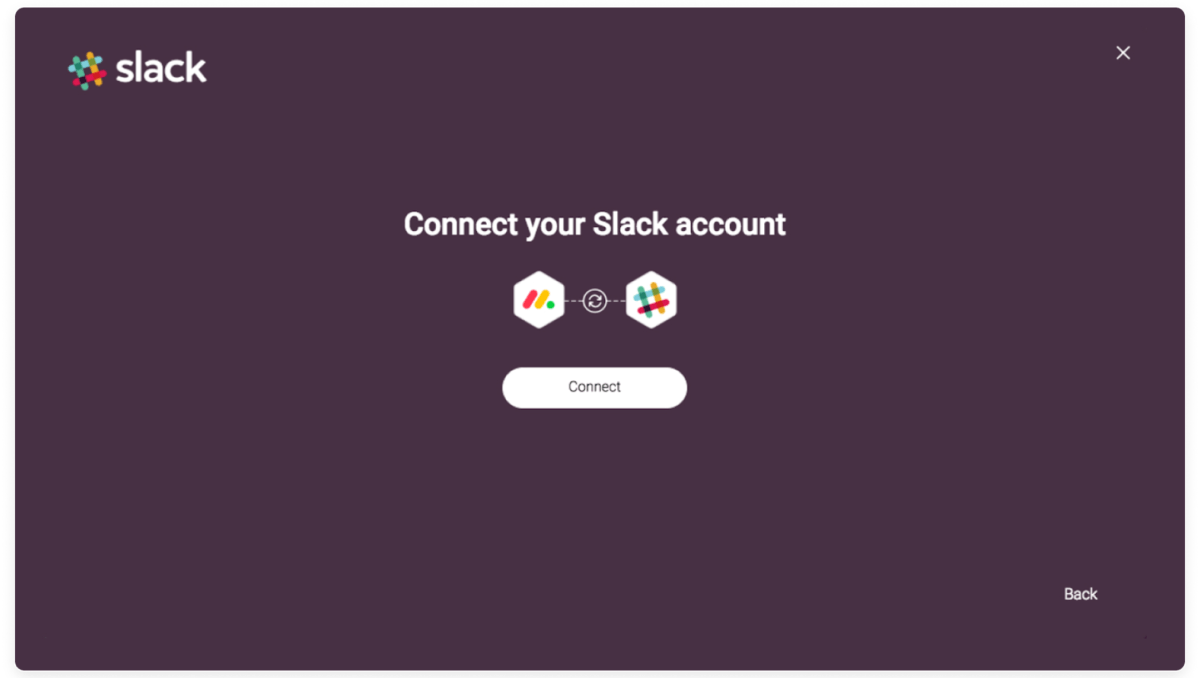 Access controls
Given the security and privacy concerns around sharing sensitive documents, any file sharing solution you choose should come with access controls.
Inside monday.com's admin area, there's a whole section dedicated to permissions across boards, dashboards, workspaces, and accounts.
For example, you can set who's allowed to view or edit a board.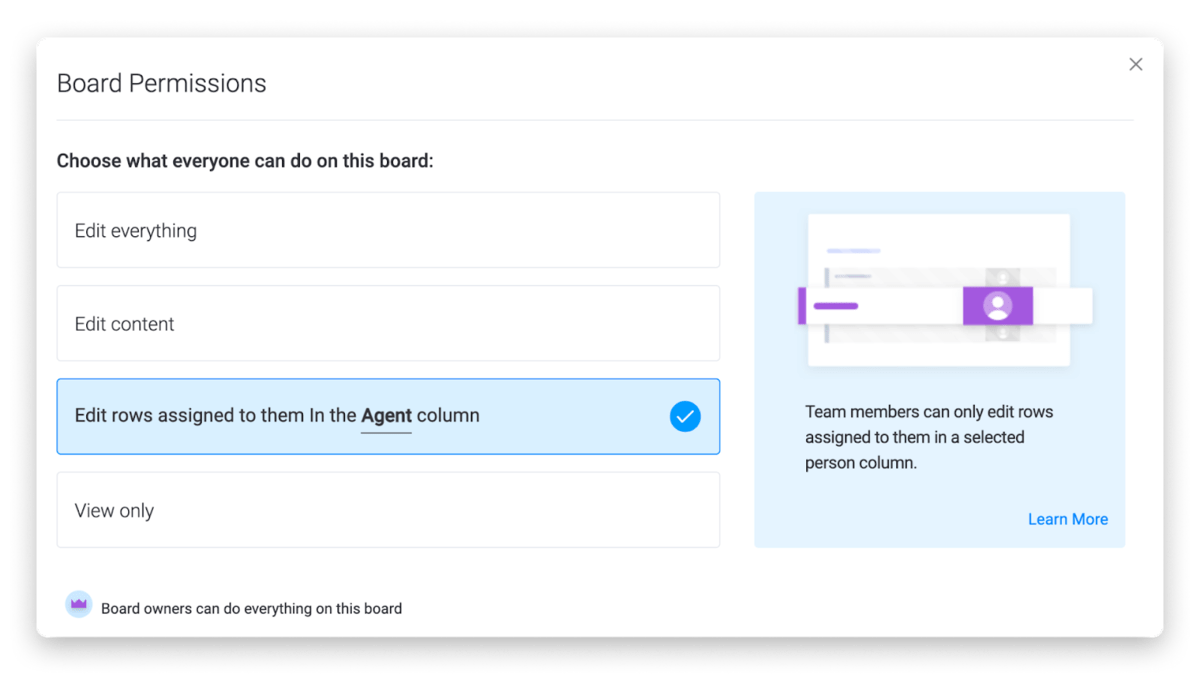 You can also get more granular, such as restricting access to specific columns: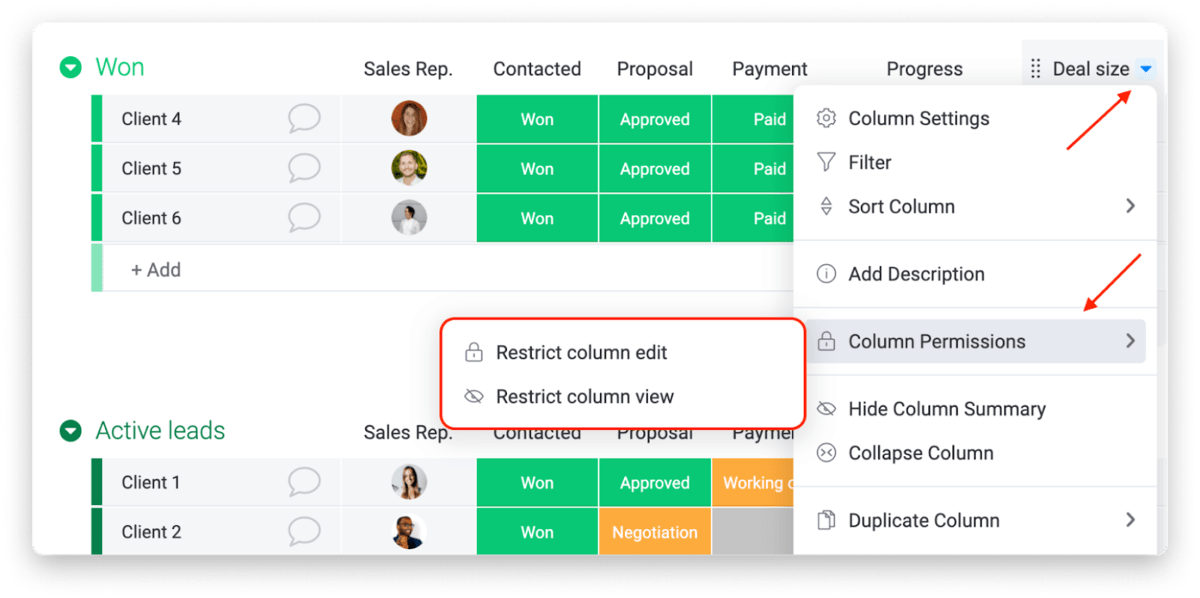 Through these and other permissions, you can make sure only the people you want to see files and information have access to them.
Automations
File sharing can involve a lot of manual activity.
For example, if Person A shares a file with Person B, there's a great chance that Person B needs that file to do their job — so a notification would be nice.
Another manual file sharing task might be to set a due date on a deliverable when Person A provides a file to Person B.
Regardless of the task, automations like those you can build in monday.com will cut down on this manual work and streamline your overall workflow.
monday.com comes preloaded with plenty of automation recipes.

Just pick the automation recipe that fits your needs, fill in the blanks, then set it and forget it.
Mobile app
Ideally, you want your file sharing application to be usable from any device. That way, teammates can communicate and collaborate regardless of where they are and what device they have. Therefore, any file sharing program you consider should have a mobile app.
Here's a snapshot of an inbox from monday.com's mobile app: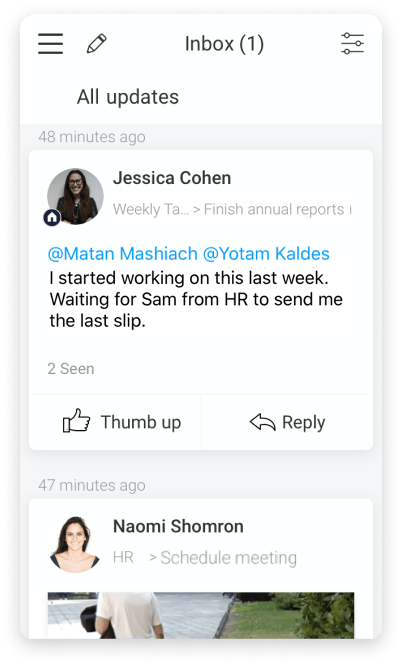 Notice how it looks like a mobile version of a social media app, providing a feed full of updates.
It's compact and thumb-friendly yet packed with features at the same time. A monday.com user can continue collaborating and sharing files, even on their mobile device.
Get files into the right hands quickly and securely
A secure, intuitive file sharing program is necessary for keeping up in a business environment that's going remote. Software with the right features improves collaboration by automating manual tasks and making it easy to find and share files anywhere from any device.
Your best option is to use a cloud-based platform where you can host your entire workspace. We're talking about a Work OS, of course, like monday.com.
Try monday.com's Digital Asset Management template to see how the platform can help you centralize your digital assets and facilitate collaboration.