As a business or organization scales, naturally so does the number of contacts. Contact management software is an essential tool in maintaining organized and personalized communication to reach your goals.
In this article, we're going to give you insight into the key features you should be looking for in a contact management software platform.
What is contact management software?
Contact management software is a specialized platform for storing, organizing, and managing data on your customers, leads, and prospects.
In its most simple form, you can think of contact management software as your cloud-based Rolodex. More complex solutions like monday sales CRM allow you to track communications and keep a record of sales conversations and more over time.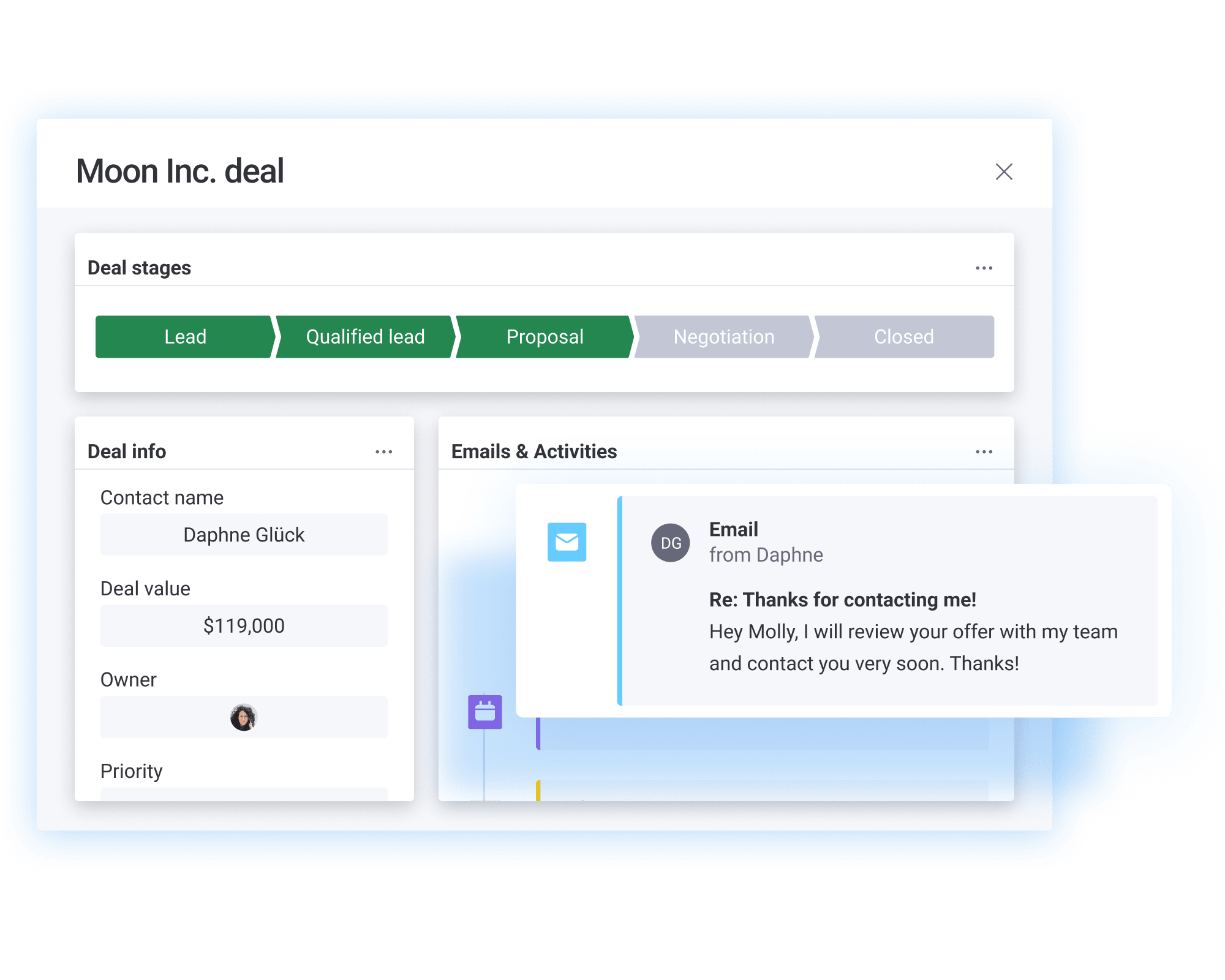 Why use software for contact management?
Contact management software offers a number of benefits for any department that's customer-facing, be it sales, customer service, or support programs.
One of the biggest impacts that a contact management system has is its improvements on your sales process.
32% of customers say they would stop working with a company after only one incident of poor service. So, it's fair to say that this is no small matter.
Centralization
The most obvious improvement upon manual methods is that it brings all of your lead information into one place so that you'll never lose a number or email address again.
Automated notifications
Modern contact management platforms should also allow you to set reminders to communicate with your leads or prospects, such as a six-month post-purchase follow-up call.
Mobile access
One major feature that has become increasingly important in recent years is mobile compatibility, to the point where the majority of solutions also offer a mobile app for iOS and Android devices.
This has an even more significant impact on sales results, with 65% of reps using a mobile solution reaching their sales quotas, compared to 22% for reps who do not.
monday sales CRM meets all of these criteria and can be used for contact management and beyond.
Who uses contact management software?
A contact manager platform has applications across a variety of fields, including:
Salespeople
Real estate agents
Business owners
Freelancers
Marketing agencies
Construction managers
Basically, anyone who has a lot of customers or stakeholders to keep in touch with on a regular basis will find some benefit in implementing contact management database.
Contact management software vs. customer relationship management software (CRM)
Though a contact management app might be something new to you, chances are you've heard of or even used a CRM solution.
And so you might be wondering what the difference is.
The primary difference between contact management and CRM software is that CRM software tends to be more complex with more advanced functionality.
For example, a contact management solution often includes basic functionality for managing and tracking customer and vendor information and communication.
CRM software, on the other hand, includes functionality designed to manage a full sales process, from initial sales lead generation to sales pipeline management, as well as communication functions that you'd find in a business contact manager.
In short, the focus of the CRM system is to manage your sales funnel, whereas the focus of the contact manager is simply to manage and track customer information and communication.
What to look for in contact management software
At its simplest level, contact management can be done with as rudimentary a software package as Microsoft Excel. However, that's far from the most elegant or efficient system. So, what features do you need to look out for when choosing a contact management tool?
Form generation
When you first implement your new software platform, you'll need to go through and add all of your customer and lead data.
However, as time progresses, you'll be receiving new leads — hopefully — and so you want to make it as simple as possible to get that data into your CRM.
The best way to do this is by creating a custom form that allows new leads to input their data, which is then plumbed straight into the appropriate fields in your contact management suite.
Automation
There are many aspects of sales and service roles that are repetitive and manual, and are easy candidates for automation.
If you're using your contact management software to manage customers as they move through your pipeline, for example, you'll probably be moving that lead from one stage to another after each successive call.
So, if you find a contact management software platform that allows you to create automation rules, you can set one up to take care of this task for you.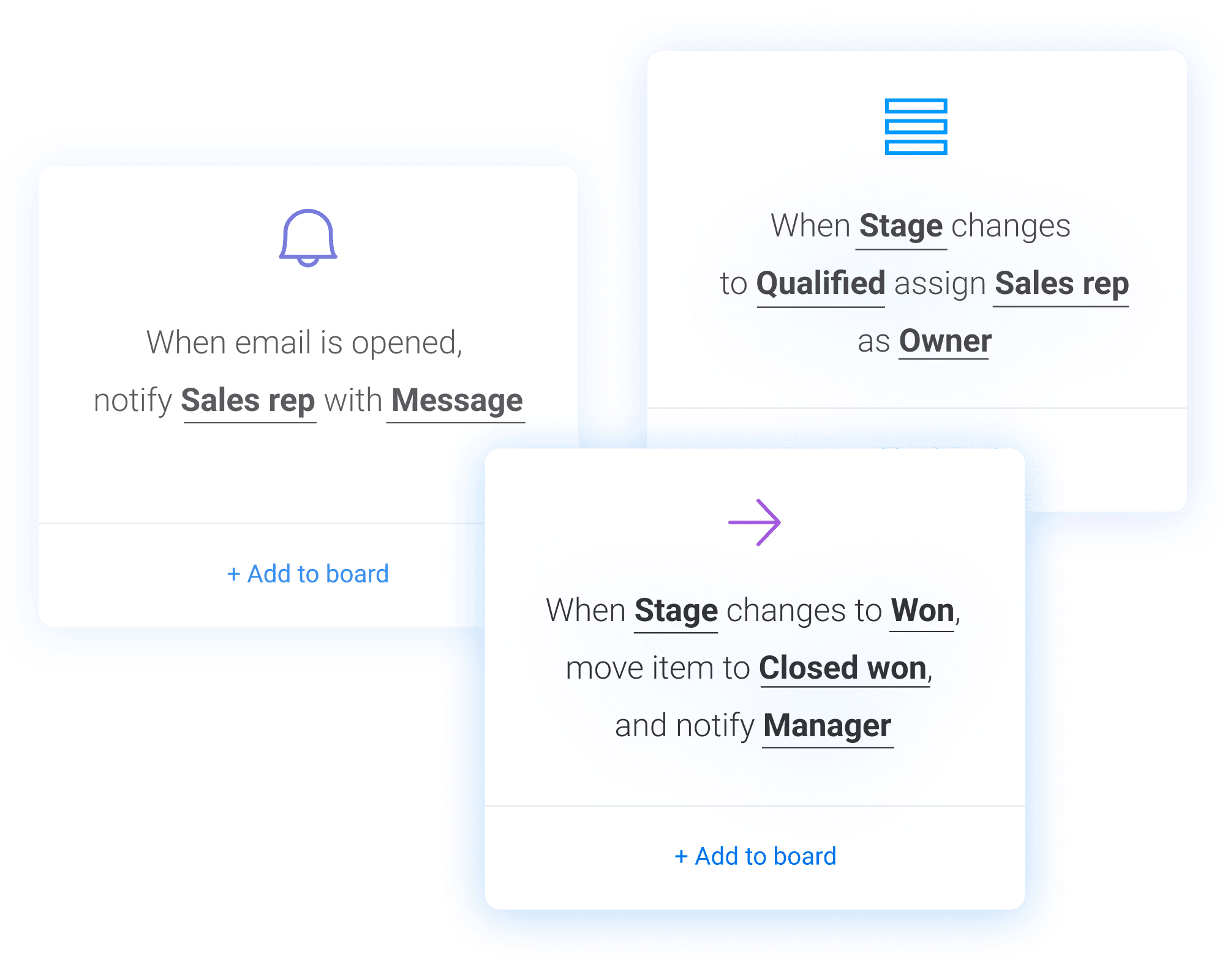 Integrations
More likely than not, your contact management software isn't the only piece of software you're going to be using to manage your customer base.
At the very least, you've probably got some form of email agent.
So, make sure you choose a solution that allows for easy integration between these tools, as it'll save you a lot of time in the long run.
Ability to send email directly
If your contact management software syncs up with your email provider, then you should be able to automatically send emails directly within that platform.
For example, you could set up an automation recipe to send an email when you move a prospect from one pipeline stage to another.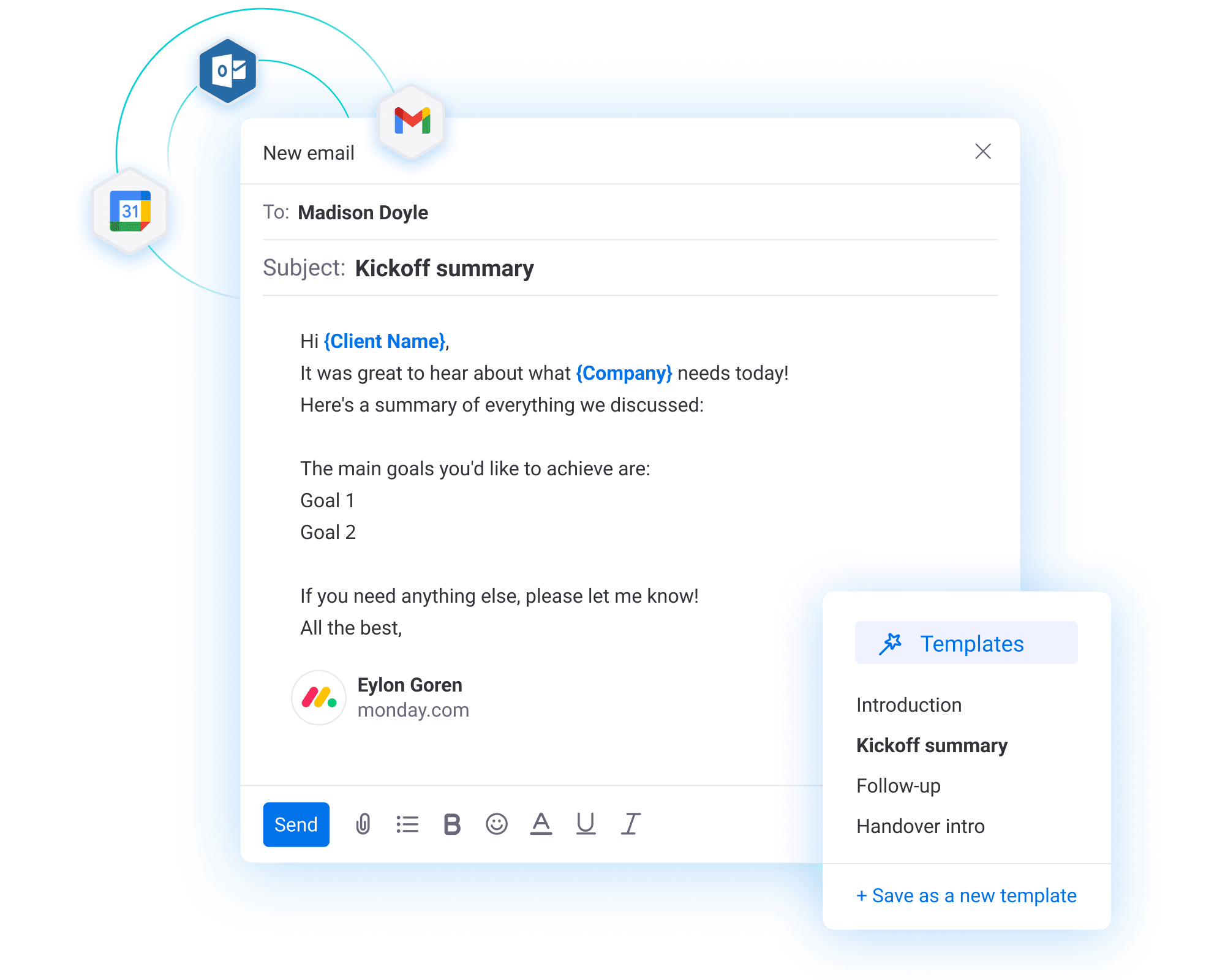 Effective reporting
Your contact management software platform should also make it easy for you to report on and analyze sales rep performance.
For example, you might want to know how many calls were made in a given week and how many were answered on each day, giving you insight into the best days for making phone calls.
You should choose a software platform that not only has an in-depth reporting suite but also allows you to build your own custom dashboards, so you can see everything you need to in one place.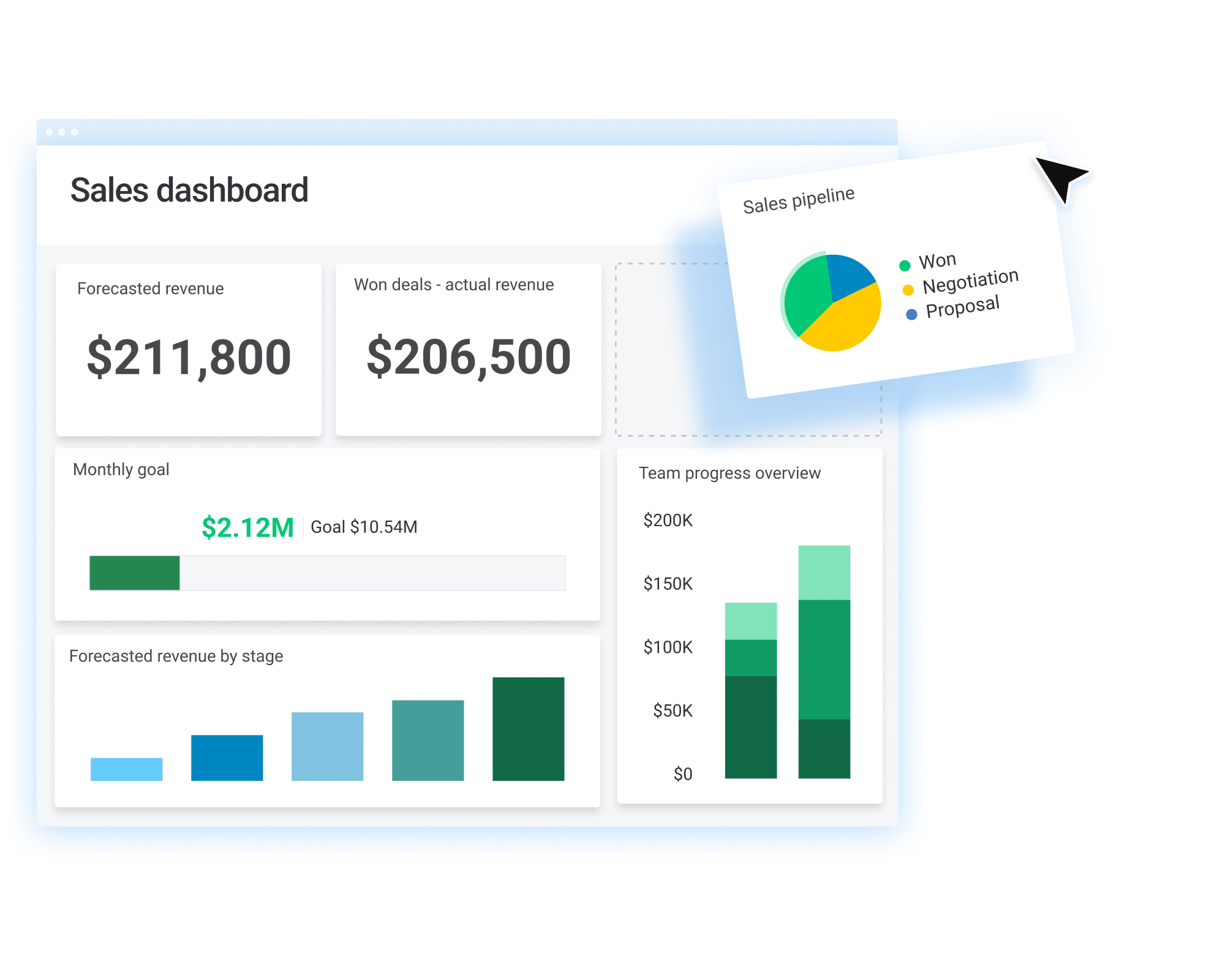 Mobile app
Lastly, you should prioritize implementing a contact management platform that has mobile apps for Android and iOS devices — or at least the one you're using — as this ensures your team can keep data updated when on the run.
monday sales CRM's offer for contact management software
monday sales CRM is an intuitive product meant to handle a number of tasks and workflows, from lead capturing to customer projects, and yes — contact management. In addition to the features we mentioned above, here are some core monday.com features that you can make the most of.
Multiple board views
Need all of your customer data in a grid? Done. Prefer to work in a Kanban board. No problem.
Want to see a high-level timeline, as well as a detailed board of customer details in one screen. You've got it.
Easy-to-grasp automation functionality
Automation sequences within your Work OS are a huge timesaver, but only if they are easy to set up.
Otherwise, you're just spending hours learning how to code for a task that would have only taken a few short minutes. Most CRMs offer automation, as it's one of the most requested features, but not every platform makes it easy.
With monday.com, setting up automation is simple. Just choose a recipe, edit the required fields, and hit save. Done.
Customizable workflow
Sales teams love monday.com for its intuitive drag-and-drop approach, and the ability to craft a workflow that makes sense for you, rather than having to adjust your sales process to fit an arbitrary framework.
What is the best contact management software?
Don't just take our word for it — let's sum up some of the products who made Software Advice's best contact management software list for 2o22:
Pipedrive
Bitrix24
Jobin.cloud
Salesflare
vcita
Engagebay
monday sales CRM
Frequently asked questions
What does contact management software do?
Contact management software lets you create entries to log contact names and other details you want to keep track of. The software provides options for you to organize and search this data at a later time.
How do I manage contacts without a CRM?
Most of the recommended practices would advise against this. However, best tips include creating effective communication systems, making transparency a priority, using other tools, and more.
Contact management software keeps you in touch
Knowing what contact management software does is one thing, but having an understanding of the key features to look out for is something completely different.
If all of that sounds like something you need to drastically improve service levels and maximize sales opportunities, then it sounds like you need monday.com.