Chances are, you probably don't have a dedicated container ship stacked to the brim with your products.
But even on a smaller scale, supply chain management is crucial to your business's long-term success.
It's the discipline of ensuring raw materials, components, and finished products all get where they need to go on time. Mess it up, and you'll delay shipments and risk losing business partners and customers alike.
In business, taking every precaution to ensure your supply chain is robust doesn't make you a paranoid "prepper."
If there's anything we've learned over the past year, it's that preparation pays off. So don't just assume that your supply chain will remain stable. Get in control.
In this article, we'll break down what supply chain management is, why it matters, and how to modernize it in your organization.
What is supply chain management, and why is it important?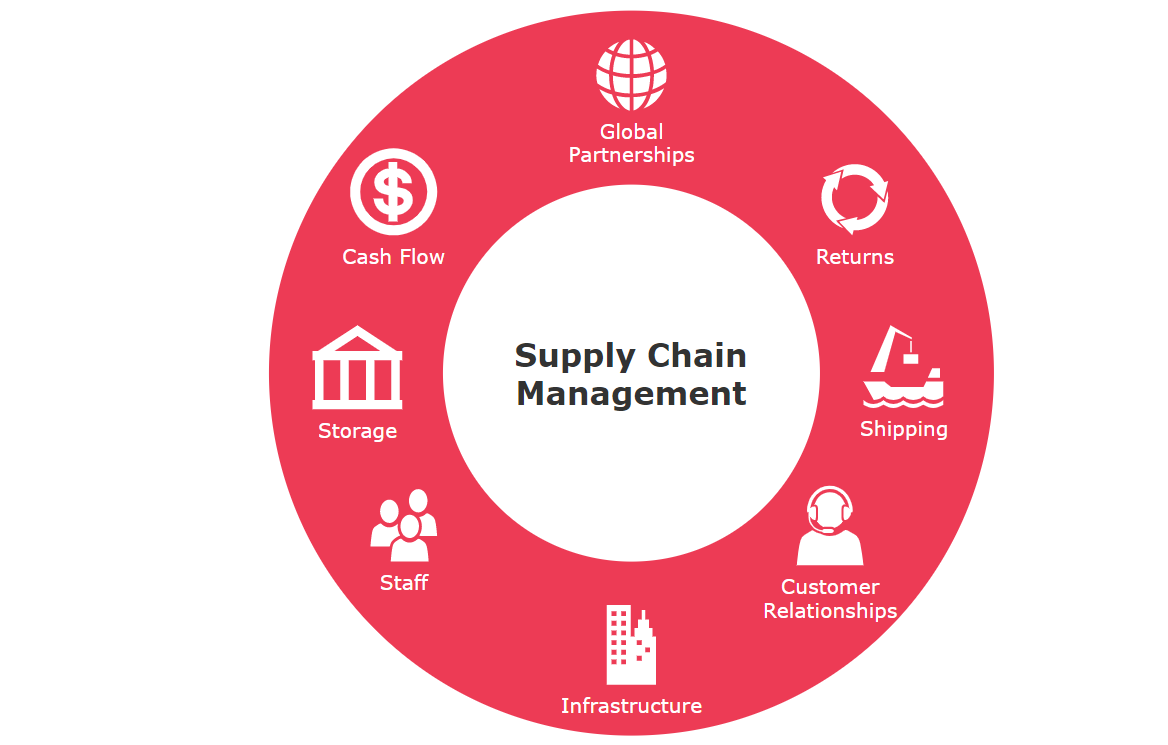 Supply chain management is how you monitor and control the flow of goods and services — including all processes that turn raw materials into completed products.
It tracks your products from fundamental ingredients to finished goods delivered to your customer or retailer.
The goal is to streamline all supply-side processes and relationships to maximize customer value, speed up deliveries, and cut costs.
What are the moving pieces in the supply chain?
A supply chain involves tons of moving parts, including raw materials, vehicles, products, suppliers, and more.
Raw materials arethe building blocks of your products.
Products are the completed items that you deliver to the final customer or retailers.
Suppliers arethe companies that supply the raw materials or parts you need.
Facilities are locations where you make, treat, or otherwise handle products.
Vehicles are machines and systems used to move your goods.
Routes are the paths these goods take between your facilities and the final destination.
Storage is the system of warehouses and distribution centers you use to maintain certain stock levels.
The journey starts with every raw material you need to make your product. The other moving pieces are all the steps and machines required to turn it into a product and deliver it to your customer.
Why supply chain management matters
The last year has strained a lot of businesses and supply chains to the max. In 2020, there were over 4,200 supply chain disruptions in the first 8 months.
The 2019 BCI Supply Chain Resilience Report shows just how common these issues are. Even before Covid, over ⅔ of all companies experienced at least 1 disruption in the previous 12 months.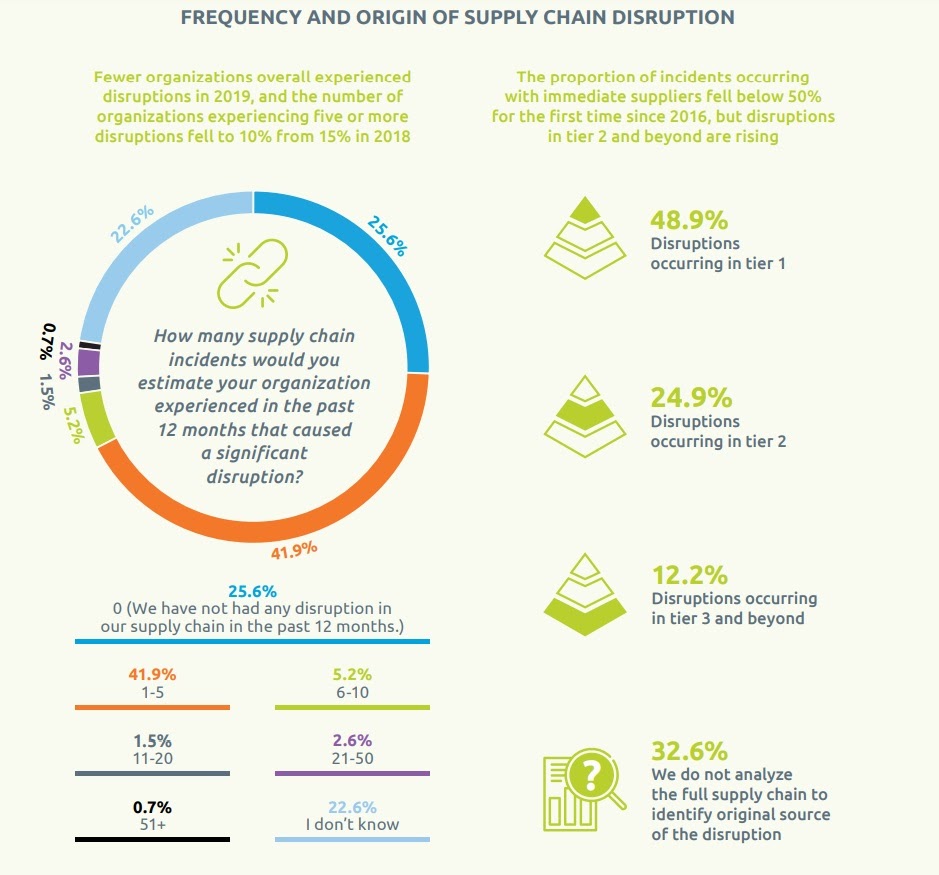 A disruption in supply means that — best-case — your customers have to wait — or worst case — the products never get there at all.
And we probably don't have to tell you that customers like to get the products they pay for. If you deal with resellers rather than consumers directly, the consequences can be even worse.
That's only the tail end of how a supply chain disruption can negatively affect your business.
The BCI report also shows how crippling the costs can be when it comes to fixing these issues. Over 12% of companies report losses of over €1 million-1.14 million USD.
Loss of productivity from missing raw materials and delayed shipments is the most common issue. Over 40% of companies experience customer complaints and damaged relationships.
Naturally, many of these companies also lose revenue as they sell fewer products. Unlike game companies, you can't sell the promise of a future product and then tag on extra DLC costs when ready. (And we hope you wouldn't want to either.)
Those are only the direct consequences. But there are also other indirect costs. Just under 40% of these companies experienced a higher cost of working. When you have to source materials and equipment last-minute, it gets more expensive.
And not marginally more expensive, either. Emergency shipments are costly — approaching arm and leg territory. But every minute your factory can't produce will cost your business more.
And these are all consequences that can happen with a delayed shipment.
In a worst-case scenario, like a bankrupt supplier, you will have to find and pay for new materials, perhaps with a 100% loss of your initial investment. Suppliers are crucial business partners. Pick them carefully, or you risk facing pressing consequences later.
But it's not just about managing the potential downside during a crisis. During a disruptive event, if your company alone can still deliver, that's a unique advantage.
You don't want to end up causing an unforeseen scandal like the "2020 toilet paper shortage." Imagine if a company had the flexibility in their supply chain to ramp up production instantly.
Not only would it have profited big, but it would also have created a unique marketing opportunity.
What better way to create brand awareness and loyalty than being the only reliable choice in a crisis?
You want to be like the Willy Wonka factory — mysteriously churning out a river of products, even if the world around you doesn't make sense.
Empower your hardworking staff with good preparation.
What are the 5 basic steps of supply chain management?
The 5 essential steps in a supply chain management process are strategy, sourcing, manufacturing, delivery, and returns.
Create your supply chain strategy
The overall strategy is crucial to the overall success of any supply chain. Without knowing what to focus on, your management will make bad decisions. Aimless decision-making is a recipe for disaster.
Before you get started, you need to consider the most crucial issues related to the supply chain.
Will you partner with retailers?
Will you focus on sourcing materials locally? Will you implement a regional strategy for bulk savings?
How will you manage the shipping?
What materials will you buy in bulk to save on cost? Where will you keep this stock for easy access?
Creating a strategy is the first step of supply chain planning.
Source the raw materials
Without good supplier relationships, effective supply chain management is a pipe dream. Sourcing or purchasing reliable products is the first fundamental step.
Find and build good relationships with reliable suppliers. Follow the overall strategy. For example, if you're focusing on a single region, you should explore multiple suppliers.
You can then use the volume of shipments to get favorable deals on shipping and storage.
Manufacture the products
It's not as simple as just making products. The best approach to manufacturing is based on your retailer's inventory and demand. A robust production schedule is vital.
An accurate schedule means you make just enough products to meet demand. That frees up a lot of capital and lowers your storage costs.
But it's not just about inventory management and production. You also need to move finished parts between factories efficiently.
Logistics: handle materials and deliver the products to customers or retailers
Logistics management is the vascular system of your business' supply chain. It ensures that every product and raw material gets where it needs to go at the right time.
Raw materials and products are the lifeblood of any manufacturing or physical retailing business. If the flow slows down, or worse, stops — you're in serious trouble.
Warehousing, shipping, and distribution are all crucial aspects here.
With a robust process, all products reach their final destination on time without getting damaged.
Prepare for and handle returns
The final step in the supply chain isn't the delivery to the customer. It's handling returns and recalls.
You must set up a reliable system to keep your customers happy. The first step is keeping a surplus inventory of spare parts and finished products available at all times.
Future supply chain management trends
2020 was a rough year for every supply chain manager. A single event with world-wide fallout proved that most supply chains just weren't robust enough.
But where does your company go from there? How do you protect yourself from future events and give yourself a unique advantage in uncertain times?
Let's take a look at some major trends and how industry leaders are adjusting.
A growing focus on local suppliers
A crucial aspect of any supply chain management program is where you source your products. Changing this area alone can have a significant impact on reliability.
According to the Future of Supply Chain report by BCI, most companies will focus more on local suppliers.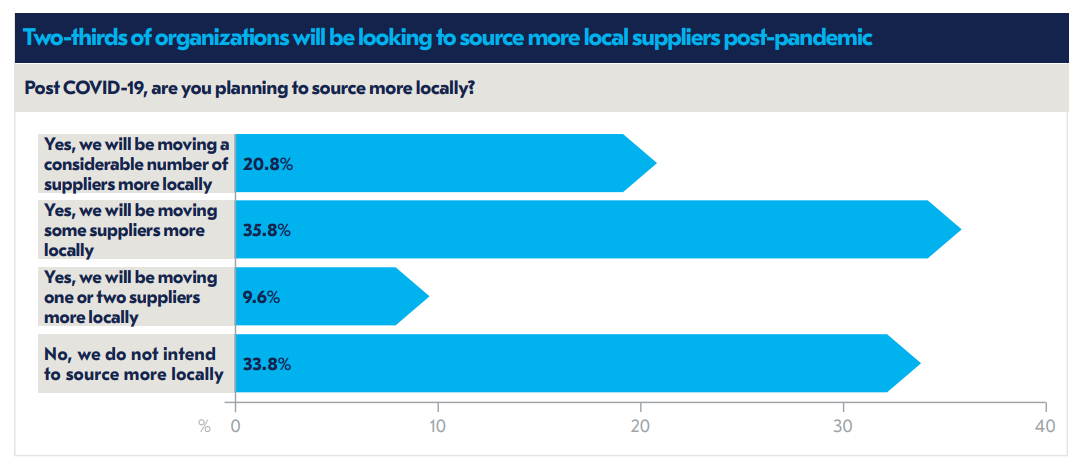 Over 20% of companies will move a "considerable" number of suppliers locally. With no international borders to cross, you won't be affected by trade embargoes or lockdowns.
Going local is an example of strategic sourcing, rather than just settling for the lowest bidder. So it's no surprise that many companies are aiming to make that adjustment.
In some ways, you also reduce your exposure to large-scale natural disasters. (Unless you move your production to Tornado Alley, that is.)
Of course, a supply chain isn't automatically better just because you have local suppliers. You need to vet these suppliers and have backups in place, just as you otherwise would. After all, one of the worst outcomes for a supply chain is supplier bankruptcy.
More companies using reporting software
More companies than ever are using software to monitor and report on the supply chain.
At least that's what data from a recent BCI report tells us.
In 2019, the majority of companies used supply chain management software of some kind.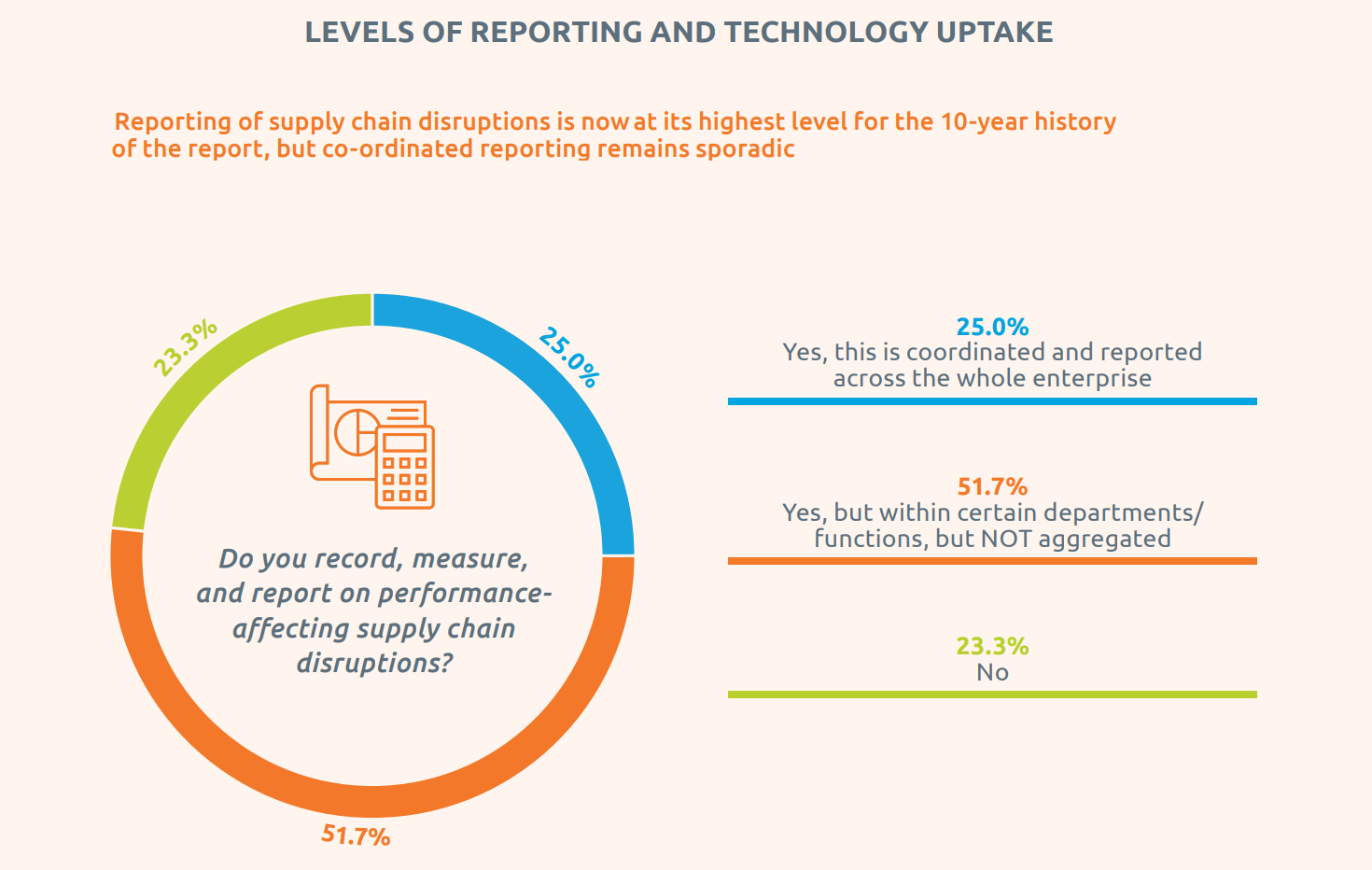 But only a minority has an integrated view of the whole global supply chain. 25% of companies use an integrated enterprise solution to track the entire supply chain.
51% use software to track and monitor certain parts of supply chain operations.
As technology and software continue to evolve, more and more companies will move to an integrated approach.
Big data, IoT, and AI on the horizon
The same report also showed that most supply chain professionals believe in a data-heavy feature.
With IoT (the internet of things), big data, and AI on the way, supply chain professionals are turning to technology.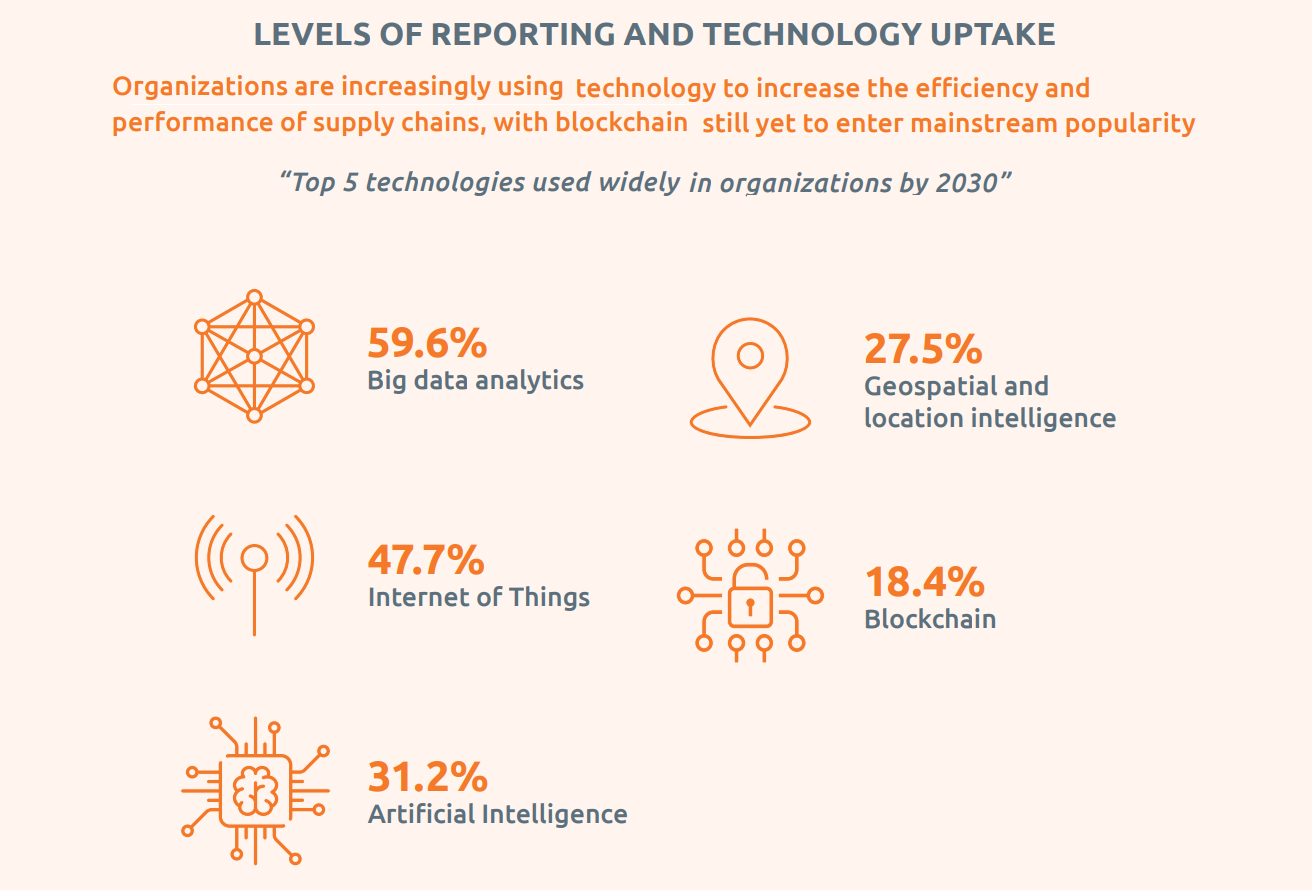 More than half of all surveyed companies think they'll widely adopt big data analytics by 2030. In 2nd place, there's IoT, followed by artificial intelligence.
These technologies combined will transform how you keep track of your supply chain. Simple IoT tags will track every moving part through its journey. You can also follow the production levels and inventory levels in real-time.
Then you need to decode this ocean of data with custom analytics and AI. The result is a 20/20 live view of your entire supply chain.
Instead of relying on feedback from shippers and suppliers, APIs and internet-connected machinery will give you real-time data. Without the time-lag, you can predict supply chain issues before they happen.
New must-haves for a supply chain management team
Industry experts predict that manufacturer spending on data management analytics will increase to $19.8 billion by 2026.
With these changes, you need to add new expertise and positions to your supply chain team. It's not enough to have traditional operations managers and their lackeys in the field.
A future-proof winning combination includes talent that can help you utilize big data.
Analysts: what's real-time data worth if you can't make sense of it? You need analysts to interpret the data and create actionable insights and reports for managers.
Data scientists: the data the analysts work with must be reliable. Without the expertise to create a robust, integrated system, you won't have that guarantee. They will use neural networks, machine learning, and more to handle big data in real-time.
Without experts actively involved in your team, you can't prepare for the future. But you don't necessarily have to hire them specifically for only this purpose.
A better solution would likely be to involve key members from another department.
Use cross-functional collaboration to utilize existing talent better.
Instead of hiring a whole brand-new team of data scientists — which will set you back 7 figures annually — you can recruit talent from within your organization at large.
That doesn't just save you money. It can also save you time and lead to better results. You don't need to train these professionals in your company on what KPIs to prioritize. They may even have unique insights to bring to the table already.
These team members will also have an easier time operating within a working environment they already know.
Use a robust platform to boost collaboration between departments.
Modernizing your supply chain management can't be a top-down project. You need to recruit every department, team, and employee that's involved.
A single missing piece can lead to inaccurate data and rushed, mistaken conclusions. To ensure everyone's on the same page, set up a coherent digital workspace.
A robust digital platform can mean the difference between disjointed, irregular approaches and a single, unified transition into a more digital future.
How monday.com helps you modernize your supply chain management
If you're looking for a robust foundation to help you modernize your supply chain, look no further than monday.com.
With the 40+ native integrations, a powerful automation builder, APIs, and a low-code framework, you can build the exact platform you need.
And that doesn't even factor in our powerful out-of-the-box project and inventory management features.
Integrations and automations to destroy data silos
One of the things that set us apart from our competition is our dedication to becoming a meeting point for other apps.
Most companies use 100s of different apps and SaaS solutions in various areas of their business. Even within the specific area of supply chain management, very few companies use a single integrated solution.
Our integrations mean you can use monday.com as the primary communication platform.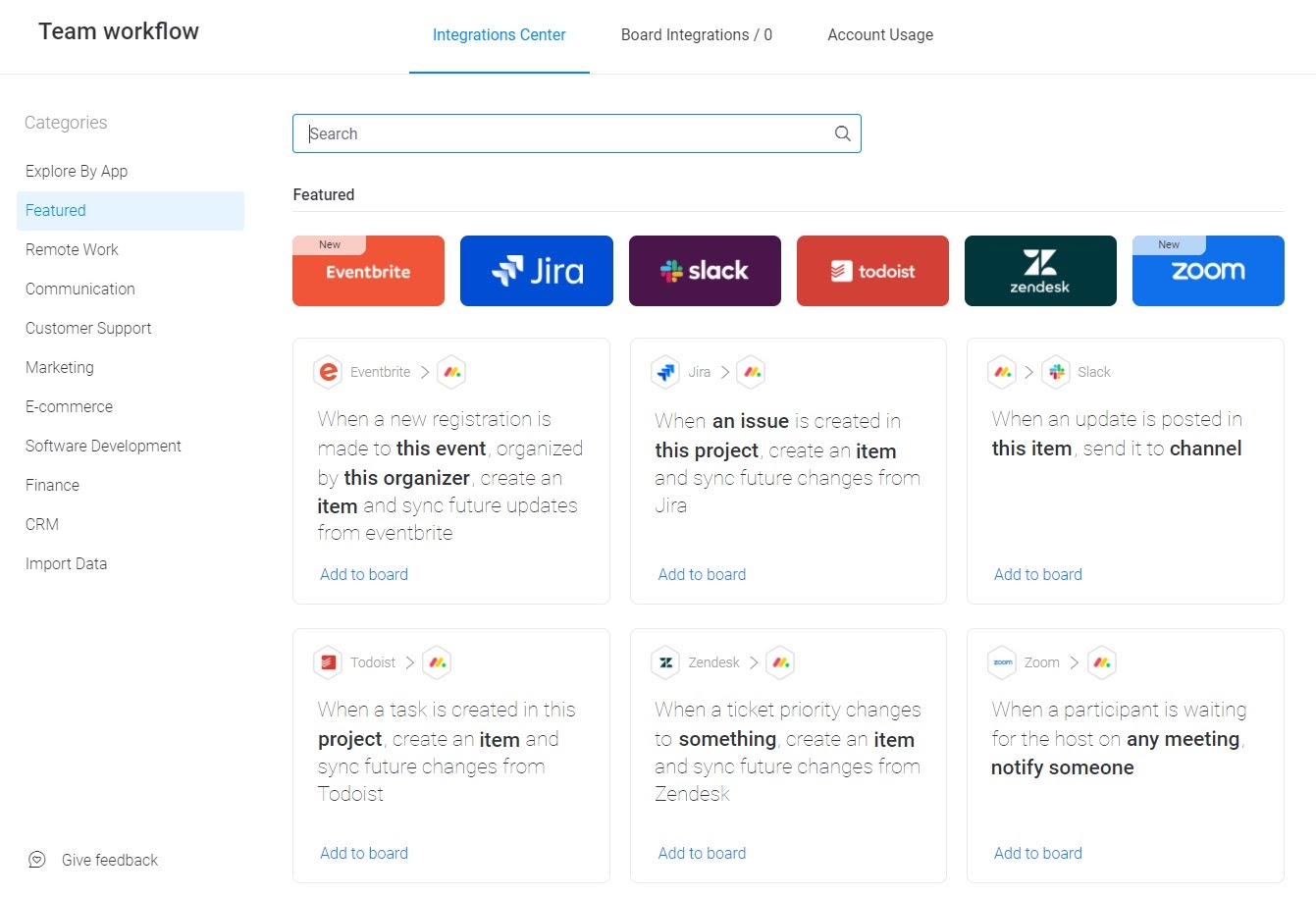 You can, for example, automatically notify workers in Slack based on updates to work items in monday.com.
Low-code framework to integrate with custom internal tools
Do you use custom internal tools or an obscure SaaS not supported by our platform or Zapier?
Don't worry.
You can easily use our REST API and low-code framework to integrate with any tool of your choice. Rather than a several-month-long development process, you can get up and running in days.
Real-time dashboards keep you up to speed
Instead of multiple separate reports from various teams, you can use the centralized data to create a real-time dashboard that keeps your management up to speed.
Build the dashboard any way you want with pre-made widgets like resource management, Gantt charts, and more.
With your whole team working within monday.com, you also get a whole new level of control over the process.
You can start demand planning based on leads in the sales pipeline, not just done deals.
KPI tracking for identifying trends and encouraging improvement
Of course, it's not enough to only track real-time data. You need to know which metrics to highlight.
Work together as a team to determine the most crucial supply chain KPIs. For example, you could focus on:
Perfect order rate
Cash to cash cycle time
Fill rate
Inventory days of supply
Inventory velocity
The best KPIs for your company depend on your overall strategy and priorities.
Project management features to control the day-to-day
monday.com is the perfect platform for managing projects out-of-the-box. Powerful features like fully customizable work boards, file sharing, real-time collaboration, and the interactive whiteboard make all the difference.
You can use our ready-made templates to create boards that suit your workflow in seconds.
For example, our supply orders template will help you manage your supply chain.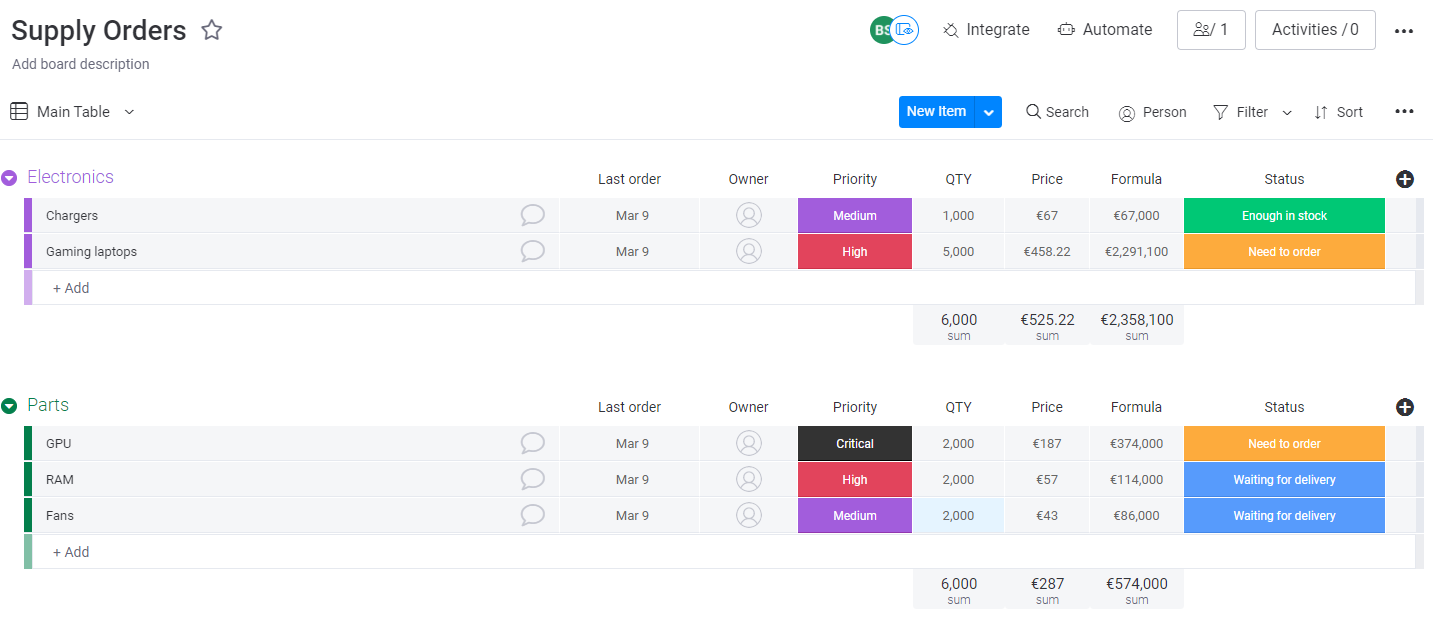 The automation builder also makes it easy to connect different teams and boards together.
For example, you can automatically update numbers in your inventory based on progress in the "supply orders" or manufacturing boards. That will help you know when you need to invest more in procurement.
Guest access and user control to involve all supply-level stakeholders
Management decisions shouldn't happen in a vacuum. Involve essential stakeholders like suppliers, retailers, and maybe even core shipping partners in the process.
By keeping them up-to-date and involved, you can make sure all your decisions reflect the latest market trends.
The supply chain is the lifeblood of your company's success
Without products available to sell, your business can't turn a profit. It doesn't matter how successful a marketing campaign or sales team is.
You need a strong foundation with a robust supply chain before you can grow your business. Focus on creating repeatable processes, destroying data silos, and more with monday.com. Reap the rewards of a modern supply chain management system.
Use our supply orders template to start managing the stock in your stores and ensure that supply always exceeds demand.