Life as a small business owner or manager is anything but relaxing. Often, all areas of the business fall under your final responsibility.
From inventory and the supply chain to hiring and managing the day-to-day operations, you do it all.
The only way to effectively get through all these tasks is to stay organized. But if you don't have the right tools, that's easier said than done.
Trying to navigate the business world with spreadsheets, email threads, and Post-It notes is no way to live. There are far better software-related solutions for that.
In this post, we will explore what to look for in small business management software and how to use it to transform how your company operates.
What is small business management software?
Small business management software helps you oversee all processes and workflows within your business, whether that's managing your employees, customers, inventory, supply chain, budgets, or something else.
Think of it like the perfect assistant that you can't find, or maybe even afford.
It keeps all the information you need in one place and reminds you and your employees of necessary tasks and deadlines.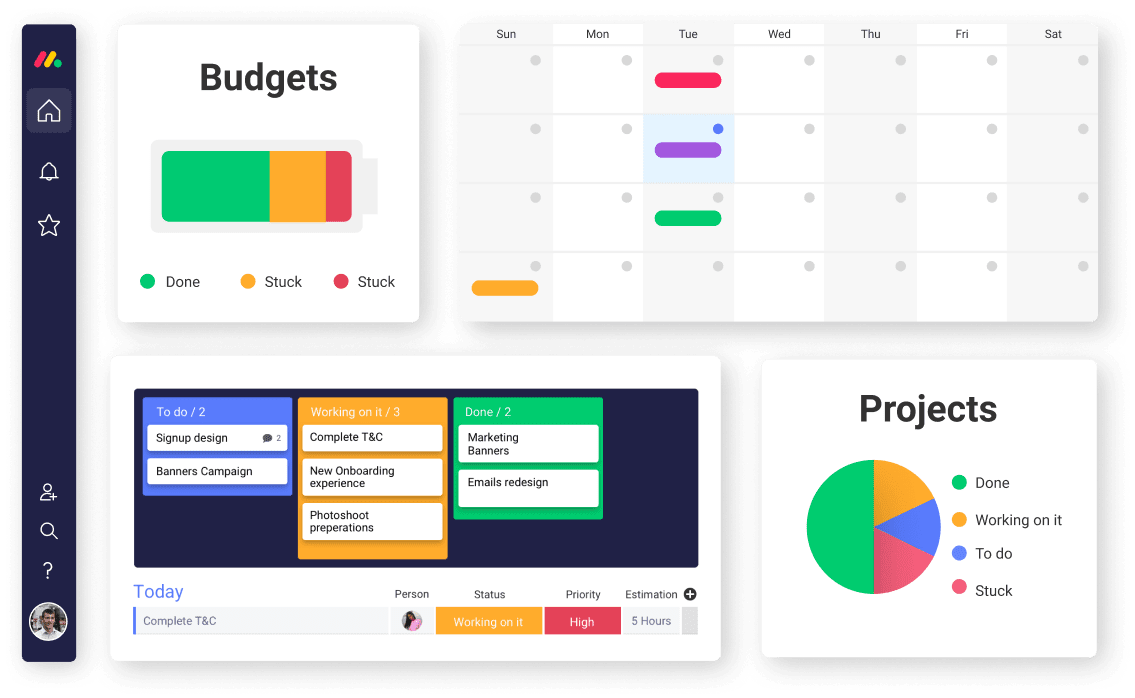 With monday.com, you get access to all the features you need, including budget, project, task,  inventory, customer, and resource management.
But for a small company, adding new software to the catalog can feel like a big decision. If you're still not convinced, let's quickly cover why this type of software is so important, even for a small business.
Why small business management software is important
Management software is crucial for small businesses because it's easy to lose track of the most important things when you're busy with day-to-day operations. Too many managers and owner-operators can't see the forest for the trees.
Don't just take our word for it. There's plenty of research that backs up this idea.
According to a recent CB Insights study, the most common reason new small businesses fail is lack of market demand.
It's easy to think of this as an "inevitable" reason for failure. But more often than not, it points to underlying issues like poor cash flow management, high overhead, bad strategy, or a lack of focus.
In the same study, 29% of failed business owners say they ran out of cash, and 19% got outcompeted.
Those are basic management mistakes that many owners could've handled if they had more time and mind-space to deal with high-level issues.
To remain competitive in the market, you need to manage your business as efficiently as possible. You can't afford to lose time or money on unnecessary activities.
That's where management software comes in. A monday.com SMB client scaled from 0 to $1.3 million in revenue in under a year.
How? Our smart interface saved them over 40,000 manual actions per month. Managers and colleagues didn't have to waste time on copy-and-pasting data, emailing updates, or other menial tasks.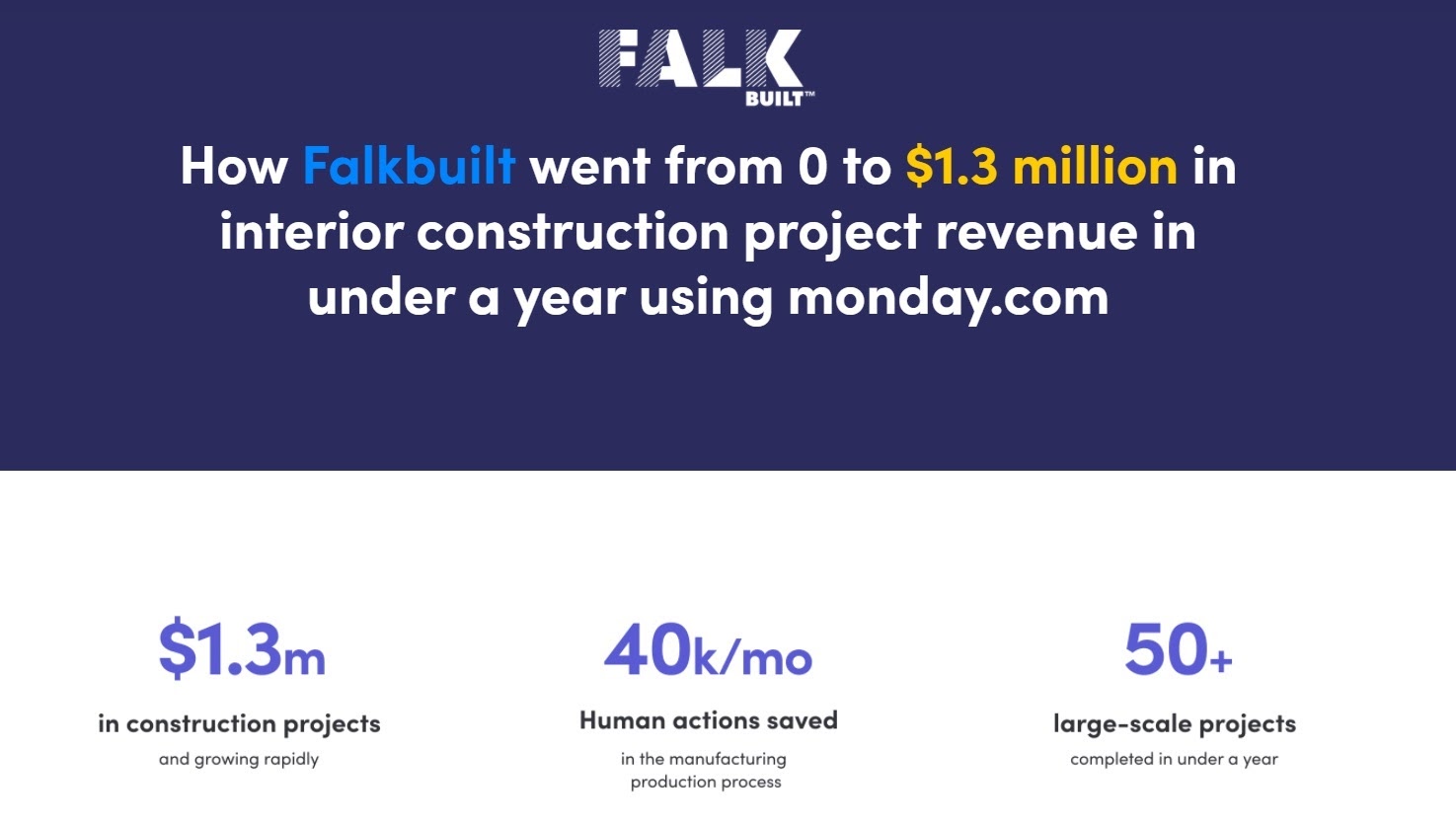 Of course, many business software options boast about "automation," even options that are free or open-sourced. But automation doesn't matter unless you also have the right integrations, features, and customizability.
If it can't help you with your unique business processes, trying to transition will likely be a waste of time.
Any run-of-the-mill, free task management, accounting, or invoicing software won't cut it. The best option is a software solution that can act as a unified platform for your whole team.
Let's take a closer look at what you should look for in SMB management software.
What to look for in small business management software
The bare minimum features you want are inventory management, resource or asset management, time tracking, customer management, and project management.
As a Work OS provider, we may seem biased in mentioning project and task management, but the staff is the most crucial asset of any business. If you only focus on cash and customers, you won't get far.
Inventory management
The first necessity for a small business is inventory management. Without an inventory tracking system, it can be near impossible to keep track of your stock or equipment.
Different companies have different inventories and needs. For example, a gaming cafe or IT company would keep track of the state of its computers and other systems.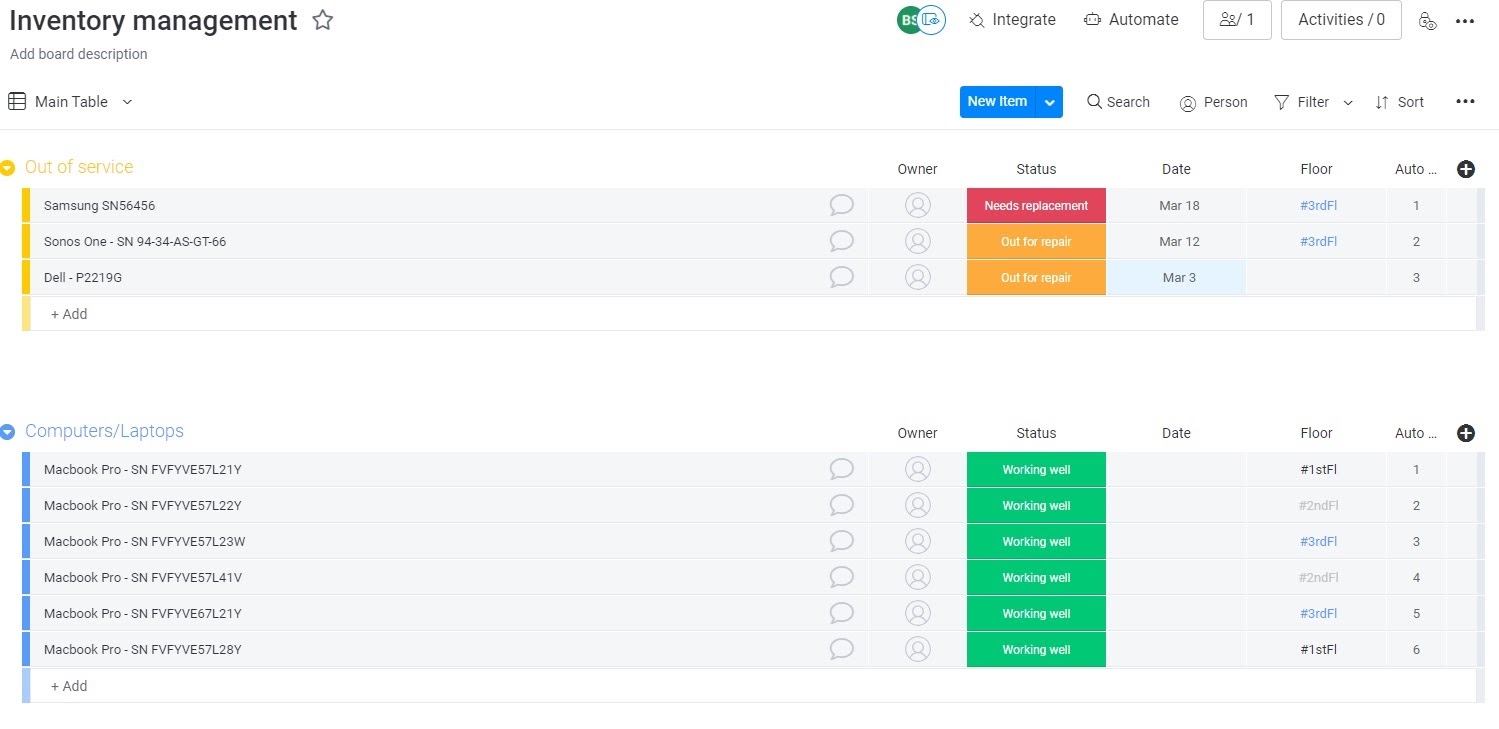 A retail business would keep track of the number of units left on the shelves. Warehouse management is crucial. Without it, you won't have anything to sell to potential customers.

With our fully customizable templates, integrations, and automation builder, you can craft the perfect inventory management software for your needs.
Resource and asset management
Next, you want to manage all your large-scale assets and resources. For example, if you own buildings or apartments, you want to make sure that no usage dates overlap.
The best way to get unhappy customers is to let a double-booking happen. Unless you have a better option readily available and can flip the negative to a positive, that's the fastest way to screw up a done deal.
CRM (customer relationship management)
What about your customers? Keeping track of them is crucial for your business.
You want an overview of all interactions, starting from the lead generation stage. 76% of consumers hate when they have to repeat themselves across channels or locations.
Companies that can deliver a consistent experience will win long-term loyalty. Your staff must consider the customer or lead's previous interaction with your company.
For this to be possible, you need an accessible, universal record of your relationship with your customers.

Again, monday.com lets you use customizable templates and integrations to create the CRM software you need.
That way, you can keep track of contacts and interactions, whether they happen on social media, in person, or on a call.
Human resource allocation and time tracking
The right tool makes it easy to handle your human resources — who works on what, when, and more. But assigning the work is just the first step of employee management.
When some members of your staff are hourly contractors, time-tracking functionality is also crucial.
If you create a custom invoice every month based on hours worked, then time tracking helps legitimize your invoices.
Task and project management
Rather than just assigning people to tasks, you should have complete control over all your projects at any given time.
That's why you want core project management features and collaboration tools like:
real-time comments
customizable project boards
real-time status tracking
various views: Kanban boards, Gantt charts, etc.
Why monday.com is the right management software for your small business
monday.com isn't just another business application. It's a full-fledged Work OS you can use to manage your whole company's workflow from start to finish.
With our smart automation builder, fully customizable templates, integrations, and dashboards, you can retake control over your company.
Stop spending your days micromanaging and start doing more work that matters.
It's easy to use and adopt throughout the company.
If you're going to manage every business process with a single solution, it must be easy to use.
With monday.com, even non-technical staff can quickly learn our interface, even without using tutorials.
We avoid jargon, and all buttons are self-explanatory.
Quickly customize everything to match your existing workflows.
In the monday.com template library, you get access to 200+ templates suitable for various industries and use cases.
You can quickly customize these to suit your existing workflows and make the transition easier.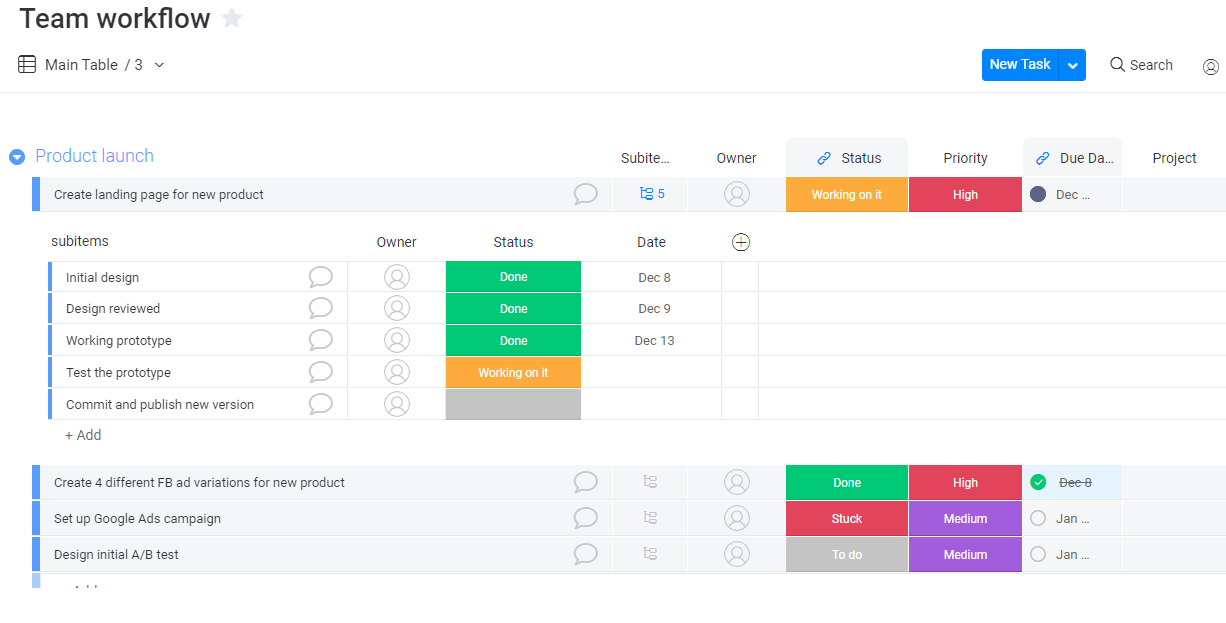 You can also easily assign to or hide boards from certain employees, making sure that everyone only sees what they need to see.
Keep all the data in one place and stay up-to-date with dashboards.
Of course, as a manager, you don't want to monitor tons of different project boards manually.
With monday.com, you can use custom widgets to create a dashboard that shows multiple project statuses in real time.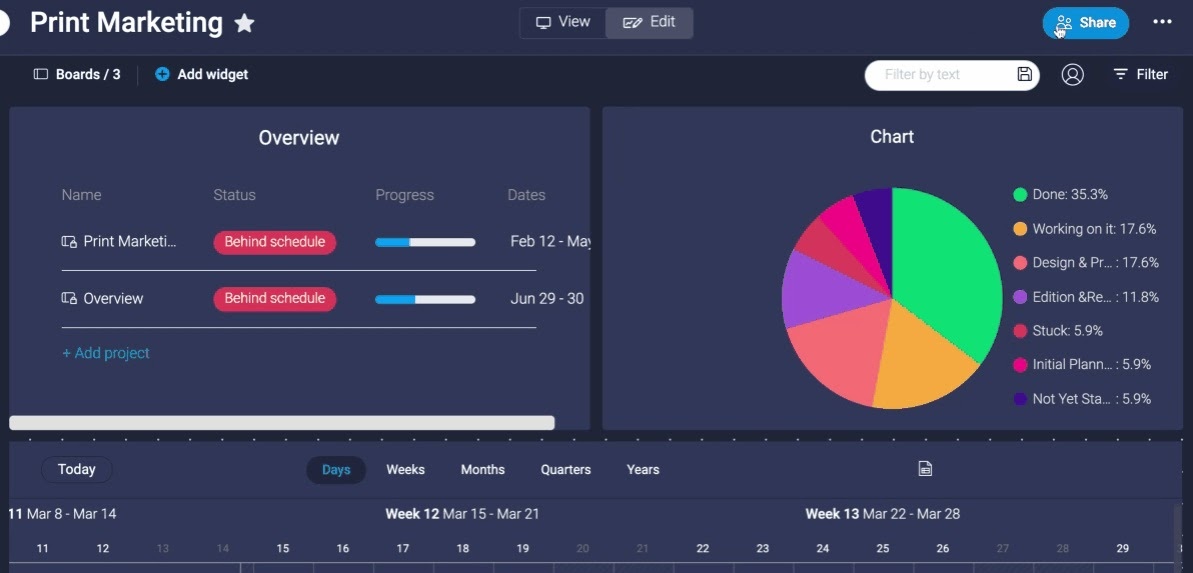 Automate work assignments to free up your schedule.
With our robust automation builder and integrations, you can automate work assignments and other menial tasks.
For example, when an item changes to "ready for edits," you can automatically assign that to the editor.
With 40+ integrations, you can also automate across platforms. For example, when an email inquiry comes in, it can be automatically assigned to the appropriate person.
A robust platform is the foundation of good management
With everyone on the team working through a single platform, you reduce the chances of data silos and miscommunication.
As a manager or owner, it's also a lot easier to keep track of all the moving pieces of your business.
Get started with something simple, like our team task management template. Test us out for free for 14 days, and experience the change monday.com can make first-hand.