Writing a project report is an essential but often overlooked contributor to your project's health.  However, without the use of automation and templates, it can be a little time-consuming to collect and organize the relevant data that the project generates.
In this post, we'll explore the basics of project reporting. We've included some useful templates and tips to create clear and helpful project reports in less time.
If you want to start creating better project reports using monday.com, sign up today.
What is a project report?
A project report is a document where you share details about different areas of your project. Depending on the report type, your audience, and your intention, the details you showcase might differ.
Project reports can be broken down by time— daily, weekly, monthly, or quarterly— or a number of other factors like risk, budget, and project management style. Bottom line? They simplify the process of gathering and disseminating information about key information on the project. For instance, a typical report might include:
Resources you've used so far
How project time is being spent
How you're doing against key performance indicators (KPIs)
Expenses
Workload and team availability
What is the purpose of project reporting?
Reporting gives you, your team, and your stakeholders the ability to track project progress against the original plan. The main goal of a project report is to improve decision-making, to help you make sense of your project data, and decide what your next steps should be. This in turn can impact your budget, timeliness, and project success.
It also plays a vital role in your stakeholder engagement strategy, as it keeps everyone informed on the progress of projects they're interested in. Those are just a few of the reasons why project reporting has become the most common activity among PMOs (Project Management Offices).
5 steps to create a useful project report
Project reports can be useful – or they can end up as a 20-page PDF that lives in a drawer somewhere. To put together a report that your project stakeholders can use to gain insights, make decisions and optimize processes, take the following systematic approach to writing your project reports:
1. Define the purpose and scope: Clearly establish the goals, objectives, target audience, and information needs of your project report.
2. Gather and organize data: Collect and organize all relevant data, ensuring its accuracy and reliability.
3. Structure and outline: Create a clear and logical structure for your report and outline the key points you want to cover.
4. Present information effectively: Use clear and concise language and visual aids like graphs or charts to present the information in an easily understandable, visually appealing manner.
5. Review and revise: Proofread your report for any errors or inconsistencies, ensure that it addresses the defined purpose and scope, and revise as necessary to improve clarity.
The different types of project management reports [with templates]
You can split project reports into different types and categories. Here are five different types of project mangement reports, with monday.com templates you can customize for your unique project and team set-up.
1. Project status report
Probably the most frequently used, a project status report offers a general overview of the current status of your projects. A project status report answers the question: "How likely is it that we'll complete this project on time without overrunning costs?"
These reports analyze whether you're meeting project goals and key performance indicators. With our single project template, creating a status report is easier than ever.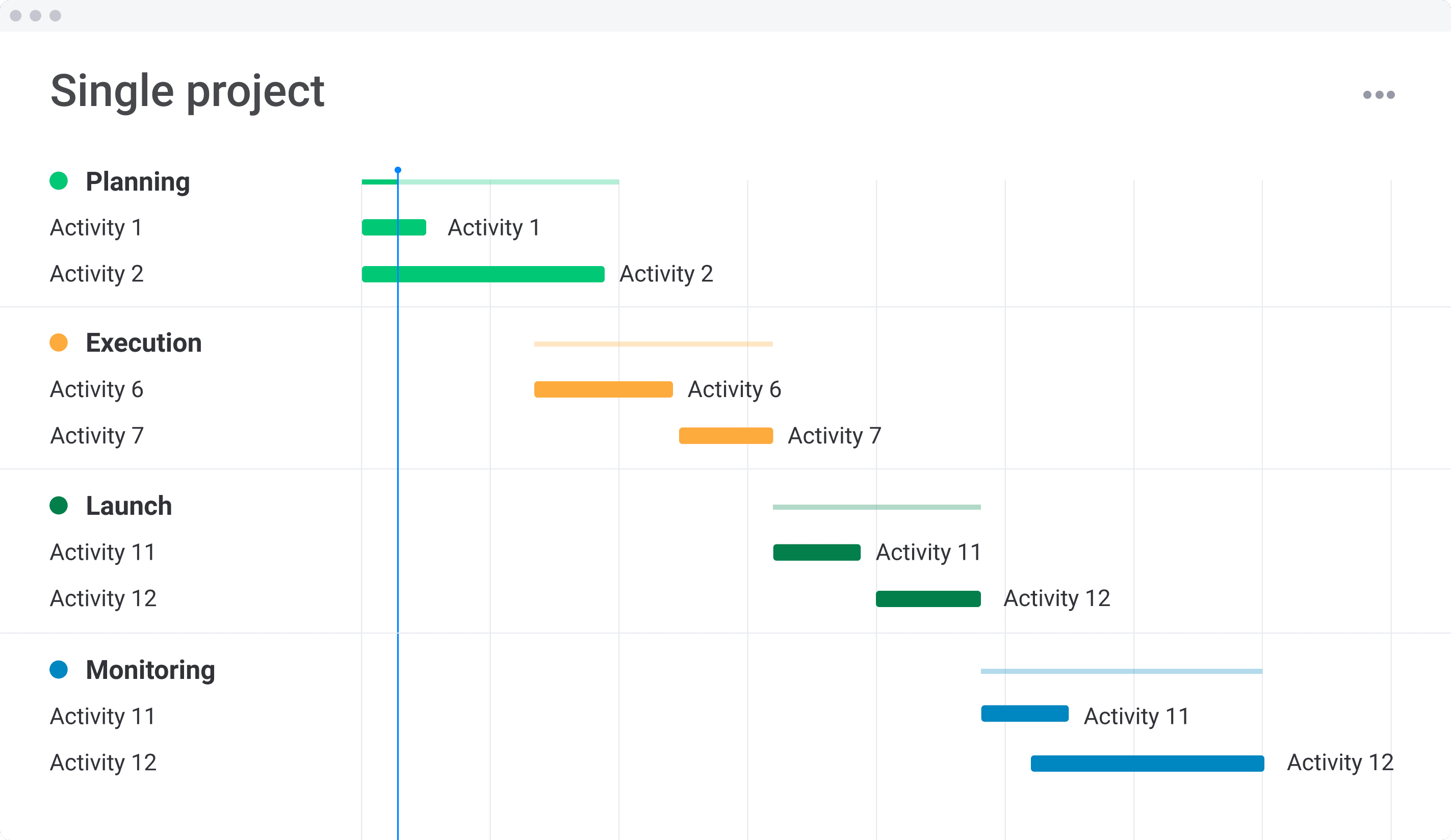 2. Resource workload report
Resource workload reports help you visualize what your team's working on, when they're working on it, and how much work is left. These also reports help you understand how your assets are being used and make sure your actions are aligned with the overall objective.
Our resource management template helps you organize all your assets, locations, and people into one place and track every action with accuracy. You can also manage your resource allocation initiatives and make sure you don't assign the same resource twice in multiple tasks.
3. Portfolio report
Portfolio reports take a look at all your projects and consolidate all the data into a single document. These reports capture high-level milestones, status, progress, and highlights of your portfolio strategy.
With our portfolio management template, you can track unlimited projects on a single board and get a quick snapshot of their health and profitability.
4. Task list/Time-tracking report
Time-tracking reports, also known as timesheets, help you measure how your team is spending their time and spot potential bottlenecks.
With our team task list template, you can bring in your entire organization, assign tasks to peers, track time and measure the project progress at a glance.
5. Expense report
A project might seem healthy – until everyone starts reporting expenses  at the end of the time period. With our expense tracking template, you can proactively manage your cash flow regardless of your accounting skills (or lack thereof!)
Want to try out these templates – and much more? Check out monday.com today.
Get started
FAQs about Project Reports
What are the benefits of a project report?
A project report provides a comprehensive overview of a project's objectives, progress, and outcomes, serving as a valuable documentation and communication tool. It allows stakeholders to assess your project's effectiveness, identify areas for improvement, and make informed decisions based on reliable data.
What are the main types of project reports?
The most commonly used types of project reports include:
Progress reports
Resource management reports
Project portfolio reports
Time-tracking reports
Evaluation reports
Final reports
What are the main components of a project report?
This will depend on the project and the type of report you're using, but project reports might include:
Project objective
Project scope
Project milestones
Project expenses or budget
Project schedule and timeline
Project progress
Resource management
Risk assessment
Stakeholder communication
Financial summary
Next steps
How to create insightful project reports with monday.com
monday.com makes it easy to create effective project reports. Try it for yourself and see: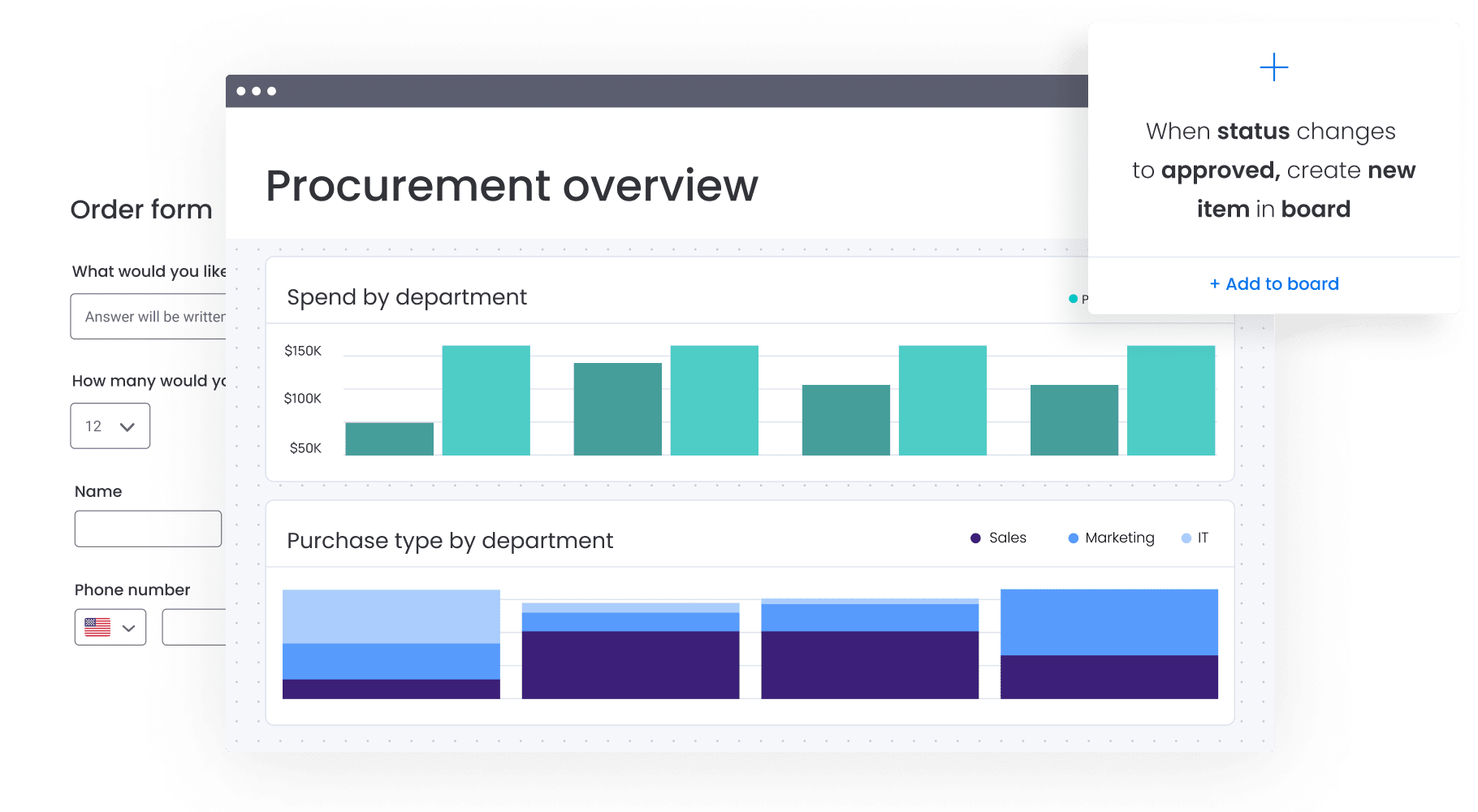 Here's why monday.com can make your project reporting better:
Track project data in a centralized location, so you have all the information you need to make useful reports.
Use monday.com's customized visualization tools to visualize and summarize project data the way you want to see it.
Set up dashboards to see all of your projects at a glance.
Take advantage of monday.com's reporting functionality. You can choose between built-in report templates or customized reports if you have more specific requirements.
Share your reports with project stakeholders, team members, or even clients directly from monday.com.
Our embedded communication tools let you collaborate on your reports in real-time, gather feedback, and address any questions or concerns.