Social media trends and content move fast, and if you're not on top of organizing your content, you just might miss an opportunity to connect with your audience. Social media calendars are the backbone of any social media strategy as they provide teams with a place to organize and plan posts in advance. 
With a social media calendar, you can plan posts weeks or even months in advance and store everything you need in one place. That said, creating one from scratch can be tricky since you want to make sure you're not leaving anything out.
In this blog post, we'll take a look at the importance of social media content calendar templates, why you need one, and how to customize monday.com's social media planner template to fit your organization's needs.
What is a social media content calendar template?
A social media content calendar is a living document that's used to outline when and what content should be posted on various social platforms. This social media management tool includes relevant information such as:
Publishing dates

Connected campaigns

Drafts

Attached media
Social media calendars help organizations manage their social media marketing efforts so that messaging stays consistent and that communication about social media tasks is streamlined between team members.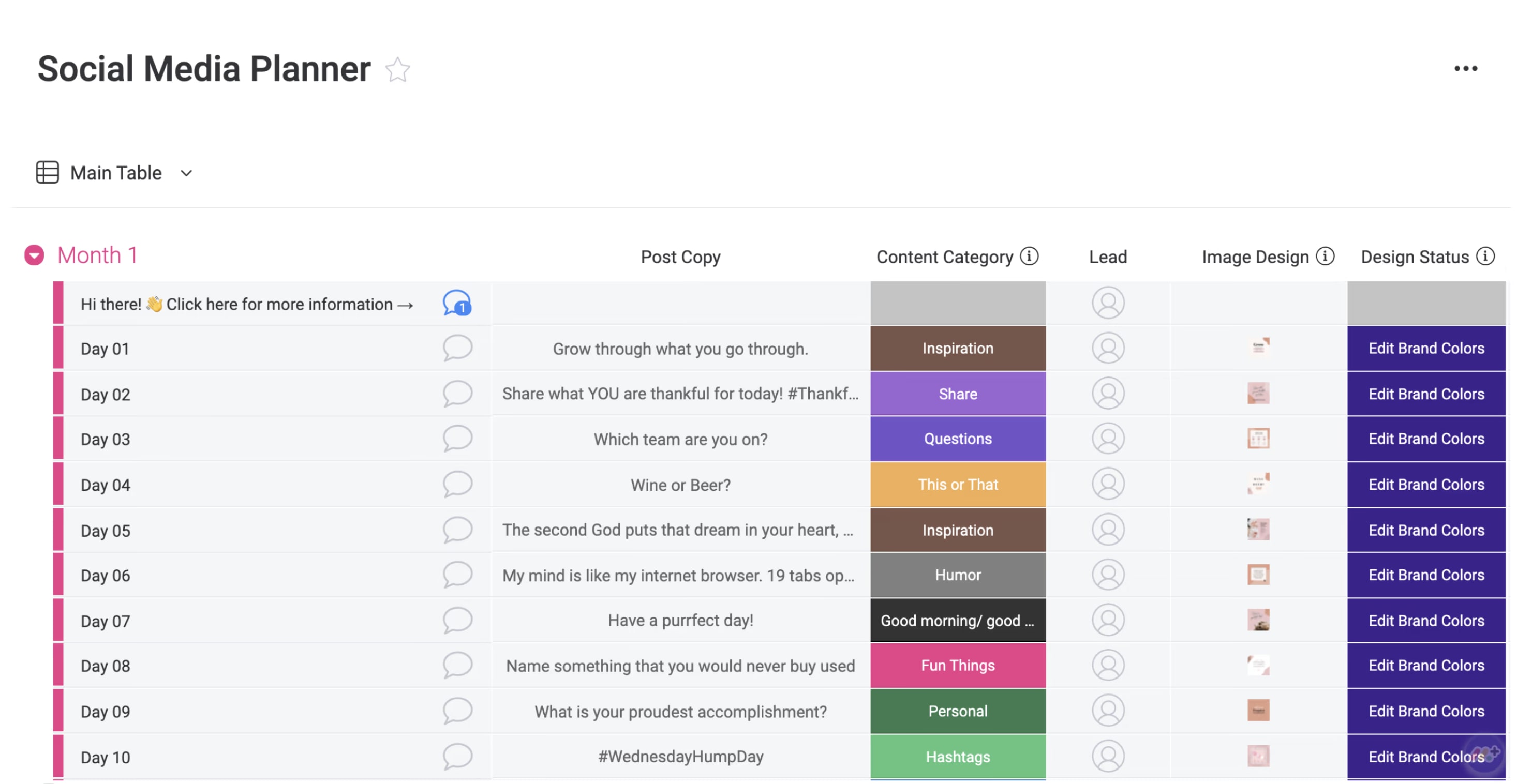 With a social media content calendar template, you use a preexisting format to add all your posts and corresponding information rather than making one entirely from scratch.
Who is a social media calendar template for?
A social media calendar template can be used by anyone, from marketing teams to social media agencies and even social media freelancers. The template is also helpful for small businesses without a designated social media or marketing team who want an easy way to visually organize their social media efforts across different channels.
Why should you use a social media content calendar template?
Using a streamlined calendar to track your social posts leads to many benefits related to organization, collaboration, and efficiency. Some of these benefits include:
Enhanced post analytics:

By consistently tracking your posts in a single social media calendar, you'll have a centralized location to examine past posts, trends, engagement, and more.

A consistent post schedule:

Planning out your posts in advance ensures you'll never miss a day of posting and can maintain a solid cadence.

Better post quality:

By planning posts in advance in a calendar your team can provide feedback and edits to ensure there are no typos or mistakes.

Improved cross-team collaboration

: Social media calendars provide a shared space for planning and ideating content. They allow teams to align on common goals, allocate responsibilities, and set deadlines to avoid delays.

Single source of truth: A social media content calendar offers your team a unified solution to help keep all stakeholders in the loop, alert team members to updates using automations, and visualize your social media strategy.
5 best practices for choosing a social media content calendar template
Using a pre-made template to create a social media calendar is a great way to kick-start your social media planning process. monday.com provides a social media planner template that offers a structure for you to follow so that you can easily map out your posts in advance. With our template, you can easily organize upcoming content by platform, publish date, status, and more. 
There are some things to keep in mind while shopping around for a social media calendar. It's best to start looking for options when you already have an idea of what you need, so consider these tips to help you find the template that best suits your specific requirements.
1. Audit your existing strategy
Assess your current social media strategy to determine what's working, what needs improvement, and your specific social media goals. A good place to start is auditing your existing content by looking at things like:
How frequently you're currently posting

High-performing posts

Audience engagement and interactions

Company goals for your social media strategy
Take a look at metrics from within social media channels like Instagram or Facebook to assess where you currently are. Then, you'll be in a better position to use your social media content calendar template to curate posts that are more targeted to your updated strategy.
2. Select the most relevant social media channels
Choose the social media channels to focus on so that you can prioritize them in your calendar. Once you narrow down the channels most beneficial to your business, you can begin focusing on content types, like short or long-form videos, images, gifs, or others.
From there, you can begin to build out your social media calendar including targeted posts that make sense for your selected channels.
3. Consider on your posting cadence
Decide how frequently you want to be posting. You can opt for different strategies, such as new content every Monday, posting every day, or organizing new content and repurposed content throughout the month. 
Using the results from your social media audt, you can find a candence that works for you and apply that to you content calendar by plugging in dates you want to post and the content or topic for that date.
4. Make a checklist of your template "must-haves"
Map out what your social media calendar should include to make sure all the information you need is stored in one place. Create a checklist of your must-have items for a social media template and look for options that include as many of those as possible. Some of the items to include on your checklist include:
A way to assign posts to different team members

A space to note dates for drafts, deadlines, and post dates

Different views for your calendar, like in list form

A way to upload documents, images, videos, or other media

Somewhere to note the social media platform for each post

The status of each task

An area to collaborate or chat with team members

Post format (reel, photo, video, etc.)

Automations for things like auto-reminders and triggering manual action
5. Gather and implement feedback
Share the template with your team to gather feedback and apply it to make your calendar even more collaborative. Even when you've found a template that includes every item on your checklist, your journey isn't over. It's good practice to share your template with your team, including any other employees, contractors, or teams that might collaborate on social posts.
By sharing the calendar with your team, you can get early feedback on tools or features that are missing, ideas on how to best collaborate, and insights about whether it's user friendly and aligns with your team's content strategy.
Free social media calendar template from monday.com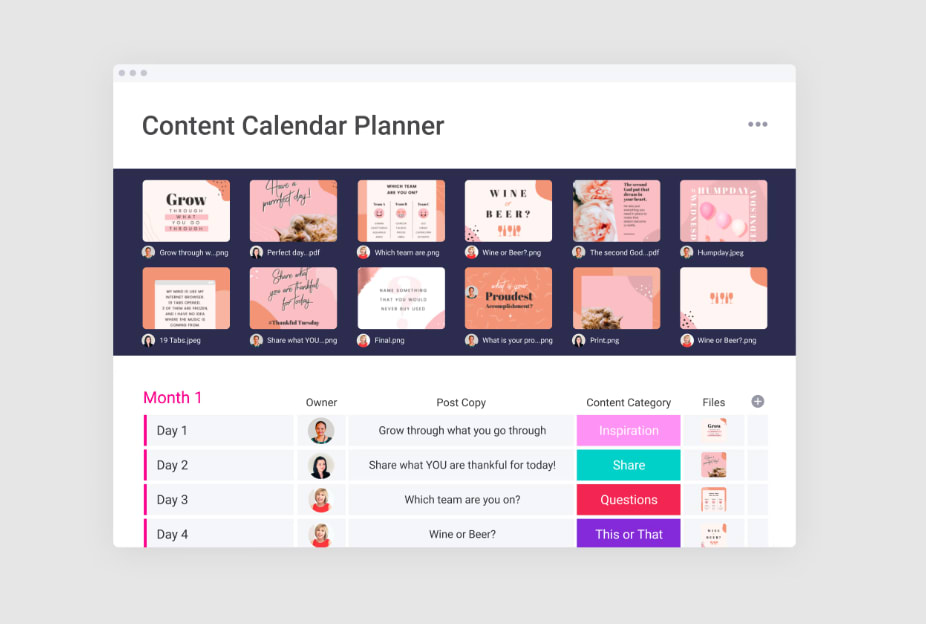 monday.com's social media calendar template allows you to toggle between a social media calendar view and a board view that lists each task, related content, deadlines, responsibilities, and other details. The template is customizable so you can add and remove items to fit your exact requirements. It's free to get started with the monday.com social media calendar template so you can see how it works before onboarding the rest of your team.
Let's take a closer look at some of the features you'll get when you use monday.com to create a social media calendar.
Visualize your work the way you want to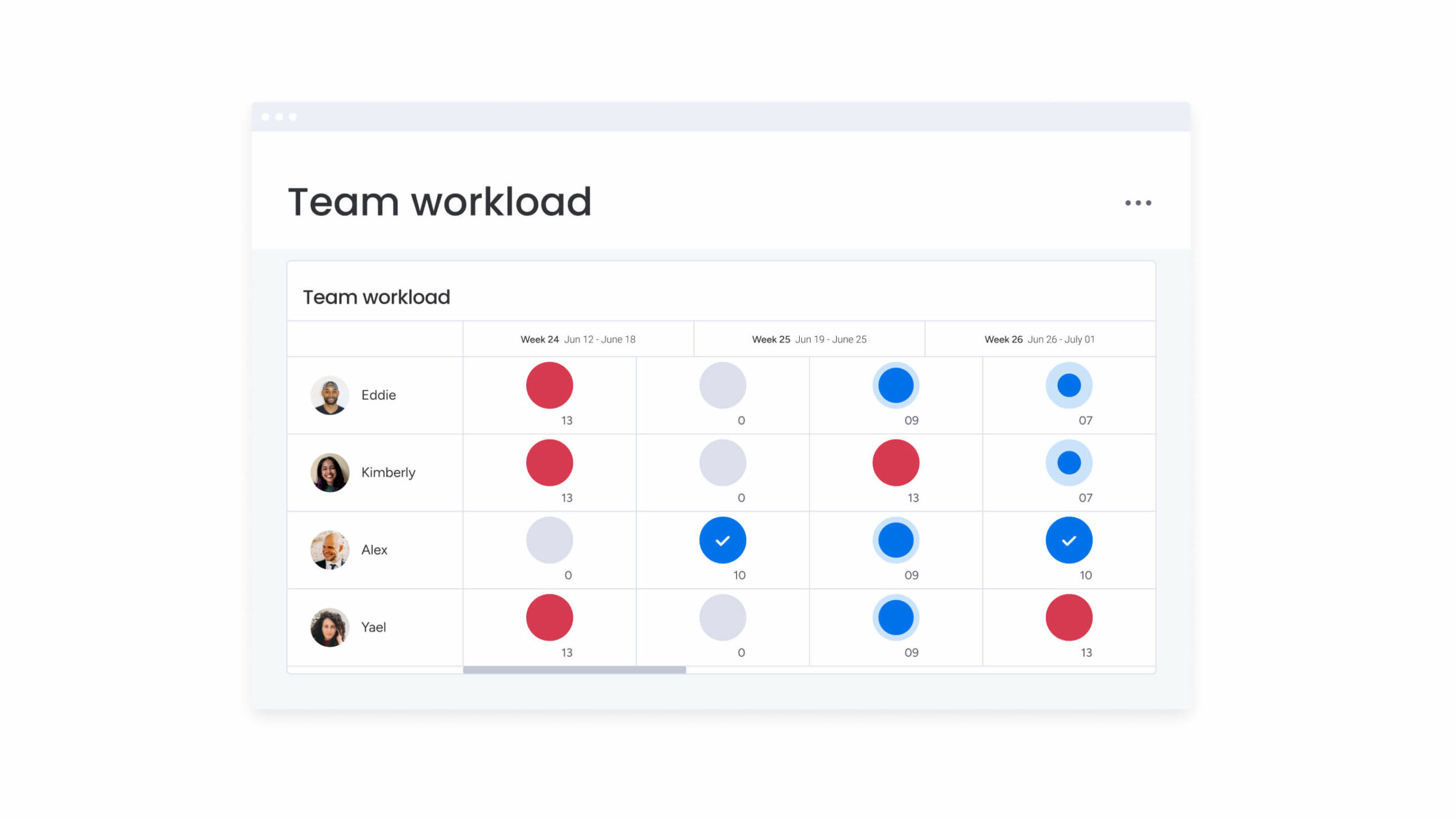 monday.com gives you 27+ different work views so that your team members can see their tasks in any way that works best for them. Choose from a Calendar view, Timeline, Gantt, Kanban, Workload, and others. You can easily toggle between them to highlight different information so that team members can view their work in a way that's easier for them. Not only that, but toggling work views helps you visually prioritize different information, such as your schedule, upcoming tasks, or your team's current workload.
Centralize all your work with integrations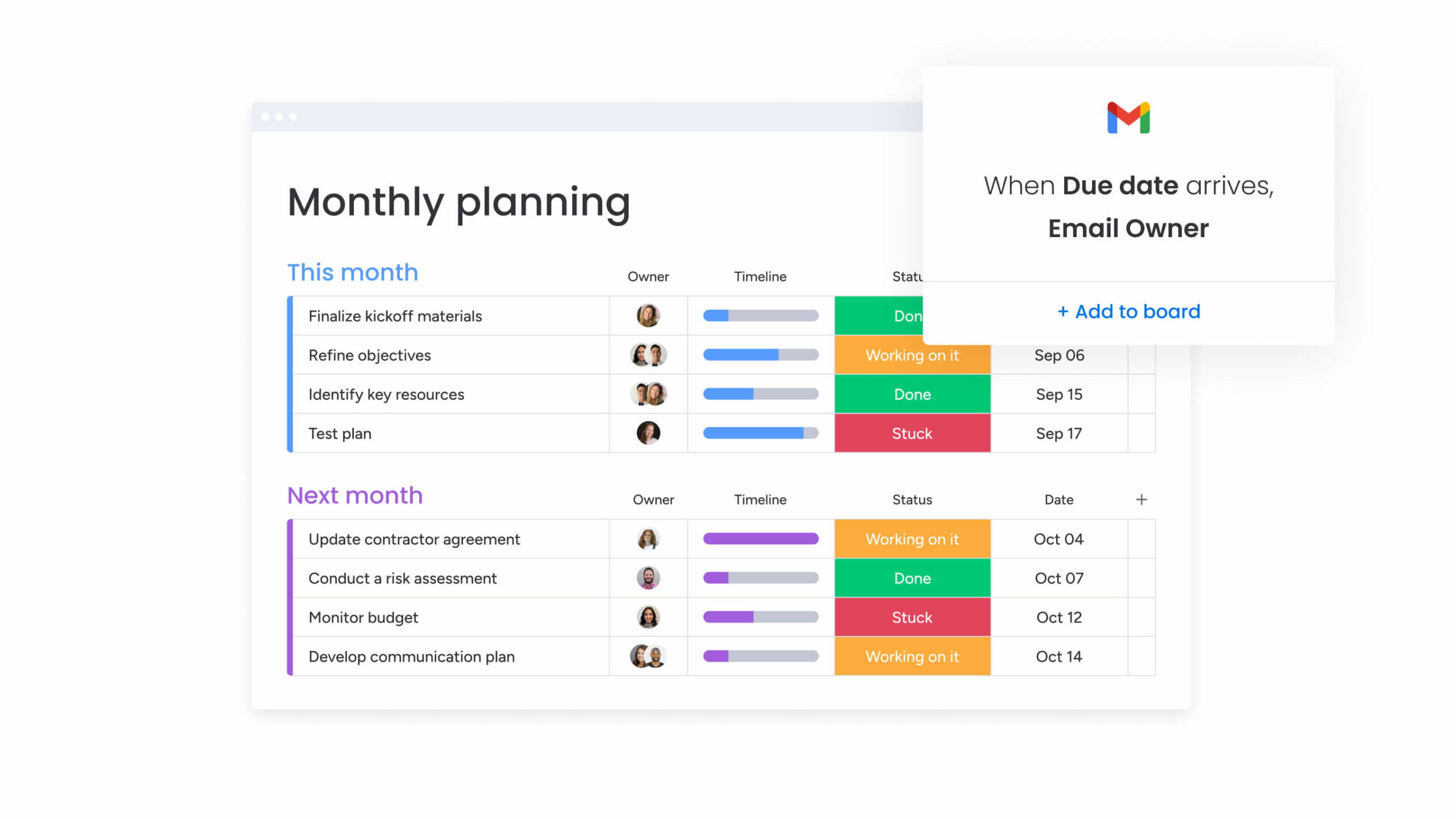 With 200+ integrations and apps to choose from, monday.com allows you to connect all the social media tools your team already uses. Use the Facebook integration to monitor your campaigns, create posts directly on monday.com for LinkedIn, or connect your Hootsuite account to track everything in one place.
Automate social media posting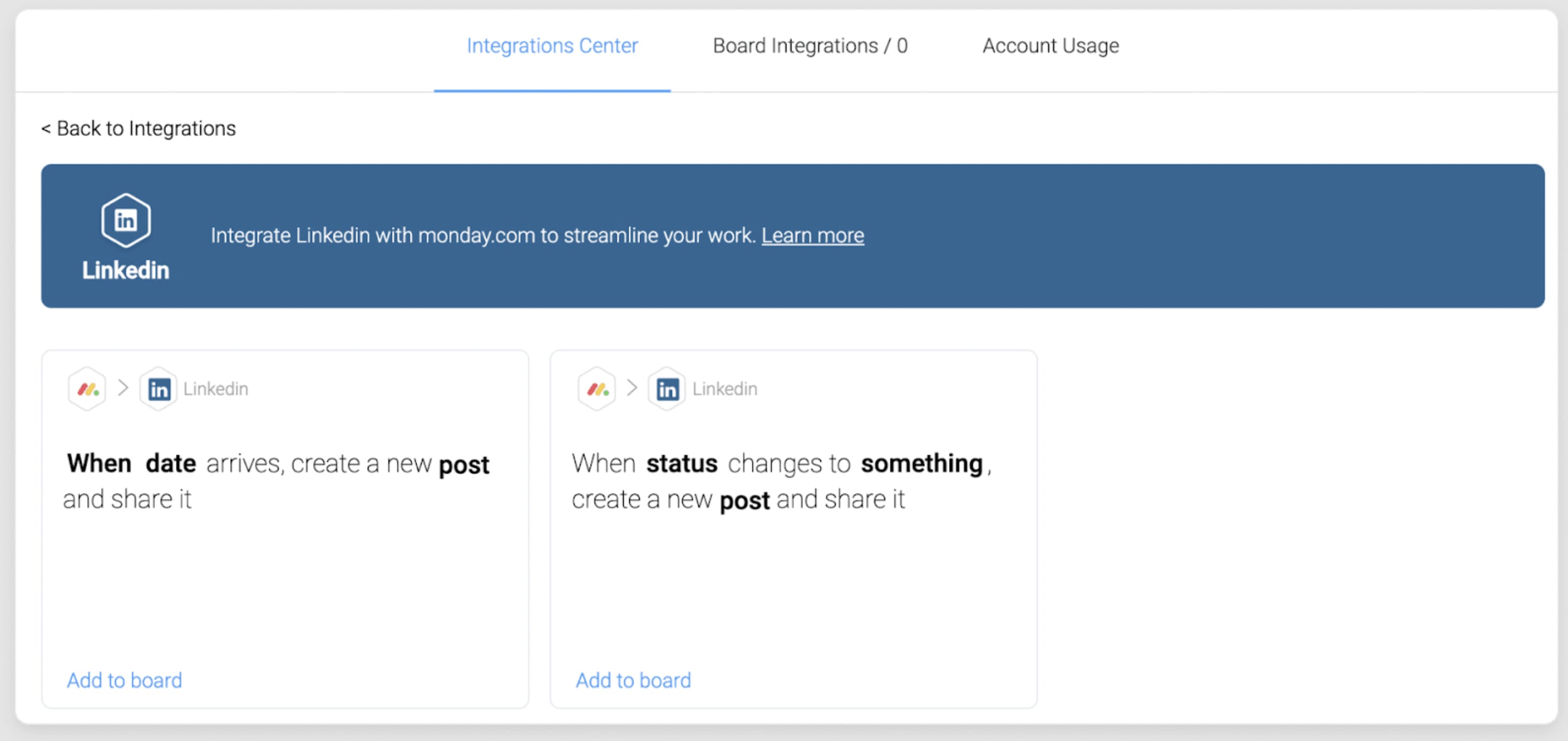 With monday.com, you can create your own automations that trigger an item to post on your chosen social channel. With integrations, you can create an automation that sends posts to LinkedIn, Instagram, or Facebook at a prescheduled time so posts can be coordinated across different channels.
Create a social media content calendar template that works for you
Using a social media content calendar will help you streamline your posts and tasks for your social strategy so that you can always stay one step ahead. With monday.com's social media calendar template, you don't need to start from zero and can instead customize an existing social media calendar with tons of capabilities to fit your exact requirements.