Working in the publishing industry means juggling countless moving parts and meeting critical deadlines while catering to your readers' unique tastes. After all, you work with authors, podcasters, and other content creators who create engaging material for the public.
If you've ever wished there was a simpler way to engage your readers while making your job a little easier,  a CRM for publishers can help. Today, we'll dive deeper into what a CRM is and what benefits you can expect from using one.
What is a CRM for publishers?
A publisher customer relationship management (CRM) system is a platform that helps companies in the publishing industry manage their sales processes while building stronger reader relationships.
This is because a CRM organizes the information you need to place their wants first in every decision.
Why do publishers need a CRM?
Publishers need a CRM to grow, thrive, and build a solid, positive reputation. Cultivating a strong relationship with your reader base is one of the most critical endeavors your publishing company faces because, without readers, you can't make money.
Of course, the first step to cultivating any relationship is understanding the other party. When you can mine data from all relevant departments, you can get a better picture of your audience. In turn, this information can be used to make decisions that work best for the people consuming your content.
A publishing CRM helps define your company's audience so you can tailor your sales, marketing, and content toward the right people.
While cultivating a strong reader relationship is crucial, it's far from the only reason publishers need a CRM. A publishing CRM can also help you make the most out of freelancers, ensure all staff are on the same page, and increase revenue by garnering more subscriptions.
What sets CRM for publishers apart from other types?
A CRM for publishers generally offers all the primary benefits of a customer relationship management system, like tracking and managing customer data, document storage, and task management.
However, it also considers industry-specific needs and provides relevant features. For example, additional features in a publishing CRM (that you wouldn't have in a traditional one) include subscription management, flat-planning, ad invoicing, and publishing tool integrations.
A CRM for publishers offers all the main benefits of a traditional CRM but with additional features tailored to meet the publishing industry's needs.
Several types of businesses may benefit from using a publishing CRM instead of a traditional option.
Types of businesses that may use CRM for publishers
Any business that works in the publishing industry would benefit from using a publishing CRM. Examples include:
Magazines
Traditional book publishers
Newspapers
Professional streamers or influencers with sizable followings and staff
E-book publishing companies
Academic publishers
If your business would benefit from using a publishing CRM, it helps to understand the functions of one so you can choose the best option for your unique circumstances.
Tasks publishers can manage on a CRM 
Although each potential software option will differ in capabilities, the most crucial functions of any CRM include the following:
Manage customer relationships and accounts: The primary function of any CRM is to manage customer relationships and accounts, and a publisher CRM is no different. Store contact details and information on demographics, interactions, and preferences for each customer inside the platform for a comprehensive overview whenever you access a reader's profile.
Mine relevant data: A CRM for publishers allows you to mine relevant data on customers, sales, marketing, technology, and publishing from a single platform. You can use this information to make better decisions in every department and tailor your offerings to your audience.
Sales and subscription management: Managing your sales and subscriptions in the same place as your customer information is simpler and more efficient.
Automate routine tasks: By automating everyday tasks and processes, you can spend more time on creating better content and marketing it to your audience. Being able to automate also helps streamline operations by reducing bottlenecks and hold-ups.
Email communications: A CRM enables you to contact clients from within the platform, automate replies and marketing collateral, and even access templated emails to speed-up common conversations.
If you're looking for a powerful CRM for publishers with additional features and capabilities to make your job easier, monday.com is an excellent option.
Using monday.com to cultivate reader relationships in the publishing industry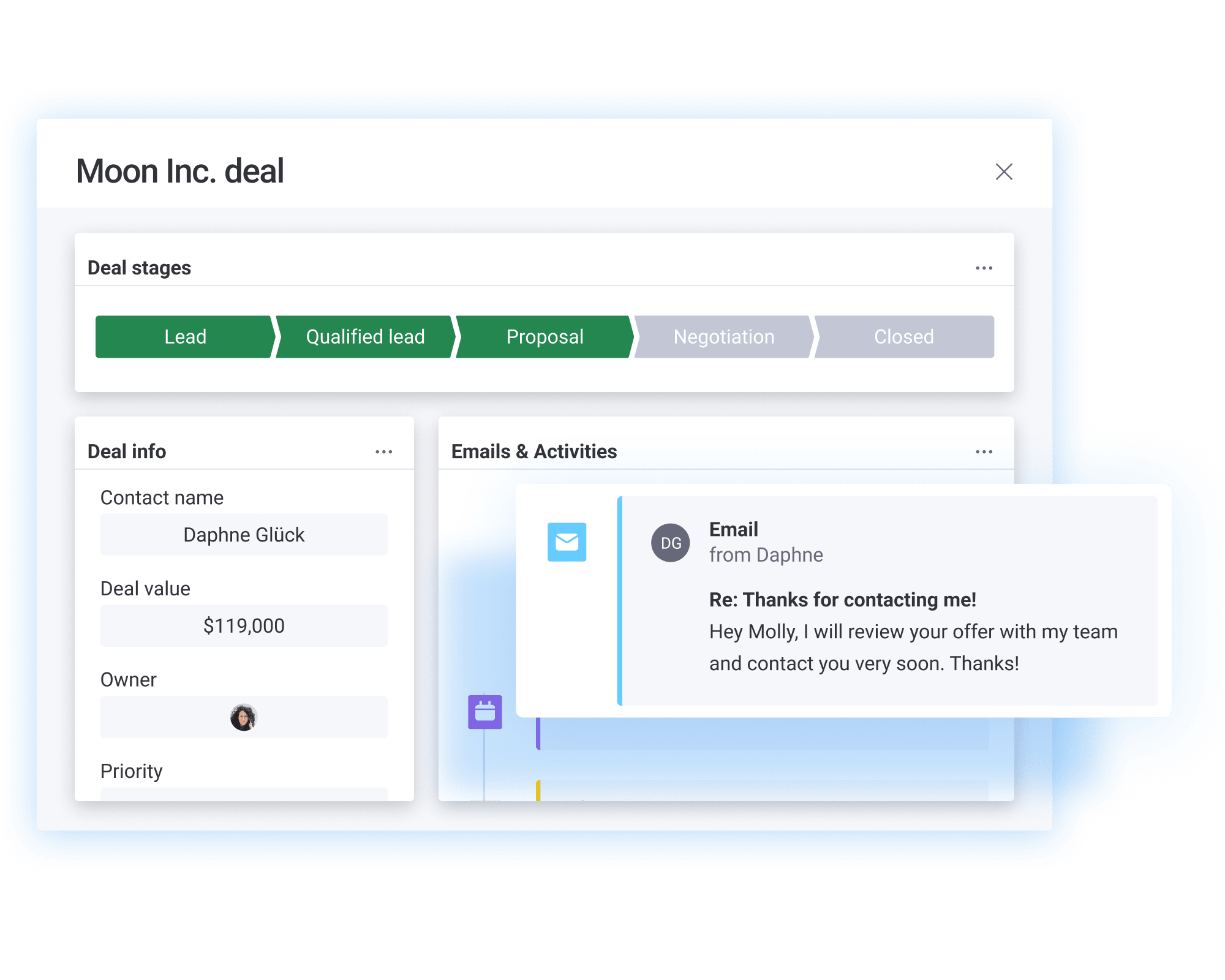 monday sales CRM is an ideal option for publishers looking for an all-in-one solution. With our platform, you can centralize client communication by integrating your favorite email seamlessly into the platform to help you keep track of interactions.
You'll also be able to:
Take advantage of customizable dashboards to track interactions such as phone calls, texts, video conferences, and social media engagement.
Use your custom dashboards to represent your workflows, ideals, or key performance metrics so you can make better business decisions.
Track data inside the platform and view the way that works best for you, with options such as Gantt charts and Kanban boards.
Share information with coworkers or employees for more efficient workplace collaboration.
Communicate in real time with the monday workdocs feature and decrease the necessary lead time to printing when used efficiently.
Your publishing company may already use numerous potential business tool integrations. For example, our platform integrates with Hootsuite so you can plan, post, and optimize social media content faster. Or integrate with publishing tools such as Adobe Creative Cloud or JotForm. Automation capabilities are available as well to make your life easier and your workflows more efficient.
FAQs
Why is a CRM for publishers useful?
A CRM for publishers streamlines processes and automates routine tasks. It also stores crucial subscriber data that can be used to define your target audience and build stronger relationships with them. This information, in turn, can generate more paid subscriptions.
What is a CRM for publishers?
A CRM for publishers lets companies in the publishing industry manage sales processes more efficiently while simultaneously building stronger client relationships. All customer information, relevant accompanying data, and processes are stored within the customer relationship management system. This provides numerous benefits company-wide, with the publisher's customer-facing departments reaping the most significant benefits.
Any publisher can build strong reader relationships with monday.com
A CRM for publishers provides the same benefits as a traditional platform, like centralizing customer data and streamlining essential work processes. However, it also considers the publishing industry's unique challenges and provides features to help overcome them.
Publishers will find all the features they need and much more in monday.com sales CRM, so you can begin making the process of juggling deadlines and projects simpler, faster, and more efficient.
Explore other B2B CRMs:  CRM for lawyers, CRM for SaaS, CRM for small business, CRM for startups, CRM for recruiting