A CRM for recruiting to engage your candidates
Attracting top talent and engaging candidates in an ever-shifting job market can be challenging. That's why many businesses turn to CRM softwares to find talent, nurture candidates, and streamline the recruitment process.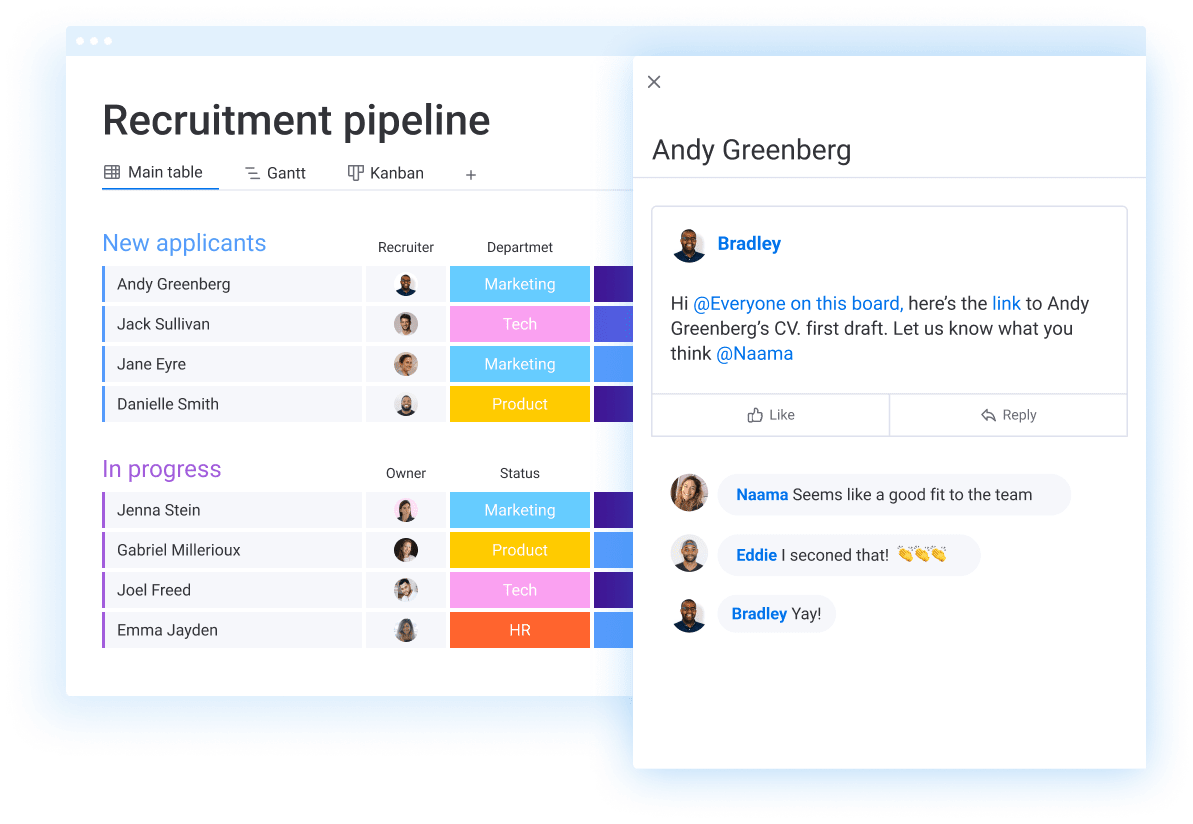 What to look for in a recruitment CRM
The most powerful CRM softwares have several features that make it easy to build candidate profiles and talent pools, reduce time-to-hire, and increase recruitment team productivity. These features may include:

Automations to save time and limit repetitive work so you can focus on what matters

Integrations so you can keep all of your favorite tools within your CRM

Views that let you visualize data and the recruitment process in different ways

Dashboards to simplify hiring decisions and candidate engagement with real-time insights
monday.com has all the top capabilities of a recruitment CRM, plus even more.
Our fully customizable, user-friendly platform lets you boost the candidate experience, refine the candidate sourcing process, and attract top talent in one easy-to-access place. Create your CRM system from ready-made templates or easily tailor any recruitment pipeline, workflow, and process to drive real business impact. Here's what you'll get on monday.com:

Total flexibility
Customize your CRM software to work for you, without needing help from developers. Edit columns to show recruitment activity, candidate details, new job details, and more. Track as many applicants as you want with our easy-to-use software.

Intuitive interface
Our drag and drop functionality and visual boards make it easy to create workflows, see where candidates are in the pipeline, and increase productivity. See all of the details you need to make smarter hiring decisions on one board.

Robust automations
Focus on engaging potential hires instead of repetitive processes that slow you down. Use our automations to send replies and notifications, filter applicants into buckets, create tasks, and for other important actions.

Multiple views
Visualize tasks, updates, projects, and pipelines however you want. monday.com offers views such as: Calendar, Gantt chart, Kanban board, Timeline, Chart, Map and more. For instance, use the Timeline view to see how long it takes candidates to go through the hiring process.

Dashboards
Display all your important information in one place with custom dashboards. Increase visibility into hiring rates, jib openings, salary expectations, and team performance. Run reports from a high-level view of your recruitment funnel down to tiny details, such as employee resource capacity.

Integrations
With integrations, you can manage your entire recruitment pipeline without needing to switch tabs. Choose from Slack, Google Calendar, Zoom, Zapier, Gmail, and more. Set up integrations in just a few clicks and create custom automation recipes without developer assistance.
Frequently Asked Questions
What is ATS and CRM in recruitment?

A CRM software is a powerful tool that nurtures talent and delivers an engaging experience for candidates. An applicant tracking system (ATS), manages the recruiting and hiring process, including job postings applications.

Some robust CRM softwares—such as monday.com—give you the best of both worlds, amplifying productivity and increasing transparency.

Why is CRM important in recruitment?

A CRM for recruiting helps companies find the best candidates for each role and fill positions faster by automating communications, creating an organized and accessible candidate database, providing real-time insights, and offering multiple views showcase data in various ways.

What are two ways HR can recruit potential employees?

There are two ways to recruit workers: internally (sourcing within your company and externally (sourcing from employees outside your company). Many companies rely on both methods, supporting employee growth and looking for new talent.

With monday.com, you can easily track and manage both internal promotion opportunities and open roles for external candidates.
A CRM software to make your recruitment process both seamless and impactful
monday.com helps over 152K customers work without limits. Create a customized CRM software and easily engage candidates at every stage of the pipeline.
Explore other B2B service CRM: