The best CRM for mortgage brokers to boost business
For mortgage companies, a major challenges is retaining customers. Stay ahead of the competition with a mortgage CRM that can automate repetitive tasks, keep up with compliance regulations, capture leads, help manage customers expectations, and centralize all communications records of prospective and current customers.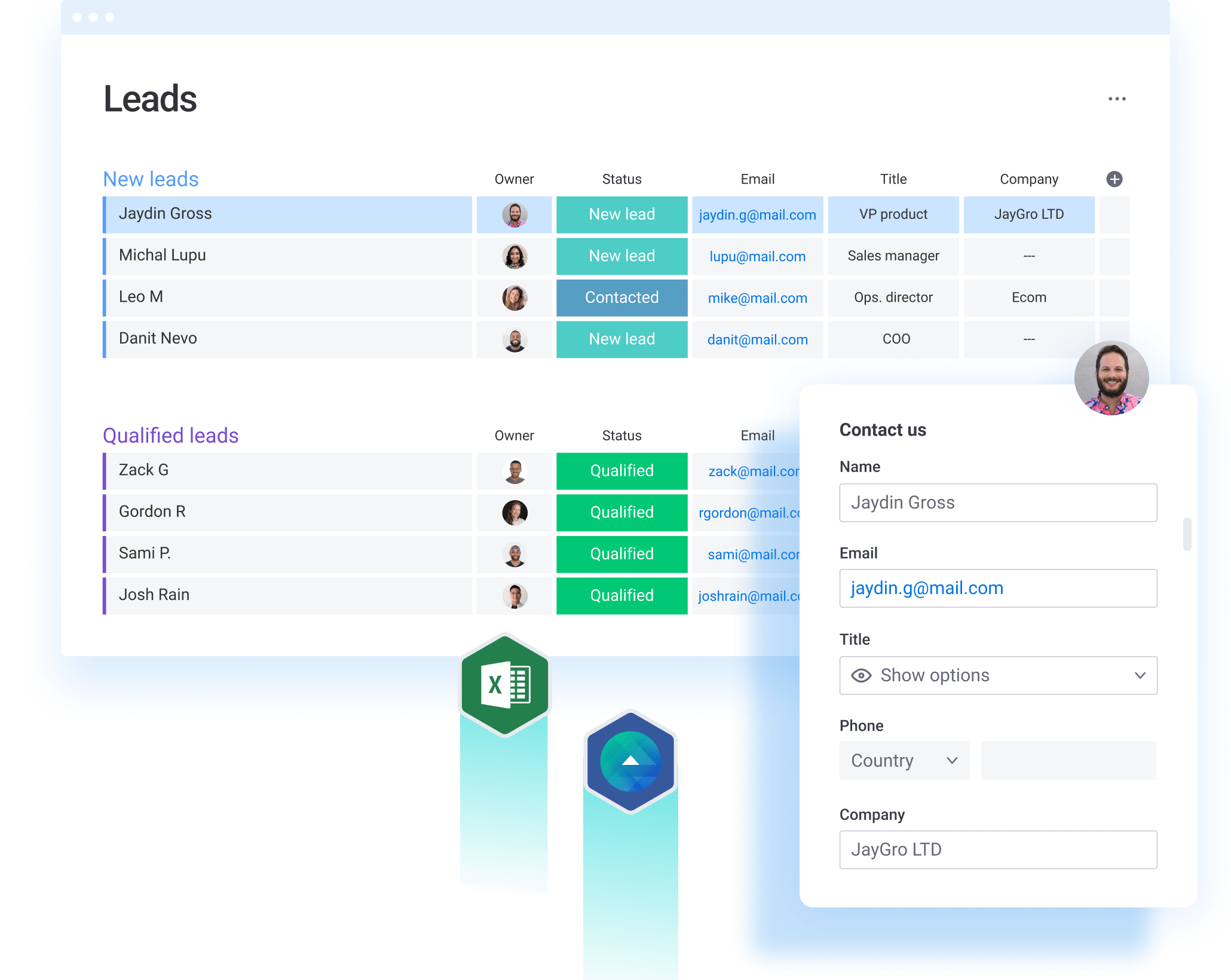 What to look for in a mortgage CRM
The best mortgage CRM allows you to build lasting relationships with your customers and create smooth mortgage and loan processes and workflows. These top-notch CRMs have several features that make it easy for brokers to track and manage the percentage of returning customers for data-driven decision-making. These features may include:

Automations to save time and limit repetitive work so you can focus on what matters

Integrations that keep all of the management tools you already use within your CRM

Views that let you visualize data and the deal process in different ways

Dashboards to simplify client-based decision-making using real-time insights
monday.com has all the capabilities of a mortgage CRM, plus even more.
Our fully customizable, user-friendly platform lets you handle all your work in one place. Start creating your CRM system from ready-made templates or easily tailor any pipeline, workflow, and process to drive real business impact. Here's what you'll get on monday.com:

Total flexibility
Customize your CRM to work for you, without needing help from developers. Edit columns to track and manage multi-channel marketing, loan pipelines, communication with clients and prospects, and more. Tailor our CRM for mortgage brokers to your exact business model and client's needs with just a few clicks.

Intuitive interface
Our drag and drop functionality and visual boards make it easy to create workflows, see where loans stand, and get things done. See all of the details you need to close prospects on one board for easy pipeline management. Build your CRM with one of our pre-made templates or easily start from scratch.

Robust automations
Focus on engaging and retaining customers instead of repetitive processes that slow you down. Use our automatic reminders to automatically organize contact information, send automated emails for follow ups, tell a referral partner of an assigned lender or broker, stay notified of important dates, plus other time savers.

Multiple views
Visualize to-dos, updates, pipelines, and other data however you want. monday.com offers views such as: Calendar, Gantt chart, Kanban board, Timeline, Chart, Map and more. For instance, use the Table view and filter by interest rate and date of purchase or the Gantt view to see payments spread out over a given time period.

Dashboards
Display your important information in one place with custom dashboards. Increase visibility into loan trends, product, loan officer, and more. Run reports from a high-level view of your operations down to the details. Use to the Chart Widget to track leads and show the number of loans each broker completed.

Integrations
Use our integrations to capture more leads and close more loans without switching tabs. Set up your integrations in just a few clicks, choosing from Slack, Google Calendar, Zoom, Zapier, Gmail, and others. Once you set up your integrations, create custom automation recipes in seconds to streamline your pipeline.
Frequently Asked Questions
What is a CRM in the mortgage industry?

CRM is short for customer relationship management. This technology centralizes and orchestrates all prospect and customer interactions.

How do mortgage brokers get clients?

Many mortgage lenders struggle with getting new clients. One way to get new clients is to network. Whether through social networking or basic client management, mortgage lenders need a way to store and manage contact information and interactions.

A robust CRM for mortgage brokers—such as monday.com—can help mortgage professionals organize and manage those details, streamlining operations.

Can you use Monday as a CRM?

Many organizations rely on monday.com to track their sales pipeline and contact lists. monday.com's CRM is flexible, user-friendly, and can grow with your mortgage business.
The top mortgage CRM to create a powerful client management system
monday.com helps over 152K customers work without limits. Create a customized CRM for mortgage brokers and easily track and maintain client relationships.