Assembling a cross-functional team is like trying to finish a puzzle.
There are lots of different pieces jumbled in the same box. All the pieces you need are within reach, but assembling them in the right way is the tricky part.
When done well, a cross-functional team can improve efficiency, enhance collaboration, and allow you to make the most of your resources. But how do you create your own cross-functional team?
In this article, we're going to take a look at what a cross-functional team is, the pros and cons of cross-functional collaboration, and how you can build your own successful, cross-functional team. We'll also explore how using a Work OS makes the process easier to manage.
What is a cross-functional team?
A cross-functional team is a group of people from different areas of a business working together toward a common goal. Each team member brings their own unique perspective to the table based on their area of expertise.
And what is an example of a cross-functional team?
Let's use an example to put it into context.
Imagine your company wants to launch a new product.
There'll be a lot of work involved in the launch process, including market research, reviewing resources and budgets, as well as creating and producing the product itself. As you can imagine, this would be pretty difficult for one department to do on its own.
So a diverse team is created:
By using all of these departments in the same project, businesses can capitalize on their teams' different functional expertise and deliver the best results possible.
What are the benefits of cross-functional collaboration?
Now, let's take a look at some of the main reasons companies use cross-functional teams.
1. To encourage innovation
In a recent survey, 88% of businesses stated that innovation is more important now than ever before, due in part to the pandemic.
So how does cross-functional collaboration lead to increased innovation?
With different skill sets and diverse backgrounds, each member of a cross-functional team has a unique perspective on the project at hand. As a result, team members will sometimes have to approach the project from a different perspective.
And that's where new ideas are created.
Think of it like this:
In a marketing meeting, everyone on the team has a similar background. They'll have a similar thought process, all geared toward how marketing activity should run based on their own experience.
Now, imagine throwing someone from the finance team into that meeting. Their experience brings a whole new perspective, forcing the marketing team to approach tasks from a different angle.
And that's where the magic happens. The creative juices start flowing, new ideas come to life, and innovation happens naturally.
2. To increase employee engagement
Picture this. Every day you work with the same team. Day in, and day out, you're working on similar projects, and things are feeling pretty stale.
Now, imagine you're asked to collaborate with another department on a new cross-functional project. Your routine is shaken up, you're working with new people, and you're creating new ideas.
Sounds exciting, right? We certainly think so.
And that's how cross-functional collaboration improves employee engagement. It's a great way to get your team fired up if motivation is lacking, allowing them to work on new projects with different teams in the company.
Not to mention, employee engagement is beneficial to the overall performance of any organization, especially if you have a remote team.
And with recent research showing that employee engagement is at an all-time low, cross-functional teams are a surefire way to revive your company culture and get your team feeling motivated.
3. To create company-wide visibility  
For cross-functional teams to work, everyone involved in the project must have visibility of the entire project. And we mean everything, not just the work they're doing themselves.
But why?
Providing visibility of the entire project means that everyone can see how the project is progressing and what other departments are working on. They can see when tasks are due, what team schedules look like, and how each department works.
By creating this company-wide visibility, team members see the bigger picture, giving them a deeper understanding of how the business fits together and how their role plays a part.
It also helps them develop a better understanding of how other departments work on a day-to-day basis and holds them accountable for their work.
So what's the best way to give team members visibility of the entire project?
We might be biased, but you might want to think about using a work management platform. That way, your entire project is in one location, and everyone in the cross-functional team can see how each team is progressing.
What's the most common pitfall of a cross-functional team?
It's time to take a look at the main pitfall of cross-functional collaboration…
The workplace silo.
When different departments work on the same project, communication can break down. This is known as the silo effect.
The silo effect happens when teams don't have an effective system of communication. As a result, tasks can be overlooked, duplicated, and people struggle to understand what's happening at any given time.
Not ideal.
But you'll be glad to hear that this can be prevented.
Using a Work OS like monday.com provides cross-functional teams with the transparency they need to avoid the silo effect. Everyone has visibility over who's working on which task, how far along they are, and when tasks are due.
As a result, collaboration is much more efficient, communication is smoother, and siloing isn't an issue.
Take a look at our bridging silos template to see how monday.com can help overcome communication silos.
How do you develop cross-functional teams?
Developing your own cross-functional team is easier said than done. But there are some steps you can take to ensure that you've assembled a team that's fit for the job.
Let's take a look at what these are.
1. Have clearly defined goals
If your cross-functional team doesn't have clearly defined goals, they'll likely find themselves straying from the path of the project.
To avoid this, make sure that goals are clearly defined before you start to assemble your team. The sooner these are identified, the easier the project will be.
Once these goals are defined, your team members will use them as a guide throughout the entire project. They'll work independently but align themselves with the shared goals and milestones that you've created.
2. Assemble the right team
Finding the right departments to form your cross-functional team is a pretty important part of the process.
As a starting point, think about the skills required to deliver the project. From here, you can identify which departments have the required skill set to complete the project to the best possible standard.
It's also worth remembering that it takes a certain type of person to work well in a cross-functional team. Ideally, you want people who have experience working in a collaborative environment, and that are confident making decisions and taking feedback on board.
3. Use a collaborative platform (like monday.com)
A key element to the success of cross-functional collaboration is the team's ability to work efficiently together.
Using a collaborative Work OS allows users to work collaboratively from one central location. As a result, cross-functional teams can easily work together and avoid any communication silos.
Take monday.com, for example. With our platform, you can easily share files, users can communicate with each other, and everyone on the team can see how the project is progressing.
For more information on creating your own cross-functional team, check out our blog: How to make cross-functional collaboration a reality.
Managing cross-functional teams with monday.com
As a Work OS, monday.com is made for collaborative teams. Whether that's providing company-wide visibility or allowing teams to share files, our platform is designed for effective collaboration.
We might be tooting our own horn, but it's only because we know that our platform can make your life easier.
If you don't believe us, take a look at a few of the main features that make monday.com the perfect platform for cross-functional teams.
1. Collaboration made easy
At monday.com, it's our job to make your job easier. And so, when you use our platform, you'll find it pretty easy to collaborate with your team — even if you're working in different departments.
You can add comments, send updates, and even check-in to see how other teams are progressing in their tasks with our high-level board.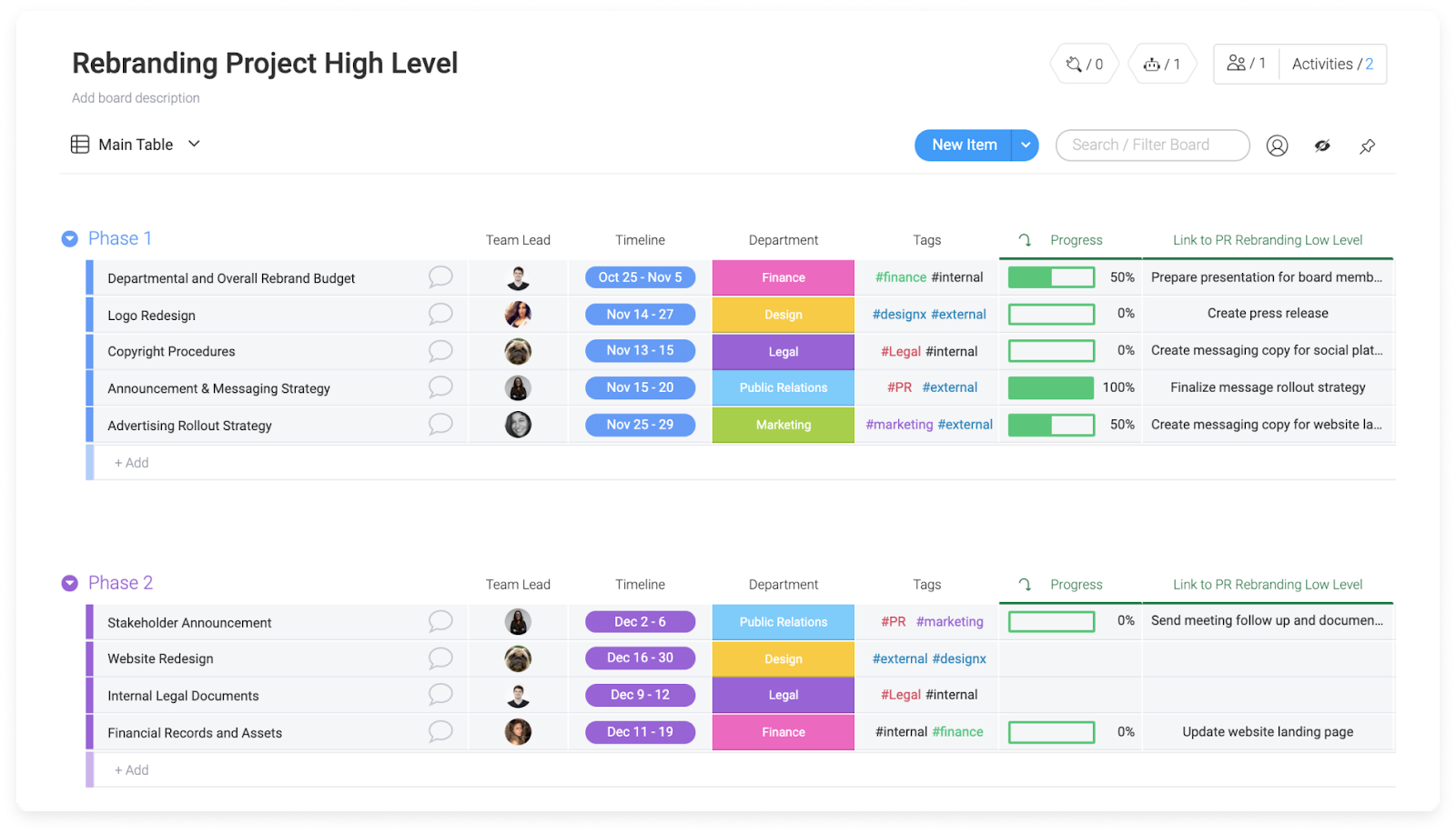 2. Visibility of entire projects
With monday.com, users can view everything in one central location — perfect for cross-functional teams that need to view entire projects at once. Our software makes it easy to see how the project is progressing and what different departments are working on.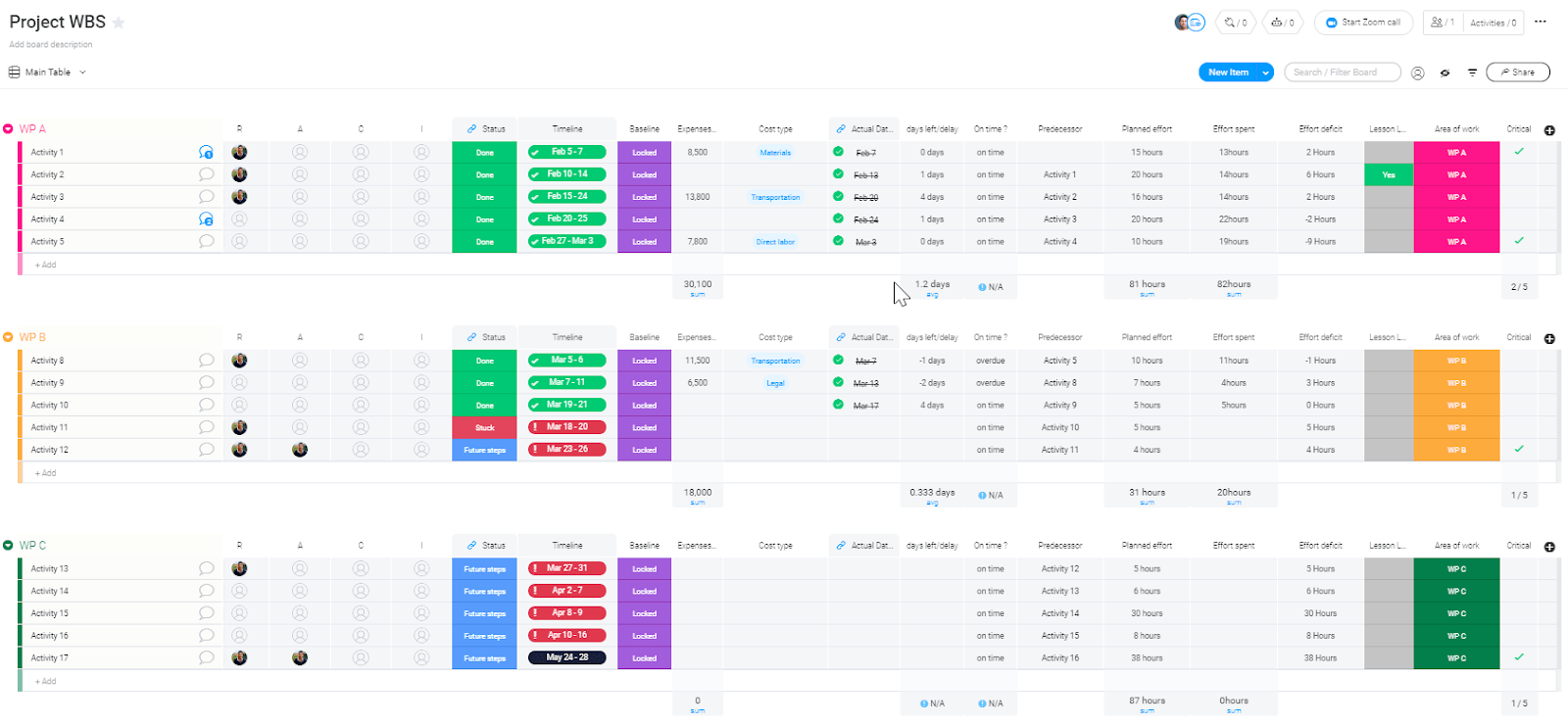 3. Avoid siloing
Worried about communication mishaps and information siloing in your cross-functional team?
Well, worry no more.
With monday.com, teams have complete visibility over what everyone is doing. It's easy for them to update team members on what they're up to as well. You can even communicate directly with other users to easily share updates and snippets of information.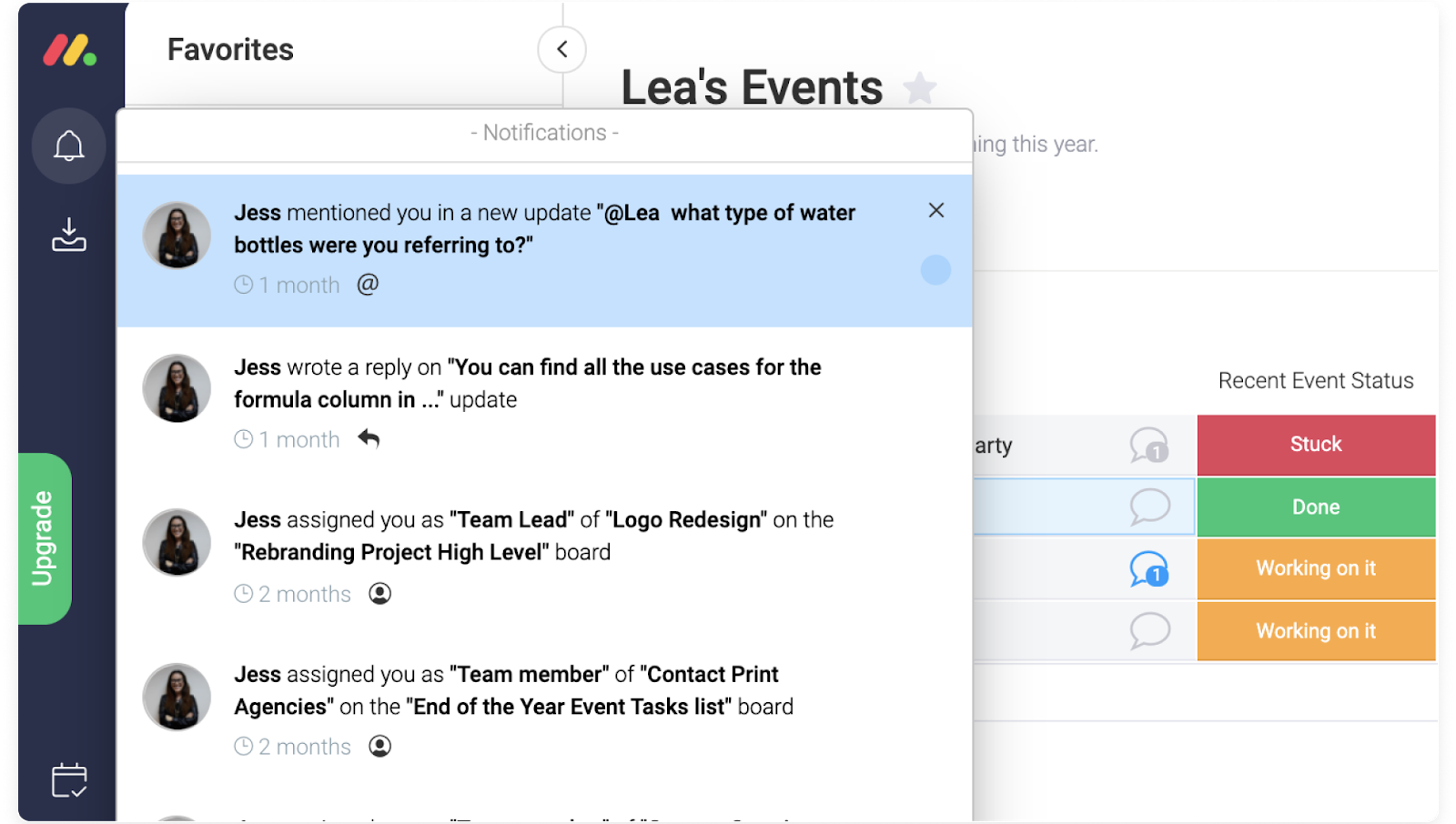 Looking to implement your own cross-functional team?
Building a successful, cross-functional team isn't easy, and you'll likely encounter some hurdles along the way. But there are a lot of upsides to cross-functional collaboration, too. If you can overcome the challenges, the pros far outweigh the cons.
If you're thinking about implementing your own cross-functional team, why not give monday.com a go? Take a look at our cross-departmental project tracking template to get the ball rolling.