Cross-functional collaboration. Say that 10 times fast. If that was a challenge, it can be even trickier to effectively IMPLEMENT it in practice.
With more and more businesses (not just tech startups) working remotely, cross-functional collaboration is essential if you want to stay ahead. But companies are still struggling to adopt.
According to Deloitte research, only 53% of the companies embracing cross-functional, team-based working have seen a significant improvement in performance. But what about the other 47% of companies? Why have they seen minimal to no improvement in results?
Perhaps it's because 75% of cross-functional teams are dysfunctional in at least three of these five categories:
Meeting a planned budget
Staying on schedule
Adhering to specifications,
Meeting customer expectations
Maintaining alignment with the company's corporate goals
In this article, we'll give discuss how and why cross-functional collaboration is essential, yet hard to fully adopt. We'll also propose 5 ways to truly embrace cross-functional collaboration. Along the way, we'll share how monday.com can help.
What is cross-functional collaboration?
Cross-functional collaboration is a work model in which people from different departments join forces to work on a single project or toward a common goal.
Once upon a time departments tackled their day-to-day work in silos. We'll take a bit more about that below.
Today: More companies realize it's time to break down the walls.
74% of business buyers expect sales and marketing to be seamlessly intertwined (aka collaborating across functions) if they expect to win their business.
A common example of cross-functional collaboration is when a team meeting is called to discuss the product. In the room is the …
Chief Product Officer (CPO) or "Head of Product": What should the product do?
Head of Customer support: What do our prospects and customers want?
Sales team and marketing team: What can you sell?
Lead designer: What should it look like?
Developers: What is actually possible to build?
That is cross-functional (or cross-team) collaboration. Different teams from different departments, all in the same "room" (virtual or in-person) to discuss the same topic from different perspectives to reach a common goal.
Boom.
Cross-functional collaboration: Hard, yet essential
Hard. Essential.
Those are the two words I'd used to explain cross-functional collaboration. It's a must-have but is far from easy to implement effectively.
Running an organization that embraces a cross-functional collaboration type model isn't as straightforward as you might think. There's a lot of work required behind the scenes to pull it off AND do it well. You need a sound process and top-of-the-line software.
Effective collaboration isn't something you can let happen organically and hope to get right — especially if you have a history of teams working in silos.
There's a lot happening simultaneously: Different teams working on various tasks, numerous deadlines to keep on top of, responding to questions, and providing feedback to colleagues — just to name a few.
Using the right digital platforms and processes helps keep everyone on the same page, even when they feel like they have dozens of balls up in the air.
But before we get into software and process, let's look at what makes cross-functional collaboration so challenging.
Cross-functional collaboration is hard because it requires teams to overcome the silo effect
The silo effect happens when teams don't have an effective system of communication.
We've all experienced siloing. If you've ever been on the phone with a customer support rep, been transferred to retention, and had to give every personal detail all over again (so frustrating!), you're seeing information siloing at its finest (or worst).
Needless to say, it's far from efficient and productivity takes a hit.
Truth: Siloing is pretty common in poorly-executed cross-functional collaboration. Without visibility over what other people are working on, tasks get overlooked, duplicated, and even forgotten.
The solution to overcoming this problem: transparency (a core tenet here at monday.com).
Work management software provides complete visibility over what everyone is doing. This makes it super easy for everyone to keep themselves up-to-date on what's going on, and it's easy for them to update other team members of how their work is progressing, too.
The monday.com bridging silos template is a great example of how management software can help to overcome communication silos: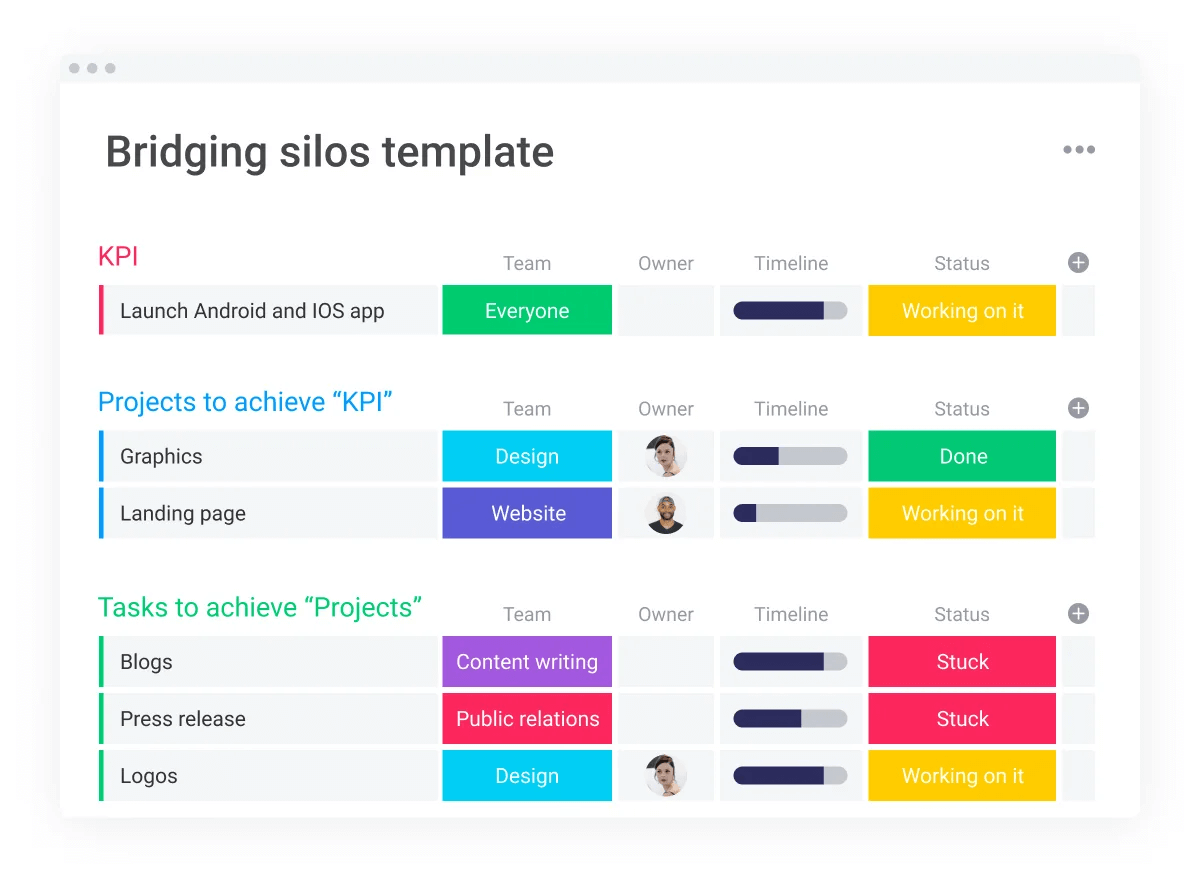 Cross-functional collaboration is hard because there are a lack of collaborative platforms
With so many different groups of people involved, and a lot of different tasks underway at the same time, a lack of collaborative tools makes cross-functional working pretty tricky.
And with online collaboration tools increasing productivity by up to 30%, it's definitely something that should be on your radar.
Fortunately, this is where project management software can help.
Using project management software provides everyone with a central location, making collaboration that little bit easier.
Everything can be done from the same spot, so there's no need to go back and forth between different locations.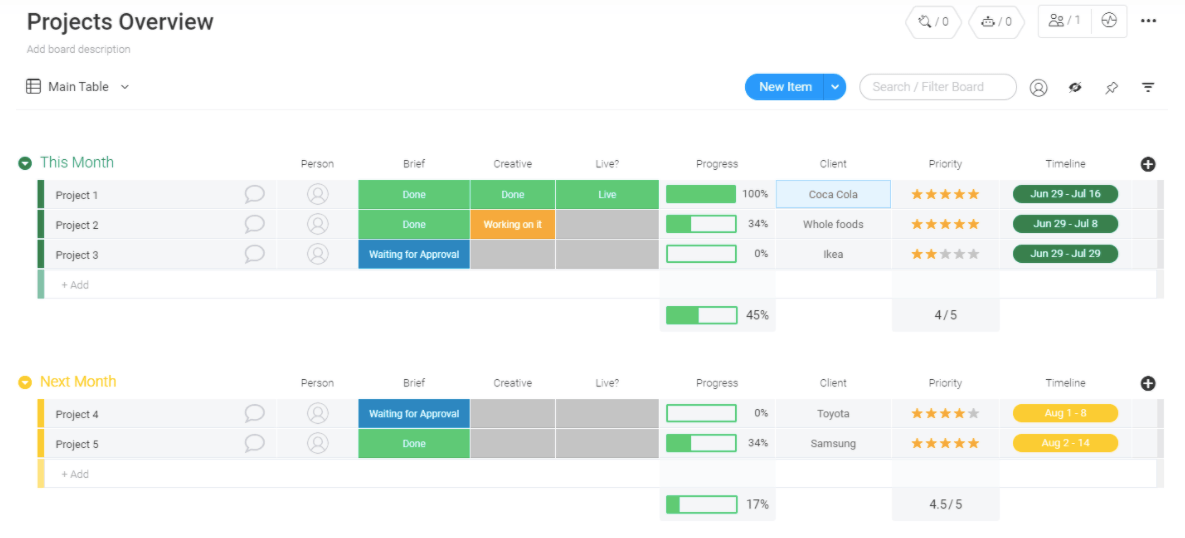 This is really useful for everyone in different areas to be able to collaborate on the following:
Planning
Organizing
Delegating work
Updating the workflow
Asking questions
Checking progress
If you want a quick way to get started, check out our project tracker template.
Cross-functional collaboration is essential because it keeps everyone organized
Did you know:
71% of organizations use some kind of project management tool to keep everyone aligned and working towards the same company goals.
But not just any software will work for your team. If you want to collaborate effectively you need a platform that a) keeps everyone organized and b) promotes communication.
Organization is key when it comes to cross-functional collaboration, and work management software makes it a whole lot easier for everyone involved.
With the right platform, you can input everyone's assignments, duties, and deadlines in one place. Check out our project overview template to see what we mean.
Tasks can also be individually assigned to team members, so everyone knows exactly what they need to do, and when they need to do it: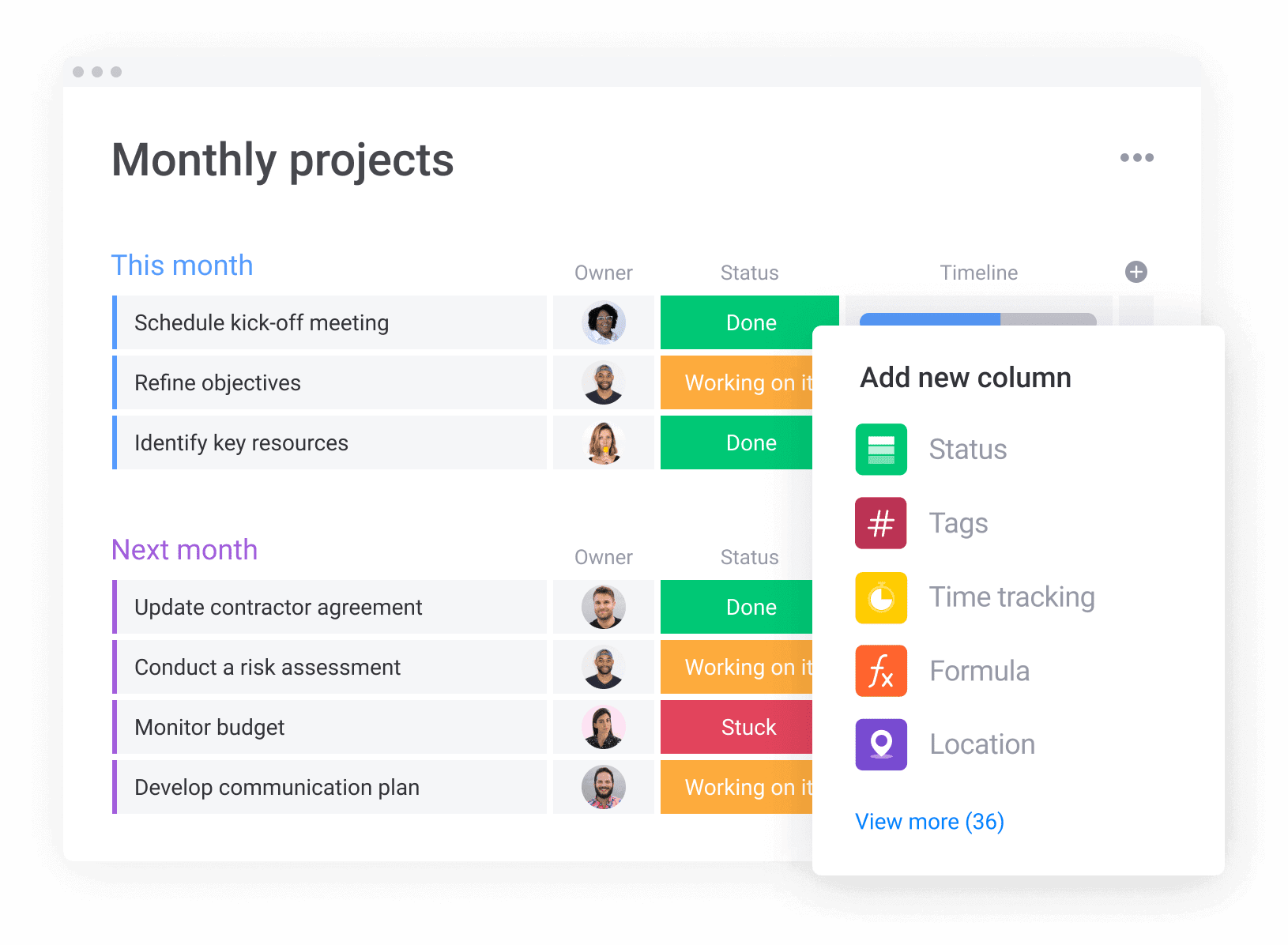 Cross-functional collaboration is essential because it promotes communication
If you're relying on email for communication, you're signing yourself up for a major headache. It's slow, disjointed, easy to forget, and messages always seem to get lost in the noise.
You need a platform that makes cross-functional communication seamless when you're dealing with different functional areas and remote team members — especially when large groups of people are involved.
Platforms such as Slack or Chatwork allow you to create groups for communicating. Ideal if you've got an entire team you want to message at once.
Plus, you can sort and search conversations, create separate channels for different teams, and set notifications and alerts so important messages don't get lost: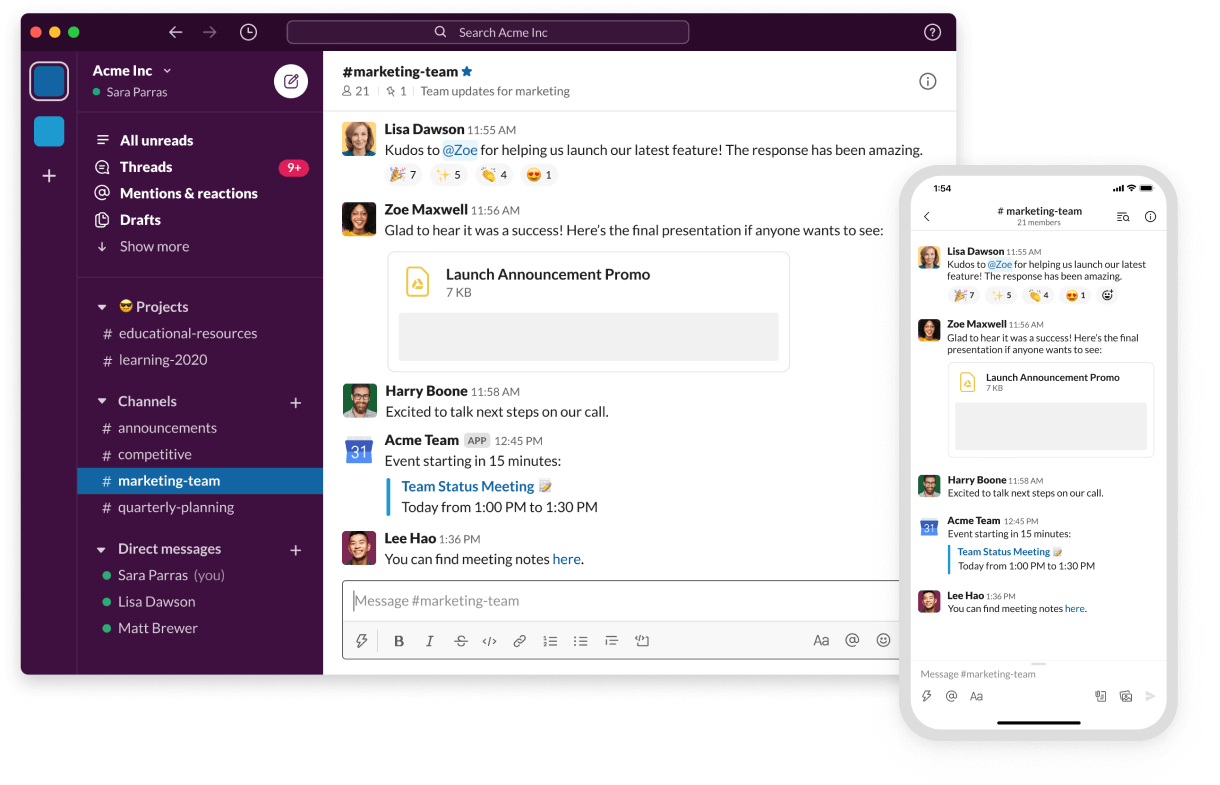 Here at monday.com, our entire platform has communication embedded into it.
Cross-functional collaboration is essential and hard — yet not impossible — to implement. You've got this!
What are the 5 ways to truly embrace cross-functional collaboration
Every business is different, and their approaches to cross-functional collaboration will vary. However, there are five core steps that all companies can follow in order to see the most value from these new (or optimized) processes.
1. Assess your culture.
Does your culture reward collaboration?
(the answer should be yes)
If not, you're doing something wrong. Highly engaging leaders focus on "fostering a culture of collaboration," according to The Conference Board. And that collaboration is critical to creating an agile business where groups of people on different teams work together to meet core objectives and discover new opportunities to differentiate.
2. Practice what you preach.
Hey managers: If you want your teams to truly collaborate across functional lines, you need to practice what you preach. If you're like 61% of leaders, however, you likely don't collaborate with your peers regularly.
C-suite executives and senior leadership must emerge from their own worlds and responsibilities to connect with their peers. Take the time to hold discussions with people across the organization about performance, goals, and ways to uncover new opportunities for collaboration. You'll be happy you did.
3. Develop clear roles and shared objectives.
As functional silos are eliminated, some teams struggle to establish roles and responsibilities. Worst of all, they don't have a clear vision of how these roles come together to reach larger company objectives. To fix that, get your team rallying around a central vision. Different teams can use that vision to guide them into developing measurable tasks and sub-goals.
Representation from sales, product, product development, marketing, design, and other areas can then converge and communicate to identify key tasks for their teams. Through ongoing communication, cooperation and collaboration, they can all contribute to a larger, overarching goal.
4. Rethink employee rewards and recognition.
If you want employees to change the way they work, you'd better reward them for it. Give them a revamped list of key performance indicators (KPIs) based on team project goals or larger organizational goals. But a word of caution: few people are likely to work together if they're solely being measured and evaluated based on their individual job performance.
That's what most companies (55%) are still doing, according to Deloitte. Take cues from the 28% of companies that are reviewing employees based on measurable team metrics. Managers, work closely with HR to reframe the review process, focusing less on individual task completion and more on broader team performance.
5. Provide the right tools.
Now it's time to empower them with the right team management tools. You very likely have several tech solutions designed to help your teams communicate in real-time, collaborate on tasks, and share documents and information. From email to Slack to point project management apps, these disconnected tools often create more headaches—especially if improved cross-functional alignment is the goal.
A digital work management solution acts as a centralized hub for all team-based work. Workflows are developed for specific teams and projects and can be further customized based on specific tasks and checkpoints. This makes completing tasks and tracking deadlines much easier and allows all team members to equally contribute to conversations and review cycles.
Companies that truly want to see cross-functional alignment must rethink the way their teams set goals and measure results.
Most of all, they must completely reimagine the way they communicate and collaborate, supporting anytime, anywhere working that boosts productivity and inspires innovation. A digital work management solution can help you achieve all of this and more.
Cross-functional collaboration: more important now than ever
Cross-functional collaboration is more important now than ever. Since March 2020 (think: COVID-19), the ability to work collaboratively (no matter where you are) has become an essential part of running a successful business.
And, equally as important, the failure to do so is becoming more and more damaging to your growth.
The old way of doing business (the "hierarchical model") was all about arranging individuals based on their level of importance.
Cross-functional collaboration challenges this model, leveling the playing field (to an extent, of course) and enabling people from various positions to work together.
The shift to cross-functional collaboration is well underway. Deloitte has found that 31% of businesses do most or almost all of their work in a team. And even businesses who use hierarchical structures are still embracing some cross-functional work: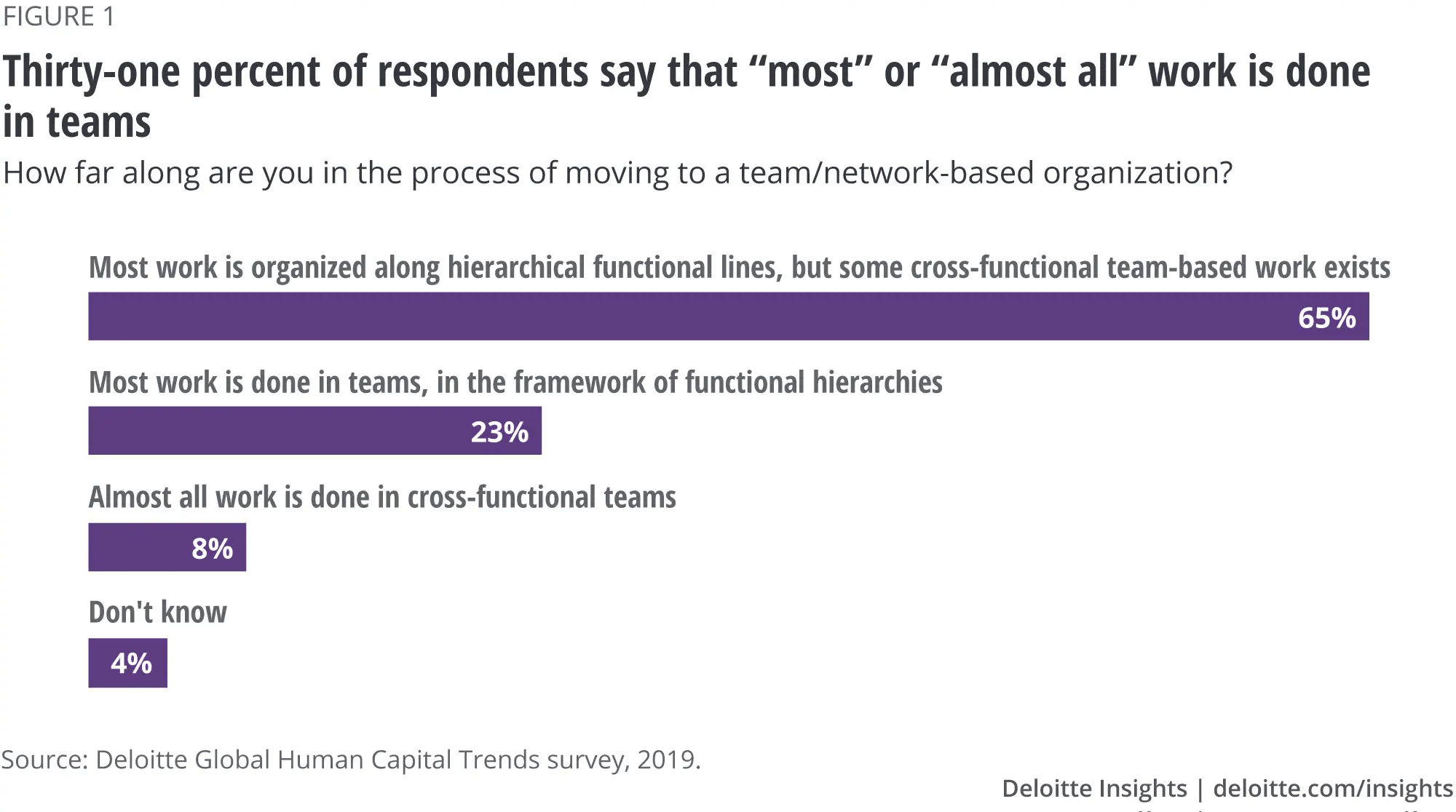 When used effectively, cross-functional collaboration has the potential to produce incredible work. But as you've probably guessed from reading this article, it doesn't come without its challenges.
Adopting the right processes and software will help you tackle these challenges so your cross-functional team becomes as efficient as possible.
If you're ready to dive into the world of cross-functional collaboration, don't worry about having to start from scratch — check out our templates.