monday reviews is our latest blog series where we provide the facts about different project management tools – no BS and no hyperbole needed. Keep scrolling for our analysis and to learn more about all the project management tools out there. Enjoy!
It used to be enough to keep track of your tasks with a hand-written to-do list.
Those days are long gone.
More and more teams are turning to digital project management tools to manage their large-scale, complex, and changing projects. Why? We may be biased on this one, but because they are better.
You can do more when technology is involved.
The hard part is finding the best software to replace your hand-written to-do lists. You came to the right place — this post will dive into a Smartsheet alternative that is suited for the fast-paced teams of today.
What is Smartsheet? A project management tool
Founded in the early aughts (2005), Smartsheet allows users to manage work visually, communicate with internal and external stakeholders, and stay on top of deadlines.
Who is Smartsheet for? Anyone managing a project
Smartsheet is for project managers as well as anyone working on a team.
Smartsheet offers different ways to see data. It also has automations that, you guessed it, automate repetitive work.
All these capabilities help teams manage projects with greater organization and less confusion.
P.S.: read on to learn all about monday.com's automations and integrations.
A Smartsheet alternative for fast-paced teams — monday.com
Like Smartsheet, monday.com offers a variety of views like the calendar, Gantt, Kanban boards, and more to help people visualize work in the way that is easiest for them.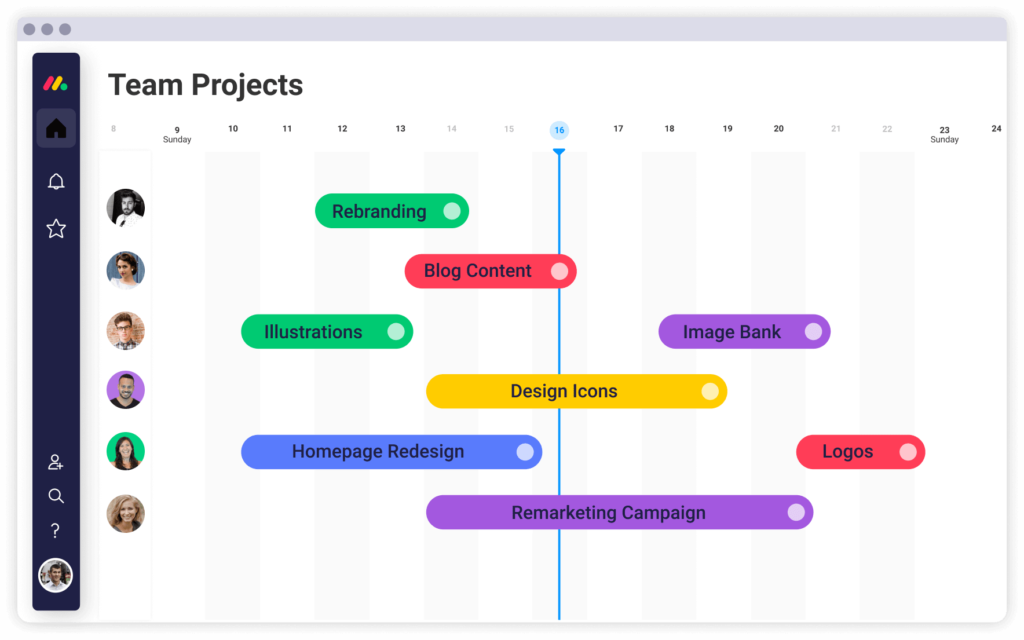 Source: monday.com Gantt chart
As a Smartsheet alternative, monday.com aims to help employees foster better team collaboration — which is necessary for boosting speed — and streamline work management by automating processes.
Both Smartsheet and monday.com can be used by all kinds of teams, from software development teams to marketing to product.
It's important to do your research before investing in a project management platform. In doing so, you'll probably find articles that compare Smartsheet to monday.com, and for good reason. monday.com is widely rated as the most robust project management software.
monday.com is more than a project management tool — it's a Work OS
monday.com transcends the traditional definition of a project management tool. Instead, it falls within a much broader, more comprehensive category: Work OS.
A Work OS, or a Work Operating System, is the central hub where you can build custom workflow apps. This allows you to customize the platform to suit all of your team's needs.
Unlike common project management platforms, monday.com allows users to do much more than simply plan unlimited projects, track deadlines, and set reminders.
You can carry out complex projects, too. This is because monday.com fully integrates with all of your organization's existing systems, allows you to automate processes, as well as develop your own apps with minimum code.
By centralizing all of the files, content, and knowledge employees need to excel, you can tear down the barriers that stop productivity and send the team of quality speedwork soaring.
Top 7 benefits of monday.com — the only work system you need
Let's examine some of monday.com's most distinctive project management features.
1. Manage projects with ease
Teams choose monday.com to manage their projects because it takes all of the effort out of staying organized.
When creating a new project, easily label the project owner, individual tasks, task owners, deadlines, statuses, relevant files, and more to keep every participant engaged and up-to-date.
2. Painless communication
There's nothing worse than searching through a deluge of emails to locate that update, instruction, or question from someone on your project team.
With monday.com, you can post updates or any information in a comment and tag relevant stakeholders. Everyone who has access to the board with the comment can view it, which means everyone stays in the loop.
3. Complete customization
Every team and project has different preferences and requirements when it comes to how they do work. monday.com offers more than 30 column types so you have everything you could need to project plan, assign, and manage processes, projects, and workflows at every stage.
4. Bold user interface and user-friendly experience
Most employees have no time or desire to spend hours learning how to navigate a new digital platform. monday.com is designed with the user in mind, with bold colors, intuitive design, and simple navigation, the platform is easy to integrate into your existing workflows from day one.
5. Numerous views, including kanban and Gantt charts
View your work any way you want with the touch of your mousepad. Whether you prefer a kanban view, Gantt chart, calendar, map, form, workload, or the standard monday.com board, you have every option you need to create timelines, track milestones, visualize progress, and stay on top of your projects.
6. Data analytics within the platform
Effortlessly display data on team performance, progress, and productivity across multiple projects without leaving the monday.com platform. Our customizable data dashboards and reporting features allow you to combine project data however best suits your needs to gain important insights and provide teamwide clarity in real-time.
7. Unlimited functionality and easy-to-build apps
monday.com offers an Apps Framework that allows any user to build the functionality they need within its simple drag-and-drop interface. Users can build additional board views, dashboard widgets, automations, and integrations to fulfill any business need.
Smartsheet alternatives—FAQ
To help save you time and energy researching, we've taken the liberty of answering several frequently asked questions on both Smartsheet and Smartsheet alternatives.
What are other Smartsheet alternatives?
The most popular Smartsheet alternatives include monday.com, Airtable, Asana, Google Sheets, Teamwork, and Wrike. Each of these platforms offer similar features for planning projects, managing work, and sticking to deadlines.
How expensive is Smartsheet? Is there a free version of Smartsheet?
Smartsheet uses a tiered pricing model, in which plans cost different amounts and come with different levels of capabilities.
Individual: $14 per month
Business: $25 per user/per month
Enterprise: NA
Premier: NA
Smartsheet doesn't publish the pricing for its Enterprise and Premier plans. Most often, the factors that determine price include the number of users, the desired capabilities, and level of customer support.
Check out the monday.com's pricing for reference.
Does Smartsheet allow unlimited users? 
Theoretically, Smartsheet's Enterprise and Premier product tiers would allow a customer to specify the amount of users it would like to add licensure for. However, it is unclear if there is a maximum number of possible users.
monday.com allows for unlimited users, and it made to scale with your business. Learn more about how monday.com's plans are made for teams of any size.
What to look for in your Smartsheet alternative: customization
This is one of the most important questions you can ask when evaluating project management solutions.
Top eight advanced features a project management platform should have:
1. Customization: Individual users and teams have unique needs. Look for a solution that caters to these differences by allowing you to customize boards, columns, and fields according to your goals and preferences.
2. Easy communication: With the ability to write and view all team members' comments on boards, achieving teamwide alignment, staying up-to-date, and answering questions is far easier.
3. Data views like charts: Different types of projects combined with different styles of working demand more flexibility in how you view work. Choose a platform that allows you to view work on a calendar, list, Kanban, Gantt charts, and other views to most effectively manage projects and monitor progress.
5. Create your own apps: Sophisticated project management tools allow you to create new apps and functionality to serve your team's unique needs using a simple drag-and-drop interface.
5. Integrations: In order to achieve the full range of benefits of centralized, streamline project management, your platform must integrate with the digital tools your team already works on.
6.  Automations: Save your team significant time, energy, and cognitive power by choosing a platform that allows you to automate processes or entire tasks.
7. Transparency: As projects evolve, they often become more complex. Platforms that keep work organized on the screen will also help users stay more organized in their day-to-day. Look for a layout that makes it easier to keep track of project assets, clearly labels status changes, and alerts users to relevant comments.
8. Reporting: Data analytics is a standard component of project management, but drawing insights from project data is often a challenge. Unless your project management tool offers in-platform reporting, your team will need to export data and manually build reports on Excel, which requires lots of time and is prone to error.
monday.com includes these and so much more!