What all Statement of Work (SOW) example templates have in common is that they can help you create one of the single most important project documents you need before even working on a project.
A solid SOW template helps you detail everything related to a project: the purpose, resources, schedule, milestones, and costs (to name a few). The classic Statement of Work template serves as your "supporting contract," the blueprint, the guide that ensures the project scope is on track and all deliverables are met on time and within budget.
So how can you write a Statement of Work that is effective? In this article, we'll detail the ins and outs of a best-in-class Statement of Work as well as an example of what one might look like. Finally, we'll share how monday.com makes it easy to create — and maintain — a Statement of Work.
What is a Statement of Work?
A Statement of Work (SOW), is a document that lays the groundwork for a project. It's an agreement with an agency and a client (or other subcontractors and service providers) that includes the details of the project — scope, payment terms, deliverables, timelines, expected outcomes, and more.
A Statement of Work with a client for your part of a project: This states what you'll deliver and how you'll deliver it during the overall period of performance. For larger companies, this would typically be handled by a project manager or a Contract Management Department (if they have one). Then a legal team would verify all the project requirements, project budget, and other relevant details.
A Statement of Work with a subcontractor for their part in completing the project: Depending on the project, you might have a bunch of these documents — one for each subcontractor. Usually, subcontractor SOWs are handled by the purchasing department with input or final approval by the legal and the project manager.
In short, it's a good idea to use a Statement of Work to get all the important details down in writing; this is not the time to be too general or simply give a high-level overview related to project planning. It's also important to note that this is different than a project charter, which is a shorter, high-level, and non-legal overview of a project.
How do you know if you need an SOW? 
Having a solid SOW that all parties sign off on can mean a lot of dedication to details, but it prevents miscommunication and can even settle disputes about details of a project including payment terms, start date, or scope creep.
A Statement of Work is also useful as a planning tool for more complex projects. As you put one together, you may find yourself adjusting the project schedule or shifting resources and even team members around.
You can create a Statement of Work for an internal project as well. It doesn't need to be as formal, but defining project work requirements and outlining deliverables are beneficial for the entire team.
What's included in a Statement of Work?
A Statement of Work is one of the first documents that you'll create for any project. It typically includes, but is not limited to the following:
Introduction
Purpose & Objective
Scope (Scope Statement or Scope of Work)
Location
Project deliverables
Milestones
Tasks
Schedule (Timeline)
Standards, testing, and compliance
Requirements
Success criteria (Expected outcomes)
Pricing and payment terms
Sign-off
There's a lot to unpack, so let's look at each one in more detail.
Introduction
This is your statement of what the project/engagement is and what work will be done. It's meant to be a brief but broad overview — a few paragraphs MAX. The introduction includes a brief backstory of the issues that led to the need for a solution.
Be sure to include:
Backstory: The need for the project, including a description of events leading to this need (the backstory)
Alignment: A brief description of how the work relates to the company's mission and priorities (the alignment)
Glossary: Key terms and acronyms that will be used throughout the SOW
More details: Any additional background information that would be useful in clarifying the project
Again, short and sweet. Think: Executive Summary.
Purpose & Objective
This statement is "the why" — why this project is necessary, why it's being launched. The purpose statement should concisely clarify the problem(s) that need to be solved. You want to write well-defined statements of what is to be achieved in order to successfully fulfill the project's purpose. A well-defined objective statement looks like this:
The purpose of this project is to design, build, test, and launch a more comprehensive order management system. It will enhance the organization's ability to track and process orders from different channels.
Scope
The scope,generally prepared by a project manager, clarifies what the overall Statement of Work does and does not include. It defines the limitations of the work to be performed during the project. However, the scope does not explain how the work will be done.
This section also prevents "scope creep" by serving as a reference when new tasks are introduced or requests are made. Your scope of work may include the following:
An overview of the specific project tasks and their corresponding phases
A description of the project methodology
Details about the physical location where work will be performed (if necessary)
The project timeline — phase completion and stop/go decisions
Any work not performed by the project team (out-of-scope)
Example: If you're hiring a design company for an office, the scope answers, "Will there be new flooring? What about desks? Open design?"
While all sections of an SOW are important, clearly articulating the scope will help all parties stay on track and limit disagreements down the road!
Location (optional)
This section is where you'll note the location of the work, whether at a central facility or off-site. This section may not be necessary if the work is being done remotely.
Project deliverables
Project deliverables detail what products or services need to be completed (delivered) for the project to be considered finished.
These project outputs are the evidence contract work requirements were met. They should be written in clear and simple language that specifies how deliverables should be submitted and how they will be evaluated for approval.
If possible, also be sure to do the following:
Link the deliverable to other project objectives and deliverables
Distinguish the deliverable from anything related (technical writing vs. training development)
Details the testing that will be used to confirm deliverables have been met
Provide a means to measure the quality of the deliverable throughout the project lifecycle
Describe the evaluation and acceptance process
Project deliverables should reflect the "6 C's":
EXAMPLE: [CLIENT NAME] will develop and deliver [PRODUCT OR SERVICE] by [DATE]. Reviews must be conducted within [TIMEFRAME] of delivery.
You can add an additional section that includes due dates for project deliverables. For more complex projects, you might set milestones along a project's timeline to make sure things are on the right track. To maximize efficiency, we highly recommend project management software to manage schedules and keep track of individual tasks and their owner.
Milestones
Milestones are key points in a project timeline that generally mark the completion of major tasks or critical decision points. Monitoring milestones lets project managers know how a project is progressing and whether they need to make any changes.
Examples of milestones include:
Project kickoff
Obtaining funding
Important client meetings
Stakeholder approvals
Key testing phases
Tasks
These are the activities and milestones that need to be completed to meet the larger deliverables. You'll describe the work to be performed, recording them as processes with specific milestones.
You should include:
A detailed description of each task, with specifics on how one task relates to another (e.g., how does testing relate to development?)
Specific start and finish dates
The timeline and deadline requirements for each task
An estimate of hours required to complete the task
Detailed information on each resource including staff, software, equipment, and contractors
Any internal or external project dependencies
Every project task in sequential order
A clear delineation of what each team member is responsible for
Each task will have a specific resource assigned to them, a period of time to be completed, and criteria for approval. Those are the details you'll need to spell out.
PRO TIP: If possible, include a Work Breakdown Structure — useful for breaking down larger projects into more manageable tasks. Consider using project management software to manage and organize your tasks and their respective sub-tasks (in monday.com, we call "sub-tasks" sub-items).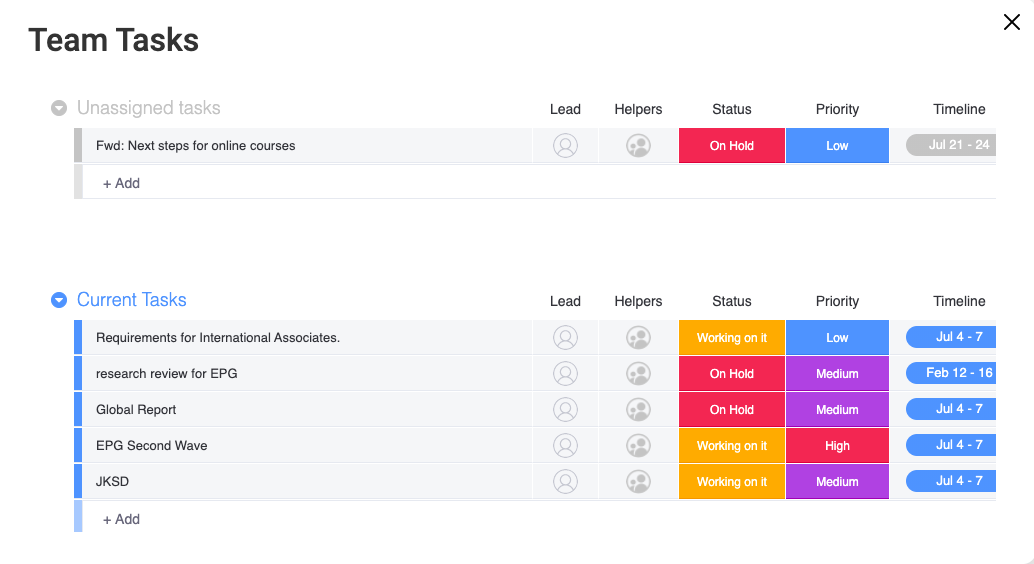 Schedule
The schedule shows the amount of time allocated to complete the entire project from beginning to end. Ideally, you estimate a break down of …
How long each deliverable should take to complete
How many hours to allocate per week, month, or sprint
If you want to show this visually, consider adding a timeline view or Gantt chart (pictured below) —a great way to support the schedule.
Standards, testing, and compliance
This section outlines any industry-specific standards that are imposed on the project deliverables. Is the product or service regulated? Will it require testing to meet thresholds and industry standards?
EXAMPLE: If you're contracting a construction project, the subcontractors you hire will need to meet the necessary licensing and safety regulations before they can proceed.
Requirements
This section includes the list of anticipated hardware or software that will be used during the life of the project. For example, maybe you will need access to internal company files or documents. Maybe you require Google Docs. Perhaps your project will need you to use (cough cough) monday.com!
Success criteria
What determines the success of the project? How do your stakeholders define project success and what are they expecting from the product or services? Gather their detailed input and define it here. It's also important to specify who's responsible for reviewing and approving the work, and what happens if it doesn't quite meet your standards (or vice versa).
EXAMPLE: You hire an agency to build a mobile app. One of the (many) acceptance criteria is that this app is compatible with recent versions of iOS and Android devices.
Pricing and payment terms
This section outlines the payment terms and schedules for the work delivered. For larger projects, you may opt to have payments delivered at certain milestones (e.g., 15% of the total cost is due upon completion of the first milestone), or according to a fixed schedule (e.g., end of every month).
Be sure to detail the frequency of billing and payments, and how payments are issued. Include how invoices will be received, requirements for purchase orders, and payment approvals.
Sign-off
The final step before you release the SOW is to get approval and sign off. You don't want to execute a process without the authority to do so. Getting sign-off also ensures that stakeholders have the same expectations and understanding as the project team.
The 3 Statement of Work types
There are three main types of SOWs. Which one you use will depend on your project's details and the industry you work in:
1. Design/Detail
This type of SOW outlines exactly how you want the vendor or subcontractor to do the job. It defines all requirements, including any processes that must be followed along with required materials and necessary tolerances.
This Statement of Work is widely used for manufacturing and construction projects.
2. Level of Effort/Time and Materials/Unit Rate
This type of SOW describes the services that are performed and includes details about each.
This Statement of Work is widely used for service-based agreements.
3. Performance-Based
This type of SOW is more flexible. It covers the purpose of the project along with any resources and equipment that will be provided.
This Statement of Work is quite broad and therefore used often across various industries. It states project outcomes but doesn't define or dictate how a subcontractor should reach them.
Statement of Work example
We've provided a few examples above of various sections of the SOW, but here's one for a fairly common, real-life situation. Let's say that surveys reveal customers are complaining about poor service at a high rate — it takes a long time to get a simple response. To address this, you might work with a web development company to build an online ticketing system for customer support.
Here's what a simple (very pared down) Statement of Work may look like:
This statement of work is between ABC Corporation [ABC] and Web Developers, Inc., [WEB] effective December 16, 2021.
Project scope: WEB will build an online support ticketing system for website visitors and customers.
Project objectives: The objective of this project, as outlined by ABC, is to increase customer satisfaction and reduce response times to less than an hour. This will be achieved by implementing a new online ticketing system.
Location: WEB will perform work in their office as well as remotely.
Project deliverables: WEB will develop and implement the solution on the ABC website by February 16, 2021.
Tasks: Tasks include developing a customer support system, testing it in a sandbox environment, and implementing it into a customer service page on the ABC website.
Schedules: Deliver a beta solution by January 16, 2022, and the final product by February 16, 2022.
Standards and testing: There are no industry or compliance standards for this project. The ABC IT team will run tests on the ticketing system before it is deployed.
Requirements: WEB will use its own hardware to build the ticketing system.
Acceptance criteria: The ticketing system must be built into the ABC website and allow customers to submit a ticket.
Payments: A payment of $10,000 USD will be wired upon the final delivery of the project. WEB must have a W-9 on file before a payment is made.
Again, this is a pretty basic example but can serve as a good starting point, adaptable to fit your needs.
How monday.com helps you prepare a Statement of Work
monday.com can help take you through the entire SOW process. Start with our Project Proposal template to bring all your work together in one visual place and keep everyone on the same page. Use the template "as is" or customize it to fit your workflow.
Next, once you get the go-ahead for the proposal, start planning your deliverables with our Project Deliverables template.
Next, add budget columns to your boards to keep track of ongoing expenses.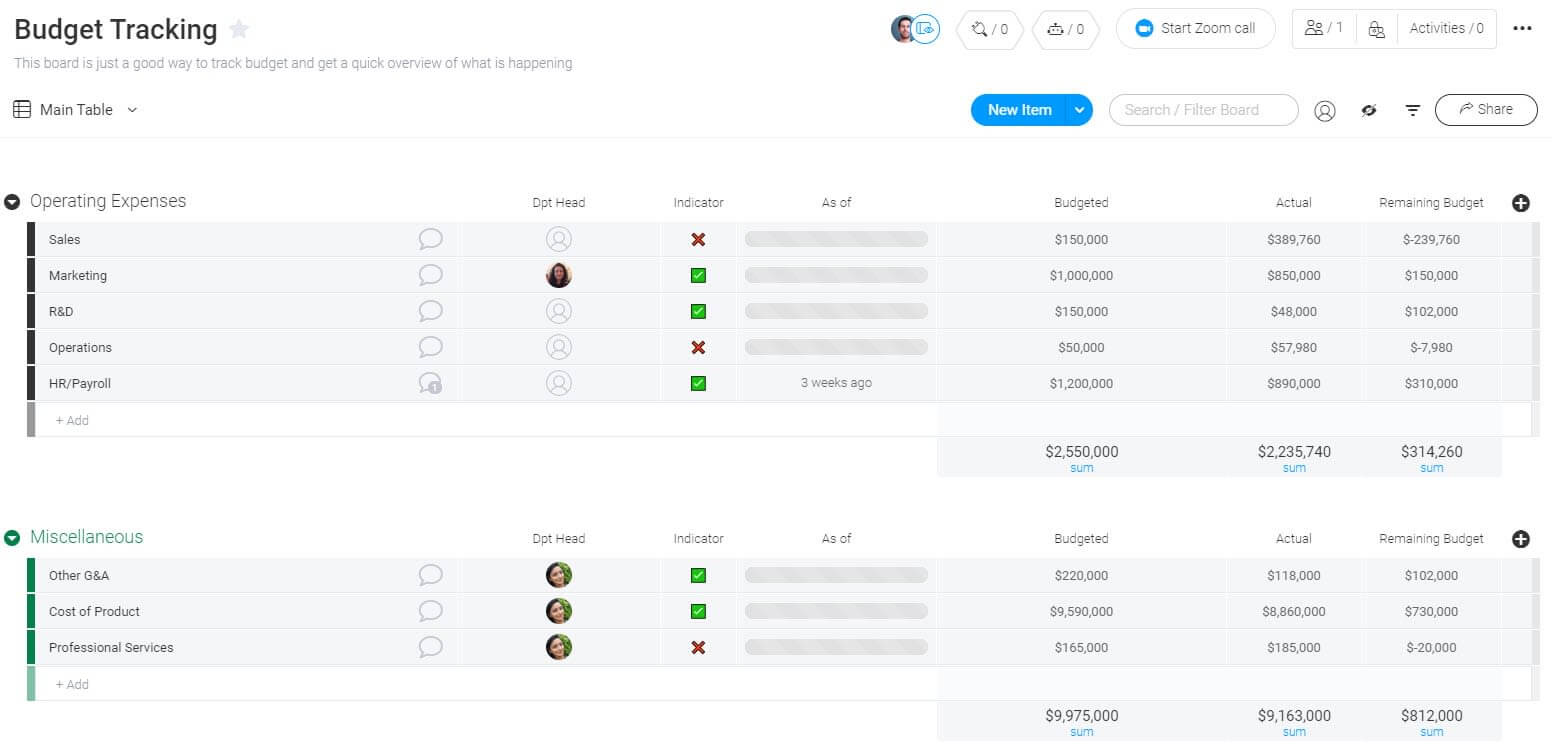 Keep going by planning schedules for a project. You can set milestones and view timelines at a glance.
Here's how teams use monday.com to plan their projects:
monday.com makes it easy for you to add action items, assign tasks to your team, and even invite subcontractors to get their feedback. Getting all this information in one place will prove invaluable as you create a Statement of Work for your next project.
Start your SOW with ease
A Statement of Work establishes project objectives, deliverables, and schedules before any actual work begins. Creating one is absolutely worth your time, as it serves as an agreement between you and an agency, subcontractor, or service provider.
Using monday.com helps you manage everything in one place. Our Statement of Work example template is fully customizable, so you can personalize it to make it yours.