What exactly is a risk register? Project management experts say it could be one of your first lines of defense against the staggering statistic that somewhere between 50-70% of projects fail.  
If you haven't put in place a risk identification and risk response plan—not to fear. In this article, we'll get into this important topic in project planning and show you how you can get one up and running fast with work management software like monday.com (we have a template for that!).
What is a risk register?
A risk register is a risk management tool used to collect potential risk events, organize them by risk categories, and assign team members who will address them. It also serves as a place to include additional information about each risk, like the nature of the risk and how it will be handled— this is especially useful for when you want to perform risk analysis throughout the project or even after an event occurred. You might also hear it referred to as risk matrix project management.
Why do we need a risk register?
Even though risk management has been identified as the second most valuable project process, nearly half of all project managers don't do it effectively. Let's review just a few of the ways using a risk register gives your organization a leg up.
Contingency planning
By identifying the potential risks to your project, you have the opportunity to plan how you'd deal with them should they become issues. This hopefully would reduce any additional consequences and stress surrounding a risk event. 
Whether it's the availability of specific resources or reliance on external contractors that contribute to your project's risk, having a bullet-proof plan in place from the beginning will be worth your while. 
One of the key ways to mitigate risks is to build resource flexibility into the project schedule, whether that's budget, time, or people.
monday.com offers a Contingency Plan template as part of our 200+ customizable Template Center. You can also learn more about contingency planning in our blog.

Stakeholder reassurance
Making an effort to identify and record risks and their potential mitigation strategies acts as reassurance to stakeholders that you're taking risk management seriously.
It demonstrates that you're invested in the success of the project and understand any potential limitations of the business environment you're delivering the project in.
Risk ownership
When risks are identified and recorded in the project risk register they're also assigned a risk owner. By working through the risk management process, there won't be any scrambling or doubt as to the ownership of each risk.
It's important to understand who is liable for any impact on the overall project outcome and also whose responsibility it is to make things better should a problem occur so you can execute quickly.
How do you write a risk register? 4 key steps
Risk management is one of ten key knowledge areas explained in the Project Management Book of Knowledge (PMBOK), which is the go-to resource in the industry. PMBOK offers four key steps to effectively manage risk using a risk register:
1. Identify risks
The first step is to identify potential risks to the project. Much of this information will be sourced from other project documentation, such as the cost management plan, resource planning, project schedule, stakeholder analysis documents, etc.
It might also be helpful to review wider business documentation such as SWOT (Strengths, Weaknesses, Opportunities, Threats) environment analysis, supplier information, or any industry-specific requirements for external authority review or validation.
Each identified risk can be added to the Risk Register template to form the basis of a risk management plan.

2. Analyze risks
The process of analyzing risks should be done in conjunction with business stakeholders. Each individual risk will need to be given a rating according to:
The likelihood of it happening (probability).
How much of a problem it would be if it happened (impact).
Project managers can then complete a risk assessment, using a risk matrix to define the level of risk. Once this information has been assigned to each risk description in the risk register, project managers can prioritize those that need to be most carefully monitored and controlled.
3. Plan risk response
Once risks have been analyzed and prioritized, the project team can work with the business to create strategies for dealing with risks that are a threat to the overall project success.
While we normally see risk as a negative thing, this is also the time to plan out responses to any positive risks — or opportunities — that have been identified.
4. Control risks
The risk register should be actively managed throughout the project lifecycle. Existing risks can be tracked and their risk status up or downgraded as the probability of occurrence and impact changes. If a new risk is identified during project execution it can be added to the risk log along with a mitigation strategy.
Statistical models — such as S-curves — can help track actual project performance against what was expected and highlight any growing risks in key variables such as project cost and availability of resources.
What are the 5 risk mitigation strategies?
While this list could vary between four and five in number, the basic, agreed-upon methods for risk management are:
Avoidance
Retention 
Sharing 
Transferring 
Loss prevention and reduction
How can monday.com help me manage risk?
The key benefits of working within an integrated platform like the monday.com Work OS are visibility and ease of collaboration.These factors are important in risk management, as ownership may be spread across the project team and business areas.
Multiple stakeholders may need to be involved in order to monitor and control risks effectively and implement risk mitigation plans, should they be needed. And, if risks develop into issues, a rapid response is required to minimize the impact on the project.
It's easy to collaborate within the monday.com platform itself to reduce email fumbles and multiple accounts or, if you already have a favorite tool, monday.com integrates with all the usual suspects.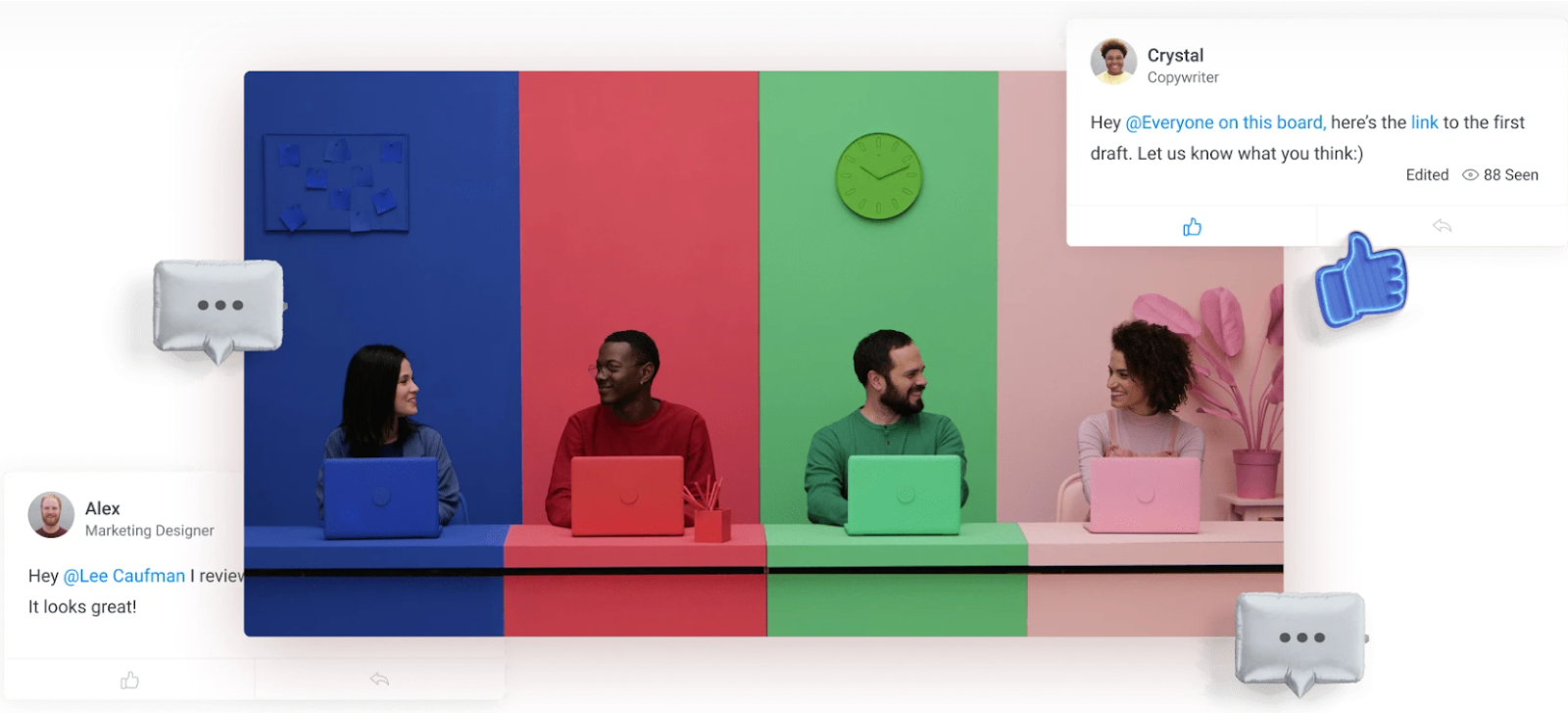 Making judgments about the likelihood and potential impact of risks is subjective and it can be helpful to come up with a consensus viewpoint before assigning a risk rating. monday.com has a Vote column where all of your constituents can vote on issues and an Updates section for more in-depth discussions, as well as attaching files.
Information from key documents such as the project schedule, resource allocation plan, and budget tracker can also be easily integrated or uploaded from your existing documents to create a dynamic risk register that everyone can refer back to. Finally, our automations help keep everyone up to date at all times. If the status of a risk changes, notifications can automatically be sent to stakeholders, alerting them to take action.
Manage risk for better business outcomes
Proactively identifying and managing your risk doesn't stop bad things from happening to good projects, but it ensures you have a plan in place if your risks turn into issues.
You might want to get started with our fully customizable risk register.