Interior designers wear many hats. They juggle a variety of tasks like developing plans, sketching, creating 3D models, working on client proposals and presentations, overseeing budgets, managing suppliers, supervising installations, and ensuring compliance and safety. 
Project management software for interior designers helps you stay on top of all the small tasks, communication, and time management needed to deliver the best results to clients. In this article, we'll look at how to use interior design project management software to help you manage your workload, organize all your projects and their respective tasks, and ensure you're completing all your projects on time and on budget.
Get started
What is interior design project management software and why is it important?
Project management software for interior designers helps design teams plan, manage, and execute their projects from start to finish. The goal of interior design project management is to ensure that a designer can organize and manage their tasks efficiently so that all projects are completed on time, within budget, and while giving clients a high-quality design solution that meets their needs.
Investing in software for interior design projects provides a view into what each team member is working on in the same place where you organize clients', suppliers', vendors', and contractors' information. As an interior designer, project management software helps you manage multiple projects simultaneously, communicate with stakeholders, stay on top of accounts and invoices, and track inventory and products all in one place.
Challenges and benefits of an interior design project
Challenges:
By juggling different design projects, interior designers usually have a few common challenges to contend with that make their jobs demanding. Here's a look at some of the challenges facing an interior design project:
Meeting expectations on multiple projects:

Designers often work on multiple projects at once, so they need to manage their time and resources accordingly. This can be extra challenging when there are several tight deadlines to meet and different expectations. Delivering multiple projects while maintaining client satisfaction requires a high level of organization and regular communication.

Contending with unexpected delays:

No matter how well a project is planned, there's always the potential for unforeseen delays, whether an item for the design goes out of stock or there's a setback with contractors or vendors. Designers must be able to troubleshoot problems and find solutions quickly to keep a project on track.

Working within a budget:

Sometimes it seems like clients want the most for the lowest price. Whatever your client's budget is, interior designers need to be able to work within the confines to create the best possible outcome. This requires careful planning and consideration of all of the project costs and timelines.
Benefits:
Despite all the potential roadblocks and challenges interior designers face, project management software can help you stay on top of all your different tasks. Let's take a look at some of the advantages of project management software for interior designers.
Collaborate with stakeholders in one place:

Interior designers have a lot of people to communicate with, like vendors, contractors, clients, and team members, and that's why efficient collaboration is so important. Project management software helps interior designers share files, sketches, and updates and store client information on one unified platform.

Track and bill your time:

In addition to material costs, you also need to charge clients for your service, which includes covering the cost of suppliers, products, and billable time. Time tracking tools in project management software enable you to provide clients with an accurate cost. With monday work management, this is as easy as starting a timer for a task or adding in hours manually.

Manage your inventory: Project management software helps you manage your inventory in real-time so that you know what's available. You can even add automations to let you know if you're out of an item and track it all on the go with a cloud-based platform like monday.com.
Get started
5 tips on how to keep your interior design project organized
With so many moving parts and multiple projects active at once, staying organized is essential as an interior designer. Here are five tips you can implement to manage each interior design project from start to finish.
Define project and deliverables:

Clearly define the scope and goals of your project by breaking it down into smaller milestones. This will help you create a roadmap for a project's progression.

Set a project schedule:

Develop a comprehensive schedule that outlines the timeline for each task and deliverable, indicating different phases of a project. Make sure this timeline is communicated with team members and stakeholders.

Delegate tasks and budget:

Assign tasks to each team member and define their responsibilities. At this stage, you should also allocate a budget to each task that includes things like furniture, labor, materials, or estimated billable hours.

Organize everything on one platform:

All your resources such as design ideas, data for samples or swatches, and contact information should be organized in one place to act as a single source of truth for all of your collaborators. 

Monitor progress and accounting:

Use project management apps or software to monitor the progress of each task and milestone. With these tools, you can also track your project's financial resources like expenses, invoices, billable services, and budgets.
Best interior design project management software
When shopping around for interior design project management software, look for a solution that offers the benefits we covered above but that has room for flexibility. Not every software will be right for every interior designer. Consider what features are most critical to your specific projects, team, and workflows, and look for a solution that includes those interior design project management tools plus gives you customization capabilities.
Here are a few project management solutions that are popular with interior designers:
1. monday.com
Best for: Interior design teams of any size that want to be able to fully customize their project management platform and workflows.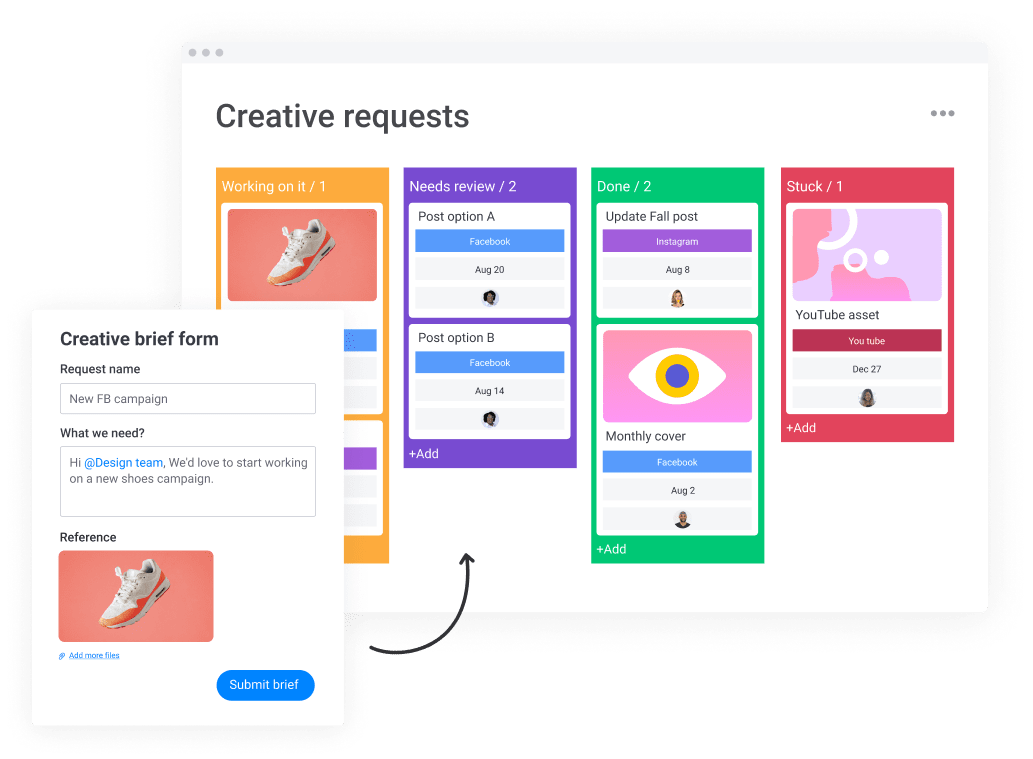 monday.com is a Work OS used by teams of all sizes to manage their workflows and allows interior designers to easily organize and track their projects, tasks, clients, and more. The platform's intuitive interface and extensive customization options make it a popular choice for teams of all sizes.
Features
Project boards, workflows, and automations fully customizable to your needs

Easy reporting tools to keep track of your projects and communicate progress with clients

Invite external users like freelancers or contractors to collaborate on projects
Pricing
monday.com is the only project management tool on this list that offers a free forever plan, with flexible paid plans starting from only $8/month per seat (user) and up to $16/month/seat for access to even more features. This allows design firms to stay flexible by letting them choose exactly how many users they want to onboard. Find out more about monday.com pricing here.
2. Houzz Pro
Best for: Interior design companies that want to do it all with one product.
Houzz Pro is a subscription-based service that provides professional interior designers and home remodelers with access to a library of products and services. It provides access to a variety of tools and resources to help professionals grow their businesses, including marketing tools to find new clients, tools to help you win projects, and even accounting features. 
Features
Centralized communication between all stakeholders with the interior design project management app

Manage invoicing and payments in one place and integrate data from QuickBooks

Create 3D floor plans, project estimates, mood boards, and proposals to help you win projects
Pricing
Houzz Pro offers a 30-day free trial, and then pricing starts at $65/month for the Starter plan, $99/month for the Essential, $149/month for Pro, or $399 for Ultimate. Aside from the Ultimate plan, each additional user costs $40/month. 
3. Mydoma Studio
Best for: Interior designers or home decorators looking for a solution that helps plan projects and streamline business operations.
Mydoma Studio is an interior design software platform developed to help interior designers and home decor professionals streamline their design process. It offers a comprehensive set of tools and resources to help designers create beautiful, functional spaces, while also easily managing client projects, budgets, and deadlines.
Features
Automated payment and accounting through integrations with apps like Stripe, QuickBooks, and more

Embed design packages directly to your website to help you connect with new clients

A catalog to help you curate and view all your stored items in one place
Pricing
Plans start at $49/month for the Starter plan, $69/month for the Professional plan, or $99/month for the Professional Team plan. You can also add the Mydoma Visualizer Pro to any plan for an additional $30/month. 
4. Gather
Best for: Large interior design teams that need a project management tool to juggle several complex projects.
Gather is an interior design project management platform that's ideal for large teams who are working on complex projects. With Gather, teams can stay on top of recent tasks, communicate with one another, and use the platform's features to stay organized and efficient.
Features
Real-time comments and messaging on designs, tasks, materials, or ideas in the platform 

Create room boards with hundreds of items to better visualize and organize your designs

Create spec packages from start to finish pulling from information within the platform in just a few minutes
Pricing
Gather's introductory Studio plan comes in at $165/month, the Firm plan at $290/month, and a customizable Enterprise plan for more custom needs. 
5. Design Manager
Best for: Interior design firms looking for project management software that includes business management functionality.
Design Manager is an interior design software that allows designers to manage multiple projects. With tools for different tasks ranging from project management to accounting, this software helps firms keep all their important documents and data in one place.
Features
Sync 200 operations with your projects to better track expenses

The integrated accounting suite helps firms track expenses, send invoices, and collect deposits and payments

Specialized reporting on projects, delivery, and finances gives you insight into your firm's operations
Pricing
Design Manager only offers one plan at $65/month/user, and while this is on the pricier end if you're only looking for an introductory price, it allows you to pay exactly for the number of users you need. 
monday work management features for smoother interior design projects
monday.com is customizable to your team's specific needs compared to an interior design project management software — it isn't limited to the constraints of a tool built only for one type of workflow or project. Loaded with all the features an interior designer needs, monday work management gives you the freedom to put your interior design project management software together in whichever way works best for you.
1. Project customization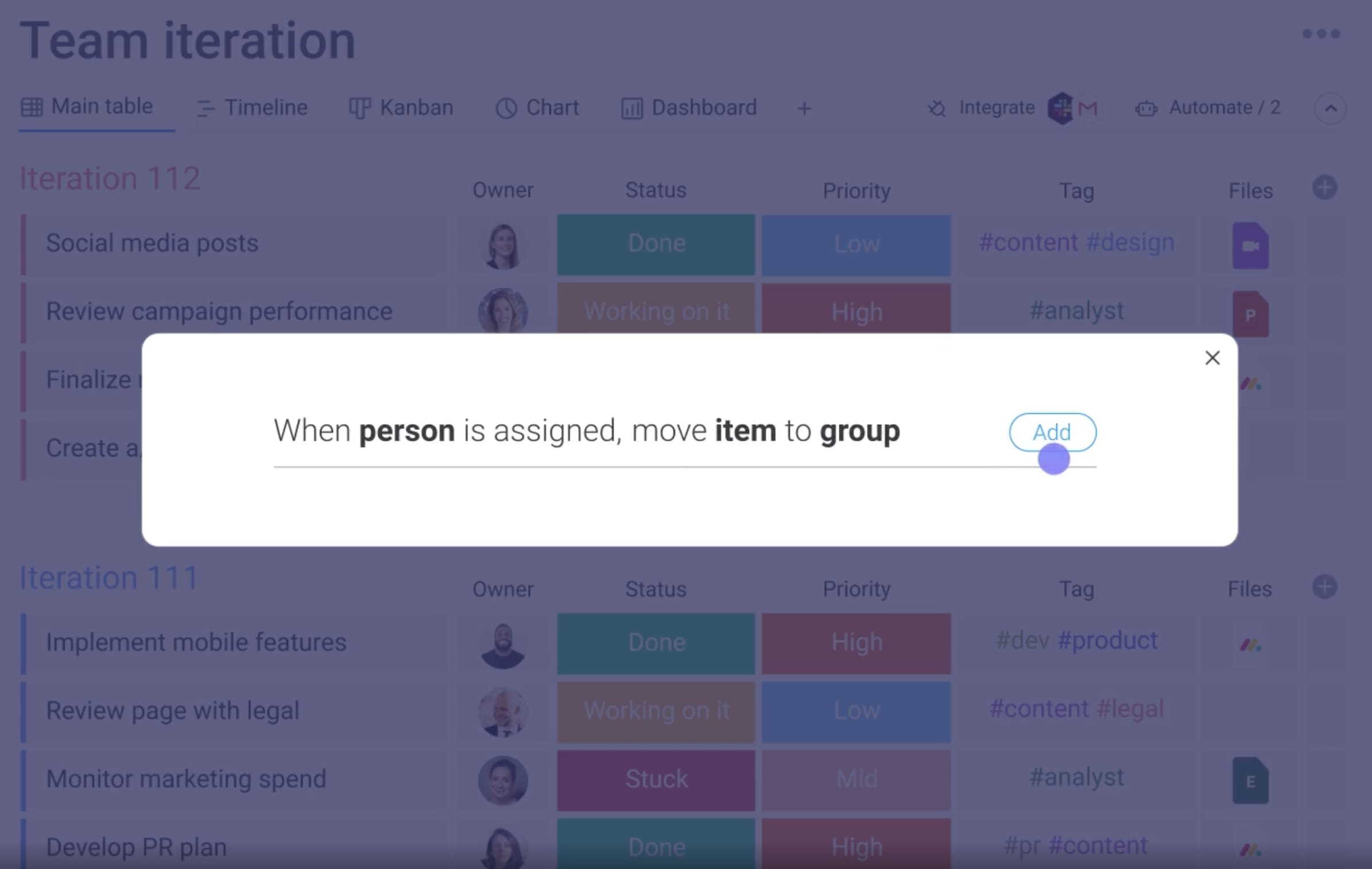 A project management tool should allow you to create a workflow that fits your unique interior design needs. With monday.com, you can choose how you view your project, which columns to add, and even customize pre-made templates. You can also create automations to streamline your design projects. This level of flexibility makes monday work management the perfect platform for all the different types of design projects you're working on.
2. Invite external users
As an interior designer, you need to be able to efficiently collaborate with external vendors, suppliers, and contractors. With monday.com, you can invite external users to your platform. All you need to do is create a shareable board and invite the user to join. As a result, your design team can work with external parties from one central location, making collaboration a whole lot easier.
3. Integrate your existing tools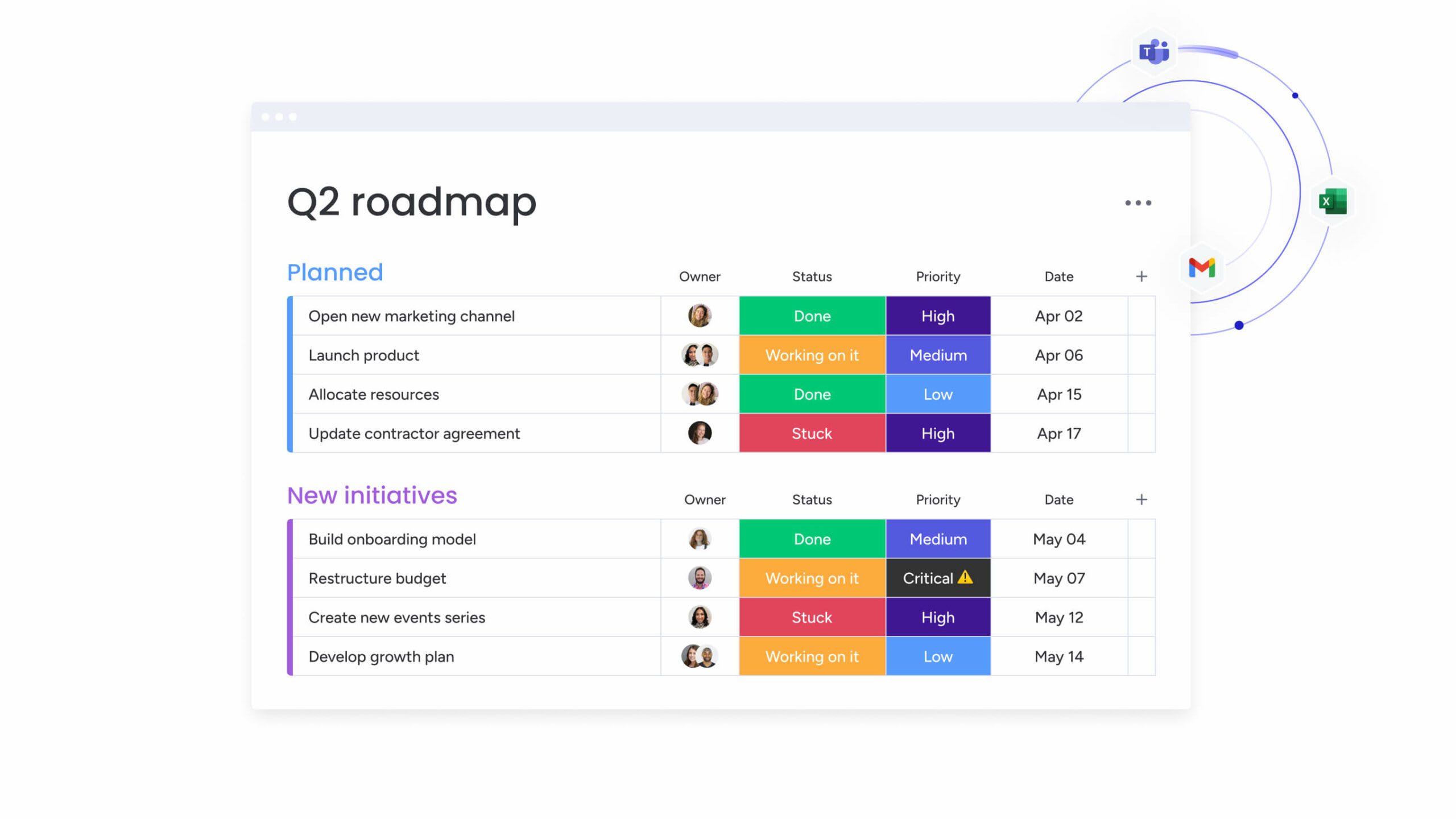 monday.com allows you to integrate your current work tools so that you can seamlessly track everything in one place. Creative tools like Adobe Creative Suite, marketing apps like Mailchimp, Facebook Ads, or Typeform, and even everyday work tools like Gmail, Excel, Zendesk, or Docusign can all be integrated into the monday.com Work OS. Integrating your tools allows you to get more work done without losing time moving between programs.
Get started
monday.com: project management software to keep your designs on track
We know that interior designers have a lot on their plate, but using a project management software solution can help you organize your time, keep track of your project status, and provide a better service to your clients.
Interior design project management software is just one tool in your interior design arsenal that's meant to help you work more efficiently. With the monday.com Work OS, you can rely on a solution that scales to your business's needs and helps you organize all your work in one place, so you can focus more of your time and effort on creating show-stopping designs for your clients.
If you want to give it a go, take a look at monday.com's design weekly tasks template. It's ready to use, so you don't have to worry about setting it up. Just sign up and get started.
Related: Project Management Software for Creatives, Personal Project Management, Project Management in Accounting, Contractor Project Management, Project management for freelancers
FAQs
What kinds of projects do interior designers do?
Interior designers work on different types of projects such as residential and commercial spaces and even healthcare, education, and hospitality venues. Their projects focus on designing interiors to balance functionality, aesthetics, and user experience according to each client's specific preferences.
What are the stages of an interior design project?
There are many stages involved in an interior design project, such as consulting, planning, developing a concept and design, gathering documentation and resources, implementation, styling, client review, and following up.
Why is project management important in interior design?
Project management software helps interior designers structure and organize their ongoing projects. It ensures that a project is completed on time and within budget, that communication is clear between all stakeholders, and that everyone is on the same page regarding the design process and different tasks.