Isn't getting a brand-new planner a great feeling?  
The blank pages represent all of the things you're going to accomplish this year. You're ready to turn over a new leaf when it comes to your organization strategy.
Then reality sets in.
You never have your planner on you when you need to write something down. You scribble the words "weekly meeting" on every Tuesday for the next 3 months — and then the meeting is moved to Wednesday.
You come to hate your color-coding system.
It's time to switch to an online planner.
Keep reading to find out how an online planner is everything you love about a paper planner and much more. Plus, learn how you can build the perfect online planner with monday.com.
What is an online planner?
An online planner helps you stay on top of your to-dos. It's the digital version of a paper planner or calendar.
You can use an online planner to:
Help you remember important tasks
Improve your time management
Increase productivity
Minimize stress
Feel smugly satisfied when you cross items off your list
But wait, can't all planners do that?
It's true: the advantages of paper planners and digital planners are similar. But online planners also have extra features to keep you productive and organized.
6 reasons to switch to an online planner
A paper planner covers the basics.
It makes it easier to remember important tasks, events, and appointments. It gives you an advance look at upcoming deadlines. It helps you manage your time.
Paper planners can even be fun — if you're the kind of person who likes to design complex organizational systems with stickers and colored pens.
But there are just some things that your trustworthy little book can't do for you. Here are 6.
#1. Your online planner is always with you
How often do you go somewhere without your phone?
Probably not often if you check it 96 times per day like the average American.
An online planner is with you as often as you have access to a computer or mobile device. Since you can access your planner from anywhere, you'll never miss important tasks or deadlines because you left your paper calendar at home.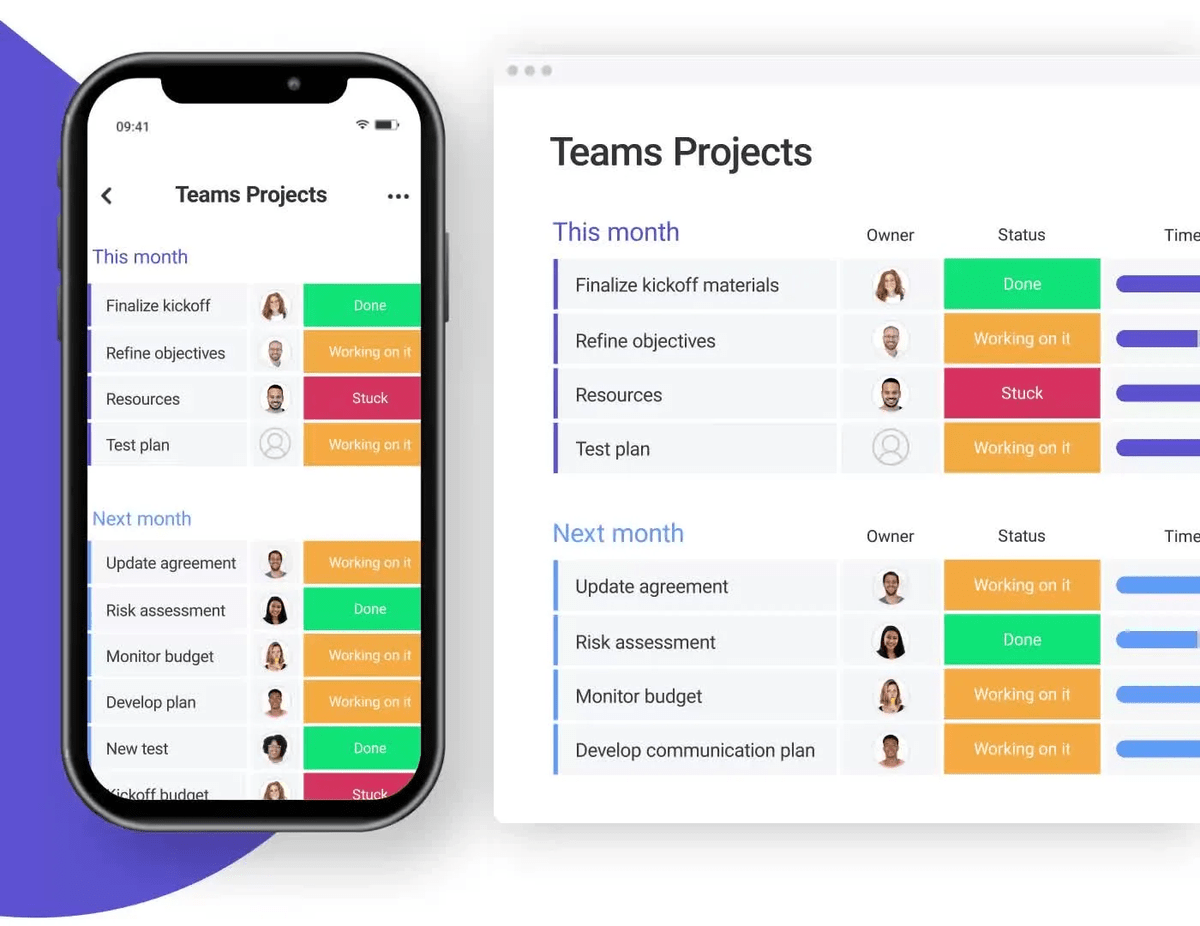 #2. It's customizable
Paper planners come in a variety of looks and formats, but once you choose one, you're stuck with it.
An online planner can be customized to your exact needs and preferences.
And if you don't like the way you set it up to start with, you can change the whole format without losing any of your scheduled tasks.
#3. It's automated
Even the most basic online calendars have simple automation capabilities that can save you time.
For example, you can automate a task to recur every week rather than painstakingly writing it into your planner over and over.
Some online planners offer more advanced automation.
For example, you could automatically move items to different sections of your planner based on status updates or the date they're due.
#4. Editing is easy
Schedules and priorities are always changing. A paper planner can become a mess of erased and crossed-out items.
Online planners allow for easy updates. Drag-and-drop your tasks to a different day or add information about an appointment without running out of space.  
#5. Multiple views give you new perspectives
Sometimes you need to look at things in a new way.
Seeing every detail of your daily to-do list is useful, but it's also nice to switch to a calendar view and look at the big picture.
Or maybe you're getting a headache staring at the 84 items on your weekly task list, and you'd like to filter out everything that isn't a high priority.
You could even view your planner as a Kanban board or Gantt chart if that's what helps you visualize your schedule.  
#6. You can share access — or keep it private
Your paper planner usually stays in your hands only.
Sometimes that's for the best. You don't need your whole team at work seeing your daily reminders.
On the other hand, you also need to schedule work projects.
Wouldn't it be nice if you could collaborate on team projects and manage your personal schedule from the same place?
With the right online planner, you can.
What should you look for in an online planner?
There are tons of digital planner options out there, so don't settle!
Look for online planners that offer the following benefits.  
An easy-to-use and attractive interface
One good thing we can say about paper planners is that they're easy to figure out.
An online planner should be too.
If it takes you more than a few minutes to learn how to start scheduling or updating tasks, look elsewhere. Do you really want to be dealing with that messy, confusing interface every time you want to add a to-do?
And let's talk about looks.
We know that the important thing about an online planner is its function.
But you're going to be staring at this planner every day, so it should be easy on the eyes.
The best way to choose a planner with a format and color scheme that you like is to use one that you can customize to your own tastes.
Useful views
A key advantage of an online planner is that you can visualize your schedule in multiple ways.
If an online calendar is as static as the one on your wall, you can do better.
When you're giving a new online planner app a test run, look through all of the available views and see if you find them useful.
Integrations with other tools
You don't have to choose between your new online planner and the calendar app you were already using.
A good digital planner integrates with common online calendars like Google Calendar. Some even have integrations with other tools like Microsoft Teams or Outlook.
Time-saving automation
Most online planners will have some automation capabilities.
At the very least, it should be able to automate recurring tasks and send due date reminders.
Some online planners go beyond the basics. For an example, scroll down to read about monday.com automations for your calendar.
Ability to loop in team members
Maybe you want to keep your online planner all to yourself.
That's fine!
But if you think you might use your planner for professional purposes, being able to share or delegate certain parts of the task list could be a valuable feature.
Get started using monday.com as an online planner
Would you like to try an online planner that's powerful, visually appealing, and easy to use?
Great! You can get started with monday.com right away. After you've signed up, just follow these steps.
Step 1. Choose a template
One of the best things about using an online planner is that it's totally customizable.
But that doesn't mean you have to create it all from scratch.
monday.com has a number of templates you can use to create your planner. There's no wrong choice — any of the available boards could be the perfect planner for you. You can even use more than one.  
We have a few recommendations:
As an example, we're going to set up the weekly to-dos board as our planner template.
Step 2. Enter your upcoming tasks
The template has a few example tasks (Task 1, Task 2, etc.) already set up.
Just replace them with your real weekly to-dos and add more as needed.
Don't worry if things aren't in the right order or group — you can drag stuff around later. For now, just brainstorm every task, deadline, or appointment you have on the horizon.
Step 3. Customize your planner
This is where it gets fun. You can design and organize your planner in any way that works for you.
Here are a few ideas:
Add more groups.
Right now, your weekly planner just has 2 groups: this week and next week. You can stick with those categories, or you can add more.
Maybe you want to add groups for the next 5 weeks. Maybe you want to create a list of "future tasks" to schedule later. Or maybe you want to create a "completed tasks" group — we'll show you how to automatically move items to this group in step 5.
Add useful views.
Click on "Add Views" to see all the ways you can visualize your planner.
Check them all out — you never know what you might find useful.
As a minimum, we highly recommend adding the calendar view so that you can see all of your tasks laid out on a monthly calendar.

Change the colors.
Yeah, it's silly. But it's fun.
Step 4. Integrate existing tools
If you're already using a calendar app, follow these instructions to integrate it with your monday.com board.  
Step 5. Add automations
monday.com has advanced automation capabilities that are intuitive for anyone to set up. Here are just a few suggestions for how you can automate your planner:
Send due date notifications.
Your weekly to-do template has a column labeled "Date." On the list of pre-made automations, you'll find one that says, "When date arrives notify someone."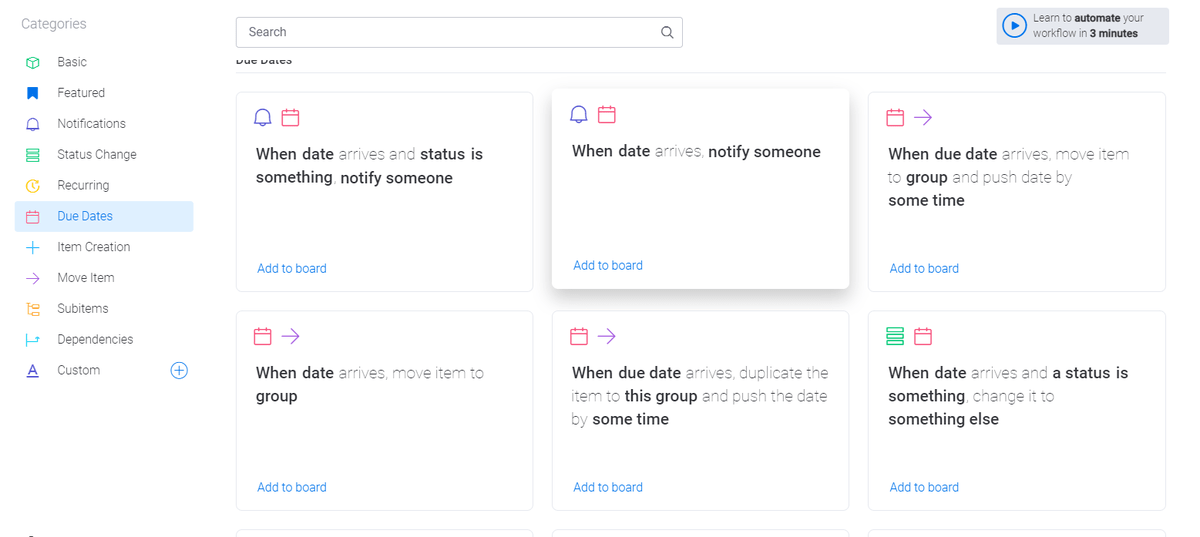 Under date, select a due date that works for you, and for someone, select your own name. Then just add the automation to your board.
Move completed tasks into a "completed tasks" group.
The template gives you the option to change a task's status to "Done." This crosses out the due date and sprinkles a little confetti (try it!), but the task still appears on your weekly list.
To move finished tasks to the new "Completed Tasks" group you created, choose the pre-made automation called "When a status changes to something move item to group."
Change that to "When Status changes to Done move item to Completed Tasks."
Personal online planner and team workspace in one
Sorry, paper planner. It's been good, but we're moving on.
Online planners offer all the benefits of a paper planner, plus modern capabilities that make effective time management easier than ever.
To organize your day-to-day life from the same platform that teams use to manage workloads and projects, create an online planner with monday.com. Get started right away with the weekly to-do list template.