Searching for a milestone definition in terms of project management or business in general? You've come to the right place.
In this article, we'll explain exactly what a milestone is, how you can use them in business, and showcase meaningful examples across different industries.
Milestone definition: what does milestone mean in business?
What's a milestone?
A milestone is a key event or action in a project or your business journey that marks a significant stage of progress.
Milestones aren't some random stretch goals that you're unlikely to reach. They're key points throughout a project that prove a certain amount of progress. They should all mark that you've reached the next "mile" of your business journey.
That could be something as simple as landing your first customer in a new vertical or as complicated as releasing a new product prototype. Business milestones typically don't just measure progress, but that are part of your contract. Let's take a closer look at this specific type of milestone.
What are contractual milestones?
Contractual milestones are stages in a project where the project sponsor has agreed to pay you a certain amount of the full project price. For example, it could be finishing the first usable prototype of a product or an initial website design.
These milestones typically have due dates, and if the client doesn't meet them, it could affect their payment. Contractual milestones are common in industries like software development, design, and manufacturing.
Why are milestones so important in project management?
According to a 2021 PMI project management study, the most common reasons for project failure are related to poor upfront planning and unforeseen change.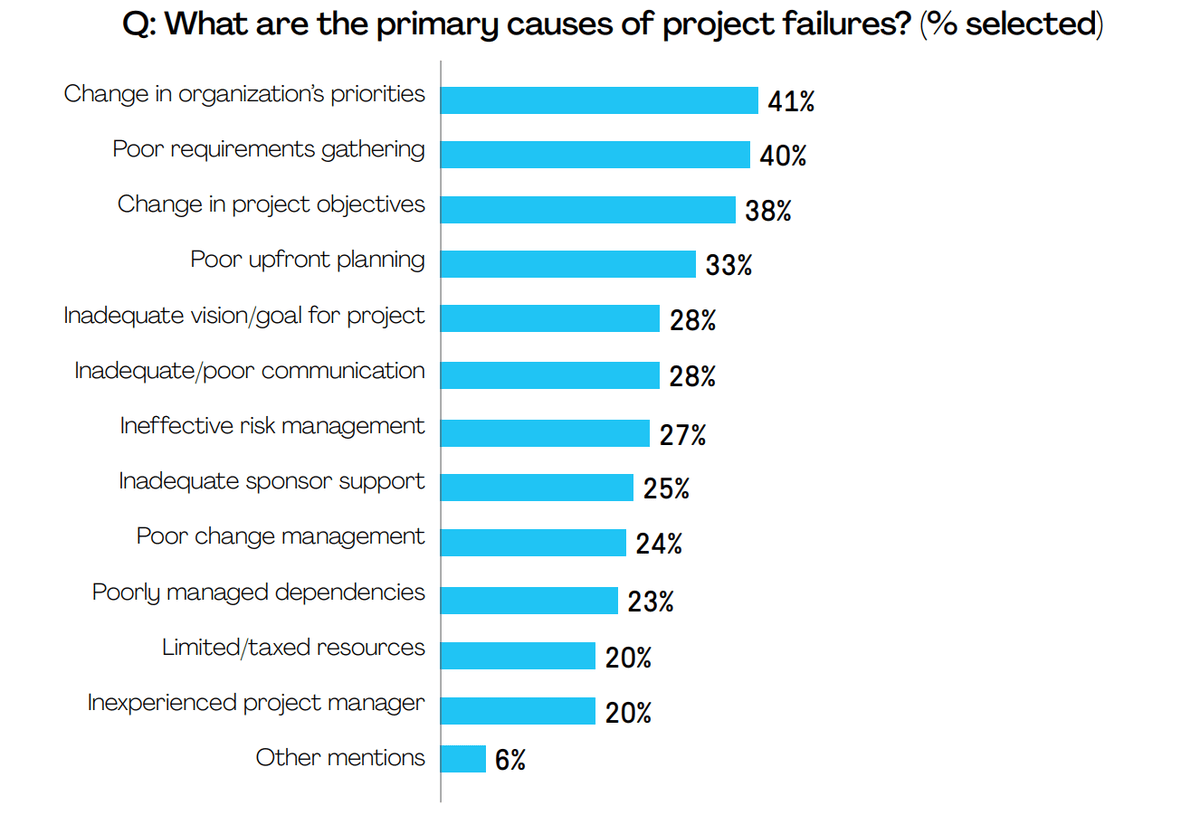 Weak requirements gathering, poor planning, inadequate vision — these are all avoidable issues. Exploring and setting important milestones ahead of time can help you outline a clear path to success.
By breaking a project down into milestones, it's also easier to identify clear risks and roadblocks that could impede the project. This granular upfront planning helps you avoid unwanted surprises after investing big.
For larger projects, the project milestone isn't optional. It's how you guarantee that the flow of the project keeps up throughout the entire duration. You can also set business growth milestones from quarter to quarter to motivate your team.
But what exactly should such a milestone look like? 
Milestone examples in different industries
Now that we've covered the definition of a milestone and its importance, it's time to look at some examples in different industries.
Marketing milestones
Let's take a look at some examples of practical marketing milestones that you could use for your own company.
  Milestones
Content marketing: reaching 1,000 monthly website visitors to your company blog.
SEO (search engine optimization): getting the #1 spot in Google for a relevant keyword.
Branding: buying your first Super Bowl commercial.
Social media: getting your first 1,000 organic followers on Twitter or Facebook.
Video marketing: uploading the very first video to your YouTube channel.
There are 2 approaches to set milestones for marketing campaigns and projects.
First, you can use milestones tied to metrics like visitors, followers, or Google search engine rankings. Second, they can identify crucial moments in your company's marketing journey. The difference between aiming for 1,000 visitors and launching your company blog is significant.
Using a combination of both approaches will often lead to the best results.
Sales milestones
Sales milestones are crucial stepping stones to completing your annual or quarterly sales goals.
Breaking it down into several different areas of opportunity, like lead generation, retention, and market expansion is a good starting point.
  Milestones
Overall sales volume: matching last year's sales volume at an earlier date.
Market expansion: getting your first sale in a new region.
Leads: boosting your number of incoming leads by 10%
Revenue retention and expansion: increasing deal size of existing clients by 10%.
Referrals: increasing the number of referred clients by 20%.
IT & development milestones
In IT and software development projects, there are often clear-cut milestones directly related to different transitions and natural stages. For example, when creating a website, you usually start by designing a wireframe and prototype, instead of just going straight to a live site.
  Milestones
Pre-design: completing the requirements gathering report.
Design: finishing the wireframe and initial design.
Prototyping: finishing a usable prototype or beta version.
Feature: finishing a crucial product feature.
Testing: completing quality assurance and user assurance tests.
Product launch: onboarding the first user.
Customer service milestones
In customer service, you should focus on improving key service metrics, as well as overall customer satisfaction.
  Milestones
Customer satisfaction: reaching a certain level of NPS (Net Promoter Score) or CSAT (Customer Satisfaction) scores.
Responsiveness: improving first response rate to 90%.
Wait time: improve the average response time to 60 minutes or less.
Self-service: improving self-service to reduce tickets by 20%.
Customer retention: boosting customer retention by 5%.
Another crucial measuring stick for how your customer service is calculating is the retention and churn rates. Don't be afraid to venture outside traditional goals to set actionable milestones for your support team.
General project management milestones
Then, there are general milestones within project management that you can apply to just about any project.  
  Milestones
Project planning: completing requirements gathering and initial project plan.
Launch: starting the implementation part of the project process.
Deliverables: delivering a working piece of the final product needed to complete it.
Stakeholder approval: getting stakeholder sign-off on a prototype or feature.
Testing: completing quality assurance and user assurance tests.
But whether you're creating marketing milestones or company milestones, the process involves more than you might think.
How to create project milestones that matter: 3 best practices
A project milestone shouldn't just be something you come up with on a whim. You need to be mindful and strategic. It should be a concrete, measurable step towards project success.
The 3 best practices below will help you keep on the right track.
1. Make it something you can measure or confirm.
A milestone should be a measurable or easily confirmable significant event. It's not just a single task on your list, like writing the headlines for an ad.
It's a good idea to focus on increasing a key performance indicator (KPI) by a certain percentage. For example, growing organic traffic or average deal size by 20%.
Another alternative is to focus on the completion of a key deliverable. When do you think you should finish the prototype? By setting these concrete milestones, you can work backwards and figure out exactly what you need to do to make it happen.
2. Make it achievable — not a stretch goal.
Milestones aren't stretch goals. They're achievable short-to-medium-term steps towards completing a larger project or business goal. Doubling your sales revenue isn't a milestone. Getting your first sale in a new market is a suitable milestone.
Keep this in mind when breaking down larger business goals and projects into milestones.
3. Don't add too many: highlight outcomes crucial to project success.
Milestones aren't the same as project tasks or steps. You shouldn't add hundreds of them.
Milestones are there to help motivate your team to keep working over the long term. You don't need to reach a new milestone every single day. Use them sparingly, and they'll have more impact.
You should also visualize the entire project flow so your team and managers can understand how they're performing at every stage. The easiest way to do this is to invest in project management software. You don't want to spend days trying to mess around with Excel templates.
Visualize your milestones and the entire project journey with monday.com
If you want a new level of control and oversight over your milestones and projects, look no further than monday.com Work OS.
With our complete Work OS platform, you can easily visualize every step of your project journey. Not only that, you can create a custom online productivity platform with automations and templates that help speed up your progress.
Visualize the entire project and all milestones with Gantt charts.
Want a granular view of how your project will play out over time? The easiest way to do this is with a Gantt chart or timeline view. Just set deadlines or expected time periods for each activity and milestone, and our software takes care of the rest.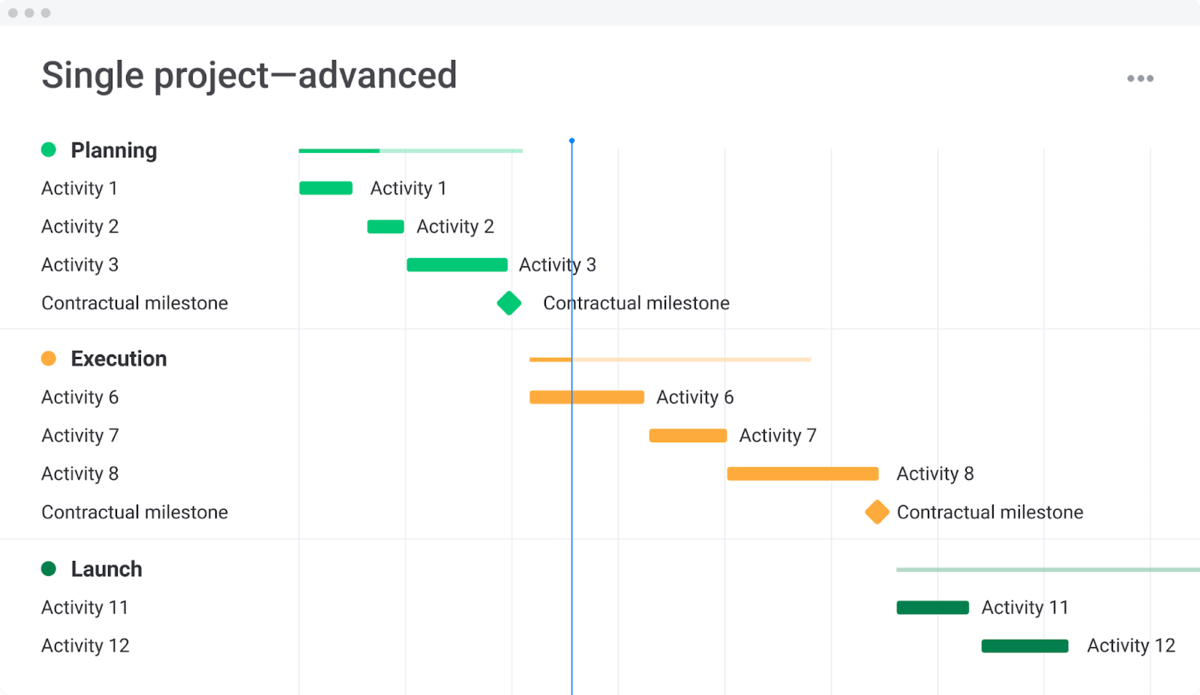 You can also color code the items by status, whether they're completed on time, in progress, or overdue.
Use custom templates to standardize crucial workflows.
monday.com Work OS doesn't just let you create a high-level overview of your project. We also have detailed, workflow-specific templates you can adapt to help your team stay on track.
Control everything from marketing campaigns to content calendars, and new employee onboarding. Standardization is the key to reliable progress over the long term.
Set up integrations and automations to ensure smooth progress.
Are data silos hindering smooth collaboration between departments? Do basic human errors, like forgetting to notify an editor on time, slow down your projects?
The answer to both of these questions is very likely yes. With monday.com Work OS, you can use native integrations, like with Jira and Zendesk, to help connect teams across departments.
You can also use our automation builder to create custom notifications and automated workflows across platforms.
Milestones only help you stay on track if you use them right
Setting a random milestone, like getting your 10,000th sale, before you even embark on a project, isn't always helpful.
Instead, you need to highlight concrete, reachable stages in the project life cycle. You don't need to aim low, but rather be realistic. Of course, if you want to reach them, it helps if you visualize and routinely revisit these milestones and goals over the long term.
We've gone over the milestone definition; now it's time to create your milestones and take your project management to the next level.