Whether you're a business owner trying to improve operations or an inventory manager looking for a way to stay organized and ahead of orders, we cover it all in this piece.
Crucial for effective inventory management, we'll go through frequently used terminology, proven methodologies, and helpful criteria to choose the right system.
Let's start with a fundamental question.
What is inventory management?
Inventory management is the practice of sourcing, storing, using, and optimizing an organization's goods — i.e., merchandise, products, raw materials, etc. — in a cost-efficient way.
Inventories play a huge role in an organization's supply chain, as they directly affect how products are sold and distributed.
For instance, if you can only store a certain number of products in your warehouse every month, it is important that you stay on top of incoming orders and outgoing supply. Otherwise, your customers could find themselves receiving very late orders, or not receiving them at all.
In short, inventory management helps you balance production, cash flow, and supply purchases with market demand to maximize your resources.
Typically, inventory management involves:
Evaluating shipments and suppliers
Optimizing warehouse security
Adding barcodes to goods
Receiving and recording new stock
And much more
We'll cover this in more depth, but first, let's discuss the different types of inventory management and how they might help each area of your production process.
5 types of inventory management
We can classify inventory management into 5 main categories. The difference between them lies in the production stage they target.
Let's break them down:
Raw materials: items used to produce goods or intermediate materials and components (e.g., paper manufacturing companies use cellulose fibers derived from wood).
Work-in-progress: unfinished products or products that aren't yet ready for sale (e.g., products that need a final decoration or finish)
Packing material: items used for product packaging (e.g., boxes used to ship products).
MRO (Maintenance, Repair, and Operations) supplies: components that support the production process but aren't necessarily part of it (e.g., gloves and security masks).
Finished goods: products that are ready for sale.
Keep in mind that your business might not use all the types of inventory.
For instance, an e-commerce business that doesn't produce its own goods might not need to include MRO supplies in the inventory.
So now that you understand the basics of inventory management, let's answer a vital question.
Why is inventory management essential for any business?
Let's say you're the owner of a company that produces different parts for automobiles, and a client orders 10,000 airbags. You accept the order and give your client an estimated delivery date of 1 month.
When you start producing those airbags, though, you realize the material you have in stock isn't enough to produce the whole batch.
So you call your supplier to order more materials. But there's a little problem; they'll take 3 weeks to deliver your order, which will cause a delay in production.
That's pretty inconvenient for both you and your client, as you'll cause a delay in their production too (and a potential financial loss).
You could've prevented it with a bit more organization and strategy.
A well-structured inventory management system isn't an option. It's a responsibility for any business.
Whether you run an e-commerce business, a local shop in a small town, or a global manufacturing company, inventory management is essential to balance your production with market demand, reduce costs, and optimize your value chain.
What's the difference between retailing and wholesaling?
Before we step into the different methodologies to manage your inventories, it's crucial that we talk about the differences between retailing and wholesaling, as your process might differ depending on the approach you take.
The main difference between retail and wholesale lies in the role they plays in the supply chain.
Wholesale is primarily focused on B2B (Business-to-Business). That is, wholesalers sell products, merchandise, and goods in bulk to other businesses.
Retailing, on the other hand, targets B2C (Business-to-Consumer) markets, meaning retailers have a more direct relationship with the end-user. Retailers buy products from manufacturers or distributors — including wholesalers — and resell them at a higher price.
Some examples of wholesalers may include:
Manufacturers: companies that not only produce goods but also sell them in bulk to distributors, retailers, and other wholesalers.
Brokers: middle distributors that often work on behalf of manufacturers.
Merchants: companies that buy merchandise in large quantities and sell them to smaller retailers.
Examples of retailers include:
Grocery stores
Convenience stores
Specialty stores
Discount stores
Any other business that sells products to standard users
But there's also a hybrid approach that brings both worlds together.
For instance, SAM's Club or Costco sells products in bulk to both local small businesses and standard consumers who prefer buying in larger quantities.
The way you manage inventories will depend on your main business approach. The supply chain of a wholesaler looks different than that of a retailer.
Understanding who you are selling to is crucial to defining your business model and eventually how you manage your inventory.
3 inventory management methodologies
Now that you understand the theory behind inventory management, it's time to step into the practice.
We'll focus on 3 methodologies that'll give you control over your inventories while reducing your costs and increasing profits.
Although this is not a comprehensive list of all the methods available, it does cover some of the most helpful methodologies to start with.
Let's break them down:
1. Just in time (JIT)
Just in time is one of the most popular and widely-used inventory management methodologies, and with good reason.
By focusing on carrying little or no inventory, it can be one of the most profitable too, as it helps you balance customer satisfaction with business efficiency.
JIT focuses on answering:
What's needed?
When is it needed?
How much of it is needed?
It then focuses on finding a way to deliver the required goods in the shortest lead time possible, without sacrificing quality or increasing costs.
JIT derives from the Japanese word "Heijunka," which means "Leveling" and consists of 3 elements:
Takt time: defines how often you should produce one — or several — components of a product to meet customer demand (e.g., 3 pieces for every hour worked).
Continuous flow: the practice of producing 1 piece at a time to meet the estimated takt time.
Pull system: the approach of providing only the essential requirements to customers.
For instance, let's say you run a handmade cosmetic eCommerce business.
By implementing JIT, you'd start producing new cosmetics every time a purchase order comes in, rather than storing them in a warehouse.
This approach would give you enough flexibility to test customer demand within your market and avoid potential losses in production.
2. Economic Order Quantity (EOQ)
EOQ might sound a bit complicated, but it's actually quite simple.
In short, EOQ is a formula that helps you calculate your ideal inventory level and determine order quantity based on previous market demand, as well as other variables.
But before we step into the formula, we need to break down its components:
Q*: optimal order size
S: order cost (costs involved with packaging, delivering, shipping, and handling)
H: carrying cost (costs involved with holding a specific product)
D: demand (annual units demanded)
The final formula looks like this:
Imagine that you're the owner of a wine store, and your numbers read as follows:
S = $2,000
H = $2 per unit
D = 4,000 wine bottles
To calculate your EOQ, you should replace the variables in the original formula with your information. Like this:

In this case, your optimal order quantity would be 2,828 wine bottles.
Keep in mind that some inventories might require the calculation of different variables, such as reorders, seasonality, or big industry events.
Even though EOQ may be helpful to get an estimated order quantity, we suggest you support it with other approaches.
3. ABC analysis
ABC analysis derives from the Pareto principle, which states that 80% of consequences come from just 20% of causes. It's useful when you carry a mix of products.
If we translate that statement to inventory management, we could say that not all products are created equal. ABC analysis considers that you should prioritize products that sell faster and bring in more profits.
To do it, you should categorize your products, materials, and supplies into 3 categories:
A = Most important
B = Moderately important
C = Least important
Once you've categorized your inventory based on the previous segments, you need to add 2 percentages to each category:
Value percentage: annual consumption value of a given inventory item
Quantity percentage: total number of products
These numbers aren't fixed, and you should define them based on your actual numbers and goals. For instance:
A = 10% of the items account for 70% of the consumption value
B = 20% of the items account for 20% of the consumption value
C = 70% of the items account for 10% of the consumption value
Based on this classification, you can identify your most valuable products and, thus, focus your energy on tracking stock level on that particular product — or products — more often.
How to find the right inventory management software
At this point, you might understand that managing inventories manually would be excruciatingly hard, if not impossible.
With the help of software, inventory managers can automate some of the most tedious aspects of the job, reduce the risk of error, and make smarter decisions.
So, how do you choose the right software?
A quick look at Capterra, one of the largest software reviewing networks, will tell you how difficult it can be to decide.
Choosing 1 out of 5,224 options is definitely not an easy task.
To make your life easier, we'll cover some of the most essential features to look for in good inventory management software.
1. Inventory management
This is an obvious yet crucial feature.
The system you choose must help you monitor, manage, and optimize your inventories with ease. This involves a database to store items and the ability to track their status at a glance.
For instance, here's how Mad Hatter, a hat retail store, uses monday.com to manage its inventory.
In this case, each group of items represents a specific hat type — e.g., Fedora and Top Hat — whereas line items showcase the desired style.
Mad Hatter uses different column types for certain functions. For instance, it used 2 "Status" columns for different purposes.
One of them indicates the color of the hat, while the 2nd is used to record the status of the item (e.g., in stock, out of stock, running low, etc.).
It also used "Numbers" columns to showcase crucial information, such as units and price.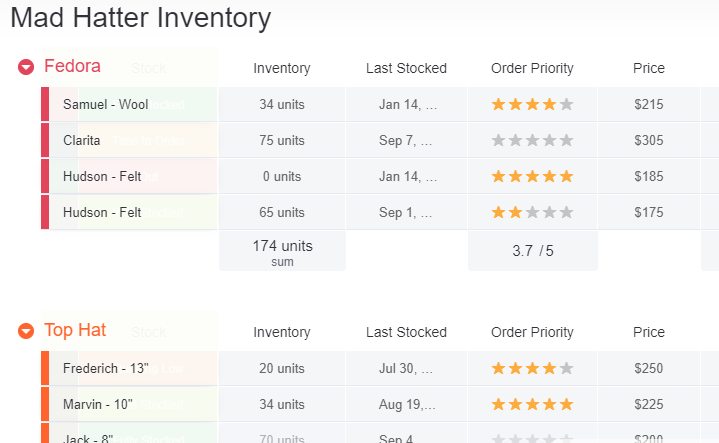 There's even a "Location" column to display where each item is in the warehouse. This way, employees can easily spot specific items when they need to.
Thanks to monday.com's customizable features, Mad Hatter was able to build a platform that suits their inventory needs.
But this is just one of the many features any effective inventory control system must offer. So let's keep going.
2. Automations
In order to stay on top of constantly changing orders, market demand, prices, and more automations allow you to stay on top of your inventory and help move your workflow along.
So, before deciding on a particular inventory software, make sure it offers flexible, ready-to-use workflow automations.
At monday.com, for example, you can use customizable automations to manage almost any workflow involved in inventory management. For example, if you have a number column to track inventory and you know you need to do a reorder when you fall under 35 units, you can set up an automation to send an email to your supplier when the number of units hits 34.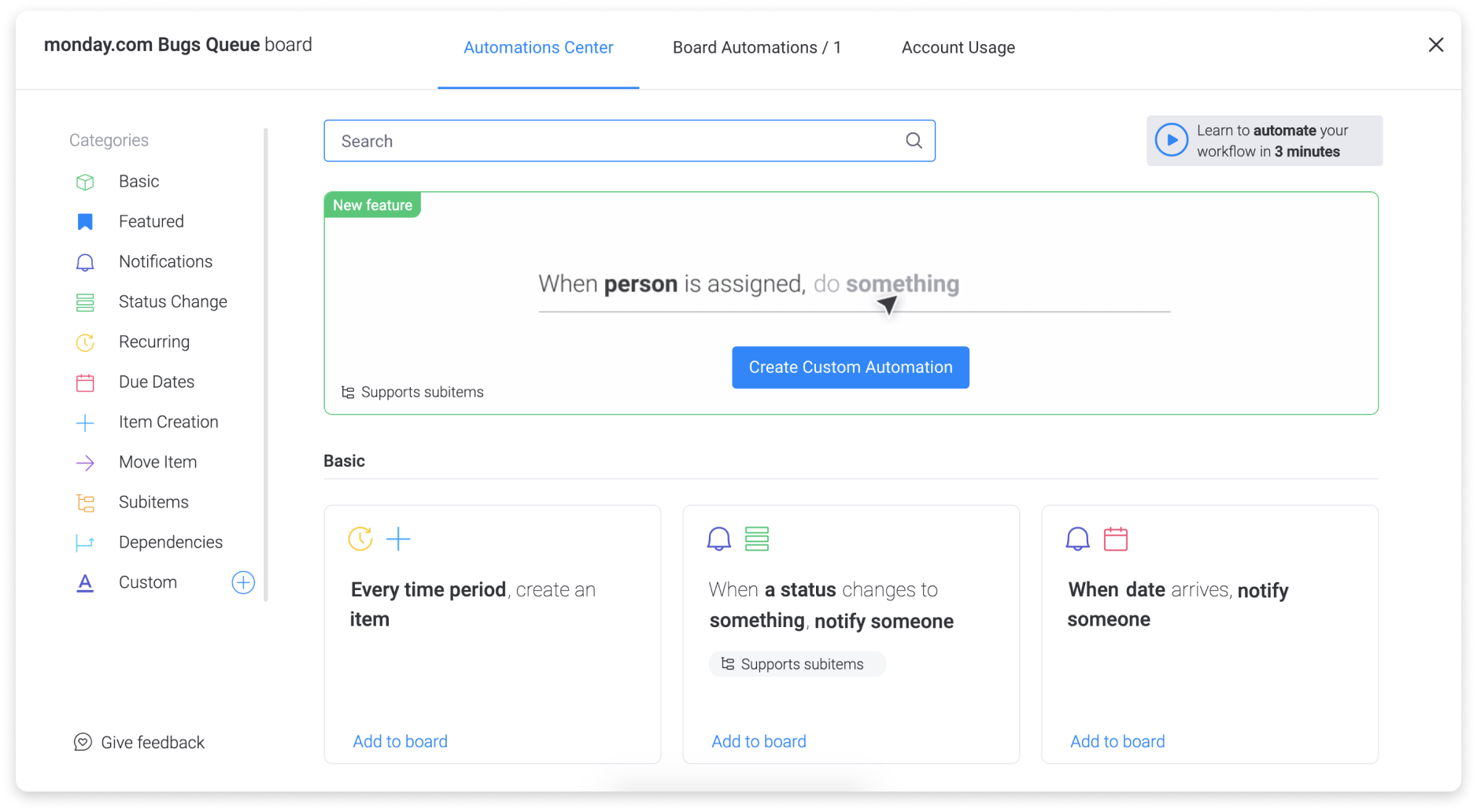 Currently, you can automate:
Status changes
Recurring tasks
Notifications and alerts
Tagging
Item creation
Email
and more
Mad Hatter uses monday.com's automations to keep its inventory updated and send alerts every time a specific item is running low.
This way, the company can always make sure nothing slips through the cracks.
To get a complete understanding of monday.com's automations, we suggest you watch this short video:
3. Reporting, dashboards, and visualizations
The only way to know whether your processes are working is through analysis. Without access to the right inventory data, though, analysis becomes a useless activity.
That's why any proper inventory management solution must provide you with advanced reporting features and data dashboards.
You can keep your team informed and make the right decisions.
Here's what reporting looks like on monday.com.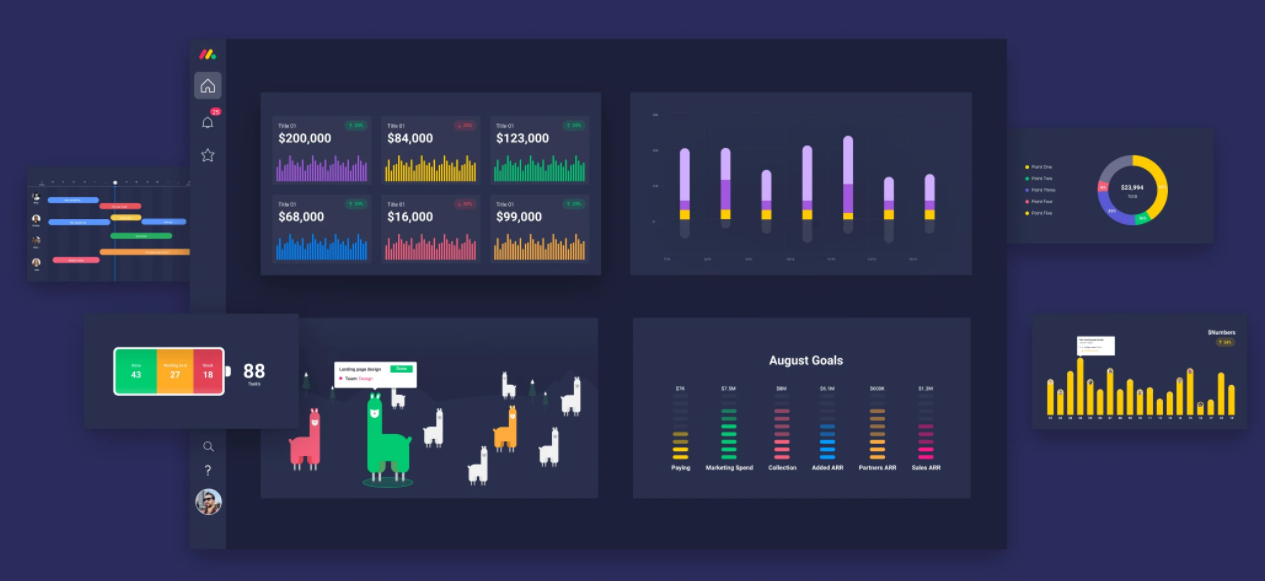 From the start, you get access to more than 21 dashboard widgets that allow you to visualize data in a way that makes sense for your business.
monday.com dashboards pull data from your boards so you can easily visualize how many outstanding orders you have, where you stand with inventory, and if you're on budget.
For example, Mad Hatter uses the monday.com battery widget to get a quick overview of the stock for each hat type and a number widget to see the total number of units in stock.
And that's just the beginning.
They also use a chart widget to see an orders breakdown by hat type and a numbers widget to see total units sold.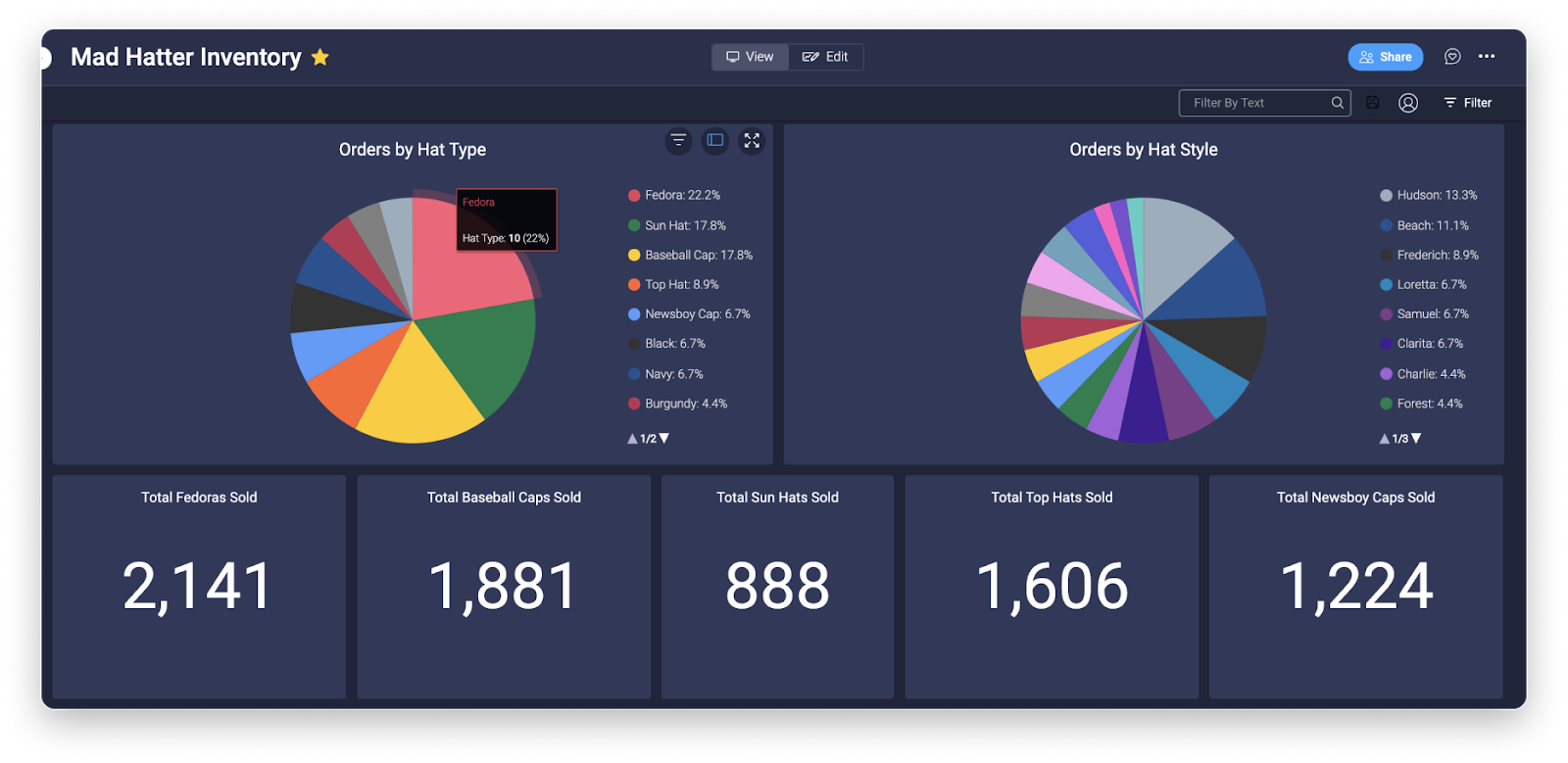 To see a full overview of our dashboard widgets, you can check out this guide.
4. Customizations
As we discussed earlier, your workflow could be completely different depending on if you are managing inventory for a retailer, a manufacturer, or a hybrid model.  But, no matter what kind of inventory you manage, there are bound to be unexpected changes and adjustments to your workflow.
Instead of looking for a system that offers a fixed way of working, find a platform that lets you build your own workflows.
For example, monday.com is extremely flexible and customizable.
With hundreds of "building blocks" to move around at will, you can design a digital workspace that feels perfect for your team.
monday.com interface comes with built-in drag-and-drop functionality, so you can build workflows with ease — no training or coding skills required.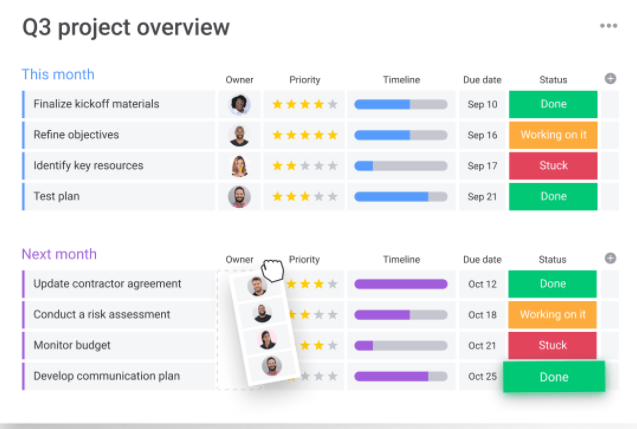 5. Integrations
Finally, look for a platform that integrates with the tools you already use.
For example, if you use Excel spreadsheets to track inventories, make sure the inventory management system you choose offers a native Excel integration. This way, you could easily import documents into your new platform.
monday.com offers more than 40 native integrations you can install with one click. This includes marketing tools, CRMs, payment processors, project management platforms, and many more.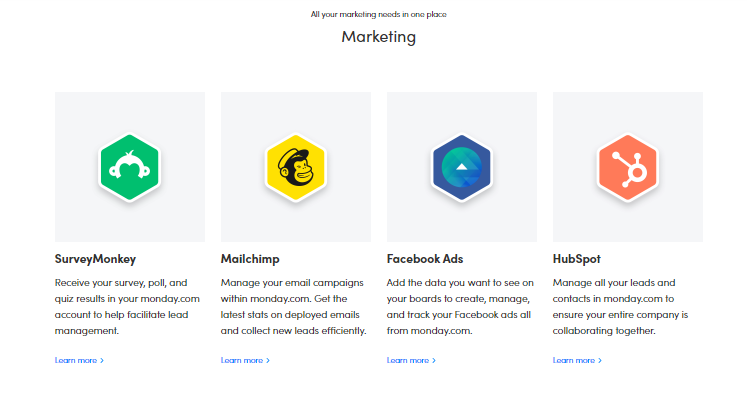 We even provide you with integration recipes so you can automate different tasks and actions.
In simpler words, monday.com centralizes all of your team's work by bringing all of your tools and data under the same roof.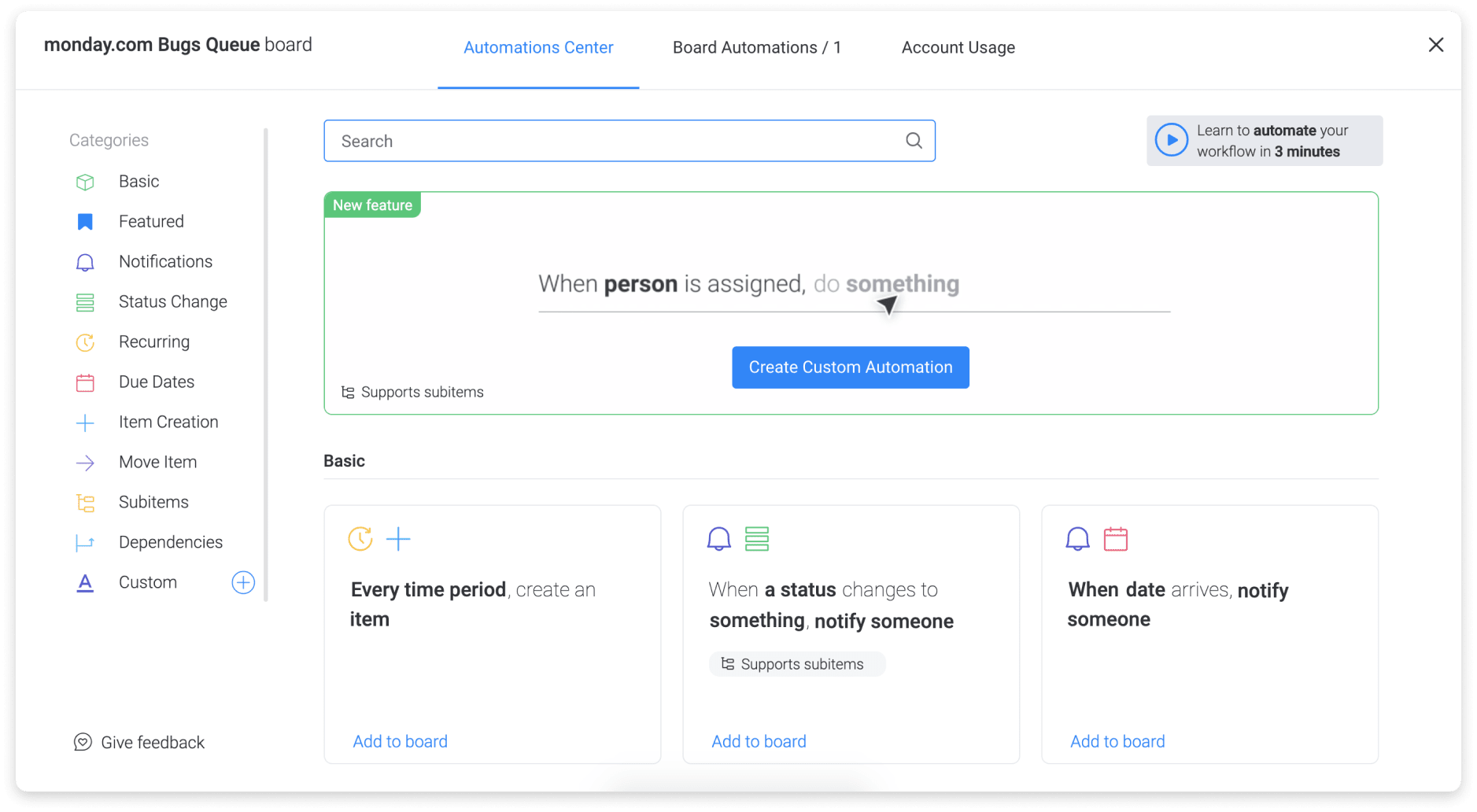 How to modernize your inventory management in 2021
Now that you understand all the basics regarding inventory management and how to choose the right system, what's next?
Putting that info into practice, of course.
If you're looking for a platform that meets the criteria we covered earlier, monday.com might be the right solution for you.
Let's discuss why.
What's monday.com?
monday.com is a powerful Work Operating System (Work OS) that helps you build custom digital workspaces with ease.
Sure, we provide you with inventory management features, but that's not even scratching the surface. You can also use monday.com for project management, CRM, marketing automation, manufacturing, construction, and more.
That's one of the reasons organizations like Adobe, Coca-Cola, Discovery Channel — and over 100,000 others — trust us to run all of their work.
Cloud Inventory Management
As for inventory management, monday.com offers:
Inventory tracking: stay on top of your inventory with a custom and cloud-based system
Team collaboration: assign tasks to peers and measure progress in one place
Tagging: use tags to organize your items and find them more quickly
Shipment tracking: track the status of your shipments and prevent delays
Integrations: seamlessly integrate your tools and apps and centralize your information
Automations: streamline your business processes and operations with automations
Reports: make sense of your data and visualize it with different views
To see a complete list of all monday.com's features, please check out our product overview page.
Inventory management template
To make the process even smoother, we provide you with a premade inventory management template you can use right off the bat.
Start managing your inventory efficiently with monday.com
Keeping your inventory in good health is vital for the success of your organization.
Hopefully, now you have the information you need to manage and track inventories in a more efficient way.
And if you're looking for a system that makes you more productive and reduces the risk of error, monday.com could be the platform you're searching for.
To start, try our fully customizable inventory management template and modernize your processes this year.