An Excel spreadsheet for tracking business expenses can keep your finances in order. But unless you're a bigger company with an entire accounting department on hand, you might not have a ready-to-go template for this.
In this article, we'll look at the monday.com business expenses spreadsheet. First, we'll dive into a few examples of expense tracking templates and highlight the major reasons why you may need one. After that, we'll review our own Excel spreadsheet for business expenses and show you how monday.com can help take the headache out of managing your company finances.
What is an Excel spreadsheet for business expenses?
A spreadsheet for business expenses is a standardized template that tracks and records a company's expenses. Specifically, it details the "what," "why," "who," and "how" of spending company money, so for example:
what was the money spent on?
why was it spent?
who spent it?
how much was spent?
Some of these spreadsheets track specific company expenses, while others provide a simple, high-level summary of your expense history. For example, a travel expense spreadsheet tracks travel-related expenses, like lodging and meals. A monthly expense spreadsheet provides an overview of your total monthly spending.
Despite the variety of expense tracking spreadsheets, most of them have common features, including:
a list of rows for each expense item
columns specifying the date, vendor, expense description, amount, unit costs, method of payment, and other relevant data or notes, and
formulas that automatically calculate expenses
In short, these expense spreadsheets help you understand how your business spends money. And while it may seem tedious to track every penny, the benefits are worth it.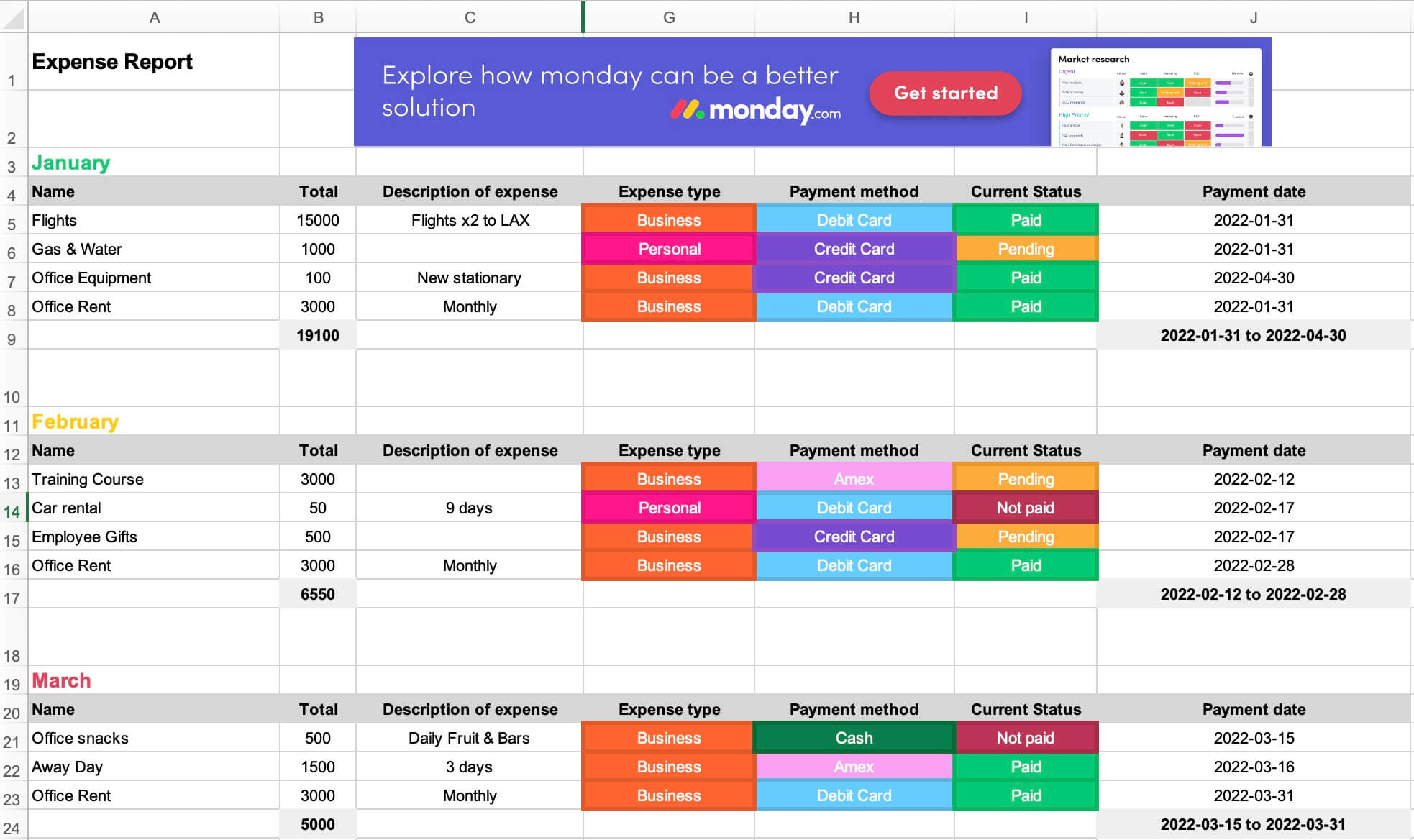 4 reasons to use an Excel spreadsheet for business expenses
Let's take a look at some of the key benefits of using a Microsoft Excel spreadsheet for your business expenses.
1. You'll make better financial decisions
Knowing more about your business' expenses lets you make better financial decisions. And having expense information distilled into an easy-to-follow spreadsheet is a critical step.
For example, let's say you own a bakery and you're trying to make a decision about whether shopping locally for your ingredients is saving you money. You might analyze your existing expenses and compare that against product estimates from food service wholesalers. With accurate expense data in front of you, it's much easier to make informed decisions about your business.
2. You can visualize expense tracking in one place
Suppose George from sales jots down his expenses on diner napkins and Betty from HR plugs expenses in a Notepad file on her computer. They're going to run into expense reporting problems sooner or later. With an Excel spreadsheet, you can standardize your expense tracking process to save and view all of your expenses in the same location. No more napkins. No more Notepad files.
3. You'll save time and money
When you have a standardized spreadsheet for tracking expenses, you can save time by using built-in formulas to calculate totals and averages. This lets you focus on your financial goals instead of crunching numbers.
You can also save money by automating the expense reporting process. An Excel spreadsheet coupled with a powerful Work OS like monday.com, allows you to quickly and easily create an expense report that's ready to submit to your boss or accounting department in less time.
4. It's easier to spot unusual or fraudulent expenses
Tracking your expenses can help you spot unusual changes. For example, if you usually spend $100 per month on office supplies but suddenly spend $500 the next month, an expense spreadsheet makes it easier to see this change. Spotting these "red flags" early makes it possible to identify and investigate fraudulent or unauthorized spending.
Now that we've covered the basics of what an expense spreadsheet is and why you should use one, let's take a look at a few examples of how you might use them.
E-book: Get tips to successfully manage projects, maximize ROI, and drive impact.
Download
5 examples of business expense sheets in Excel
1. Basic business expenses spreadsheet
Not all expense tracking spreadsheets are complex tools with dozens of columns, categories, and formulas. Sometimes all you need is a simple list of your expenses and this is where a basic expense spreadsheet comes in handy.
These spreadsheets are usually "barebones" tools and only contain simple expense tracking information like the purchase date, payment method, a brief description, and the expense amount.
Let's say you're a small business or a "mom and pop" company that doesn't have numerous departments, employees, and budgets to manage. In that case, a simplified spreadsheet for tracking expenses may work. Otherwise, you'll need a spreadsheet with more features and functionality.
2. Income and expenses spreadsheet
Another basic expense sheet in Excel is an income and expenses spreadsheet. This tool tracks your business's overall balance based on how much income you made and how much of it was spent. It's great to see an overview of all business-related finances and observe general patterns of spending.
3. Travel expenses spreadsheet
A travel expense spreadsheet is designed to track all spending related to business travel. This might include airfare, hotel costs, car rental, food, credit card purchases, and any other expenses incurred while traveling for work.
The great thing about travel expense spreadsheets is that they often come with pre-built formulas that automatically calculate totals for each category as well as the overall trip cost. This makes creating a travel expenses report quick and easy.
Any business with employees who travel regularly — like sales reps or consultants — will benefit from using a travel expense sheet. Travel expenses are reimbursed faster and managers help prevent unauthorized claims.
4. Monthly business expense spreadsheet
Another popular expense tracker in Excel is a monthly business expenses spreadsheet; this summarizes your month-to-month spending in a single report. Not only do these spreadsheets give you a high-level overview of your monthly spending, but they're also handy when you're creating or adjusting your monthly budget. By seeing how much you spent last month, you can get a better idea of how much you should budget for this month. A simple monthly expenses spreadsheet contains:
Columns for each month of the year
Rows for total business income and expenses
Rows for expense line items
These spreadsheets will often include income and expense summaries for the quarter, making them rather useful for quarterly reporting.
Almost every business can benefit from tracking monthly expenses. However, startups or small business owners with tight budgets will find these spreadsheets particularly useful because they can help guide decisions about the next month's spending and create more realistic budgets.
5. Annual business expense spreadsheet
Similar to a monthly expenses spreadsheet, an annual expenses spreadsheet summarizes your spending for the entire year. This report is especially helpful for businesses that like to do a "year in review" to see where — or when — they made and lost money.
An annual expenses spreadsheet usually includes two main sections: income and expenses. The income section lists all the money your business brought in over the year, while the expenses section lists all the money your business spent.
Businesses of all sizes can benefit from using an annual expense spreadsheet. Still, it's especially useful for businesses with a lot of spending spread out over the year, like a construction company or retailer.
monday.com's Excel spreadsheet for business expenses template
When it comes to tracking your expenses, monday.com has you covered. For starters, you can try our free downloadable Excel spreadsheet for an easier way to monitor your expenses.
Our highly customizable template fits the needs of any business, whether you're tracking expenses for a complex international corporation or a simple convenience store in a small town. And if you're looking for a little more firepower, connect with Excel through monday.com and work directly on our platform. This means you not only get a highly customizable spreadsheet, but you'll also enjoy the benefits that come with our powerful Work OS.
Let's take a quick look at some of the advantages of using monday.com to manage your expenses.
Work with anyone, anywhere: monday.com is a cloud-based Work OS which means you can collaborate with team members anywhere in the world. Prepare expense sheets for your team in California, while you're working remotely in Ontario, Canada.
Enhanced visualization: use monday.com to create powerful custom dashboards that contain all key expense information. Add graphs, charts (like Gantt charts), and tables so you can gather better insights about your business' spending.
The monday.com business expenses spreadsheet is the ultimate solution for keeping your finances in order. Whether you're just starting out or you've been in business for years, our spreadsheet will help you keep track of your spending and make better financial decisions.
Time-saving automation: with monday.com, you can easily set up automations that not only send your documents to the right people, but also send them regular reminders until they've completed their tasks. You won't need to play email tag trying to get expense information and updates from colleagues — monday.com takes care of it with the click of a button.
For even more template inspiration, check out some additional examples below.
E-book: Get tips to successfully manage projects, maximize ROI, and drive impact.
Download
Related templates
1. Budget template
Our Budget Tracking Template will help you gain more control over your finances. Like all of our templates, it's highly customizable and easy to use. With it, you compare your actual expenses versus your budgeted amounts and get a clearer picture of your financial situation. If you're keen on using spreadsheets, we also have a budget template for Google Sheets for you to try out.
2. Expense tracker template
If you're looking for an alternative to an expense tracker in Excel or Google Sheets spreadsheet for tracking your business expenses, take our dynamic Expense Tracker Template for a spin. Not only will it help you be more proactive with managing money, but it also simplifies the process by organizing your key expense information all in one place.
If you're in the market for an expense report template that's simple, flexible, and comes pre-loaded with useful automations — like alerts for payment reminders — then you'll love what the team at monday.com has created.
FAQs about business expense trackers in Excel
1. How do I create a spreadsheet for my business expenses?
There are many ways to create a spreadsheet for your expenses. You can use a program like Excel or use an online app like Google Sheets.
But why bother creating a spreadsheet when you can use a template? For example, monday.com has a free template for tracking expenses that's customizable and easy to use. You don't have to fuss around with formatting or figuring out formulas, just download the spreadsheet, and you're ready to go.
2. How do I create an expense sheet in Excel?
You can either create your own spreadsheet or use a built-in Excel template. You just have to open Excel, click "New," and type a keyword related to expense tracking in the search bar — something like "travel expenses" will give you a few templates to choose from. Though Excel also has template options, you may not get the full customization, features, and visual formats that come with a Work OS.
3. How do I track business expenses in Excel?
If you want to track business expenses in Excel, you'll need to create a spreadsheet and fill in the appropriate information. The most important columns are likely to be "date," "description," "category," and "amount." You can also add additional columns if needed, like "vehicle number" for tracking car expenses.