The job isn't finished until the paperwork is done, or in this day and age, until the documents have been filed.
In order to keep track of projects across your organization, stay compliant, and keep teams as productive as possible, you need a system for managing and storing files that works across cross-functional teams.
Organizations of all shapes and sizes are taking a deeper look into how they're managing their documents, and they're making investments to improve.
In fact, the market value of document management systems is projected to increase to $6.78 billion by 2023.
In this article, we'll walk you through everything you need to know about document management software, including the features you should look for in your next solution.
What is document management?
Document management is the process of managing and tracking your files, data, and information. It requires appropriate systems and software to run smoothly.
A document is officially described by ISO as "any recorded information or object which can be treated as a single unit."
A word file, an image, a .csv file holding lines of data, a code package — these could all be treated as documents that need effective management.
A document management system (DMS) is commonly adopted by companies in the process of converting paper documents or files into electronic documents. Often this is done at scale, using a scanner.
But this isn't the only use for a document management system.
An electronic document management system isn't just for receiving uploaded documents. It's essential for the organization of those digital files once they're uploaded.
Document management software is the technology that ultimately controls and organizes all of your digital documents — plus any new files created — once they've been digitized.
Business teams can use monday.com as cloud document management software, allowing them to integrate the management and storage of files directly within their teams' workflows.
Here's an example of what a set of stored images looks like within monday.com: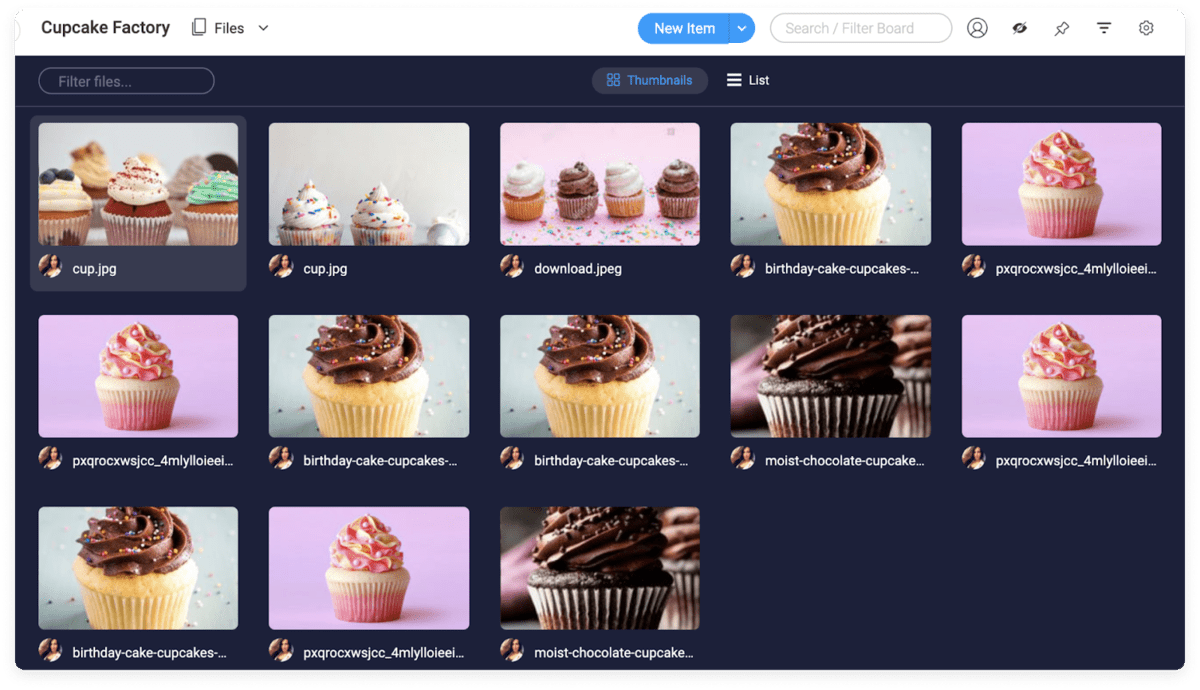 What are the benefits of document management software?
Implementing document management software for your organization has many benefits, all of which work to streamline your organization's workflows and ultimately lead to more productive teams.
Regulatory compliance
Staying compliant with government regulations requires a high level of oversight in some industries — healthcare, food production, and insurance, to name a few examples.
In each of these cases, files like construction documents, legal documents, documents holding customer data, and many others need to be filed properly. It's incredibly important that relevant documents are secure and organized so that they can be called upon when needed.
Document management software will allow you to visually display the storage process for internal employees who may need to search for documents in response to an audit.
In addition, approval and editing histories are made transparent, which makes documents easy to trace and keep secure.
Document security
When you work with a document management system, all your documents are stored in one place, making it much easier to keep them secure.
Security breaches occur more frequently when documents and data are stored in multiple places or applications, as it's more challenging for information technology (IT) teams to keep more than one location secure.
When there are fewer locations to keep secure, you minimize the risk of cyberattacks or hackers trying to breach your system to access your data.
Plus, document management that relies on cloud storage will automatically backup your data, keeping sensitive files safe even if there's an outage.
Search facilities
Even an air-tight organization system can't beat a system with flexible and accurate search functionality.
With an effective document management system, you can search by more than just the document title.
Additional search criteria — such as the date last edited, the owner, specific text within the document, and so much more — make your data and information incredibly easy to find.
Product lifecycle support
A document management system will integrate with other tools throughout your organization, supporting all teams involved in the product lifecycle — from ideation, to creation, to finally making it to the hands of the customer.
Enhanced collaboration
When all team members have access to the most recently updated accurate information, it's easier to stay on the same page.
Team members can collaborate more easily and, without the need for constantly checking the right things are being worked on, productivity increases.
A software solution will also allow third-party vendors and contractors access to the documents they need, making them an integral part of your workflow.
6 features to look for in modern document management software
Business teams need powerful document management technology that will allow them to manage files effectively.
You should look for the following 6 features when selecting the ideal document management solution for your company:
1. Integrate with your project management software
One of the most important things you need is for your document management software to integrate with whatever tools your teams use to execute day-to-day tasks and manage projects.
Files should be able to be added and deleted directly within project management software so that all project information and data live in one place, easily accessible to all stakeholders.
When files are stored and organized in the same place that project management takes place, it promotes collaboration across teams and ensures that team members don't waste time looking for files.
Here's an example of how documents and files are directly integrated within a monday.com task: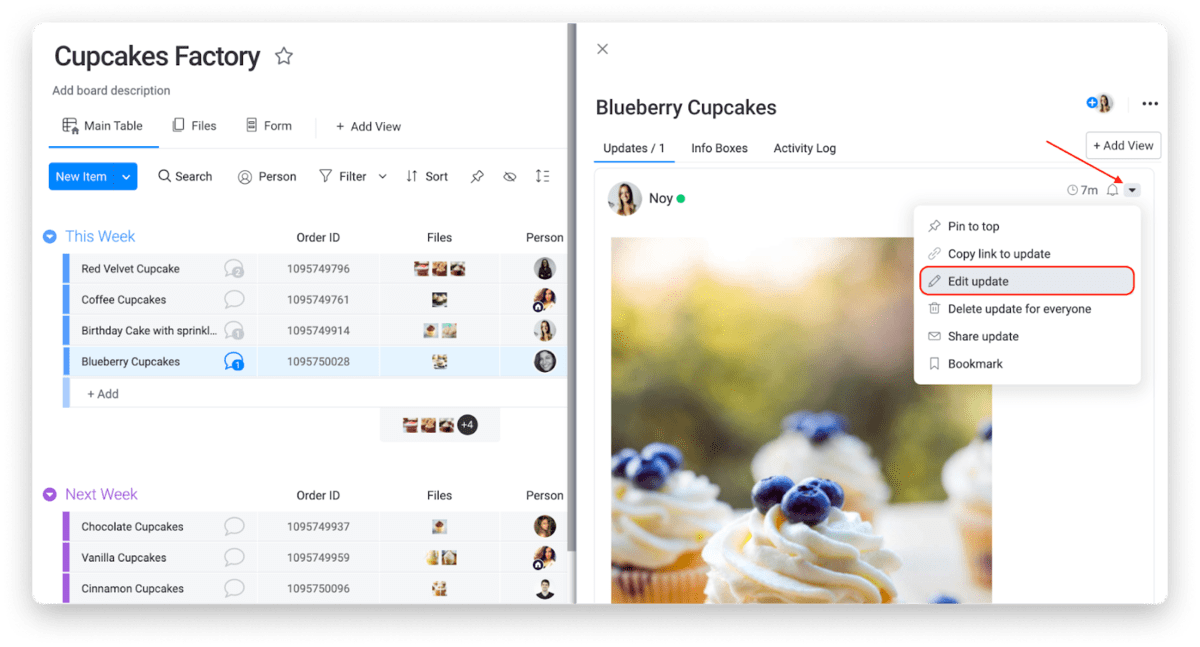 2. View documents and files at a glance
It should be incredibly easy to see all of the documents related to one project or task. This means the information within a document, and its name, tags, or other information.
When using monday.com, you can view files right away after upload.
Documents are displayed by both their name and a visual preview so that it's easy to see exactly which have been included without downloading them natively or opening them completely.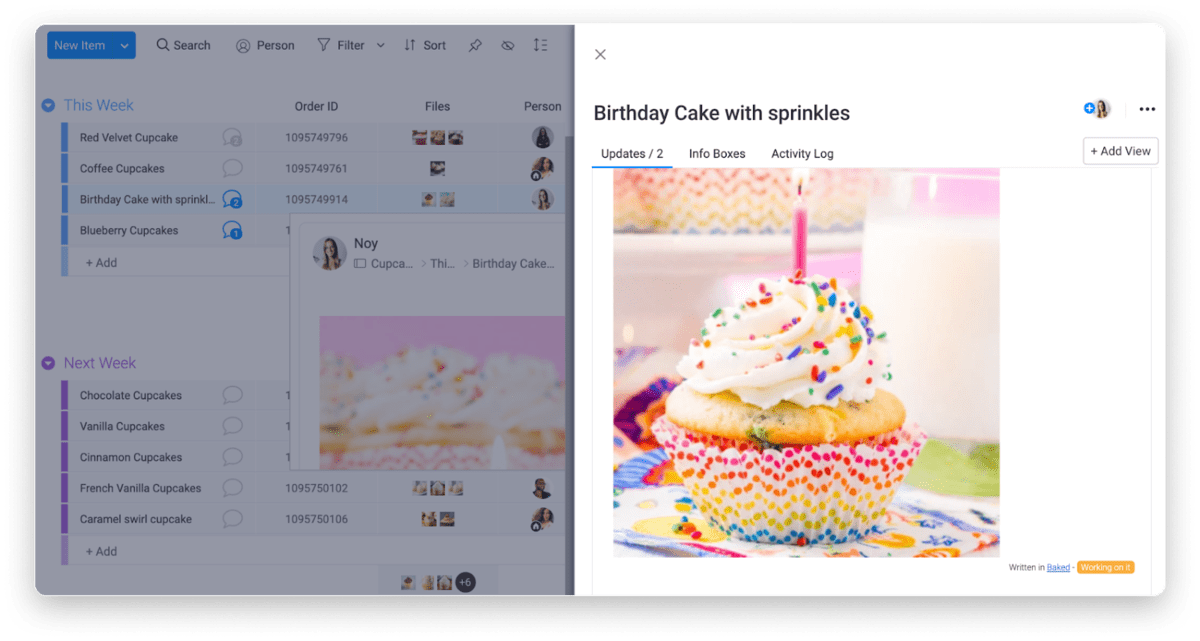 3. Organize files visually
It's important to see at-a-glance which files are related to each task or project.
Take a design team's task list, for example. They need to know which raw images, video files, and screenshots are relevant to each of their separate tasks.
They shouldn't have to waste time digging through a repository of files to find the right content to work with.
With monday.com, not only can you see files within a task, but you can see them as a column in the overall monday.com board, displayed as a tiny thumbnail. This makes it easy to discern exactly which files are attributed to each task.
4. See all files in one place
Good document management software gives you flexibility about when and how you view your files.
In some cases, you may want to immediately see all files related to one specific project, and in some cases, you'll want to be able to view all of the files in your organization's digital universe.
Within a project board on monday.com, you can view all files related to a singular project using the monday.com files view. This quickly displays all of the files as thumbnails, as shown below:
In addition, you can also view all your files across the entire monday.com platform. They're easily searchable by factors like file type, owner, upload date, title, and so much more.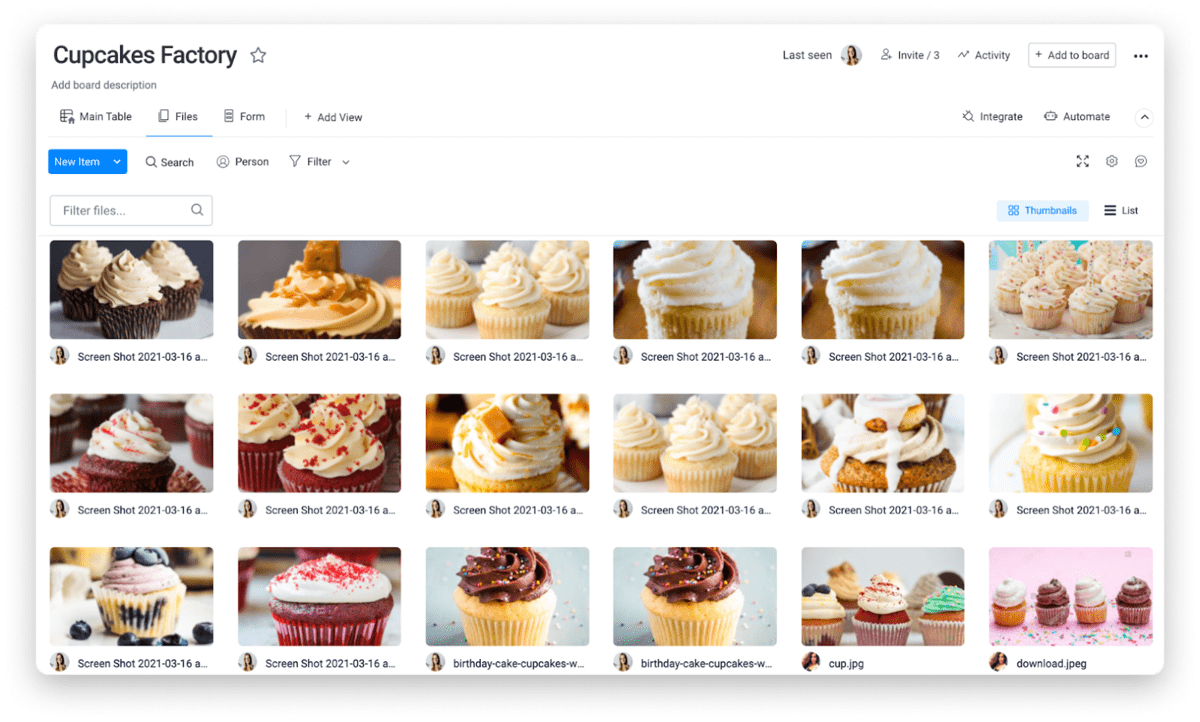 5. Comment or collaborate directly on files
Your document management system should allow you to comment and collaborate on files without downloading and re-uploading those files to the system.
monday.com allows you to make comments directly on files without having to take the file out of the system to make changes and then sharing them with your team.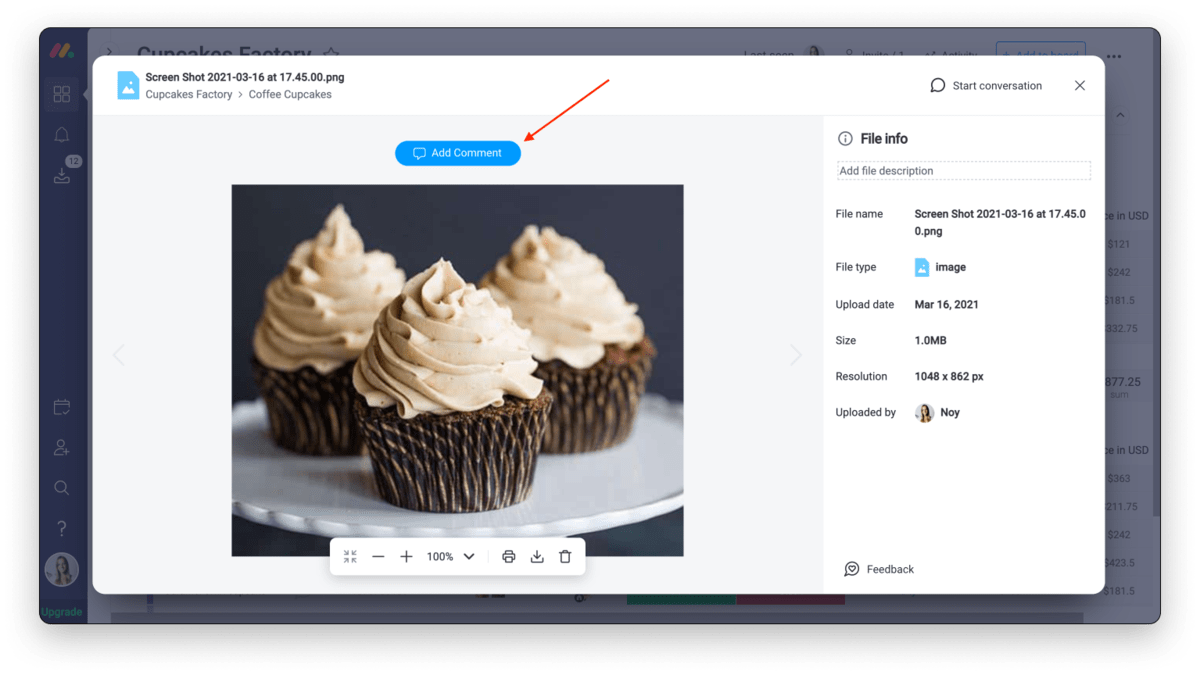 6. Easy to download
In some cases, you'll want to work with files outside of your document management system. If you do need files native on your desktop, you have the option to download them directly.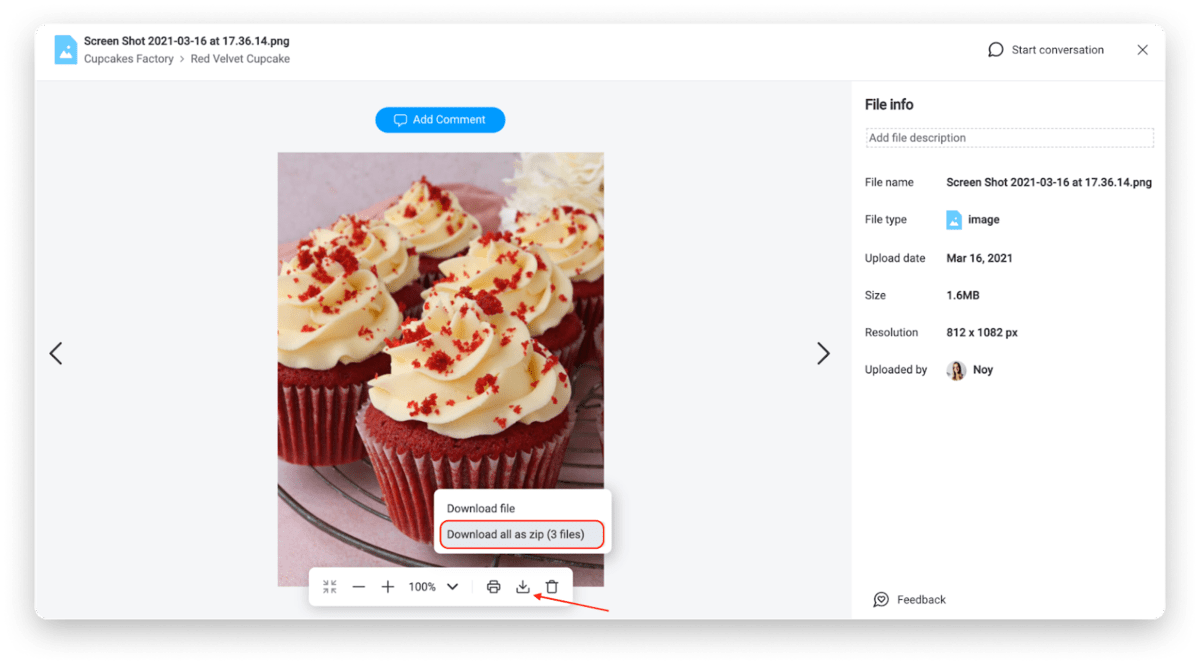 Efficiently manage documents to improve productivity
Bad file management leads to sluggish workflows, security risks, and frustration amongst team members.
On the flip side, when everyone knows where to find the information they need easily, and data is collected all in one place, processes move much more smoothly, and work gets done more easily.
If you're interested in a document management solution that is much, much, more than just document management, and integrates your information and data with project management workflows across your organization, check out monday.com.