Not everyone would assume there is an enduring need for CRMs for small businesses—most people only see a CRM in the systems of large corporations or rapidly growing startups. However, small business owners and employees certainly hustle, wearing many hats and looking for solutions that allow them to move their success forward.
A CRM for a small business provides a simple tool for cutting out the clutter and building strong relationships with its client base in real-time. In this article, we'll cover exactly what these tools entail, and what they can do for you and your team. Along the way, we'll give you an insider's look at the monday.com platform and how it can help you build the perfect CRM for you and your team— we even have a free plan!
What is a CRM for small business?
CRM stands for customer relationship management. Small business customer relationship management is the culmination of customer or client communications, marketing, and sales via technology that's specifically designed for a small business.
Is CRM useful for small businesses?
Providing excellent customer experiences continues to be important to businesses of all sizes, considering that 40% of consumers stopped doing business with a company due to poor customer service in 2020— having a CRM system can make or break how a small business performs in this arena. It is important to note that while a CRM can make your business more efficient, it must be used the right way.
Many small business CRMs can focus too narrowly on lead management and generation or sales. A worthwhile CRM for small business is multi-faceted and functions as the central source of truth for client data and interactions. It makes it easier to track data and personalize the entire customer experience, which then improves sales and revenue and builds customer loyalty.
Better yet, your ideal CRM software will do more than just track sales. It should connect your marketing and customer service teams with the sales team to provide a holistic view of the customer's entire experience. On monday.com Work OS, you can build your own sales pipeline management tool that works seamlessly with third-party integrations to help you manage it all, like this template: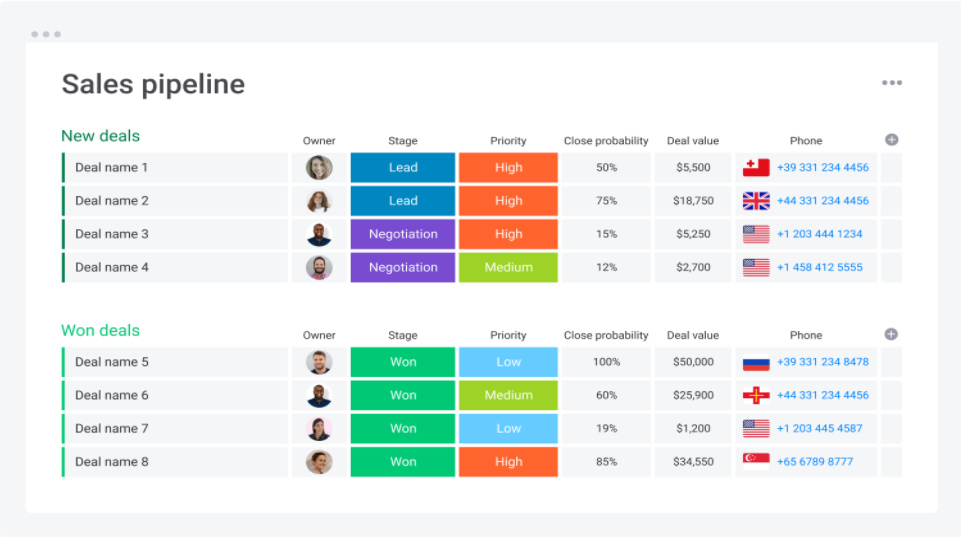 Why should small businesses adopt a CRM?
Adopting CRM software can give a company a competitive advantage in many ways, like lowering production costs, boosting sales revenue, and increasing market share. With such varied goals, it's important to not slow down your employees with unnecessary and disjointed tools.
When you build a custom CRM solution on the monday.com platform, you can bring all of your tools into a single interface. Your employees only need to learn one tool to provide the best possible experience for your customers.
Here are some other key benefits that a good CRM offers:
One source of truth for your entire company: workers routinely waste time searching for information across different tools. Too often, this leads to discrepancies or inaccuracies that lead to poorer business outcomes. But with a CRM system, everything you need can live in a single platform.
Plus, 47% of employers say that employees are more engaged at work when they have easy access to the information they need, creating better outcomes across the business.
Better data and reporting: a CRM tracks all your sales and customer data, aggregating it into an easily accessible dashboard.
On the monday.com platform, you can configure sales dashboards to pull customer data from any board that's part of your CRM system, from lead and contact management to the sales pipeline and beyond. Your team gets instant insight into how the business is performing compared to their goals.
monday.com also offers a mobile app so your team can stay up-to-date on all their devices, no matter where they're working from!
Increased efficiency and productivity: With centralized, accurate data, your team can almost instantly get more done in less time. They can also make use of

workflow

automation features to boost efficiency and productivity.

Lower business expenses: This one's a no-brainer. When your team can work more efficiently, you'll lower your business expenses across the board. You'll close deals faster, generate more revenue, and have some breathing room to let your business grow.

Better customer experience: When your sales, marketing, and customer service teams are more engaged, efficient, and productive, it's not just your business that benefits. Customers get a better experience with your customer, which leads to increased customer loyalty.
Happy, loyal customers will stick around for a long time, and often, they'll even give you a little word-of-mouth marketing that helps you grow your business even further. All of these benefits add up to one bigger benefit: more sales and revenue for your business.
What do you need in a CRM system? 3 key features for small businesses
Before we get into three of our favorite features for small businesses— all in the monday.com Work OS— let's cover some of the baseline CRM features. The following is a checklist of typical requirements you should have:
Contact management
Sales automation
Lead management
Business intelligence and reporting
Client interaction chatting
Now let's take a look at 3 key features of monday.com's small business CRM that can help you gain all the advantages discussed in the previous section.
1. Tool integrations
To create a single source of truth for your company's CRM strategy, you'll need to bring all of your other tools into the CRM platform. Tool integrations compile everything in a single application, saving you time from switching back and forth between windows.
With the monday.com platform, you can even set up workflow automation and marketing automation sequences between monday.com and your external tools, like this Gmail integration.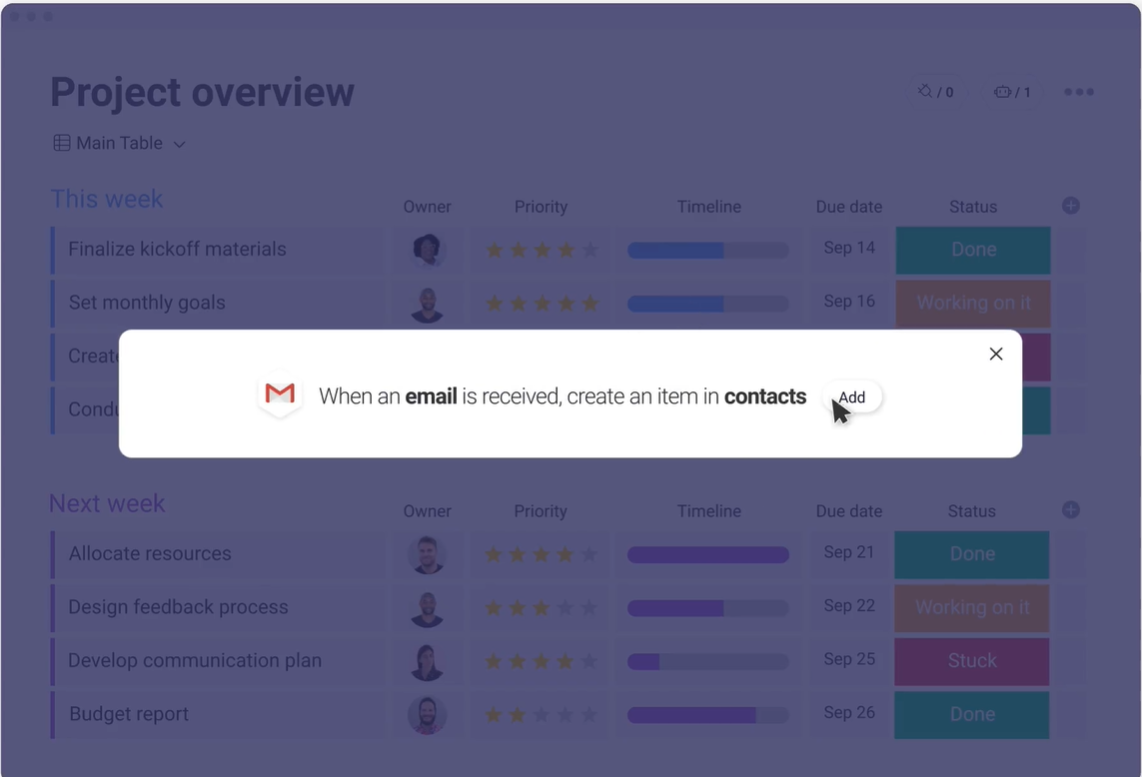 These are some of the types of external tools you'll be able to connect to your CRM tool built on the monday.com platform:
Communication tools like Slack, Outlook, and Microsoft Teams
Sales tools like Salesforce, Shopify, and Pipedrive
Marketing and social media tools like MailChimp, Hubspot, and Facebook Ads
Project management tools like Asana, Trello, and Toggl
File sharing tools like Dropbox, Google Drive, and Box.com
You'll also find integrations for creative design processes, software development, and more. Depending on the needs of your small business, you can use these integrations to conduct your work from a single application, or use them to import historical data from your old CRM or sales management tool.
2. Workflow automation
Workflow automation is at the heart of an effective CRM for small business.
By setting up automations for tedious manual tasks, your team is freed up to focus on revenue-driving activities. They can spend more time serving customers and less time hunting down information, following up with coworkers, or other common time-wasters.
Here are some examples of workflow automation that can benefit sales, marketing, or customer support teams:
Notify a sales rep when the company receives a new lead
Set up recurring task reminders for ongoing activities
Create follow-up reminders after a certain time period has passed
Send a welcome email to a new prospect
Update an item status on a certain date
You can also create automated outreach sequences for each prospect and customer (For example, using Spotio's Autoplays)
You can also connect these automations to your tool integrations. For instance, you can send notifications or follow-ups through Slack or Gmail.
3. Personalized communication
A good CRM tool goes beyond simple lead management. It should foster personalized communication between your business and your customers at every possible opportunity.
Strong contact management tracks everything about a customer's interactions with your business over time. This should include their name and contact information, their preferred method of contact, and the last time the company interacted with them.
You should include other notes or important facts as well. For example, in this customer profile on monday.com, we can see notes and information about how this lead contacted the company and what product he's interested in: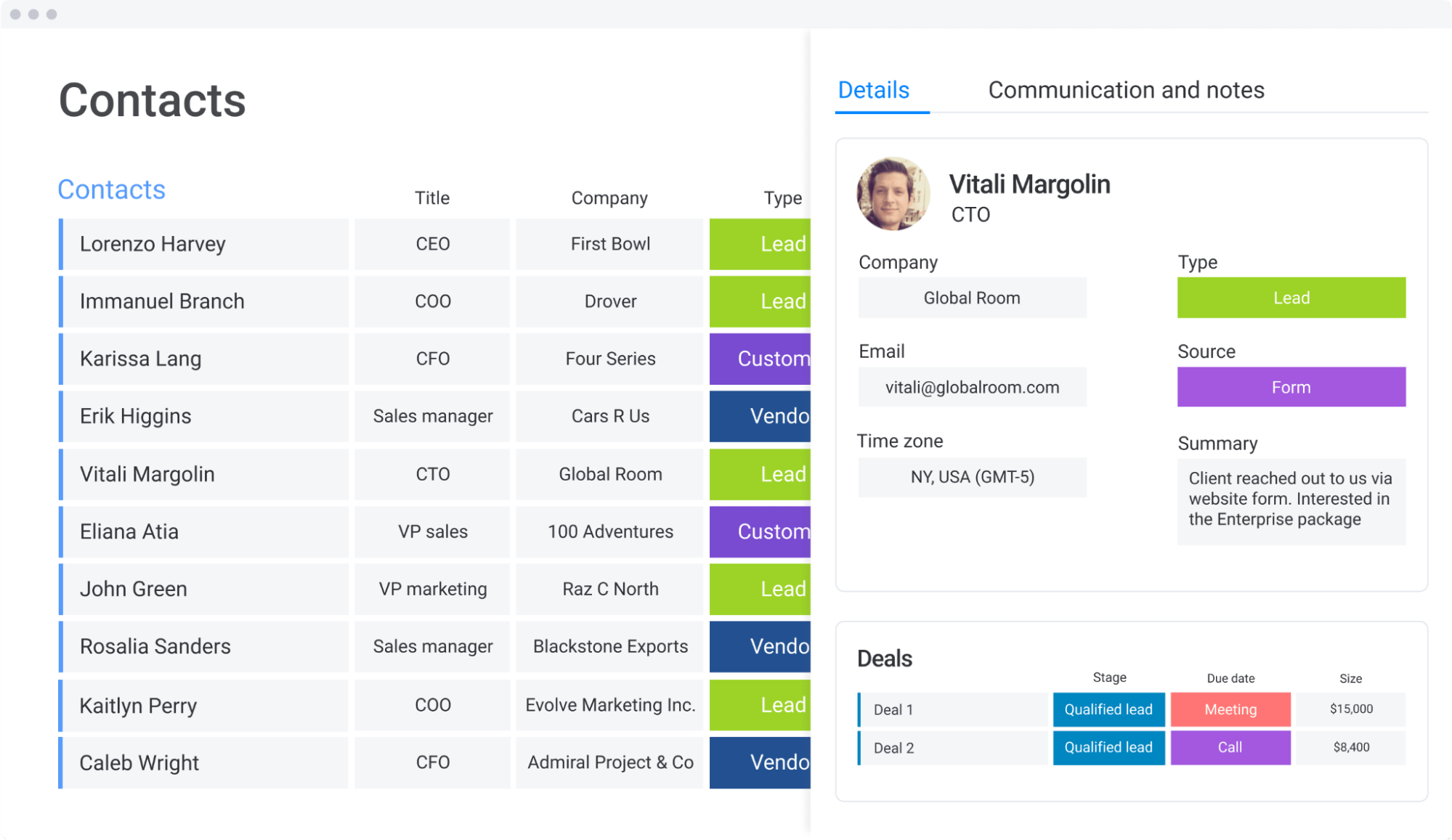 When you track your customer relationship this closely, it makes it easy to provide a seamless experience for every customer. Any team member, whether they're in sales, marketing, or customer service, can pick up exactly where a previous employee left off — even if they've never spoken to that customer before.
4. Pipeline management
You need a platform that helps you easily visualize your sales process so you can spot exactly where a prospect is in their buyer's journey, when they got there, and how long they've spent there.
Once you have this information, you can use it to track customers, automate notifications to sales reps, and tailor your communication for follow-up or customer support.
How do I choose a CRM for my business?
No matter what features your small business CRM has, these qualities are essential in a long-term, highly useful tool that will grow your small business.
Fully customizable: your CRM should match your business processes — not the other way around. A good CRM solution will let you manage sales activity, marketing campaigns, and any other facet of your customer experience in a way that makes sense for your business.
Flexible and adaptable: your team's needs will change as your business grows, so your CRM should too. Whether you need to manage more leads and sales or update your entire sales pipeline, your CRM should seamlessly adapt to how your business runs.
For instance, as you develop your sales funnel, you may find a need for tracking sales documents. In the monday.com platform, you can easily build a document tracker like the one below and immediately integrate it into your CRM system. You can also create your own documents that incorporate live dashboards, boards, and more with monday workdocs.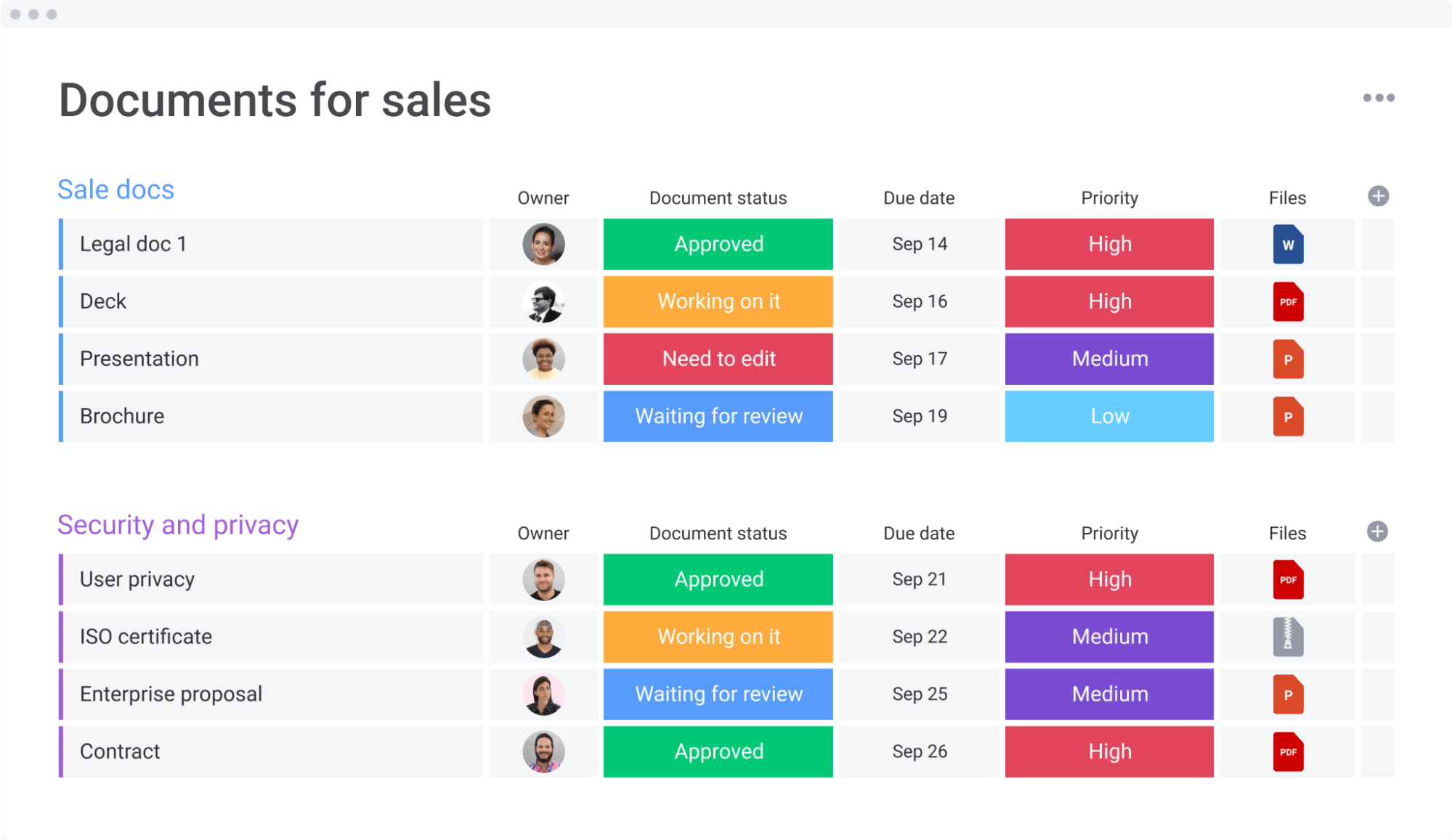 Easy-to-learn: no one wants to spend weeks learning a new tool, especially when a CRM is so critical to your business. The right CRM will have a shallow learning curve to help employees get up to speed as quickly as possible. Plus, 39% of employers say that when employees have easy-to-use technology, they're more engaged at work.
Collaborative: a good CRM empowers your employees to work well together by providing simple methods of communication between teams so they can provide the best customer experience. It should also play nicely with your external tools, so you can keep everything in one place.
Cloud-based: a cloud-based CRM gives you the freedom to access your data from anywhere in the world, while also making sure you'll never run out of storage as you add more leads and customers to your database.
monday.com is more than a CRM
monday.com isn't a simple tool or basic CRM software. It's a full-spectrum Work OS platform where any business can build the precise tools they need to get their work done. We've covered a lot of ways that your small business can use monday.com to build a custom CRM solution that works for you. But there's a lot more than monday.com can offer, from project management to software sprints to onboarding new employees.
You'll find views like Gantt charts and Kanban boards and comprehensive dashboards that pull data from across your company.
Email marketing can be simplified with automations and integrations, and you'll be able to connect previously siloed parts of your business by getting everyone on the same platform.
If the thought of building a custom tool sounds a little overwhelming, don't worry: monday.com has a huge template center with options for all kinds of business operations— there are 200+ templates growing and many of them were created by our customers. These templates give you the basic infrastructure and functionality you need to get started, so all you have to do is tweak it to fit your needs.
Build the right CRM for your small business on monday.com
The right CRM can have a powerful impact on your small business. You'll minimize business expenses while increasing sales and revenue, and best of all, both your customers and employees will be happier and more engaged than ever.
You can build a custom CRM solution on the monday.com platform to perfectly meet the needs of your business and your customers. With tool integrations, workflow automation, and personalized communication available in a single interface, your CRM can adapt to match your sales process in its entirety.
Start creating your CRM for small business faster with our free trial, no credit card required!