If you're running a nonprofit organization, volunteer engagement and volunteer management strategy should be at the top of your list. After all, volunteers actually play a vital role in helping nonprofits run smoothly.
Volunteer management software is an invaluable resource for nonprofits seeking to manage and better communicate with their key stakeholders, whether its boars members or your volunteer database.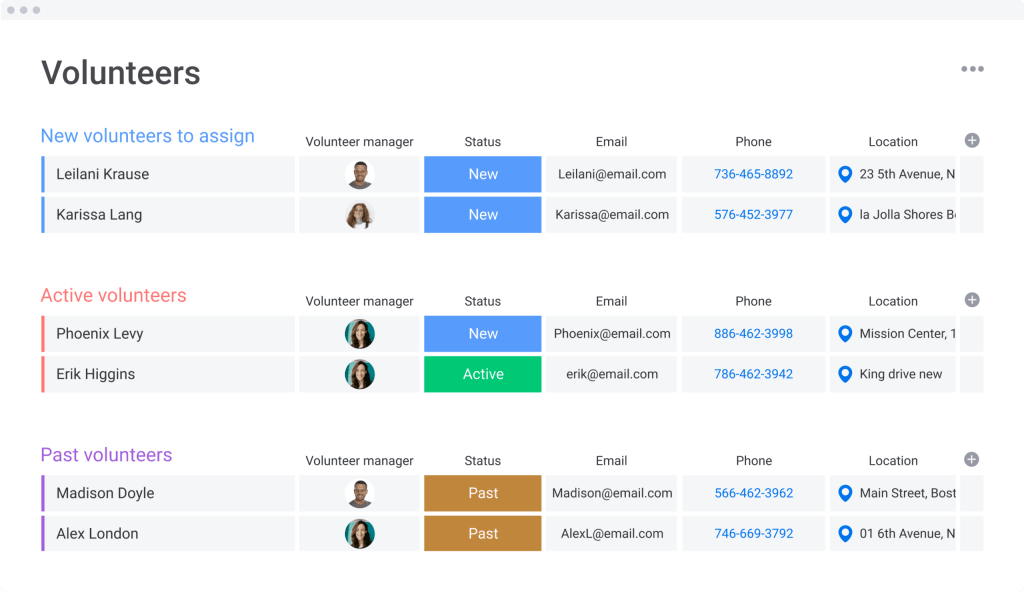 Why are volunteer management practices important?
Volunteers play an important role in nonprofits, even though they don't always contribute financially. Volunteers still have a major impact on the success of your organization because they serve as both resources and even free marketing, when done right.
To ensure that you retain and attract volunteers, you should prioritize engagement through a volunteer management and stewardship strategy. These days, with the help of software, you can not only manage volunteers but automate their processes and tasks to save time and resources.
What is volunteer management software?
This software works similarly to the way donor management software works, allowing you to recruit, engage, and monitor volunteers. Volunteer software does more than just store contact information. It is a valuable tool for your marketing and public relations efforts as it can help identify talent for various projects and events.
It can also help you categorize your volunteers by availability, gender, age, location, years of service, experience, volunteer hours and more. You can even add custom categories based on your needs. Profiles can be customized to include different filters, which enable you to quickly access volunteer lists based on specific skills, experience, or tasks.
The software also helps streamline processes and administrative work like training, scheduling, recruiting, and managing your volunteers. Ultimately, a volunteer management solution is there to support organizational functions and your relationship with volunteers.
What to look for in volunteer management software
The best volunteer management system should enable non-profits to manage the recruitment, scheduling, communication, and screenings of volunteers from a single system. Let's look closer at a few more key features and functions that you can also find on monday.com Work OS:
Smooth and seamless user experience: Think about things like easy onboarding, customization, and drag-and-drop builders to make it easy for your team to do the essential work, fast.
Communication tools: The abiliity to integrate email and build custom forms makes it easy to gather and send information within your organization and to volunteers.
Reporting: Analyzing volunteer activity, demographics, and more should be possible within the same platform you use to manage volunteers. Customizable dashboards are a must, too.
File storage: Create a knowledge base for important materials you need to send to volunteers, or even guidelines and policies your employees will need to refer back to.
Sharing permissions: In the case where your volunteers will actually use your platform to do their service, it's crucial to have the ability to choose what stays private.
Integrations: Keep using your most-loved tools while integrating them into one organized workflow.
Automation:
Best practices for your volunteer management practices
When managing volunteers, it is important to understand and follow the latest best practices and guidelines. Here are some ways to stay on top of volunteer management through best industry practices:
Launch multi-channel marketing campaigns
Use this approach either to recruit new volunteers or engage your existing volunteer base over the long term. It is also a great opportunity toleverage your existing online channels while partnering with other organizations to attract new volunteers.. Some of the most popular forms of communication channels non-profits can use include:
Email: Use your mailing list to get in touch with previous volunteers you've worked with in the past. Reach out and make them feel appreciated by allowing them exclusive access to any available volunteers positions at your organization. When sharing your email correspondence, make sure to let the recipient know you are in search of new recruits and to share this information with friends and family. You could even offer a referral gift as an incentive to get people to share your message.
Website: Your website should be updated regularly with the latest opportunities. This provides interested volunteers with up-to-date information on open positions and allows them to apply directly or get in touch via your contact page — monday.com makes it easy to create and embed a form for that purpose.
Social media: Use social media to launch formal recruitment campaigns that are engaging and bite-sized for your followers — you can also make the recruitment link available via your social media posts, allowing users direct access to your website's sign-up page.
Optimize your training and onboarding process
Many non-profits deal with the common issue of volunteers showing interest, attending training and not coming back. In this case, maybe it's time to re-evaluate your training and onboarding process. Once all training has been completed, it is important to get feedback from the volunteer to gauge whether it was effective. The objective of the training should be to get your volunteer ready for the role and help them achieve their goals. Anything more will make them feel like their time is being wasted.
How does volunteer management software benefit volunteers?
Volunteer management software benefits volunteers because it makes it easier for organizations to engage volunteers with content and volunteer opportunities that really matter to them. It also takes away many logistical headaches and makes it easier for volunteers to know what they are doing, where, and when in a central place instead of chasing down different streams of contact. Finally volunteer software makes it easy for teams to schedule volunteers efficiently, so there aren't overlaps or time wasted due to over or under scheduling tasks across volunteers.
Click here to check out some of monday.com's volunteer management software success stories.
What to look for in volunteer management software
The first thing you should look for in a volunteer management system is usability. Make sure that whatever platform you choose is easy-to-use so that there is minimal time spent on training and onboarding. Do some research to find the software package that best suits your needs. Some things to look out for include features like an intuitive dashboard, clear and readable analytics and reports, customization, and user-friendliness, among others.
We also suggest choosing software that boasts multiple tools for scheduling, tracking volunteers, assigning tasks, storing information, and notifying volunteers of any new action required by them. The software system must also have the functionality to communicate with volunteers through private messaging, bulk email, or message boards and forums. There have to be both private and public forms of communication in the system.
Manage volunteers with monday.com
With this volunteers template, you can manage your volunteer management strategy in one centralized and intuitive board.
To get started with developing a volunteer database, use a customizable form
Manage all incoming, current, and past volunteer data, filter by skills, and see at a glance availability, capacity, and contact information
Track every step of your volunteer management work