The objective of a defined CRM process goes beyond making sales. Truly great CRM (customer relationship management) — the kind that turns strangers into loyal fans — focuses on building genuine, long-term relationships of mutual trust and service.
Sadly, many of the modern customer relationship management software available focuses too much on the conversion side of the process and neglects the operational factor — all the activities that are essential to managing the customer relationship from start to finish. In this blog, we'll showcase monday.com Work OS, your essential tool for building a custom CRM solution to improve sales performance and strengthen your organizational structure for better relationships in the long run.
Why is building a custom CRM crucial for modern teams?
We live in a hyper-accelerated world. Most markets are oversaturated, customers demand better and faster results, and processes evolve with unprecedented speed.
To keep up with the increasing volume of tasks and constantly changing demands of the market, companies rely on a variety of apps and tools, which is becoming a true problem. The average organization uses 137 SaaS platforms to operate.
With so many platforms, companies struggle to work efficiently while providing the best customer experience.
By building a custom CRM that meets the exact needs of your organization and integrates all your information into a single place, you can reduce the number of platforms your team operates with and, thus, increase your overall efficiency.
Besides, truly customizable systems like monday.com allow you to optimize your workflows way faster and focus on what really matters: building long-lasting relationships with your customers. In the next section, we'll cover core functionalities to look for that can improve:
Project and team management
Hiring
Team training
Marketing automation
Post-sales experience
Key features to look for in a CRM
Now that you understand the importance of CRM software, the question becomes: how do you understand which one has the right mix of features?
In short, CRMs that provide comprehensive value should have three categories of features:
Traditional CRM features
Operational features
Post-purchase features
By bringing these three worlds together, you'll be able to manage all the different touchpoints involved in the relationship from one central hub. Let's break down each of these categories.
Traditional CRM elements
The traditional CRM process focuses on qualifying leads and closing more sales. To do it, most CRM systems offer the following features:
Pipeline management: to control and manage each customer interaction
Tracking: to measure current progress to optimize the strategy and understand your results
Quoting: to calculate quotes and forecast potential revenue
Reporting: to produce custom reports for both your team and stakeholders
Scheduling: to organize your work and meet deadlines
Operational essentials
Without solid processes in place, your CRM efforts can grow pretty chaotic. To effectively manage customer relationships, you also need operational features, including:
Marketing operations: to coordinate all the activities involved in your marketing campaign and remove silos between sales and marketing
Project management: to control and organize the entire life cycle of your sales projects
Team task management: to assign tasks and responsibilities to team members
Team training: to keep your team updated with your processes and practices
Post-sales experience
Many organizations believe that CRM ends when the prospect becomes a customer. Account executives and managers alike, however, would assert that the relationship is just starting. To turn customers into evangelists of your brand, you must provide the best post-purchase experience. Some helpful features include:
Account management: to nurture client relationships and increase customer loyalty
Customer service: to solve potential issues and help your customers
How to build the perfect CRM for your team with monday.com
Let's explore how monday.com can help you build a custom CRM system that fits your exact needs.
Project, team, and account management
As your business grows, so does the complexity. A solid project management process helps create an organized workflow and a standard for measuring your actual progress.
For example, with monday.com, you have the opportunity to manage the entire customer journey from start to finish. We provide you with full project management functionality to structure your work and manage your team in one place. We help you merge CRM with project and account management, so you have more control over each deal and process.
monday sales CRM is easy to set up, customizable, and designed to save you time while gaining visibility into all related processes like:
Sales pipeline
Contact and lead management
Lead capture
Customer projects
Marketing activities
Customer onboarding
Other team tasks and projects
We'll dive deeper into a few of these below.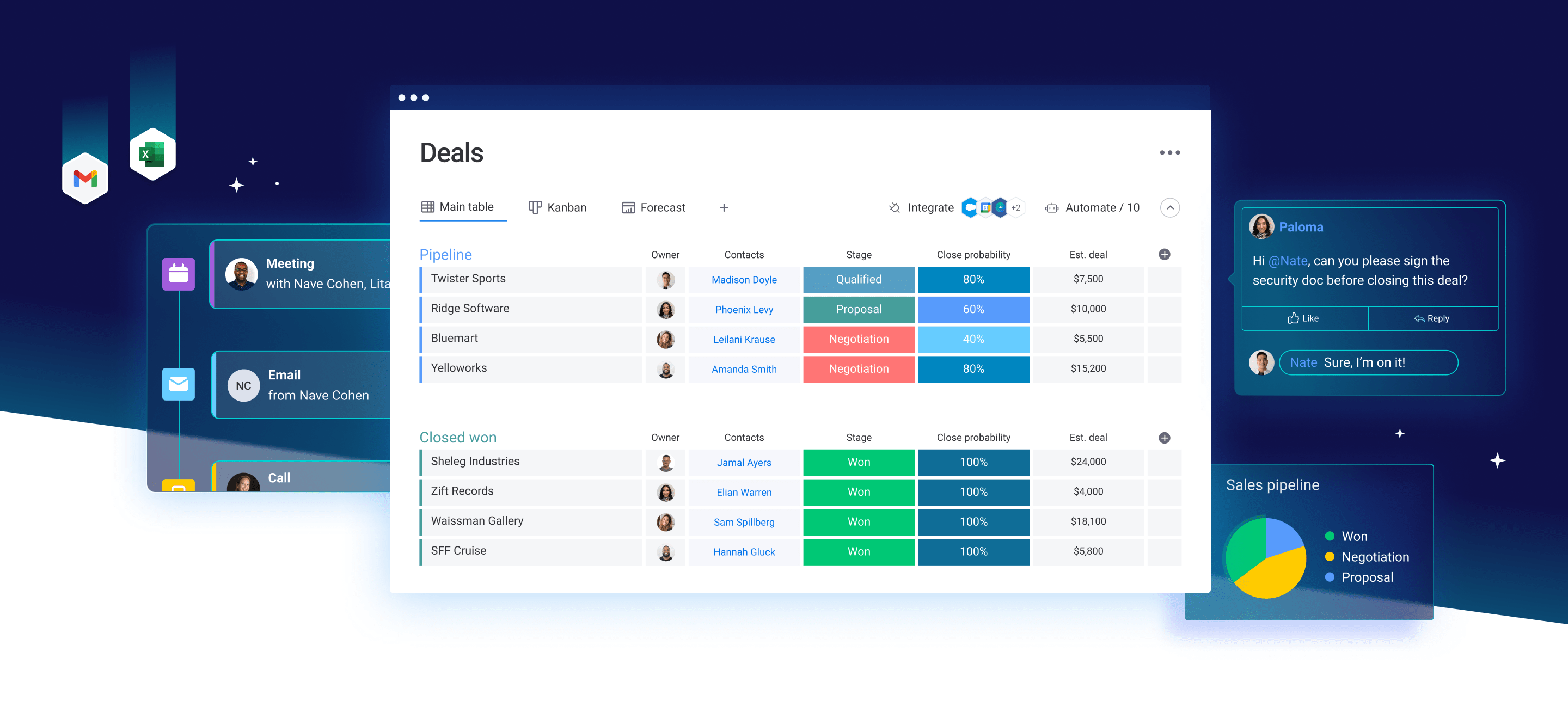 Contact management and activity logging
As you may imagine, contact management is an essential element of CRM. The problem is that most CRM platforms out there simply store your customer data but don't provide you with detailed information about customers, let alone the entire history you've had with a specific lead.
At monday.com, we go beyond contact management and help you build enhanced customer profiles — we call them "contact cards" — where you can see the context behind each deal, as well as all the past interactions you've had so far.
This is especially helpful to strengthen the relationship with current customers and increase your conversion rates by providing a more personalized experience.
Pipeline management and sales forecasting
Pipeline management is the process of organizing your leads based on their level of awareness about your company and where they are located in the context of your sales funnel. A solid pipeline will give you more control over your sales process and help you forecast potential revenue based on past behaviors, like average conversion rate or customer lifetime value.
To build a more effective CRM, you must develop a strong sales pipeline first.
Lead capture
Any great CRM platform must provide you with lead capture capabilities. Otherwise, you'll have a hard time "pulling" customer data from other systems and then sending that information to your CRM.
monday.com gives you the ability to create custom lead capture forms that will import a lead's information into a monday.com board automatically. This way, you can save time and increase the accuracy of your contact cards. These forms are fully customizable, and you can add extra fields to capture any type of information, including email, phone number, country, company size, and more.
Advanced dashboards
The only way to optimize your strategy is by understanding your current level of performance. By spotting bottlenecks and problems, you can adjust your processes accordingly. That's why having advanced reporting dashboards is crucial for any effective CRM solution.
When you run your CRM processes on monday.com, you get access to over 20 dashboard widgets to visualize the information that's most relevant to you. For example, you could use our Chart Widget to track generated commissions by individual sales reps. You could also add a Map Widget to track the countries where you have the most clients or customers. You can even track your top referral sources by using a Pie Chart Widget.
Powerful automations
Workflow automation is the competitive advantage of modern organizations. Mckinsey, a global business consulting firm, found that 3 out of 10 activities in 60% of fields can be automated.
What does this mean for you?
By automating your most repetitive tasks and activities, you can increase your productivity overnight — literally.
For example, at monday.com, you have the opportunity to streamline and automate over 250,000 human actions, including:
Status changes
Recurring tasks
Deadlines
Item creation
Notifications
Marketing automation
And more.
This provides you with the level of flexibility you need to automate any type of workflow, regardless of its complexity.
Email communications
At monday.com, we understand how important it is for your organization to communicate with your team and clients via email. That's why we offer full email capabilities from the start so you can email your customers without leaving the platform. You can also explore the history of communication you've had with customers. This helps you write more personalized emails, as well as make sure nothing slips through the cracks.
Fully customizable interface
Finally, you need a truly customizable interface. This definition of course needs to extend beyond customizing colors and shuffling the layout — it needs to truly be customizable to fit your exact business needs.
For example, at monday.com, you get access to:
8 board views
250,000 automation recipes
20+ dashboard widgets
40+ integrations
30+ column types
You can use all these "building blocks" to design a digital workspace that feels just perfect for your team.
Our entire interface comes in with built-in drag-and-drop functionality so you can build your platform quickly, even if you don't know how to code.
Ready to build your own CRM platform?
To build long-lasting relationships with your customers, you need a system that centralizes all your information into a single source of truth and helps you work in a way that makes sense for your organization. With monday.com's fully customizable features, building a CRM that fits your exact business needs is easier and faster than ever.