A custom sales
management software
Empower your team with robust sales management software that's fully customizable to fit your needs. From lead scoring and lead management to deal closing, use our building blocks to create your dream CRM platform and drive real impact.
5 benefits of our sales management system
Our fully customizable platform lets you handle all your work in one place. Create your ideal sales management platform in minutes from ready-made templates or easily tailor any pipeline, workflow, and process to drive real business impact. Here's what you'll get on monday.com:
Centralized data that is accurate & easy to access
Easily tailor your CRM to suit you, without any development help. Organize customer data in a way that makes sense for sales management, marketing activities, and more to close deals.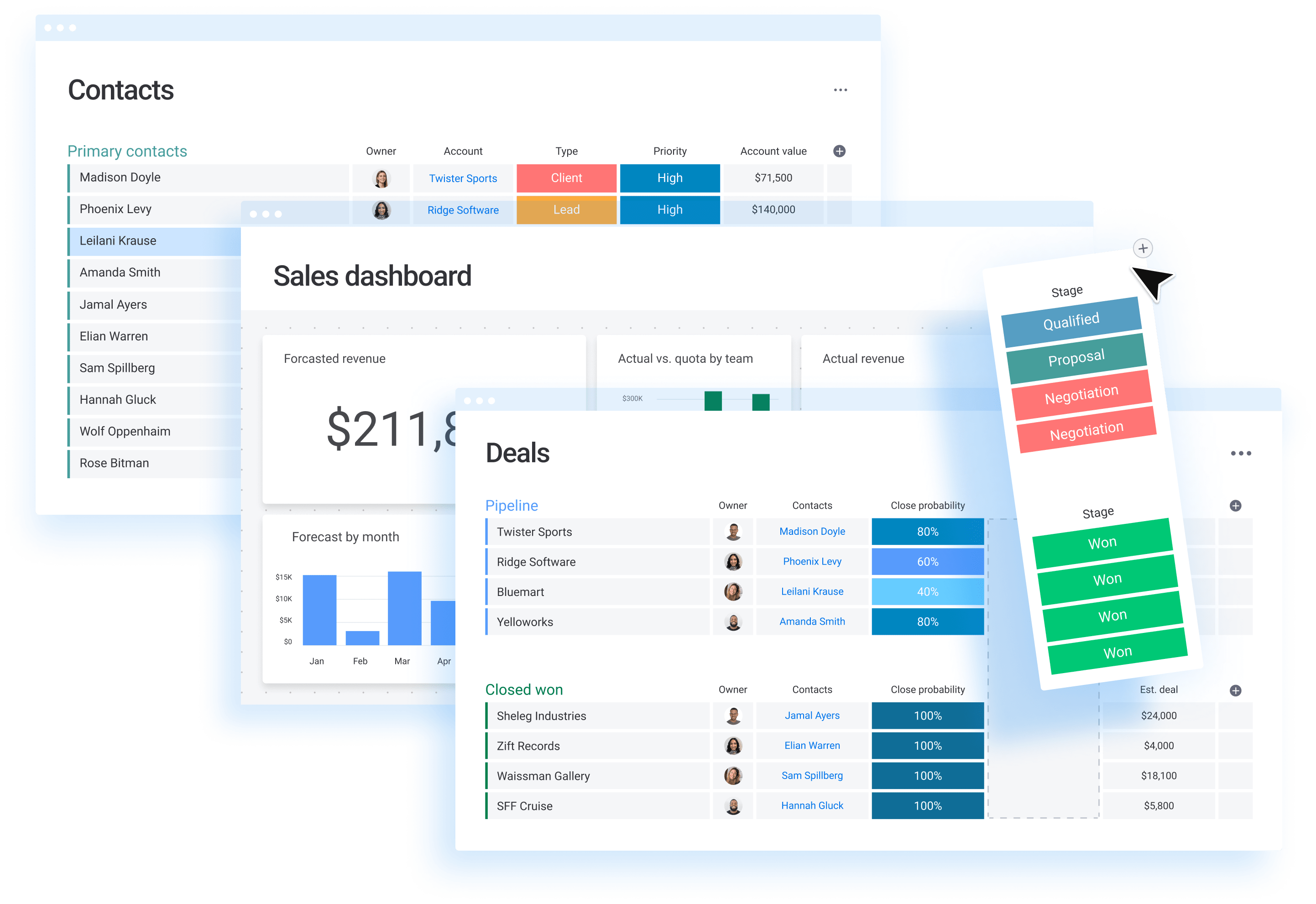 Time saved with custom sales process automations
Reduce the amount of time spent on tedious but important work like manual input of data or sending follow-up emails so your sales team can focus on making sales. It also makes for easy pipeline management for sales leaders.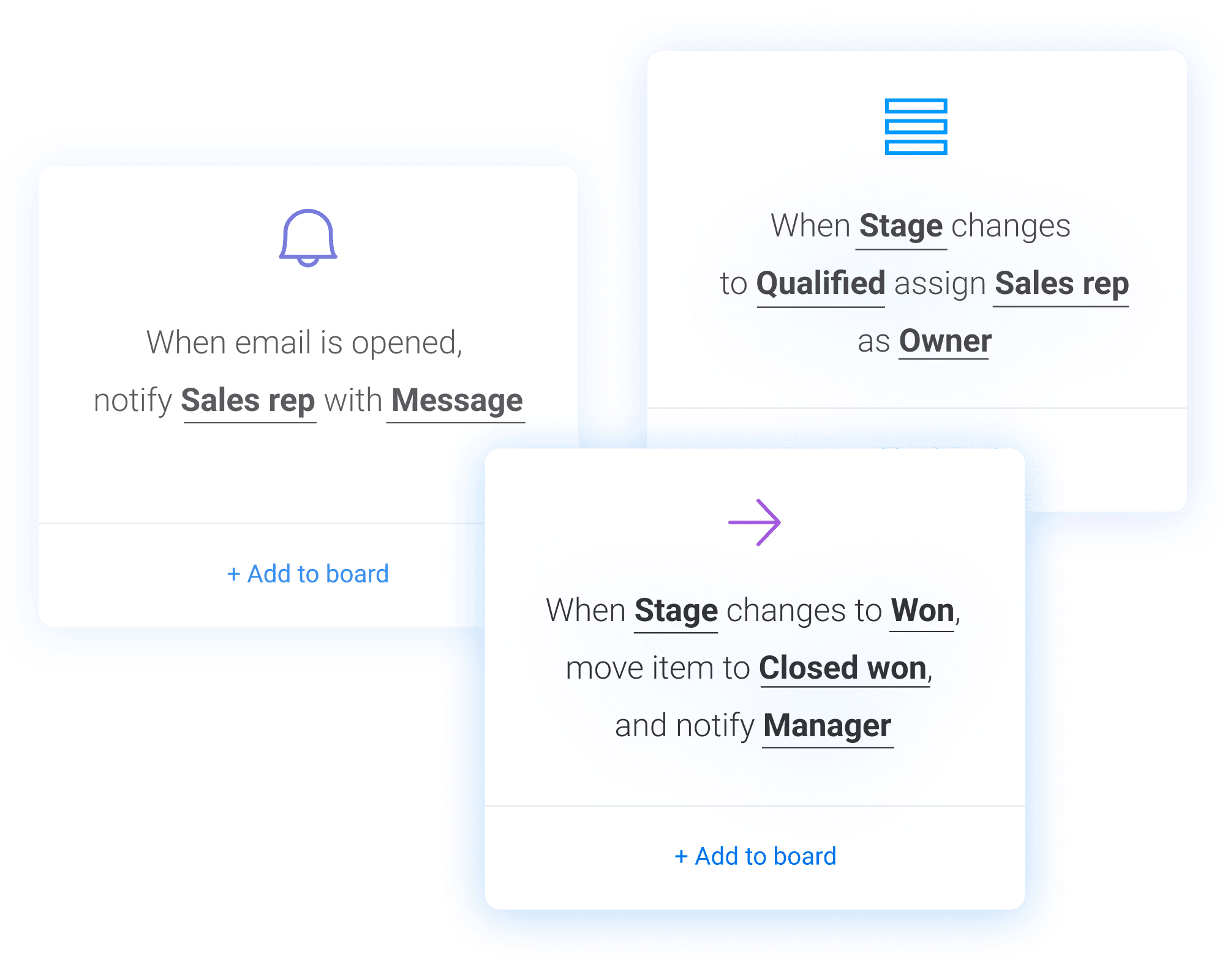 Streamlined & custom sales email flows
Communicate efficiently with your contacts and leads with email integration. Automatically log sent emails, keep track of conversations, and use personalized email templates.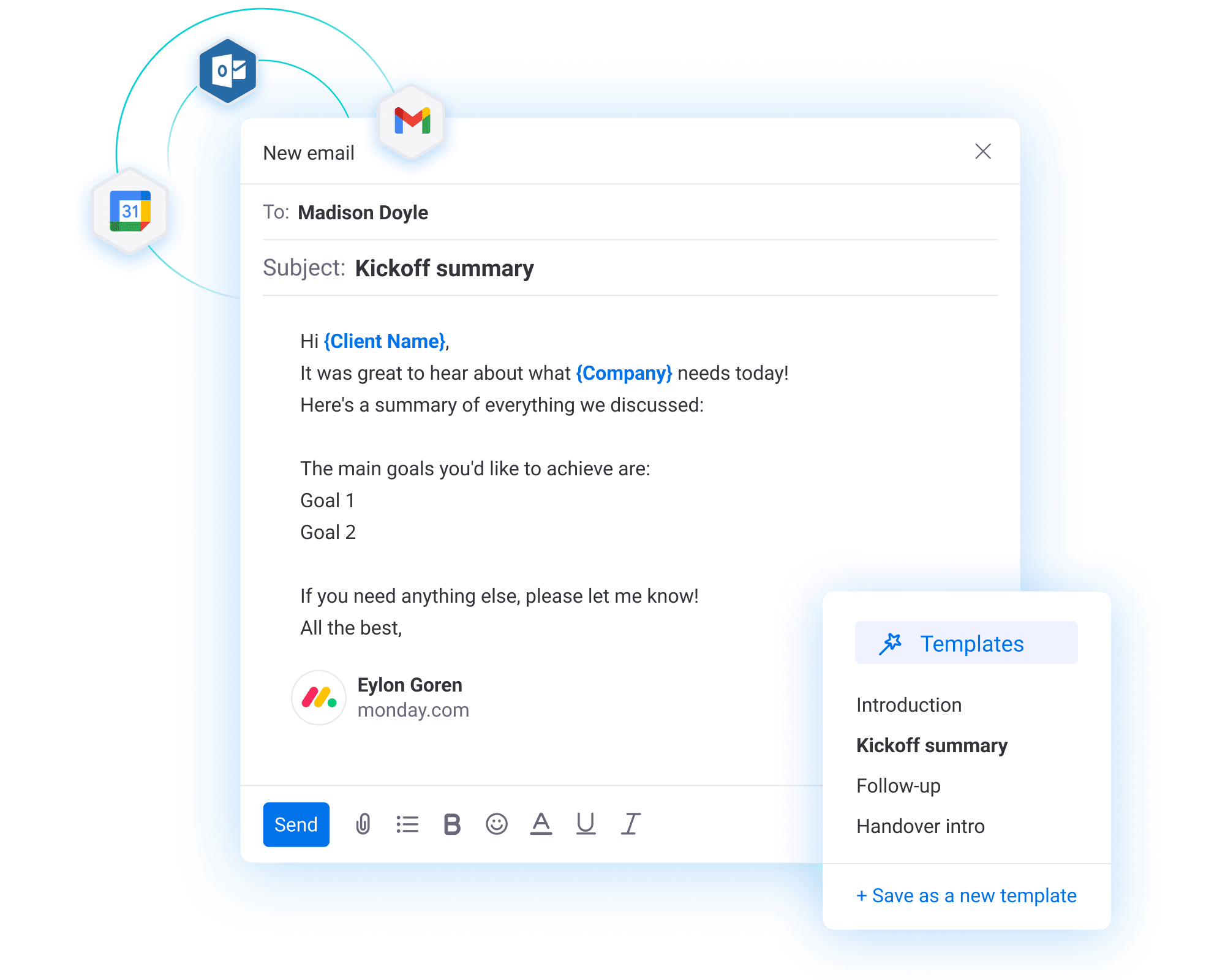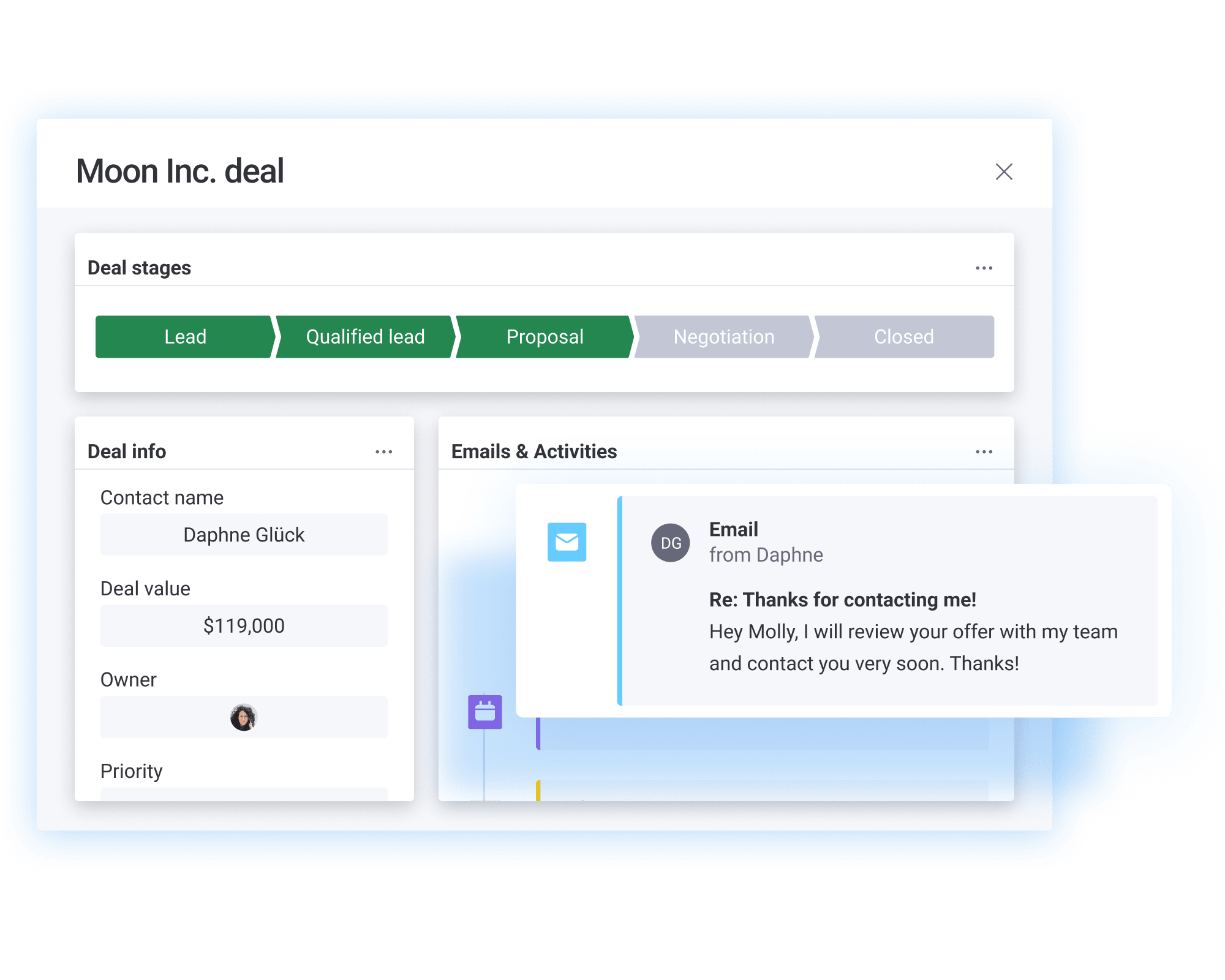 Accurate customer overviews
at your fingertips
With a single click, quickly access the most important information you need to close deals. As a sales team manager, easily drop in to view contact details, understand deal progress, and what needs to be done next.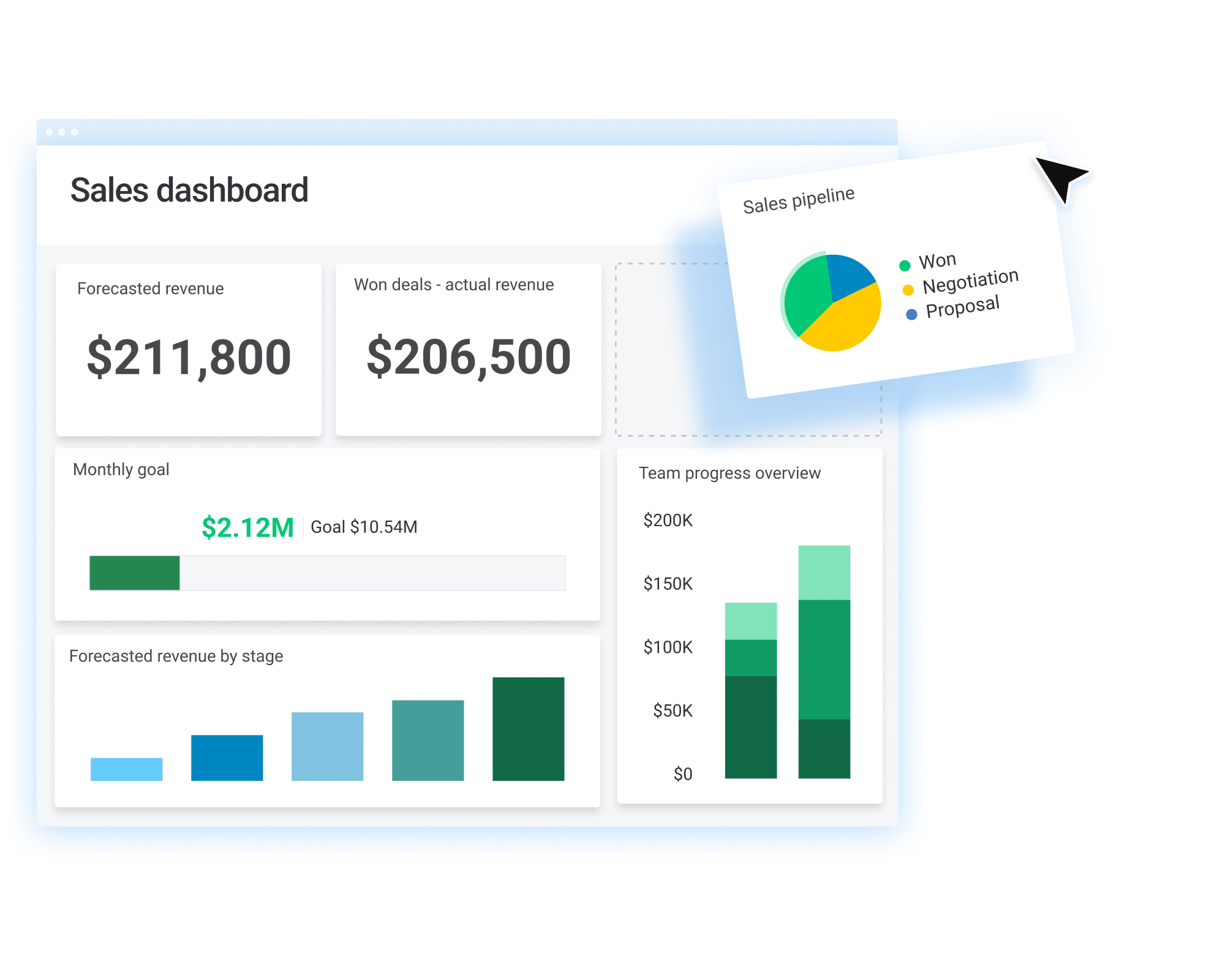 Automated sales forecasts via customizable dashboards
Easily build dashboards in real-time with no development help to create sales performance reports. Gain insights into where deals stand, expected revenue, your team's areas of weakness, quarterly goals, and more.
6 functions for effective sales management

Lead management
Collect leads from any source, organize and qualify every lead in one place, and automatically score them based on criteria of your choosing.

Deal management
Customize your pipeline without needing to involve developers, easily drag and drop deals to different stages, automate manual work, and track all contact interactions.

Client management
Support superb account management. Keep contact records and account information, log activities, and send emails—from one easy-to-use platform.

Post-sales management
Manage all of your post-sale activities in one place, to stay informed of client projects, collection tracking, operational processes, and more.

Onboarding sales operations
Plan and expedite your sales hiring process, and continue rep's educational development with the tools and resources they need to close more deals.

Team projects and tasks
Manage and collaborate on sales and marketing projects to capture leads, drive them down the funnel, or keep existing customers engaged.
6 best software for sales management
See how our intuitive and scalable sales management software is a cut above the rest. Click through our comparisons with 6 of the best sales management systems out there.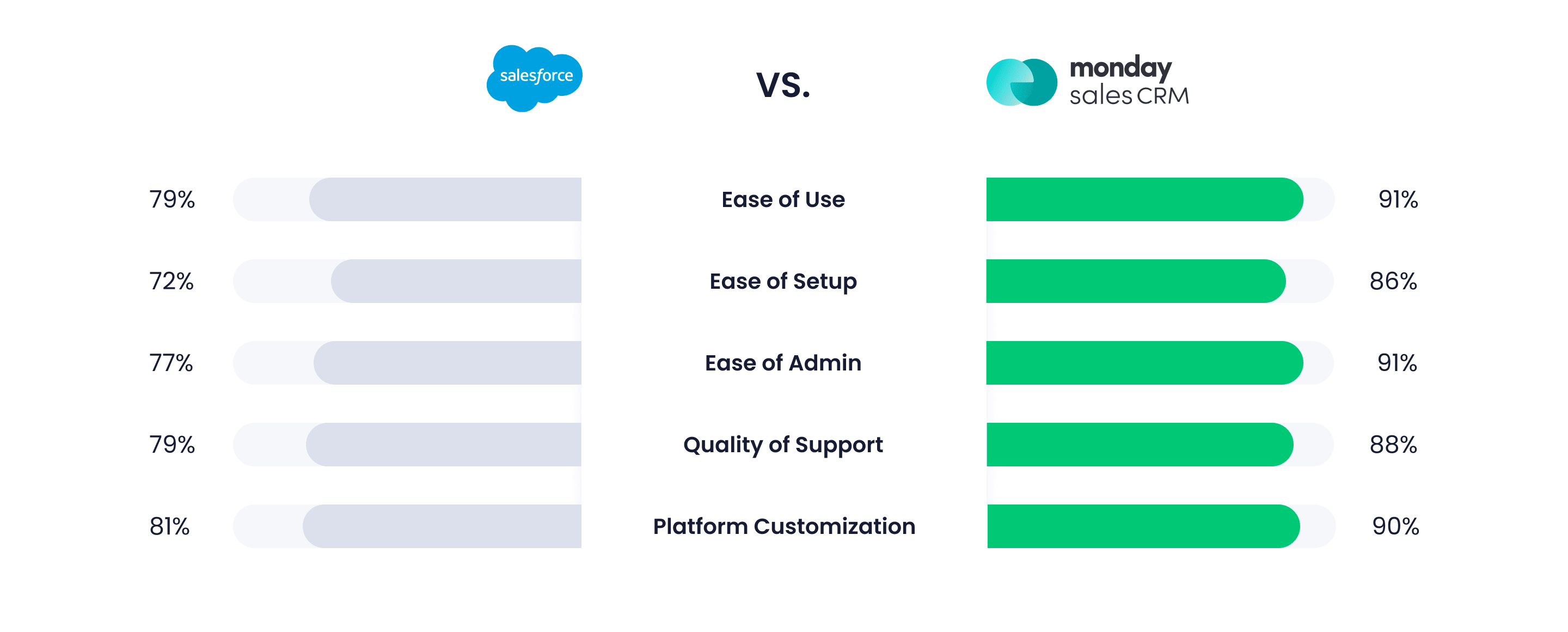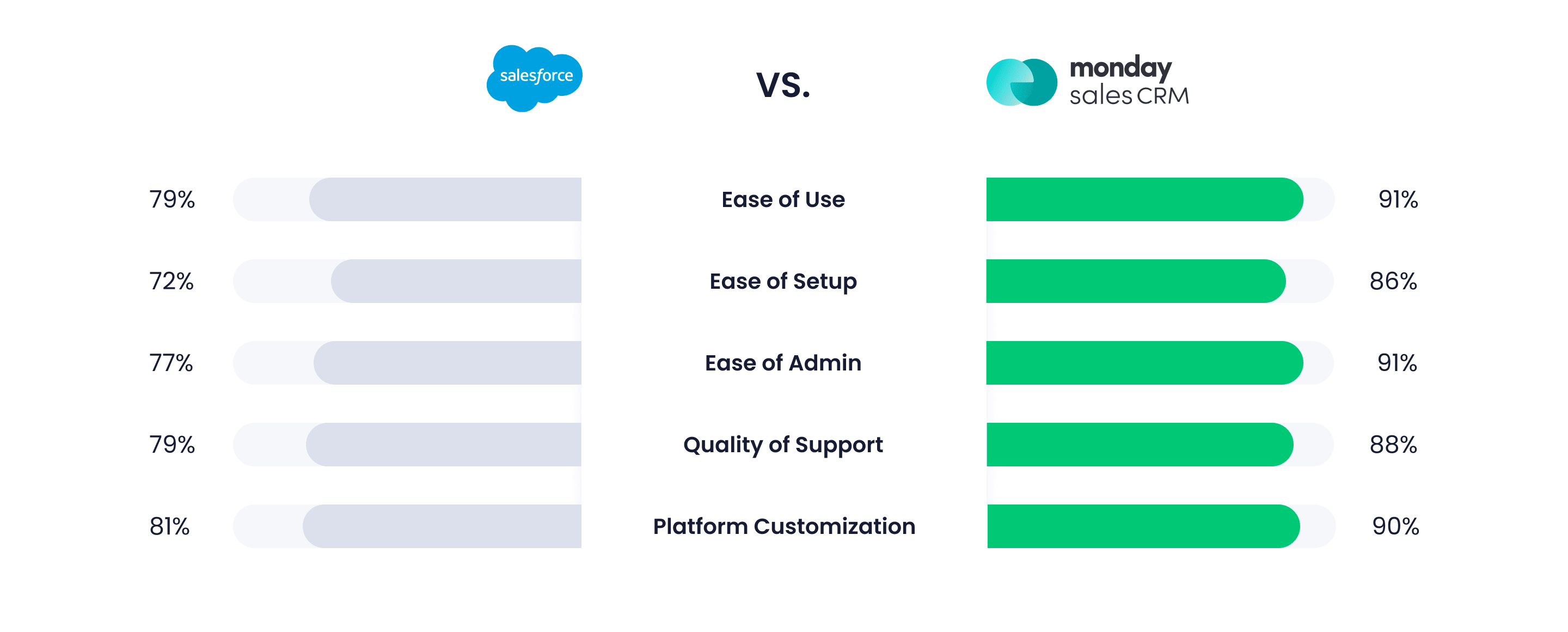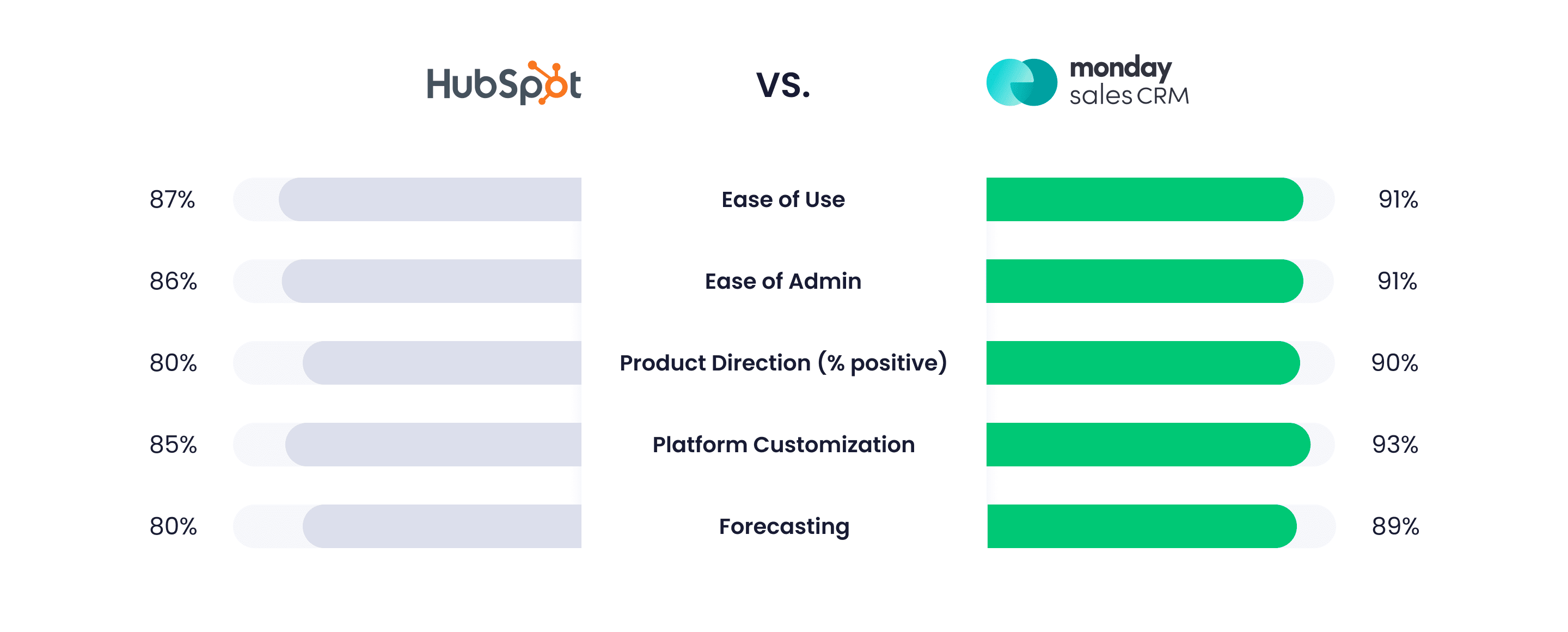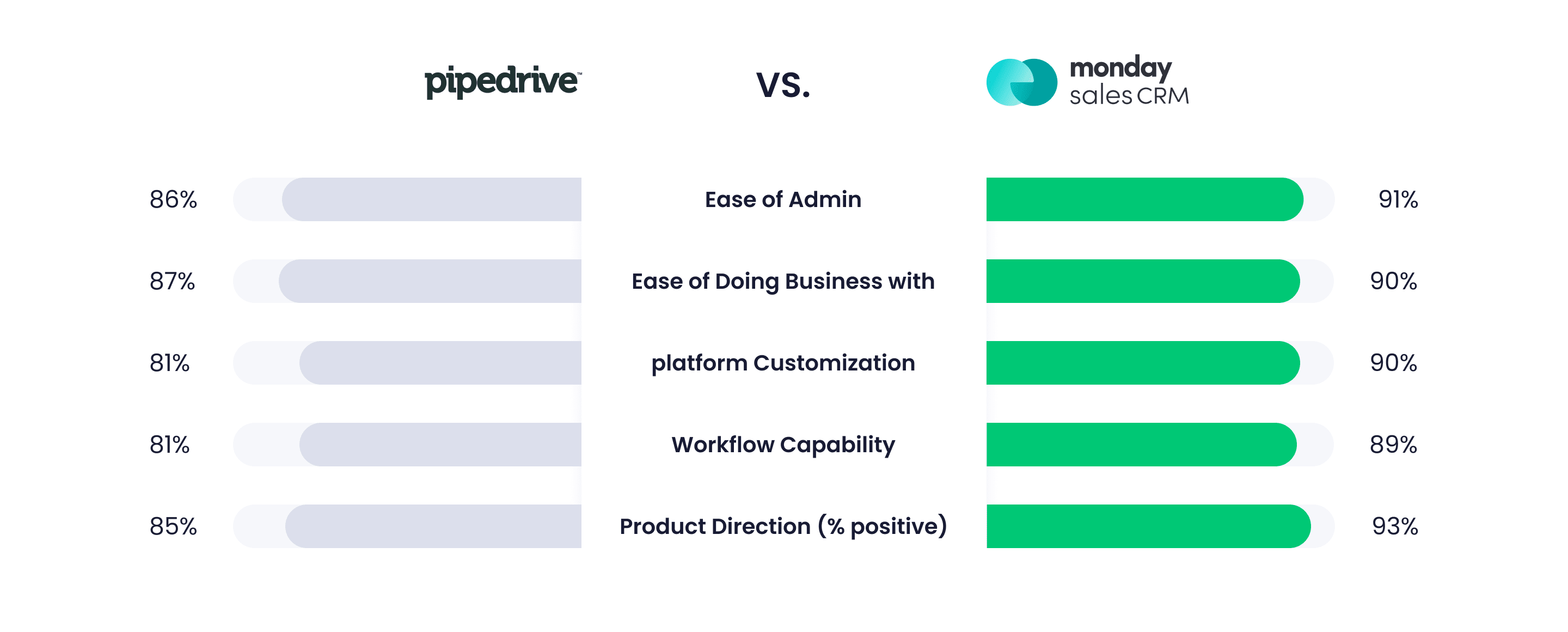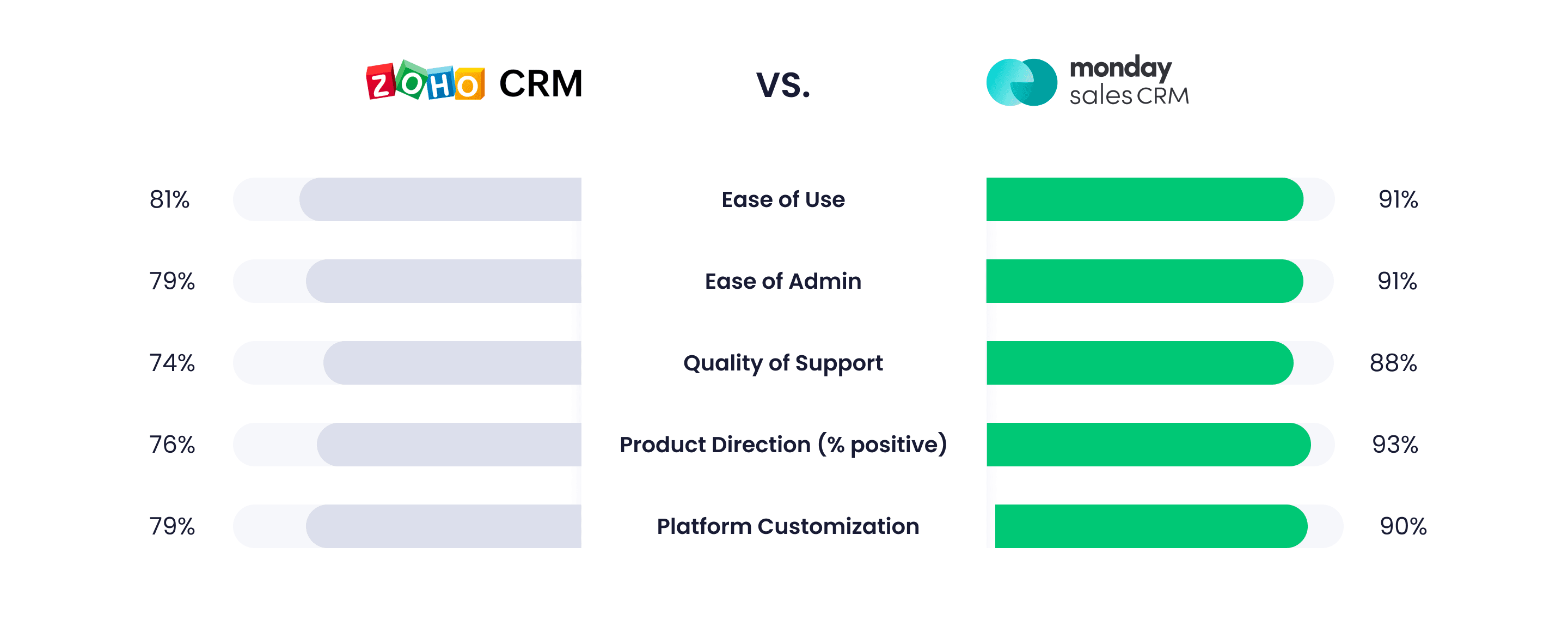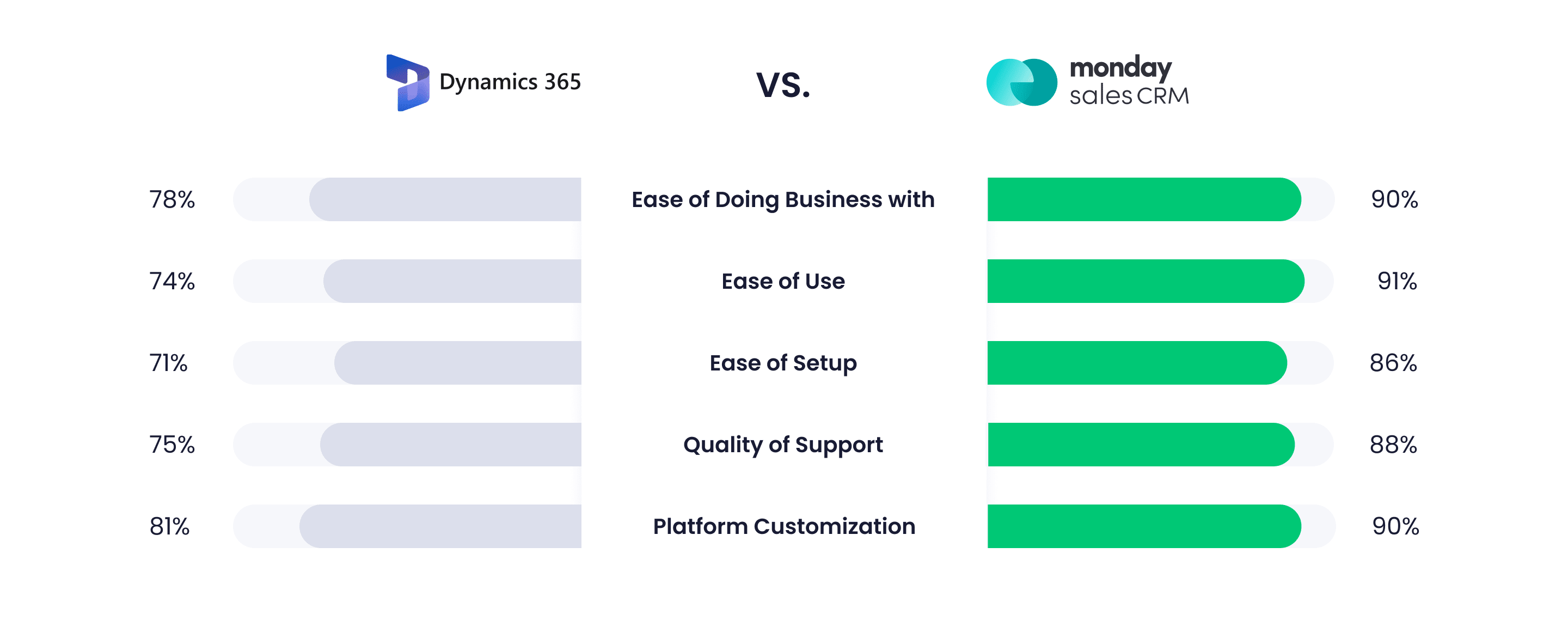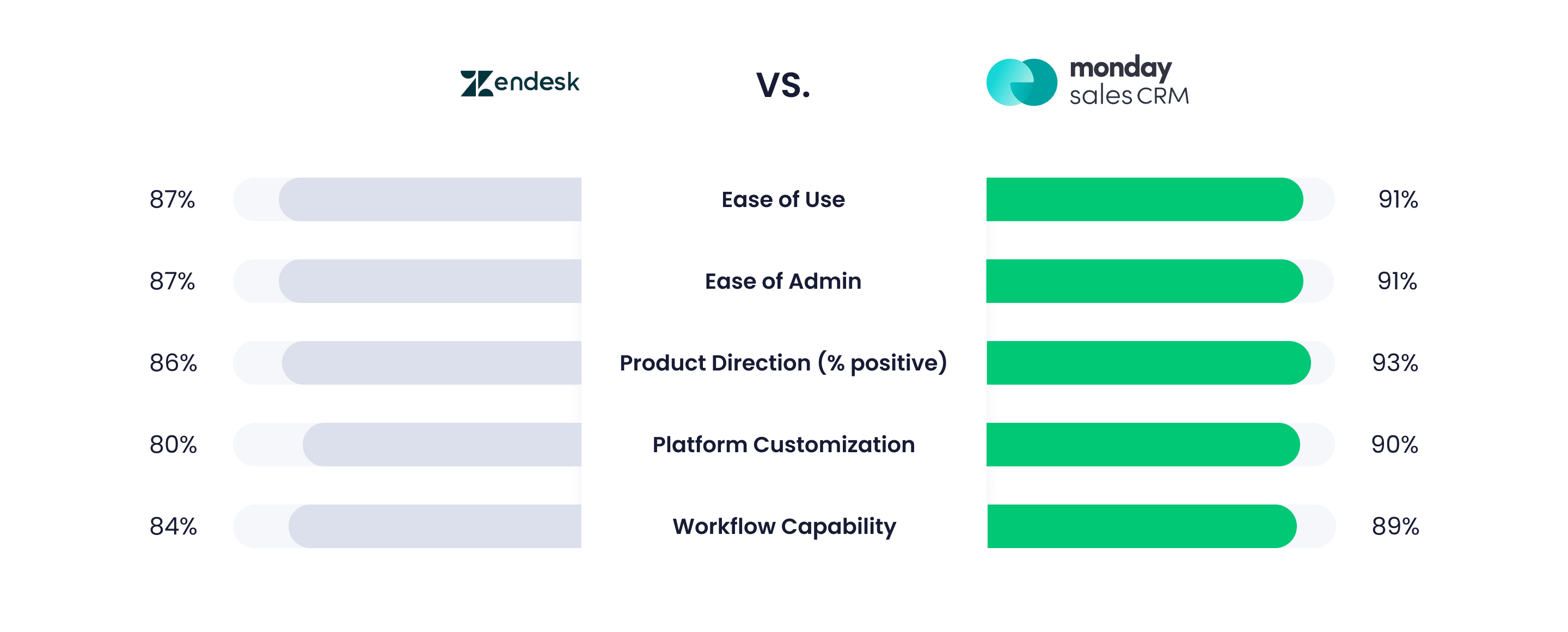 Frequently Asked Questions
What is sales management software?

Most sales management software will have lead generation tools, client management (or a sales CRM), and post-sales tools. The robust options however—such as monday.com— will also have automations, plenty of views, dashboards, and other features to fully customize your operations.

What are the best sales management software?

There are several sales management software on the market, but many lack the flexibility of a Work OS. A few of the best platforms include:
monday sales CRM
Freshsales
HubSpot Sale
Salesforce CRM
Pipedrive

What is another name for sales management software?

A CRM of customer relationship management tool may be an alternative name, because it includes many (if all) of the same features as a sales management system that can scale with you as you grow. Enterprise-friendly sales tools are easy-to-use platforms that give your team the full picture of their efforts at a glance and provide them with everything they need for pipeline management and customer retention.
The right sales management software for your team
monday.com helps over 152K customers work without limits. Create your customized CRM software and easily access the data that will contribute to your company's bottom line.