Gone are the days of sending letters, dialing fax machine numbers, or tapping telegrams to communicate with colleagues. Thanks to modern technology, we can use direct messaging functionality to communicate with people on the other side of the world in real time.
Slack is a popular messaging platform that has revolutionized the ways teams and businesses keep in touch. However, as competition in the market increases, so does the availability of alternatives that offer similar or better features. This guide introduces ten Slack alternatives, including monday work management as a powerful solution.
What is Slack?
Slack is a messaging app that businesses use to stay connected. The platform launched in August 2013 and has since amassed 32.3 million active daily users who spend an average of 9 hours logged in there. Depending on an organization's communication policy, workers might use Slack synchronously by typing messages or taking calls in real-time. Alternatively, distributed team members can use it asynchronously to catch up on conversations during their own work hours.
Slack features
Slack allows users to have text-based conversations via group channels or direct messages. Workers can also share files or make audio and video calls, known as huddles. If you need to extend Slack's functionality, the tool integrates with many other popular work platforms, including monday.com.
Slack pricing
Slack offers a free version with 90 days of message history to test the functionality before you upgrade to a premium tier, such as:
Pro: From $7.25 per user/mo billed annually.
Business+: $12 per user/mo billed annually.
Enterprise Grid pricing is available on request.
But Slack's pricing and functionality won't appeal to everyone, so here are 10 Slack alternatives to consider instead.
1. monday work management
Best for: Holistic work management.
monday work management allows organizations and their team members to reach shared goals at speed.
Using powerful building blocks, our platform enables you to design any workflow, process, or strategy you need to execute the perfect plan on time, every time.
Key features
Global accessibility: Available in 14 languages for a diverse user base, across 186,000 customers worldwide.
Comprehensive features: Manages projects, tasks, business operations, resources, project portfolios, goals, strategies, and approvals to cover all aspects of work management.
Integration capabilities: Supports 72+ integrations, including Slack and other popular tools for seamless workflow connections and communication across different platforms.
Pricing options
monday work management offers a 14-day trial which gives you access to unlimited boards and users with no credit card required. Once you're ready to upgrade, four separate premium tiers are available to suit your needs.
Basic: $8 per seat/mo for a minimum of 3 seats. Includes unlimited viewers and items, 5GB file storage, and prioritized customer support.
Standard: $10 per seat/mo. Includes Timeline, Gantt, and Calendar Views, guest access, 250 automations and integrations, and a dashboard combining up to 5 boards.
Pro: $16 per seat/mo. Includes private boards, Chart View, time tracking, formula column, 25k automations and integrations, and a dashboard combining up to 10 boards.
Enterprise pricing is available on request. Includes enterprise-scale automations and integrations, multi-level permissions, enhanced security and governance, tailored onboarding, premium support, and a dashboard combining up to 50 boards.
2. Google Chat
Best for: Real-time communication within the Google Workspace.
Google Chat is a communications app that team members can use within Google Workspace, formerly G Suite. If you're already using Google Workspace, using Google Chat as a Slack alternative is a no-brainer.
Key features
Threaded conversations: Focuses discussions using threads within dedicated Spaces.
Group chats: Offers exclusive group chats for private discussions, similar to direct messaging in Slack.
Video collaboration: Integrates with Google Meet for real-time chat during video conferencing calls.
Pricing options
Google Chat is free as part of the Google Workspace subscription, including access to Google Docs, Google Drive, Gmail, Meet, and more. Following a 14-day trial, pricing for Google Workspace is:
Business Starter: $6 per user/mo with a one-year commitment.
Business Standard: $12 per user/mo with a one-year commitment.
Business Plus: $18 per user/mo with a one-year commitment.
Enterprise pricing is available on request.
3. Chanty
Best for: Team messaging with a focus on simplicity.
Chanty is a free platform aimed at small businesses with bootstrapped budgets. It's popular across multiple industries from marketing and coaching to property management and restaurants.
Key features
Teambook: A unified hub for storing conversations, pinned messages, and tasks you need to find quickly.
Voice messages: The ability to leave recorded messages if you need to bring extra context or tone of voice to the discussion.
Simplicity and productivity: Emphasizes a straightforward interface for easy team communication and collaboration.
Pricing options
Chanty has two pricing options, both available on a pay-monthly or annually basis.
Free forever: Suitable for teams of up to 5, with 1 guest member permitted.
Business: From $3 per member with 3 guests per member permitted.
4. Microsoft Teams
Best for: Integrated collaboration within the Microsoft ecosystem.
Microsoft Teams is a messaging and collaboration platform that comes with Office 365 subscriptions. If you're already using Microsoft's suite of tools, Teams provides an easy entry point for team communication.
Key features
Microsoft 365 integration: Seamlessly integrates with the Microsoft 365 suite for unified collaboration.
Channels and tabs: Organizes conversations into channels with customizable tabs for efficient information access.
Security: Advanced features ensure you remain compliant.
Pricing options
Microsoft Teams offers a free version plus four premium tiers. The prices below do not include tax.
Microsoft Teams Free: Includes unlimited chat with coworkers and customers.
Microsoft Teams Essentials: $4 per user/mo.
Microsoft 365 Business Basic: $6 per user/mo.
Microsoft 365 Business Standard: $12.50 per user/mo.
Microsoft 365 Business Premium: $22 per user/mo.
5. ClickUp
Best for: Larger companies in need of versatile project management.
Launched in 2017, ClickUp is a customizable platform designed as "one app to replace them all." Businesses might use it as a project management tool, chat app, email system, or a space for creating to-do lists and tracking goals.
Key features
Customizable workspaces: Adaptable to various project management methodologies and team structures.
Agile boards and lists: Enables flexible task management through visual boards and structured lists.
Docs and integrations: Centralizes documentation and integrates with 50+ native third-party tools.
Pricing options
ClickUp is priced similarly to Slack. There's a free version available, followed by three premium tiers:
Free for personal use or small teams.
Unlimited: Starting from $7 per member/mo.
Business: Priced at $12 per member/mo.
Enterprise pricing is available.
For more information, check out our detailed guide to ClickUp pricing.
6. Pumble
Best for: Team communication with a user-friendly interface.
Pumble is a collaboration app that enables teams to communicate, manage tasks, and share files from a single location. It's designed for remote work environments and has a clean, intuitive interface.
Key features
User-friendly interface: Prioritizes ease of use for efficient team communication.
Channels and direct messages: Guest permissions enable communication internally, or externally with clients, business partners, or anyone else who needs to join your space.
Integrations: Connects with popular tools for enhanced workflow integration.
Pricing options
Pumble has a free forever plan, with greater functionality and storage limits available as part of three premium tiers:
Free forever: For unlimited users.
Pro: $2.49 per user/mo billed annually.
Business: $3.99 per user/mo billed annually.
Enterprise: $6.99 per user/mo billed annually.
7. RingCentral
Best for: Unified communications.
RingCentral is a unified communications platform that combines messaging, video and voice calls, team collaboration, and enterprise phone systems. It's designed for large businesses with a need for an all-in-one solution.
Key features
Unified communications: Combines messaging, video, and phone calls in a single platform.
Team collaboration: Facilitates team communication with file sharing and task management.
Scalability: Accommodates the communication needs of growing organizations, with the ability to add 100-200 participants to a meeting, depending on your plan.
Pricing options
RingCentral offers a free version, so you can try before you buy one of the advanced packages below:
Core: $20 per user/mo billed annually.
Advanced: $25 per user/mo billed annually.
Ultra: $35 per user/mo billed annually.
8. Discord
Best for: Informal collaboration and community-building.
Discord is a community-minded platform primarily used for group chats and voice calls in gaming circles. However, its text, image, video, and audio communication options also make it an attractive option for casual team collaboration.
Key features
Voice channels: Exceptional audio quality is available when users join dedicated channels.
Server customization: Allows users to create customized servers for specific topics or teams.
Rich media support: Supports the sharing of images, videos, and other media in conversations.
Pricing options
Discord is free to download. However, premium extras are available with two tiers of Discord Nitro:
Nitro Basic: $3 per user/mo.
Nitro: $30 per year.
9. Fleep
Best for: Task management in a shared workspace.
Fleep is a hybrid email and chat app that allows workers to communicate with team members on one platform. It's known for its user-friendly interface, making it a popular choice among teams looking to adopt new technology quickly.
Key features
Presence feature: Indicates availability beyond online/offline status.
Audio calls: Enhances the range of communication options within the platform.
Screen sharing: Enables visual communication to enhance understanding and teamwork.
Pricing options
Fleep offers a free trial, followed by two simple pricing plans. The Enterprise package has the same features as the Business tier but with a volume discount available.
Business: $5 per user/mo billed annually for small and medium-sized businesses.
Enterprise pricing is available on request for corporations and large businesses.
10. Twist
Best for: Boosting your team's productivity.
Twist is an asynchronous tool designed for teams who want to minimize notifications, focus on productivity, and avoid the distraction of real-time messaging apps.
Key features
Asynchronous communication: No notification dots, no availability status bubbles, and no scheduled team meetings ensure zero interruptions.
Threads and topics: Organizes discussions into threads and topics for clarity and context.
Search and archiving: Powerful search capabilities and message archiving for efficient information retrieval.
Pricing options
Twist offers a free plan or an unlimited version:
Free trial: Includes 1 month of comments and messages.
Unlimited: $6 per user/mo.
monday work management: the collaborative Slack alternative
If you're considering monday work management as a Slack alternative, here's why it will bring limitless value to your organization:
All-in-one workspace
monday work management is so much more than a messaging platform. Instead, it houses dashboards, 27+ views (including Gantt, Kanban, Workload, Timeline, etc.), conversations, and so much more from a single location. For example, you can see project milestones, track budgets, collaborate with team members, and set up easy automations within a single dashboard.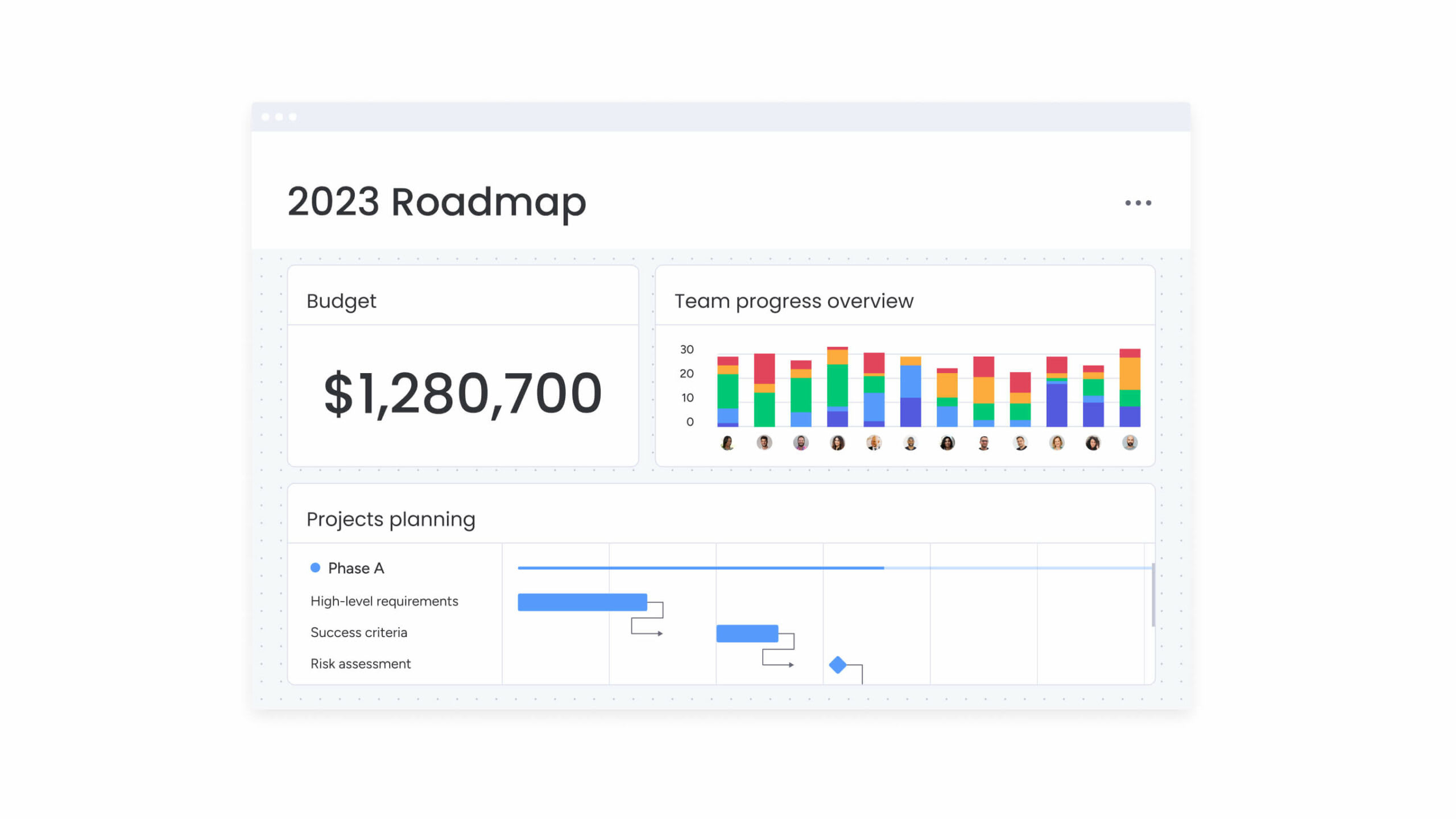 Board discussions
While Slack is focused on real-time chat, communication works slightly differently in monday work management. Chatting with team members happens in the most relevant and convenient place—on the item you're collaborating on. For example, you'll open a task, add an @mention to a colleague, and they'll receive a message notification.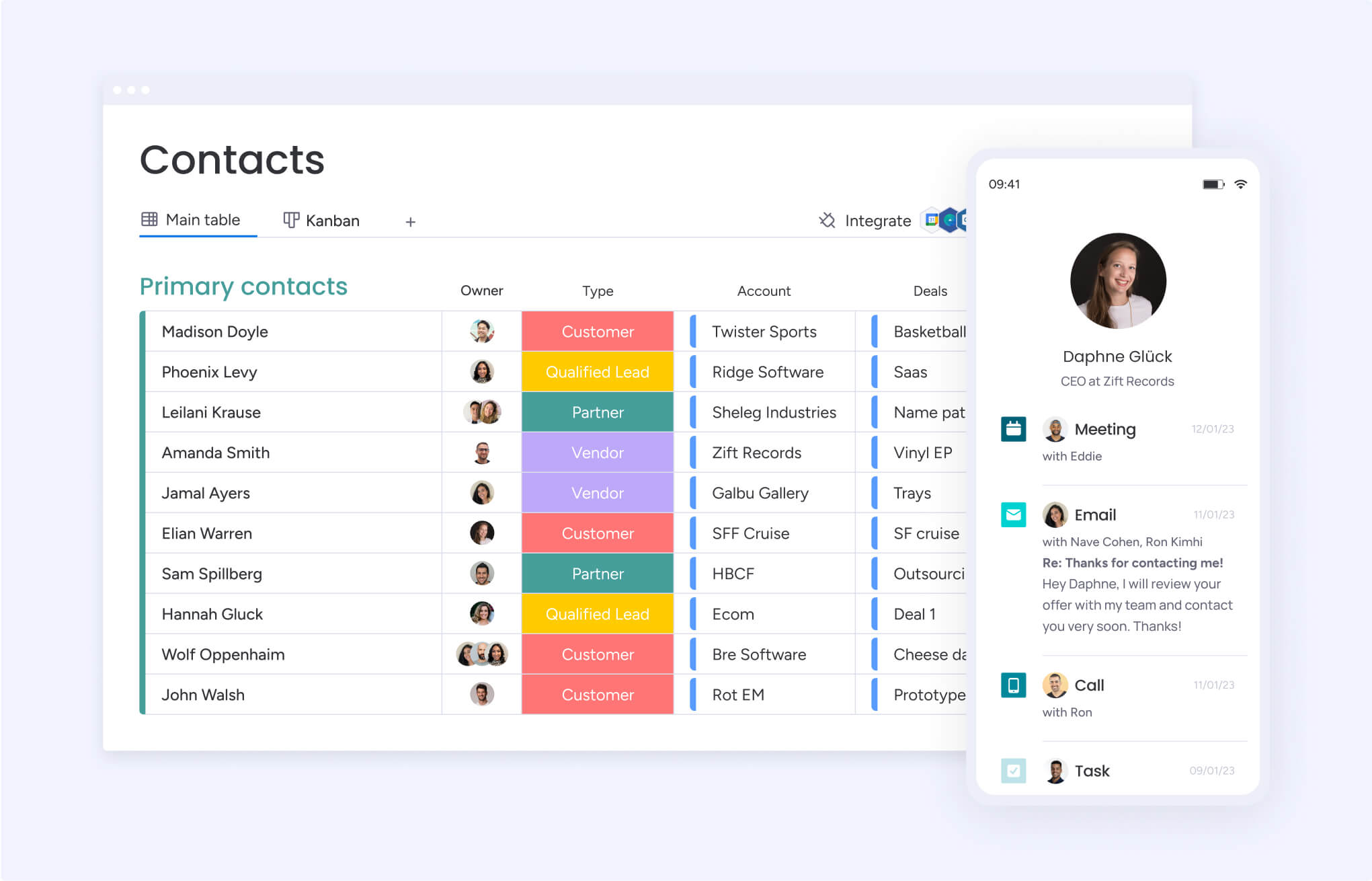 Integrations
monday work management offers 72+ integrations with popular apps, including Slack, Zoom, Teams, and more. While our platform enables powerful communication throughout your entire organization, we also make it easy to connect to other tools in your tech stack.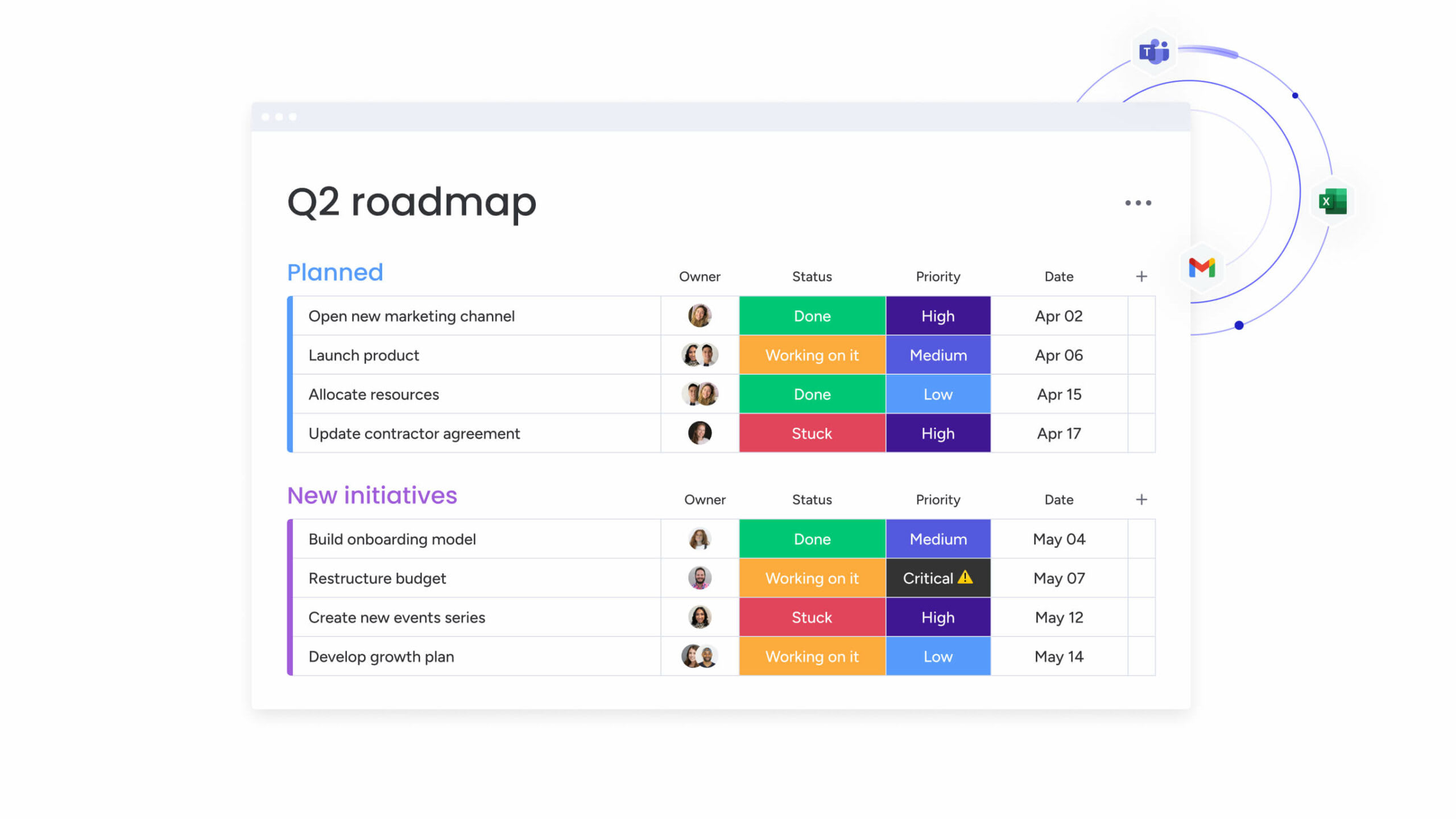 Customer reviews
User reviews form an important part of your platform research, providing a real-world glimpse at the strengths and weaknesses of each tool. G2's user community gives monday work management a 4.7 out of 5 score, with 9.0 out of 10 for Ease of Use, 8.8 for Quality of Support, and 8.4 for Ease of Setup. The platform is also listed as #1 in the category of work management software. Slack achieves a slightly lower score of 4.5 out of 5.
Which is the best Slack alternative?
Whether you choose Slack or an alternative tool boils down to your organization's unique needs. For example, Slack might be the right choice for your business if you only need a messaging tool. But if you need a full-bodied, collaborative tool to handle every task, project, and workflow in your organization, then monday work management could be the winner. The best part: If you need both, then the integration between Slack and monday work management will provide all the functionality you need. Why not try it out today by signing up for a free account?
The information provided in this article is accurate and up-to-date at the time of publication. Changes and updates in the business operations, policies, or any other relevant factors may occur after publication and we encourage readers to verify any information directly.