Whether you're a brand-new business or you know your company's social media could use a little TLC, one thing is for sure:
You need a social media marketing plan.
A social media marketing plan clearly lays out your goals, strategies, and tactics for your social media presence.
Social media can be a bit intimidating. There are so many new platforms and strategies popping up regularly.
That's why we've created this step-by-step guide to building your own social media marketing plan. Along the way, we'll give you an inside look at monday.com's social media marketing templates to help you out.
Why do you need a social media marketing plan?
It's clear to most marketers that social media is an extremely important tool for building a personal connection with your target audience.
One reason? Social media takes up a lot of our time. In 2020, users worldwide spent an average of 145 minutes per day on a social media platform.
Plus, about 80% of consumers make a purchase based on social media ads at least some of the time.
Beyond that, social media is a powerful way to understand customer needs, improve brand recognition and loyalty, and even provide immediate customer service.
It might seem easy to run a social media strategy organically, but trust us: creating a clear social media marketing plan will yield far better results for your team and your business.
To make your social media plan easy to understand and accessible to all your team members, we recommend using a social media planner like this one built on the monday.com platform.
With a planning tool like this one, you can keep an eye on your entire social media marketing strategy in one glance.
You'll also be able to integrate your content marketing strategy and other digital marketing efforts into your social media plan.
6 steps to creating a social media marketing plan
Now that we've covered why a social media marketing plan is so important, let's dive into exactly how to create one.
Before you begin, make sure you have access to any existing social media accounts your company has. It's also wise to review your current content strategy, if you have one, so your social media plan aligns with your other digital marketing efforts.
1. Determine your social media marketing goals
The first key step in developing a social media marketing plan is outlining your social media goals.
Like other marketing goals, your social media goals help you see the destination your social media marketing strategy is leading toward. They help you and your team stay focused and efficient.
Use the SMART goal method to determine effective social media goals. This means your goals should be specific, measurable, attainable, relevant, and time-bound.
If you're stuck thinking about what your social media marketing goals should be, consider these top 3 social media goals from other marketers for 2021:  
73% of marketers want to acquire more new customers
64% of marketers want to improve brand awareness
45% of marketers want to drive more leads, purchases, and other conversions.
The most important thing is that your social media goals align with other digital marketing goals as well as overall business objectives.
2. Choose your social media platforms
It might be tempting to curate a presence on every social media platform there is, but you'll be far more effective if you can narrow down your options to where your target audience actually spends time.
To choose the right social media platforms for your business, leverage buyer personas or target audience research to find out where your marketing dollars will be best spent.
While each niche will have its own nuances, there are a few general social media trends you can use to identify the right platforms.
For instance, 63% of users worldwide use Facebook regularly versus 36% of users who use Instagram regularly. But 67% of marketers say they'll increase Instagram use in the future.
In general, older consumers tend to be on Facebook, while younger users are on TikTok or Instagram.
There are key differences in B2B and B2C marketing on social media as well.
B2B social media marketing fares better on LinkedIn and Twitter, while B2C companies often see better results on Facebook and Instagram.
The most important thing is to meet your target audience where they are. Rely on what you know about your customers, rather than what the trends say.
3. Brainstorm social media campaign ideas
Now it's time to brainstorm your social media campaign ideas.
In this stage, you'll want to think seriously about your branding, including tone, imagery, and so on.
For instance, will you be amusing and slightly snarky like the notorious Wendy's Twitter account?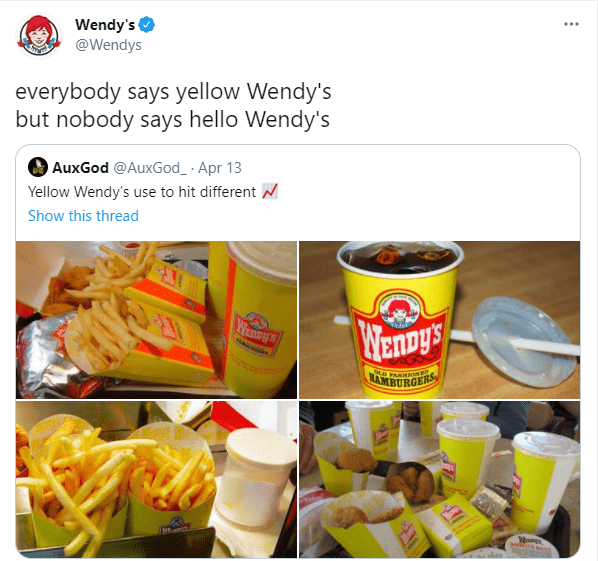 Or will you take a more serious tone like Intuit QuickBooks?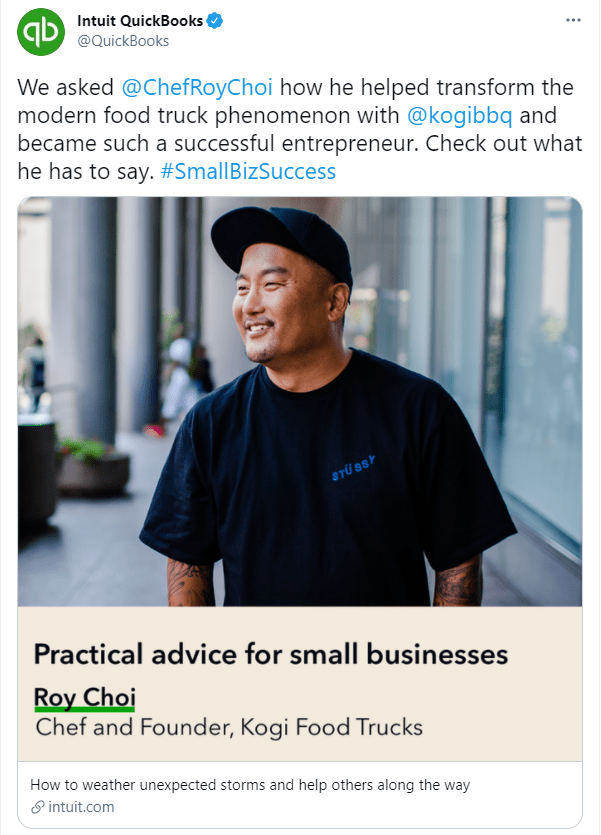 It's helpful to look at your competitors' social media accounts to see what works well for your audience.
You can also collaborate with the sales and customer service teams to generate more campaign ideas. Sourcing ideas from many places will give you a rich and well-rounded list of possible strategies.
With monday.com, you can even build a campaign idea or request form to consistently accept ideas from around the company. They'll be organized in a handy table for your review, like in the example below.
Remember, there are no bad ideas in brainstorming. The goal is to get everything out so you can find the best ideas for your social media marketing plan.
4. Decide which campaign types you'll use
It's tempting to want to focus all your efforts on the bottom of the funnel to drive conversions and sales. But it's also a huge mistake.
Before you begin executing social media campaigns to drive conversions, you'll need to build and maintain a decent following across your accounts.
You'll also need to completely fill out and optimize your social media profiles.
A sizeable following and professional-looking profile provides a sense of legitimacy and authority to your potential new followers and customers.
A good example is this Instagram profile from Rothy's. They include key branding points, a preferred hashtag, and a link that directs users to shop the latest products.

The best company social media profiles will include the following:
Images formatted for each platform
A link to your website
A short bio explaining your company
Custom URLs or handles
Next, choose campaigns designed to increase your follower count.
A few ideas include:
Hosting a giveaway by partnering with a more established social media account
Using popular hashtags to appear in more feeds
Leveraging influencer marketing by working with popular influencers in your niche
Remember that more followers means more engagement, which means you'll perform better in social media algorithms.
And the better you perform in the social media algorithms, the higher your follower count will grow.
5. Create a social media calendar
Now that building your social media following is well underway, it's time to map out your social media strategy for the next few months.
Your social media calendar is possibly the most important part of your social media marketing plan. It's the source of truth for your entire team and will keep your entire strategy on track.
First, choose the winning campaigns from the brainstorming step. Decide what days you'll post and what content you'll use.
Don't forget to consider sales, holidays, and other important events. For example, you may want to plan a more intensive campaign during your company's peak seasons.
Then, work backward to include deadlines for creating content, designing custom graphics, and reviewing it before it goes live.
You can use a social media calendar template like this one on monday.com to organize everything. Use different colors to note different stages of the process.
You can even set automatic deadlines or reminders, so nothing falls through the cracks.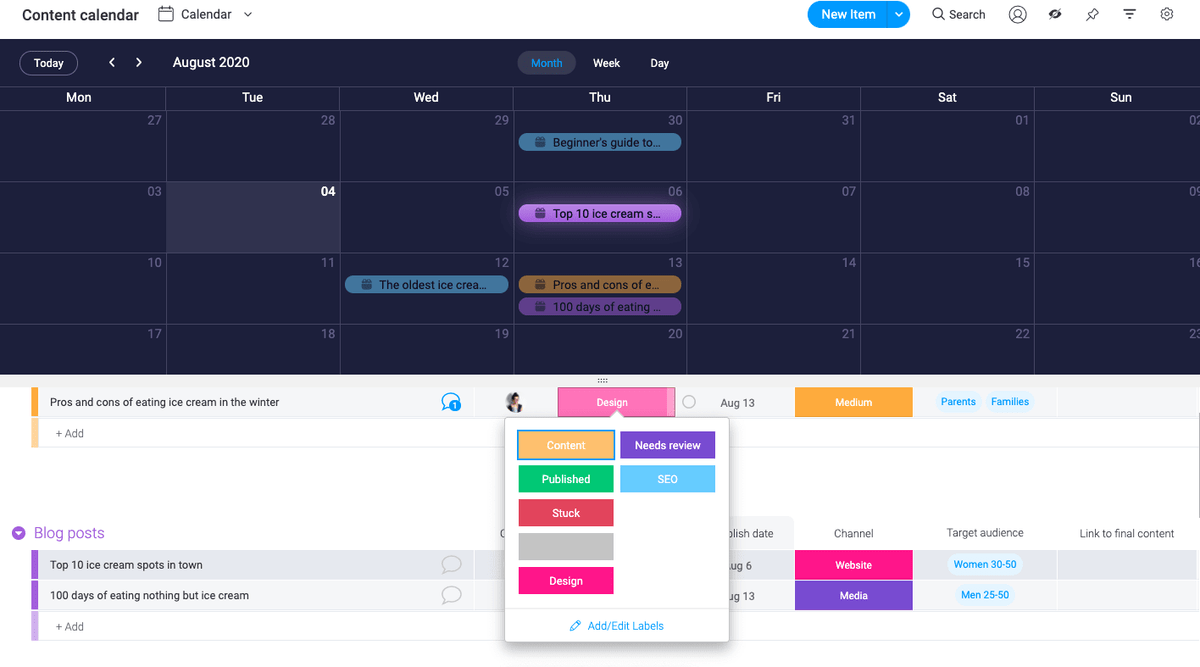 It's a good idea to schedule your social media calendar at least 3 months in advance — 6 months or a year is even better.
Allow for some flexibility if the unexpected happens. For instance, many companies needed to pivot their social media strategy when the COVID-19 pandemic hit.
Keep an eye and ear out for what will resonate with your followers, and don't be afraid to deviate from your calendar if you need to.  
6. Delegate tasks to the right team members
As you map out your campaigns on your social media calendar, consider who on your team is the best fit for each task.
Delegating tasks to the most skilled team member for each job helps your social media strategy be as effective as possible.
With the monday.com social media campaign planners, you can assign tasks automatically based on their status.
When a task moves to a new stage, such as from graphic design to final review, the person responsible updates too.
What to do after you create your social media marketing plan
With your social media marketing plan in hand, it's time to get to work on launching it.
Follow these steps for executing and maintaining your social media strategy long after the planning stage.
1. Execute your social media strategy
Executing your social media marketing strategy is pretty simple: just stick to the calendar you created in an earlier step.
As you develop content for your social campaigns, you can visualize your graphics and finalized posts in a monday.com content calendar template like the one below.
With monday.com's Zapier integration, you can also build connections to your social media accounts and other tools like Buffer or Hootsuite.
By sticking to your social media plan, you'll start taking action and seeing real results from your followers — and eventually customers.
2. Measure and analyze the results
Once you launch a social media strategy, you can't just forget about it. You need to keep tabs on each facet of your campaign so you can see if you're achieving the goals you set out in step one.
Social media changes constantly. It's important to be aware of how your social media accounts are performing so you can pivot when necessary.
The best way to do this is to build a dashboard that tracks your social media goals and KPIs.
In monday.com, you can build custom dashboards that automatically import the data you need and organize it in an easy-to-read manner.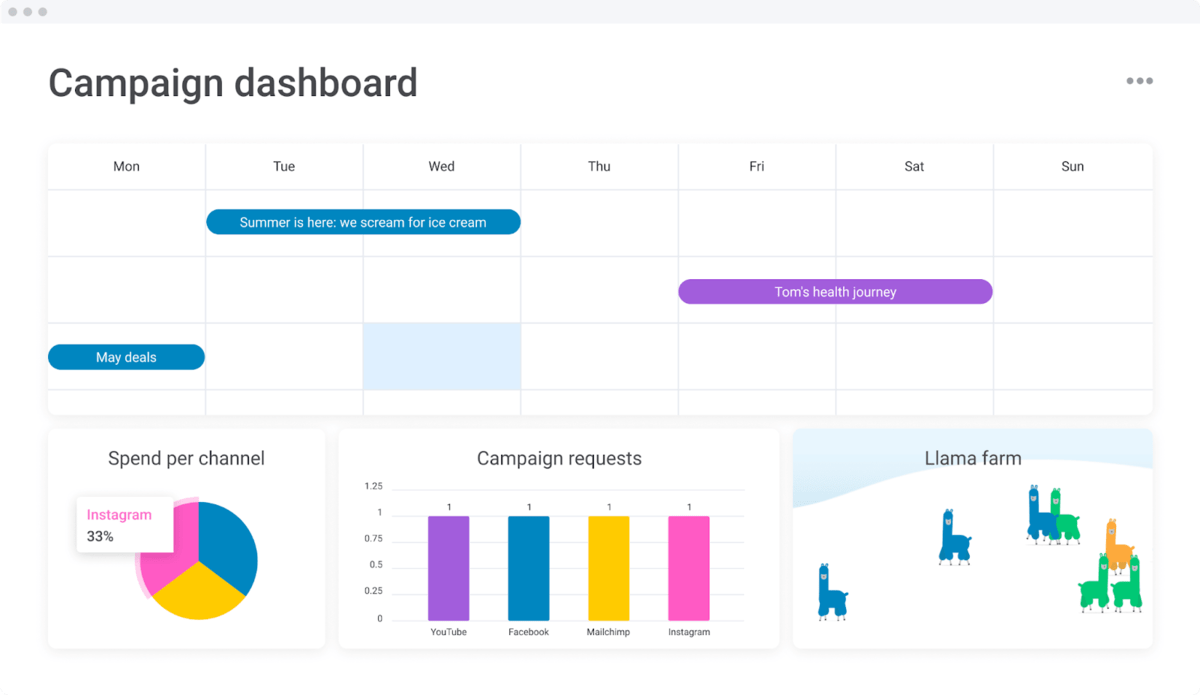 Check this dashboard every day so you can identify and address potential problems as early as possible.
You can also connect your social media dashboard to other dashboards to create a holistic view of your entire digital marketing strategy.
3. Refine and continue your social media strategy
Social media never sleeps, so you can't sleep on your strategy.
It's smart to conduct a monthly or quarterly social media review to make sure your strategy still aligns with overall business goals.
In these regular reviews, use everything you learned from prior social media campaigns to refine the next round.
Refining your social media strategy regularly ensures you'll always achieve the best results and maintain your following and brand loyalty.
It's critical to maintain a regular cadence of social media posts so your account stays active in your followers' feeds. Neglecting your social strategy or going dark for a few weeks can have major negative effects on your brand recognition and customers' perceptions of your business.
Create an effective social media marketing plan in monday.com
Building a social media marketing plan from scratch can feel intimidating.
By following our step-by-step guide and using monday.com templates, you can create one with ease.
Remember to set goals, draw inspiration from a wide variety of places, and above all, keep your followers' needs at the center of your social media strategy.
And, of course, review and update your social media plan regularly to achieve the best results for your business.