Sales organizations live by the data housed in their sales dashboards. A detailed, robust sales performance dashboard is useful for all stakeholders and ensures teams are open and transparent about their sales pipeline, as well as helping stakeholders make informed decisions.
In this blog post, we'll review the importance of a sales dashboard, share some examples, detail core components, and showcase how monday.com and monday sales CRM make it easy to create custom solutions.
What is a sales dashboard?
A sales dashboard is a visual representation of your recent performance metrics. It allows you to view your data in a digestible, visual, way so you can truly understand and learn from your data.
What are some examples of sales dashboards?
"Sales dashboard" is a pretty broad term. Most teams and their leadership will have several sales dashboards in order to hone in on many different aspects of their team and company performance.
Here are just a few:
Sales activity dashboard
Sales opportunity dashboard
Account manager dashboard
Sales product performance dashboard
Sales KPI dashboard
On monday sales CRM, you can increase visibility with customizable dashboards — that don't require developer assistance. One of the best features is the ability to use the Dashboard View to add the board as a tab on your workspace. You can create several dashboards in one using Widgets, but more on that later.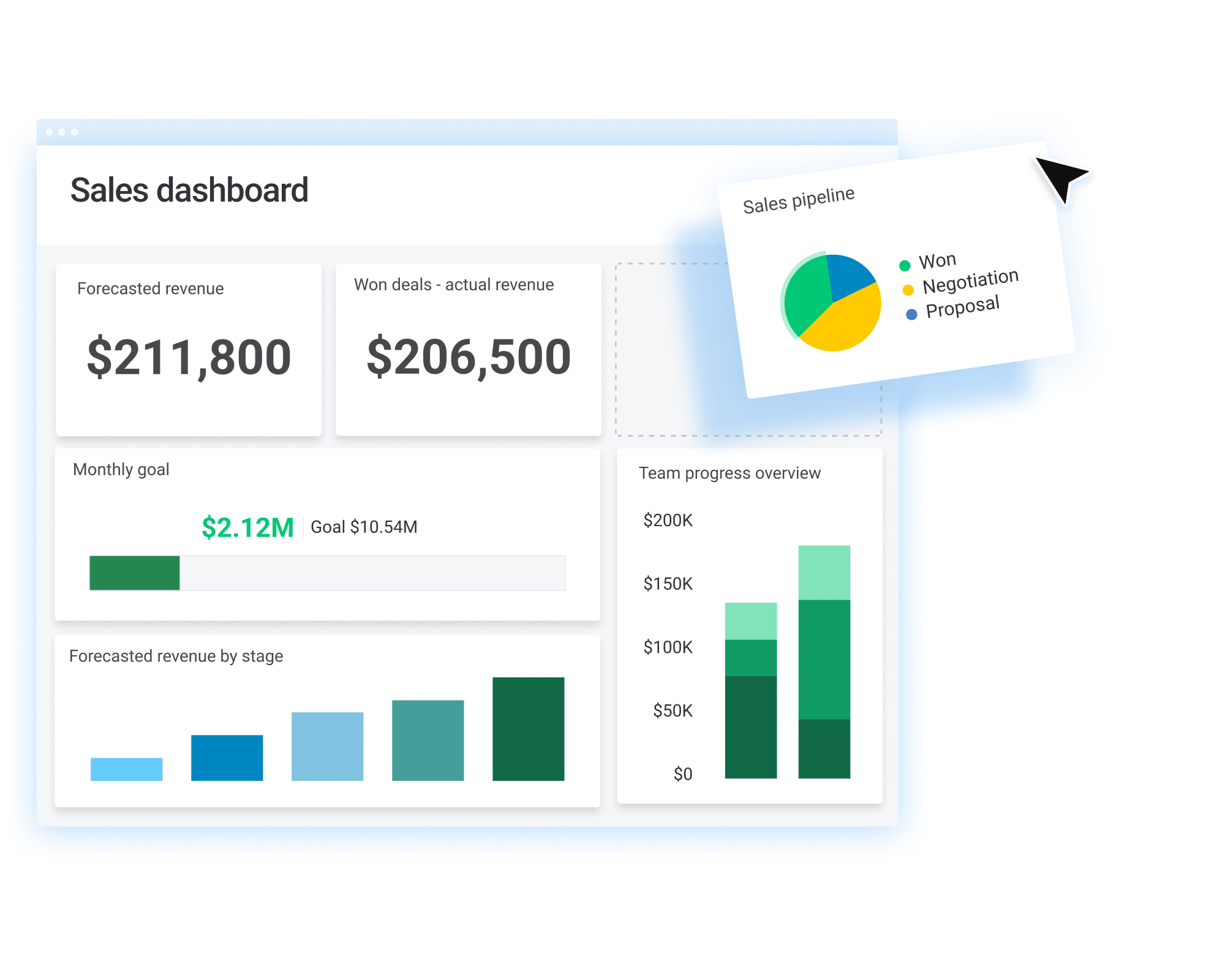 You can use them to improve sales operations as well, like monitoring team training and onboarding, or planning hiring for each quarter.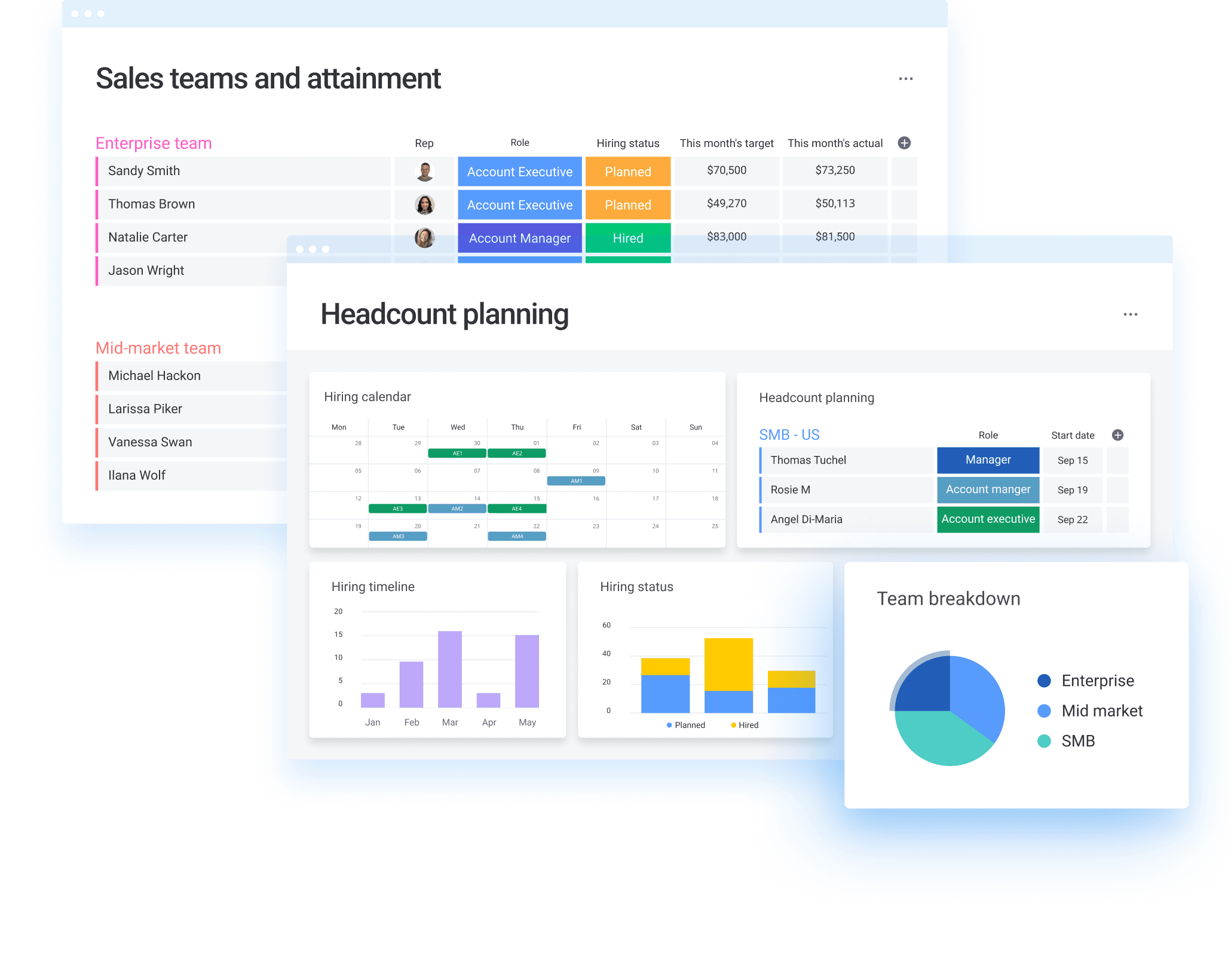 Why are sales dashboards important for your sales strategy?
Sales dashboards allow for full transparency into the ins and outs of a sales organization. They give a bird's eye view into the operations as well as more detailed reports on team activities. Sales dashboards empower individual sales reps to plan their day-to-day activities and managers to help step in — and coach — where necessary. Sales dashboards even help VPs of Sales plan for headcount, predict quarterly revenue, and know when teams are going to exceed  — or fall short of — monthly goals.
An accurate, data-driven, easy-to-understand sales dashboard is a critical tool for all sales teams.
Running a sales organization without a sales dashboard in place is like playing a game without a scoreboard. It's possible, but certainly not ideal. We'll talk about the parts of the sales dashboard you should look for when considering your next solution.
What are the various components of a sales dashboard?
Sales dashboards are a visual display of "everything sales-related" in one place. They show reports using data from one (or many) boards. Bonus: some powerful software has dashboards that automatically update every time data in linked boards change. This not only saves time but ensures data integrity!
A typical sales dashboard combines the following boards:
CRM Board: tracks customer relationship status and store key demographic and firmographic information
Lead Board: stores all data related to a lead — demographics, past and future communication touchpoints, the status of each contact, and so on
Sales Pipeline Board: displays the progress and status of all sales deals
What are widgets and how do they relate to sales dashboards?
Widgets are like "mini-reports" that visually display data from one or more boards. Some widgets are shown as charts or graphs, while others are simply numbers. More versatile Work Os platforms will have a variety of widgets to choose from.
In this "sales insights" dashboard below, you can see two different types of widgets pulling data from the month of April:
The numbers widget displays 3 different data summaries: total qualified leads, total deals won, and total $ amount closed
The bar chart widgets display 2 different data summaries: amount closed per rep and added ARR per month
When it comes to sales dashboards, these are the typical/standard data that are displayed. If you want to go a level deeper, you can add:
Board to Globe widget: visualize active leads in an interactive globe
Calendar widget: see all monthly meetings in one place
There are so many more widgets to choose from — battery, timeline, goal, apps, overview, and more.
For a complete listing of all available dashboard widgets, take a look at this support post.
On monday.com, all dashboards (and their underlying boards) are fully customizable. Any team member can filter information on each dashboard and personalize it to the team's needs. When individual team members want to grasp information fast, they can choose the view that makes the most sense for them.
One caveat: many of these functions are only available on more robust solutions. We explain below why we think we have the best platform for the job.
Create customizable, intuitive dashboards with the monday sales CRM
Our Work OS is a cloud-based software platform where teams build custom workflow apps, enabling teams to plan, run, and track processes, projects, and everyday work.
Geared for organizations of all sizes and across all functions of the organization, the monday.com Work OS provides the flexibility to build and adapt to any workflow, project, or process.
When it comes to sales dashboards, monday.com ensures your team can generate sales performance reports quickly and easily.
Deepa Shah, Entrepreneur's VP of Innovation, uses monday.com's sales dashboard to show the President and Head of Sales all of the total opportunities won and review what's in the pipeline under the different sales stages.
"[Our leaders] can see a monthly breakdown of how well the sales team members are progressing towards their monthly goals. If they want to see a detailed view, they can click into it and see what's in which sales pipeline bucket and the salesperson next to the opportunity," Deepa shared.
Read the full Entrepreneur Customer Success story here.
Create the sales dashboard your team needs
To manage the pipeline, monitor progress and goals, and stay organized throughout the sales cycle, you'll need a sales dashboard. Robust options like monday.com Work OS offers fully customizable dashboards and widgets that fit any team's needs.
Need a little inspiration? A nice way to start is with our Sales Process Template.
Try monday.com for yourself. Get started by signing up now.