Both monday sales CRM and Salesforce are cloud-based platforms that help companies manage their business and automate processes related to customer service, sales, analytics, and more. In order to find out which platform best fulfills your specific needs, we need to compare the two side-by-side. Keep reading to discover which one fits your business!
Try monday sales CRM
At a glance: monday sales CRM vs Salesforce
Pressed for time? Here are the need-to-know details of both CRMs.
monday sales CRM
Salesforce
Price
Starting at $10/seat/month
Starting at $25/user/month
Key features
Customized automations
Performance tracking
Real-time communication

Einstein AI
Service Cloud
Sales Cloud


Integrations
70+ integrations
200+ apps


3,000+ apps
Support
24/7 support, ticketing system, online resources
24/7 phone support, online form, resources according to your plan
Ease of use
"user-friendly and uncomplicated" according to a G2 review
"complex or overwhelming" according to a G2 review
Customer review
4.6/5 on G2
4.3/5 on G2
monday sales CRM vs. Salesforce: features
Salesforce is heavy on features, which can be great if you're an enterprise looking for an abundance of tools. However, for many businesses, a CRM that blends simplicity with functionality is key, and that's where monday sales CRM shines. It's also important to keep in mind the cost of features. Many standout features in Salesforce, like the ones we'll go over below, come at an extra cost, whereas with platforms like monday sales CRM, all features are included in your paid plan. For example, monday sales CRM had a built-in AI assistant at no extra cost, whereas Einstein GPT in Salesforce has an additional price tag. 
Let's take a look at some key features of both products.
monday sales CRM features
With monday sales CRM, teams can focus on productivity, maximizing their sales cycle, collaboration, and nurturing customer relationships all in one platform.
Here are some of the features that make this possible:
Customized powerful automation:

monday sales CRM helps teams put day-to-day manual tasks on auto-pilot by automating tasks for quicker and easier collaboration. Create automations that trigger actions when a task is updated and save time on repetitive work.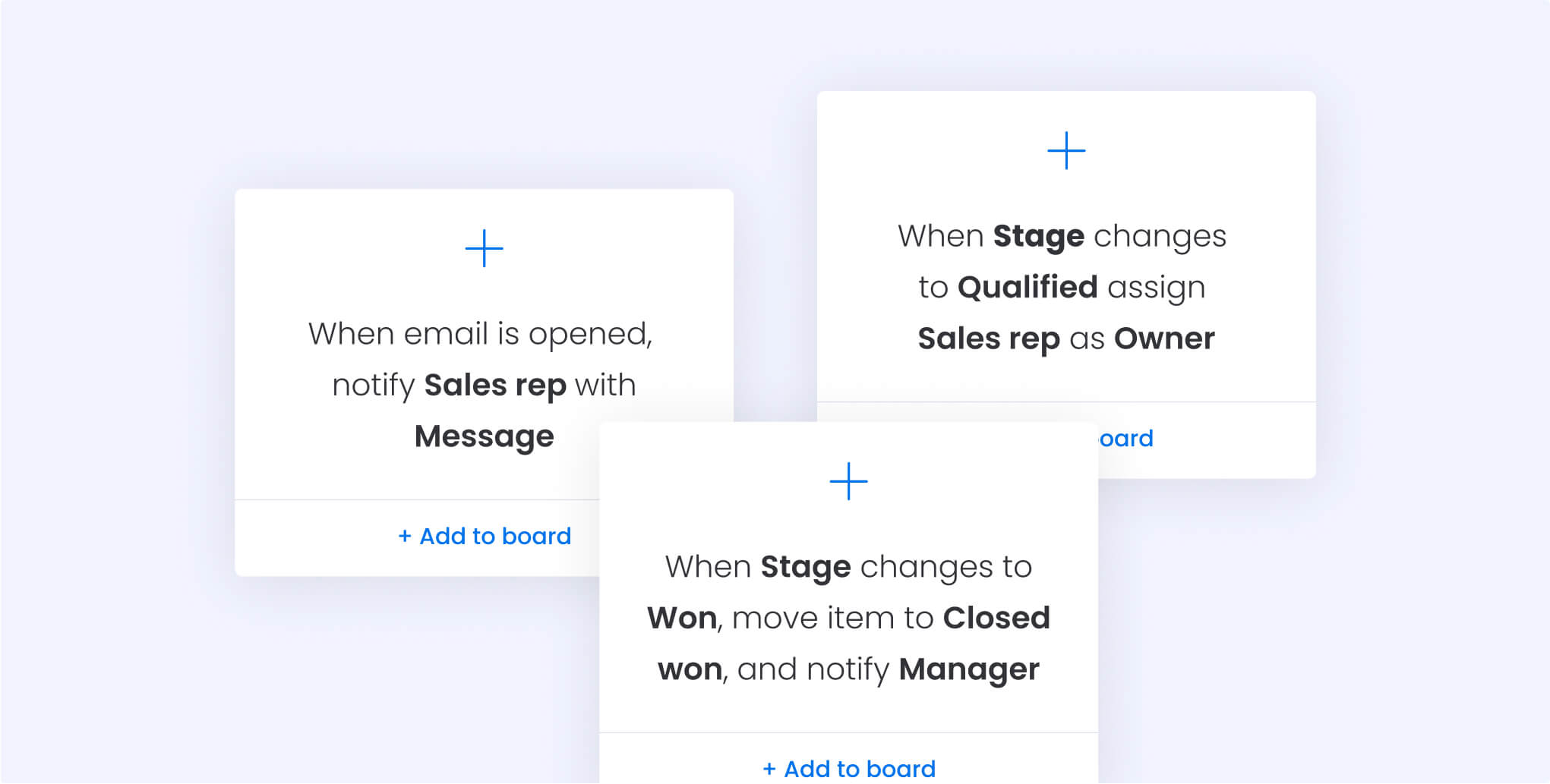 Insightful performance tracking:

Keep track of your progress toward personal and team goals with performance-tracking features. Get overviews and detailed insights on pipelines, targets, team quotas, and individual performance to help you make decisions that can boost sales and improve customer satisfaction.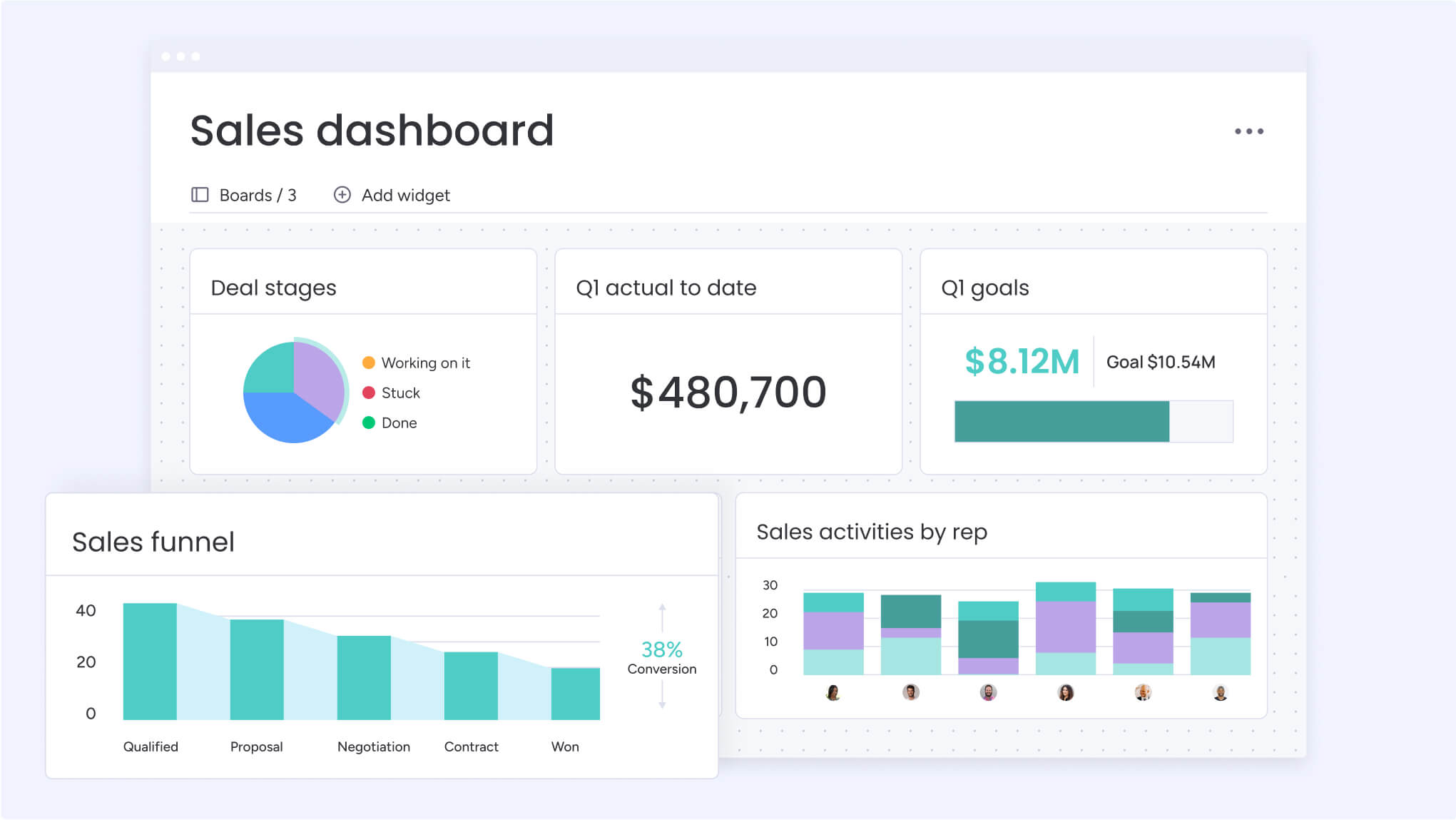 Real-time communication tools:

The built-in tools in monday sales CRM along with additional integrations make communicating with your team and clients a breeze. Send updates in real-time, pull all your emails into one place, and track and personalize interactions.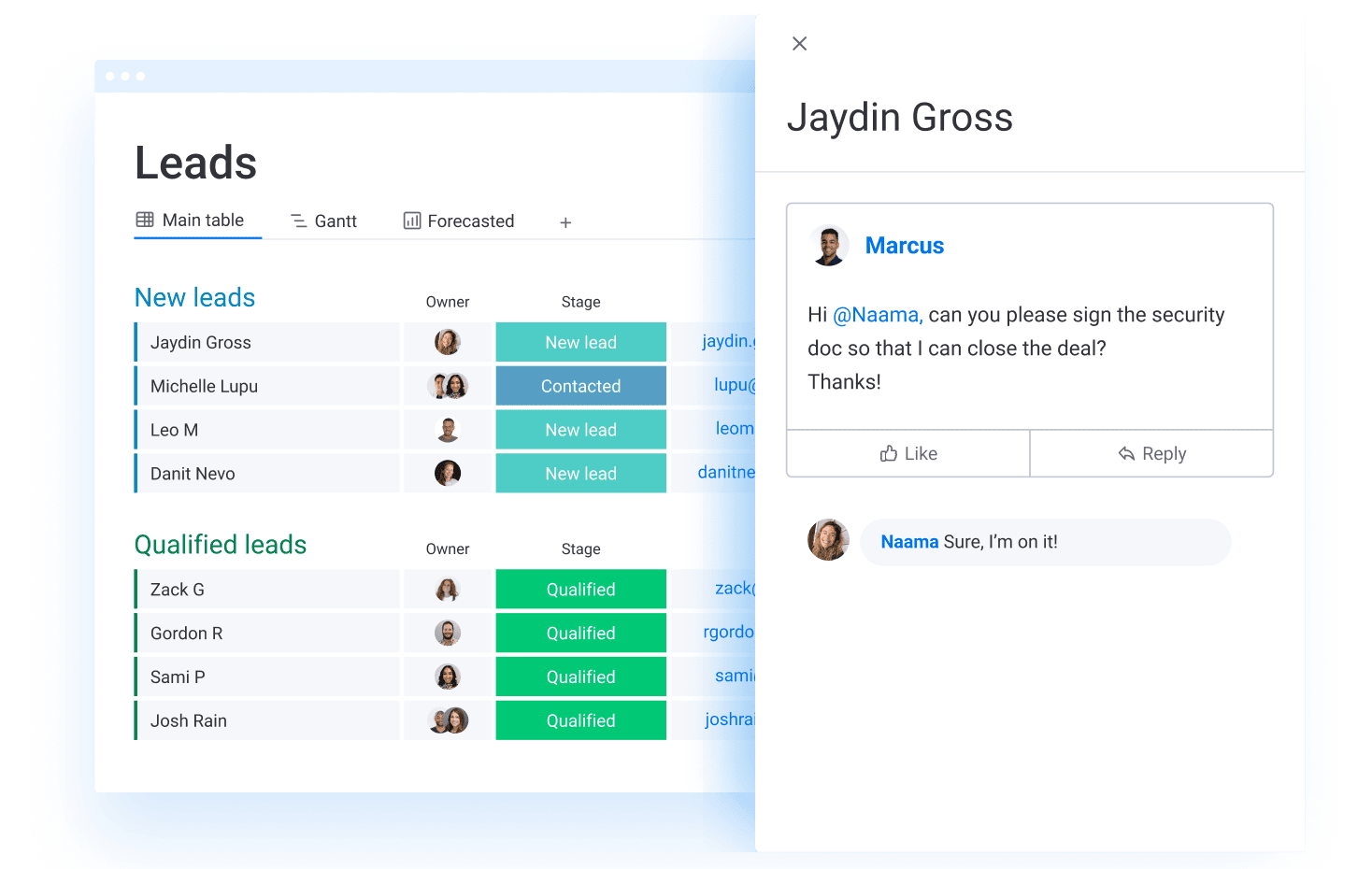 Try monday sales CRM
Salesforce features
Salesforce's selling point is its add-ons, creating a complete portfolio of products. Whether it's apps created by Salesforce or third-party integrations, these tools help bolster the platform's CRM and provide extra functionality. Here are a few features you get with Salesforce:
Boost productivity with Einstein GPT:

Salesforce's AI tool helps users supercharge productivity by working faster. Einstein AI can help you personalize each customer experience, guide sellers through a sales pipeline, and automate analytics to get you the data you need quickly.

Scale operations with Service Cloud:

As an application on Salesforce CRM, Service Cloud enables you to automate customer service processes, connect service data across different channels, and also helps you create resources to allow customers to find solutions on their own.

Bring costs down with Sales Cloud:

Another one of Salesforce CRM's applications, Sales Cloud, helps sales teams close deals with AI-powered technology. The tool's AI helps provide data and insights to optimize the sales process, automates daily sales tasks to increase rep productivity, and helps you view and manage the sales forecast.
monday sales CRM vs. Salesforce: Integrations
Integrations and apps help you improve the performance of your CRM by pooling all your work tools in one place, allowing you to stay focused and organized. While Salesforce has more app integrations than monday sales CRM, more isn't always better. monday sales CRM is focused on integrating the most common work tools on the market so that you can keep everything in one place. Not only that, there's also a Salesforce integration, meaning you can still get the benefits of Salesforce while working with the simplicity of monday sales CRM. 
Here's a look at some of the different integrations available with both monday sales CRM and Salesforce.
monday sales CRM integrations
There are over 70 integrations available and 200+ apps, allowing you to connect the most popular work platforms with your CRM. There are email clients like Gmail and Outlook, document managers like PandaDoc and Docusign, payment processors like Stripe, social media apps like Facebook that help you collect leads from your campaigns, email integrations like Mailchimp, and much more.
Try monday sales CRM
Salesforce integrations
Salesforce has over 3,000 integrations and apps available through its AppExchange, allowing you to personalize your CRM to your liking. You'll find integrations here to plenty of apps to sync your different tools, like SurveyMonkey, Zapier, LinkedIn, Asana, and many more. Apps are categorized by industry so that you can easily find the tools you need to pad out your CRM.
monday sales CRM vs. Salesforce: pricing
The cost of your CRM is another factor to take into consideration when weighing your options. monday sales CRM ends up the more affordable options, and not only because its plans are cheaper. With Salesforce, many of the features you want need to be added on at an extra cost, meaning you need to pay more to get similar functionality to another CRM. 
Here's what you can expect both platforms to cost.
monday sales CRM pricing
monday sales CRM pricing includes 4 tiers of paid plans as well as a free 14-day trial. Let's take a closer look at each plan:
Basic:

$10/seat/month, includes unlimited pipelines, contacts, and boards, a dashboard based on 1 board, and unlimited free viewers

Standard:

$14/seat/month, includes everything from the Basic plan in addition to email integrations, advanced account management, quotes and invoices, 250 custom monthly CRM automations and integrations, and a dashboard that combines 5 boards

Pro:

$24/seat/month, includes everything from previous plans as well as sales forecasting, email template, sales analytics, 25,000 monthly CRM automations and integrations, and a dashboard that combines 10 boards

Enterprise:

Pricing is based on a personalized quote, but includes everything from previous plans and lead scoring, team goals, advanced analytics, enterprise-scale automations and integrations, multi-level permissions, and HIPAA compliance
Salesforce pricing
According to the Salesforce pricing page, there are also 4 tiered paid plans in addition to a 30-day free trial. Here's a breakdown of the plans:
Starter:

$25/user/month, ideal for small teams, including simplified onboarding, lead management, and account management tools

Professional:

$75/user/month, ideal for sales teams, customizable reports and dashboards, forecasting, and quoting and contracting tools

Enterprise:

$150/user/month, ideal for sales teams with support for analytics and API, pipeline management, advanced permissions, and workflow and approvals

Unlimited:

$300/user/month, ideal for teams who need AI and development support, includes all Salesforce capabilities, Premier Success Plan, and developer sandboxes
In addition to the above plans, there are also various add-ons, apps, and additional products that come with an extra fee such as Sales Cloud Einstein, Enablement, Revenue Optimization, and more.
monday sales CRM vs Salesforce: ease of use
Simplicity is key, and while Salesforce doesn't have to be difficult depending on how you're using it or your technical know-how, monday sales CRM is a lot simpler to use. To help understand how ease of use affects both platforms, let's take a look at some customer comments about using each platform.
monday sales CRM ease of use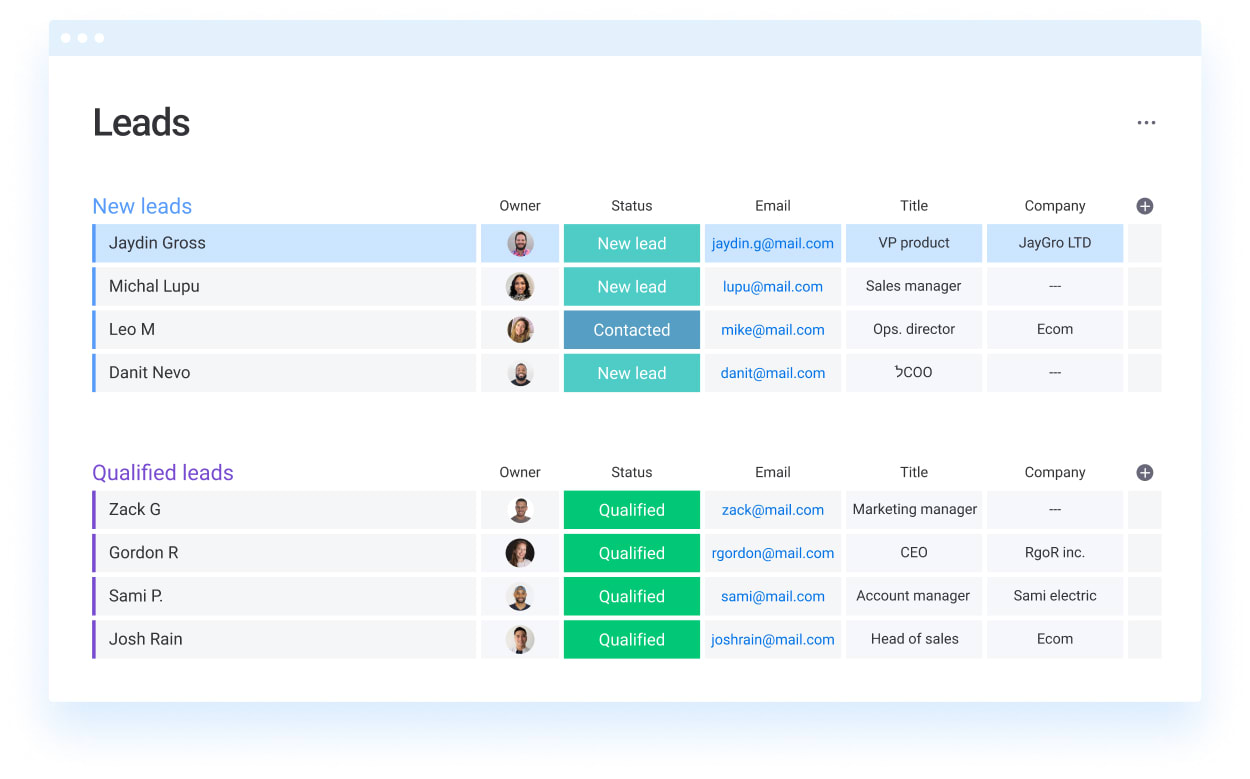 Reviews of monday sales CRM on G2 call the platform "extremely user-friendly and uncomplicated" and comment that "the user-friendly layout has allowed even the most tech-wary members of my team to actively utilize the SalesCRM." Indeed, monday sales CRM comes with easy-to-launch templates and boards that make onboarding a breeze and requires very little technical background. For example, in monday sales CRM, automations can be customized in just a few clicks, meaning you can create powerful workflows in a few minutes to help make your processes run smoother and work how you want them to.
Try monday sales CRM
Salesforce ease of use
While there are many elements of Salesforce that are easy to use, such as navigation or adding new sales reps, there are Salesforce reviews on G2 that comment on its intricacy. One user "found that the platform's user interface and navigation are complex or overwhelming, requiring significant training and onboarding time for new users." Depending on your team's technical background, different people find Salesforce to be either intuitive or complicated to adopt.
monday sales CRM vs Salesforce: support
Customer service has the potential to make or break an experience with new software. When your team is supported with extra resources, personalized help, or accessible service, it makes the learning curve and adopting period and lot less daunting. Let's look at what support is available on both platforms.
monday sales CRM support
There are tons of resources to help you get used to monday sales CRM, such as articles, videos, webinars, a Knowledge Base for common questions, and a community where you can connect with other users and participate in discussions. For users, service is offered in the form of 24/7 customer support with a ticketing system, and a dedicated customer success manager for Enterprise plan users.
Salesforce support
Salesforce has a number of different contact options, including online form and 24/7 phone support in addition to many learning resources. The level and avenue of support available to you depend on your plan, with different levels of personalized success plans that are part of your plan costs or charged separately. With the higher level of these support plans, you can get expert coaching, account management, proactive services, and more.
monday sales CRM vs Salesforce: customer reviews
Looking at what current or past users have to say about both platforms can be a helpful deciding factor. Here's a look at both monday sales CRM and Salesforce customer reviews.
monday sales CRM customer reviews
Rating: 4.6/5 on G2
Reviews on G2 call monday sales CRM the "best all-in-one CRM," "robust and capable," and "extremely customizable." According to client testimonials, the main critiques about the product include requests for additional integration options, a learning curve for those who aren't used to using similar products, or certain email features like mass emailing not being available yet.
Salesforce customer reviews
Rating: 4.3/5 on G2
The Salesforce reviews page on G2 call it "the CRM platform for established businesses," a "powerful platform," and "flexible." That said, there are several reviews mentioning that Salesforce can be complicated, overwhelming, and not very intuitive, while some users also comment on the high price tag.
Salesforce vs monday sales CRM: which is the right tool for you?
When it comes down to it, most businesses want to use a CRM that's simple, and straightforward but also doesn't skimp out on functionality or customization options. For that reason, we think monday sales CRM fits a wider variety of business needs. While Salesforce is still a highly reliable platform used by many businesses around the world, its steep learning curve and steeper prices make it not as accessible for some. Additionally, with monday sales CRM's Salesforce integration, you don't even need to choose between one or the other.
monday sales CRM can fit a number of different businesses, from small teams to enterprises, and can be scaled to fit both your budget and your needs.
You only need to look as far as customer reviews to see that monday sales CRM users are happy with the platform and find it to be an essential, intuitive work tool.
Try monday sales CRM
FAQs
What is Salesforce?
Salesforce is a CRM platform that helps businesses manage and track customer interactions with customers and leads.
Is Salesforce similar to monday sales CRM?
There are a lot of similarities between the two in terms of their capabilities, but the user experience, features, and pricing are different.
Can monday.com work as a CRM?
Yes, while monday.com is a complete work management platform, monday sales CRM is a separate tool that standalone as a CRM.
Is monday.com integrated with Salesforce?
There are apps and plugins you can use to integrate both platforms with each other if you want to use both simultaneously.