It comes as no surprise that providing effective customer service is crucial for all businesses — excellent customer service helps retain loyal customers, attract new ones, and improve conversion rates. Ecommerce businesses, in particular, know how important customer service can be when people are deciding whether to make a purchase.
So how can a business manage these interactions with customers? Where can a business keep customer data all in one, well-organized place? The answer is within a customer relationship management (CRM) system.
To help you get the most out of your CRM, this article dives into some CRM best practices and CRM examples that illustrate why each one is essential. Using these tips on monday sales CRM can help your company maximize the potential of its CRM.
A brief recap: What is a CRM?
A CRM is a customer relationship management system that is designed to manage all of a company's customer interactions. Beyond tracking those interactions, a CRM can also provide key performance metrics for customer-facing teams, which may give them sales tips, help them make better decisions, and accurately assess their performance.
By using a CRM to centralize customer data, you also help boost cross-department collaboration among your teams, like marketing, sales, and customer service.
Before diving into seven best practices for CRMs in 2023, let's review some basics.
What are the four Ps of CRM?
The four Ps to keep in mind for CRM success are: planning, people, process, and platform. Ensuring you have a plan and transparent processes for how your CRM is used helps you focus on the people at the center of why you use the platform. A high-quality platform that fulfills your company's unique customer-related needs helps you prioritize the other three Ps, which are at the heart of CRM best practices.
7 tips for getting the most out of your CRM
Proper use of a CRM can help increase your company's lead-to-customer ratio, increase overall satisfaction, and ultimately improve your bottom line. Start by implementing these seven CRM best practices below to take advantage of your CRM's assets.
1. Choose a CRM that fits your needs
No two customer relationship management systems provide the same features, nor do they cost the same. You'll want to do careful research to find which one fits your needs. Here are a few questions to ask yourself when searching for the right CRM:
Does this CRM have the features my company needs most?
Is this CRM within our price range?
Does it integrate with the business tools we already use?
Does it allow for comprehensive detail and data tracking?
Is the CRM user-friendly and intuitive?
Does the platform allow for customization where our company needs it?
Once you've found the right CRM, you'll need to train your employees to use it.
2. Train your workforce well
Thoroughly training your workforce to use your CRM software is crucial because it minimizes potential errors and lost time due to confusion.
You'll want to have a solid plan for training your workforce. If the CRM software offers training seminars or courses, they are an excellent place to start. Also, consider spending extra time with your employees who struggle with technology to ensure their questions are answered until they feel confident using the platform.
3. Implement rules for its use
You need to create a list of rules and guidelines for how your company will use the CRM. Ensure every relevant employee gets a copy of these rules to streamline implementation. Include what information needs to be documented, which departments will use the system, and who to contact if there are errors or questions. Also, consider what will be done with the documented information and how the data you track will be used.
4. Depend on automation
The best CRMs let you automate routine tasks, approvals, and processes. You'll want to take full advantage of this function to save your team time that could be spent elsewhere. Depending on automation also helps streamline workflows and reduce bottlenecks to help you meet deadlines. The types of automation available will vary by platform, so consider the ones most important to your workflow when choosing a CRM.
5. Make the most of collaboration opportunities
One of the most significant benefits of a CRM is that it allows for cross-department collaboration. You'll want to harness this ability, especially in your customer-facing departments. Enabling cross-team cooperation can provide customers with a more cohesive journey because it gives all teams the information they need to communicate clearly and accurately — even if that information would typically have come from a different department.
6. Mine all the data you can
CRM platforms allow you to store all information related to your clients in a single platform so your company can mine data, which lets you better tailor your products or services to your actual audience. For example, tracking basic demographic information on your clients can help your marketing team create accurate buyer personas that they'll use when creating marketing campaigns. Tracking how clients prefer to be contacted allows your sales team to reach out at the best time through the best channel. Tracking what questions, issues, and challenges customers have could help your customer service and IT departments provide better help and insights.
7. Keep it as simple as possible
At the end of the day, simple is best. Aim to keep your CRM-related procedures simple so they're easy to remember. Choose a CRM software that's simple to use and easy to onboard. Keeping it simple means gaining the most benefits without causing undue stress to your employees.
Learning about specific ways these CRM best practices have been implemented may help you mold them to your own situation.
Examples of CRM best practices in action
One of the most popular gaming companies, Nintendo, has countless users worldwide. However, since its gaming community is primarily online, it's prone to technical difficulties. A CRM allows customers to create portals to access a forum or quick-help guides. Not only does this provide customers an interactive experience, but it also allows Nintendo to track what problems its customers are having.
Hulu is a major video-streaming subscription service. When the company suddenly increased its users significantly, it faced challenges that were overcome with the collaboration and communication tools of monday.com's CRM. This streamlined the processes to handle the continuing influx of new customers better.
Check out other great stories of companies who have had success implementing monday.com CRM features.
By now, you likely have a working understanding of how to implement the CRM best practices of 2023, but we've answered a few FAQs to make sure we've covered the basics.
FAQs
How can you implement the best practices of CRM?
Training your workforce is one of the most critical parts of implementing CRM best practices. You should provide detailed documentation on its usage and make gradual changes if these new practices are different from your previous procedures.
What are some CRM best practices?
A few CRM best practices include choosing a platform that fits your needs, implementing rules for its use, and extensively training your employees to use it. Mining all potential data, keeping it simple, and making the most of collaboration opportunities are also important.
Pair CRM best practices with the powerful platform from monday.com to reap the most benefits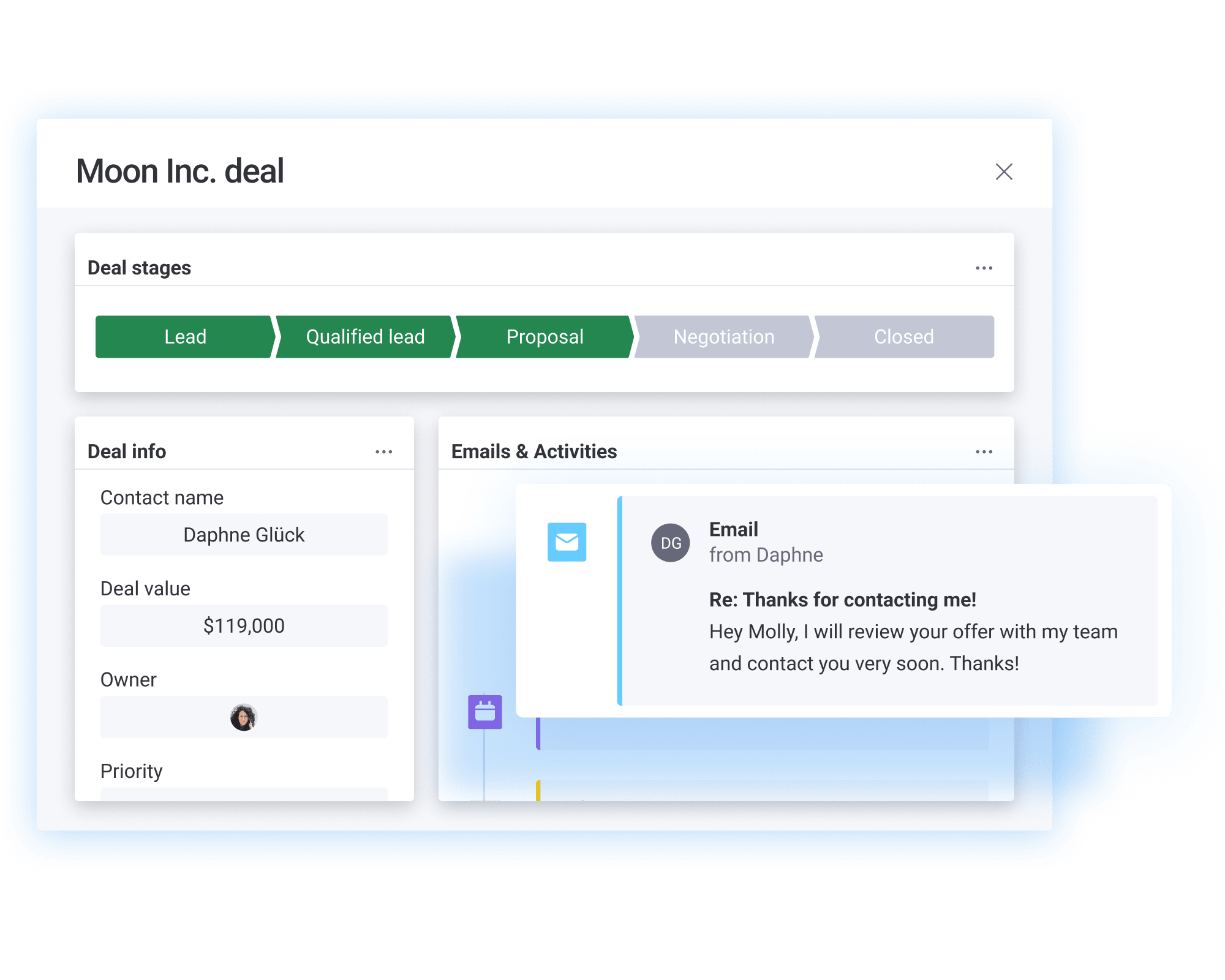 Keeping CRM best practices in mind ensures you take advantage of the resources any platform offers. Pair these best practices with the powerful monday sales CRM to streamline communications, support cross-department collaboration, and intensively track data that can be used to promote more informed, productive decisions.