Managing entire construction projects from start to finish requires an incredible amount of organization, a lot of teamwork, and a huge amount of industry knowledge.
Construction managers have a ton on their plate, but the right construction software is a good place to start to make their lives a little easier.
In this guide, we'll take a look at what construction management software is, how it can help you run projects more efficiently, and the features you should be looking out for.
What is construction software?
Construction management software helps businesses plan, schedule, track and execute various construction projects.
In a nutshell, it's a software solution that provides construction firms with oversight of all their projects and enables them to better manage their construction projects and resources.
Ranging from project management and sales to marketing and customer service, construction software allows everyone in the team to work collaboratively and see everything in one central location.
What are the benefits of construction management software?
Deciding whether to implement company-wide software is a big decision, we get it.
To help you figure out if a construction software solution is right for your business, we've collated some of the key benefits below.
1. Streamline your business' processes
Without a central location to work from, it can be difficult to keep on top of your projects. And that lack of oversight can result in missing deadlines, going over budget, or a dozen other unfortunate results of poor process management.
But with construction project management software, that's not the case.
Everything relating to all of your construction is hosted in one location. This makes it easier to streamline your business processes and keep on top of your projects from start to finish.
And depending on the software you use, you can also customize your projects, track project progress, add comments and feedback to specific tasks, and even create automations to modernize your processes and reduce manual work.

2. Boost collaboration and improve communication
Managing a construction team is easier said than done, especially when you've got conflicting deadlines on the go and different teams working in various locations.
But using construction management software helps teams collaborate effectively, whether they're working on-site or in the office.
Contractors can easily update you about materials deliveries, job completion, or scheduling issues on their phone without even having to sit down at a computer.
And depending on the software you use, you can even collaborate with external stakeholders like architects, contractors, and clients.
3. Make more informed decisions
Using the data stored in the construction management software, managers can make smart business decisions.
This could be anything from deciding whether to hire new employees to how you should allocate resources effectively.
What are the features of construction management software?
It can be overwhelming choosing the right construction management solution for your business, especially given how many software options there are out there.
With that in mind, we've outlined some of the specific features you should look for in your construction software.
1. Ready-made templates
As a construction project manager, your list of roles and responsibilities is pretty long. And so, you need to streamline your workflow and save time wherever you can. We recommend using a punch list.
Enter: ready-made construction templates, the perfect way to save time and get stuck into project planning.
Having a template that's ready to go saves you the time and hassle of manually creating your own construction project plan from scratch.
So when you're on the lookout for construction software, make sure the platform has the option to use pre-made templates. You can thank us later.
You need a platform that has templates ready to go, but that can also be customized, just like the templates in monday.com's template center.
With all of our templates, you can add and remove whatever you need, allowing you to structure them for your projects and team specifically.
Read more about construction quality control plans templates.
2. Automations
Another way to save time is with automations.
Automations allow you to spend less time doing repetitive, mundane tasks, and spend more time managing projects.
Whether that's changing the status of a project when a subcontractor marks a job as complete, or automating recurring tasks like notifying another sub to get to site, automations will save you a lot of time in the long run.
You also want a platform that allows you to create custom automations.
That way, you can ensure your workflow is as streamlined and efficient as possible.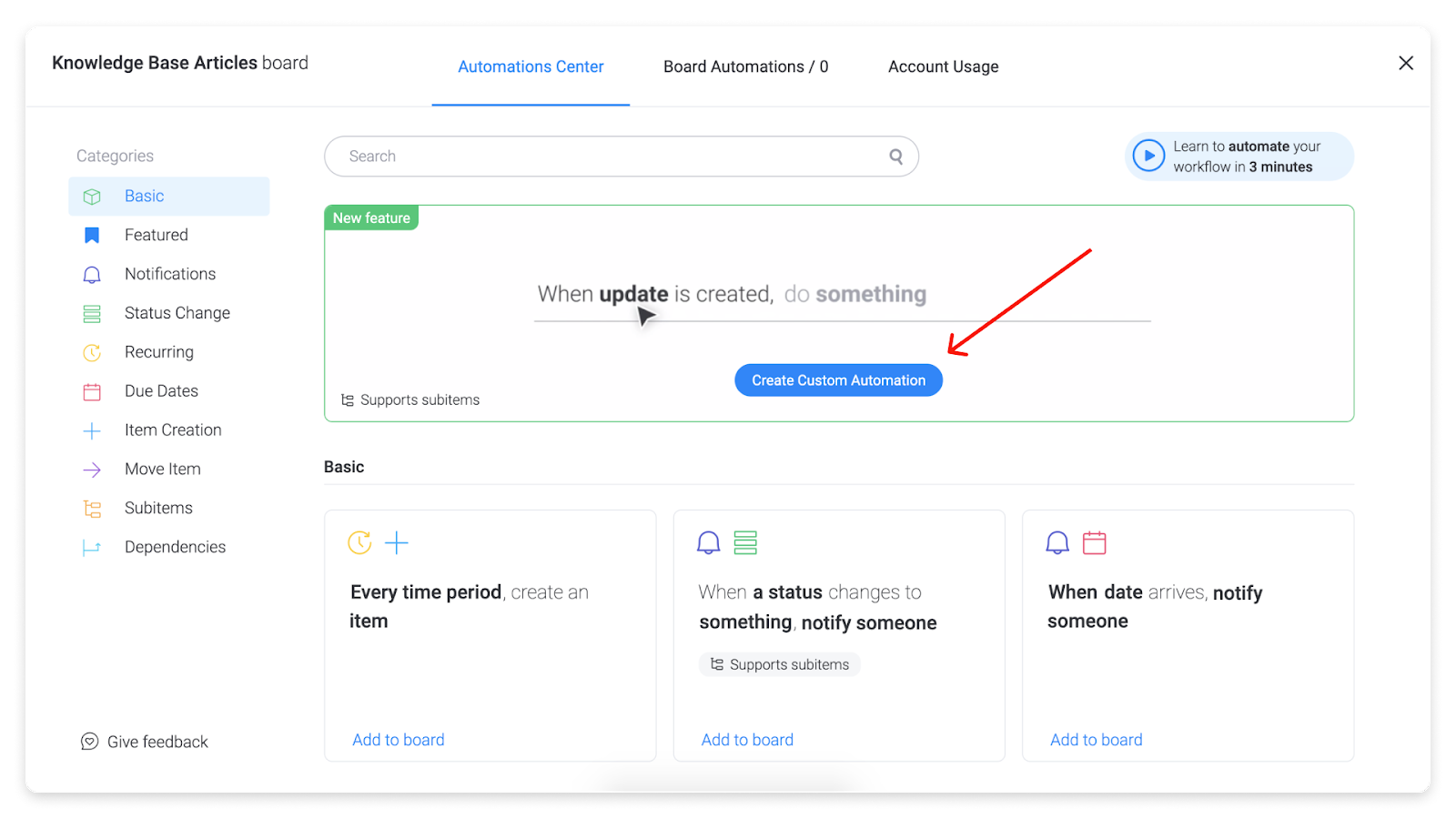 3. Real-time reporting
Real-time reports are an important part of the
construction management process
. They not only provide construction managers with an overview of what's happening, but they also identify areas for improvement.
So you need construction project management software that can offer real-time updates and reports.
4. Budget and resource management
Construction estimating and managing resources can be incredibly hard work in the construction industry.
There are so many variables on a day-to-day basis that it's almost inevitable for things to fall through the cracks.
But using software helps construction businesses manage these areas more efficiently.
By inputting all of the budget spend and resources available into the software, construction estimating and job costing becomes much more efficient.
As a result, construction managers can effectively manage their resources, estimate construction costs, and identify the best way to spend their budget.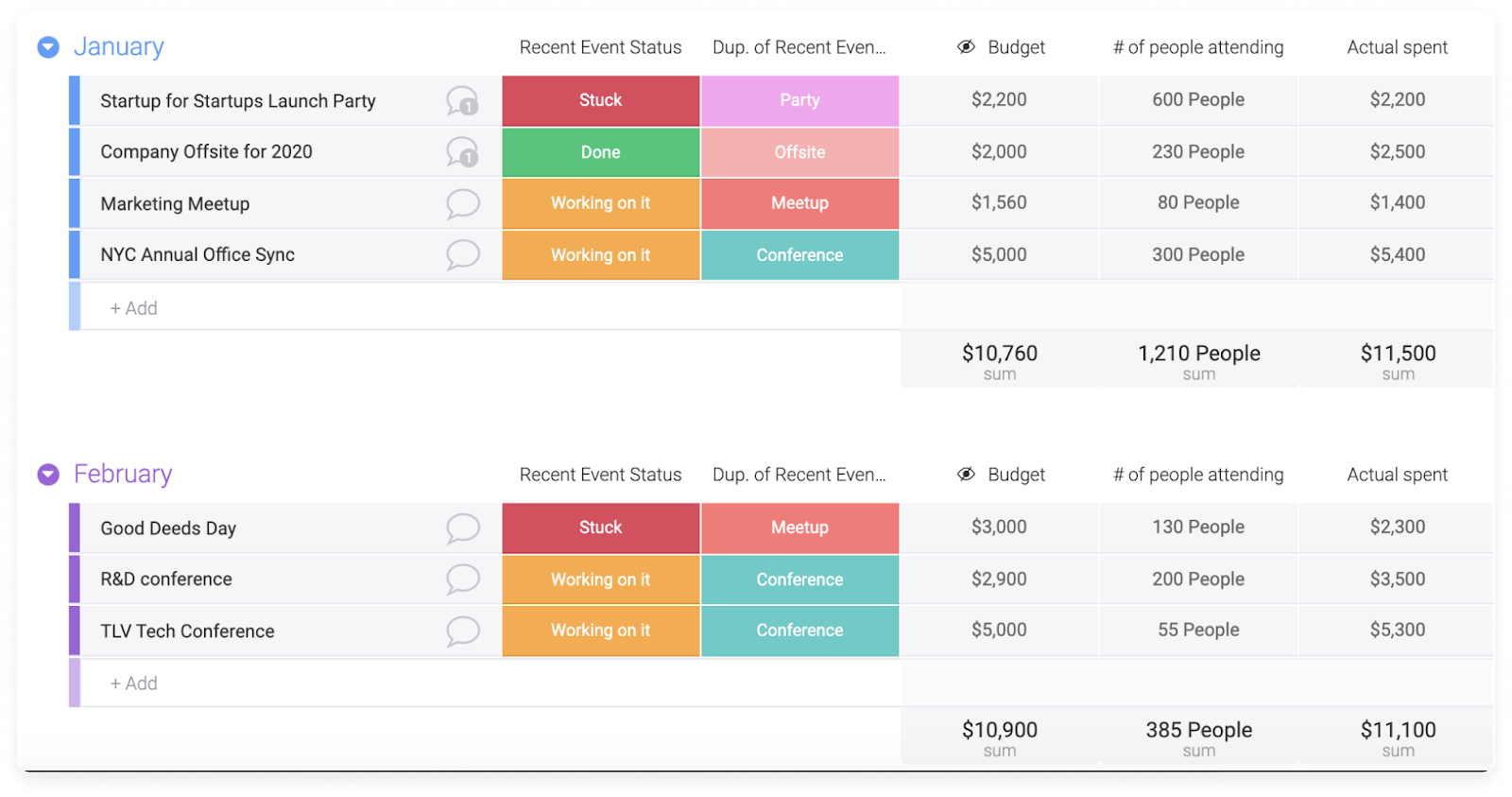 Why monday.com is an ideal platform for construction management
1. It's easy to customize and fully customizable
We know that every construction business requires different features to make their workflow as streamlined as possible.
That's why with monday.com, users can customize their projects to their heart's content.
Whether that's adding new columns to your boards or creating automations to save time on repetitive tasks, monday.com is a construction management platform that can cater to your needs.
You can even change the layout of your latest construction project to our Map View, which allows you to see all the areas where your construction projects are taking place.
Pretty handy, don't you think?
2. It enables you to easily manage resources
With team members working in different locations and various projects taking place at the same time, construction managers must ensure resources are allocated efficiently.
Ranging from the equipment you're using to the budget you have available, monday.com allows users to keep track of resources and ensure that they're allocated efficiently.
As a result, construction managers can breathe a sigh of relief knowing they've allocated their resources correctly.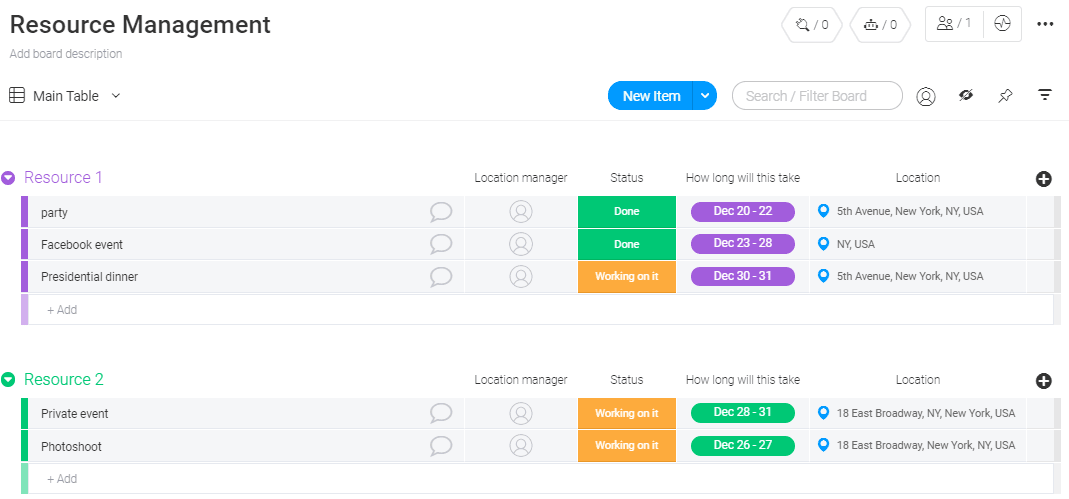 3. It will streamline your processes
Using monday.com is a surefire way to streamline your workflow and business processes, no matter how complex they are.
Whether that's using our pre-made templates to get your project off the ground or adding custom automations, we're here to help you refine your workflow.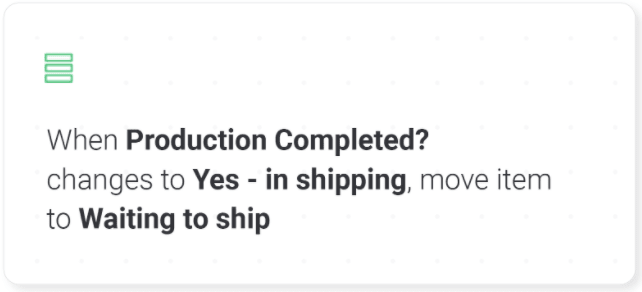 4. It allows you to visualize projects in their entirety
When you use monday.com, you have oversight of, well, everything.
You can oversee project scheduling, purchase orders, and every single task assigned to your general contractor, all from one centralized platform or mobile app.
Users can also choose to view their projects in our high-level boards, making it easy to identify the most important elements of each project from one screen.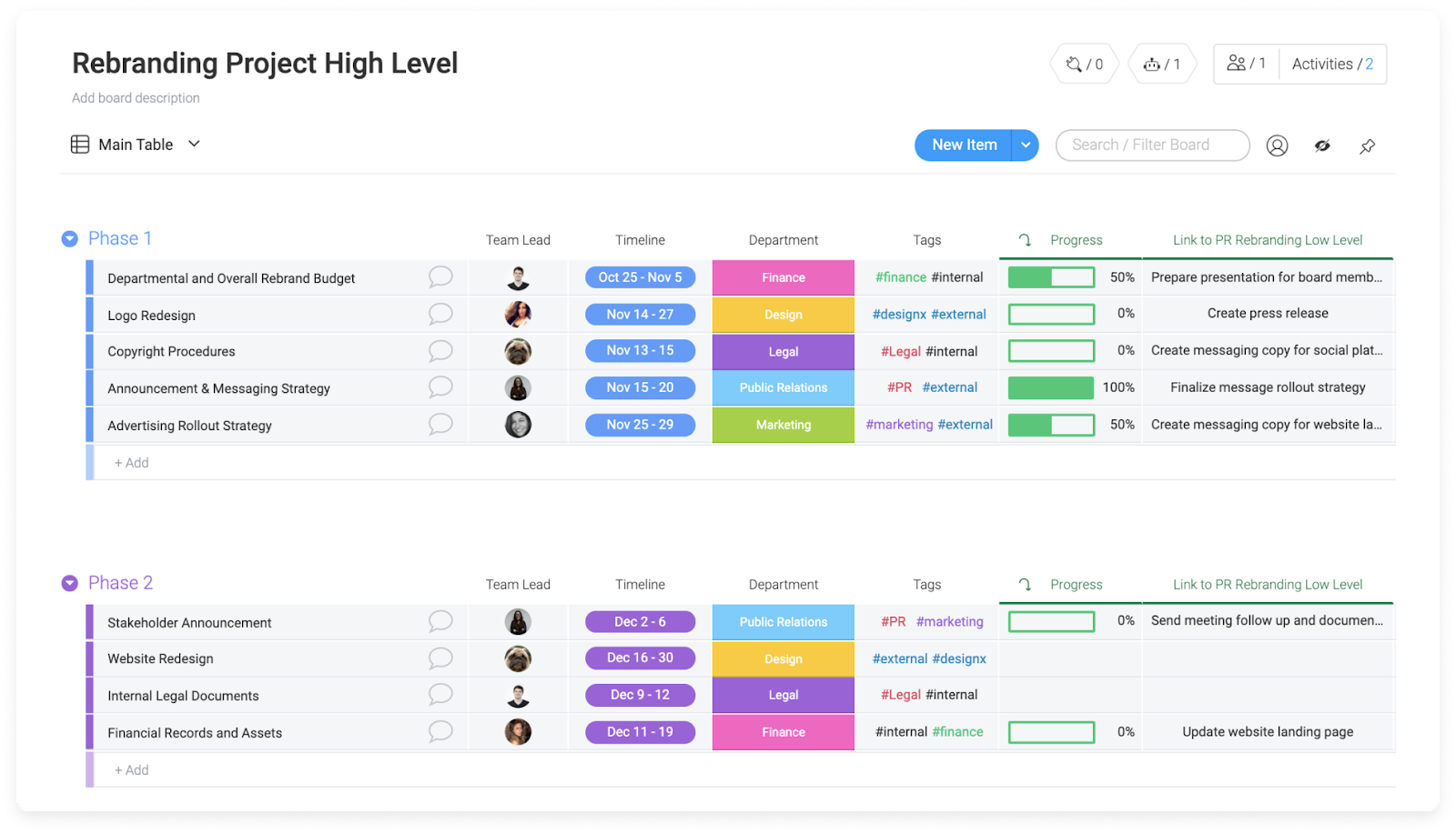 With this visibility, it's pretty straightforward for construction professionals to keep on top of task management and ensure projects are progressing on time and within budget.
5. Real-time updates and reports
Access to real-time data and reports allows construction managers to measure how teams are performing against their goals, and identify any areas for improvement.
In short, real-time reports present the reality of our projects as well as any room for improvement.
With monday.com, construction professionals have access to all the real-time data and reporting features they need to keep on top of project progress.
In fact, our construction project tracking template exemplifies these features pretty well.
With this template, construction managers can keep track of tasks as and when they happen. They can then use this information to create their own reports and dashboards to display the information exactly how they want.
And with our advanced board filters, they can even drill down into the nitty gritty and create reports on specific trends, gaps, and opportunities.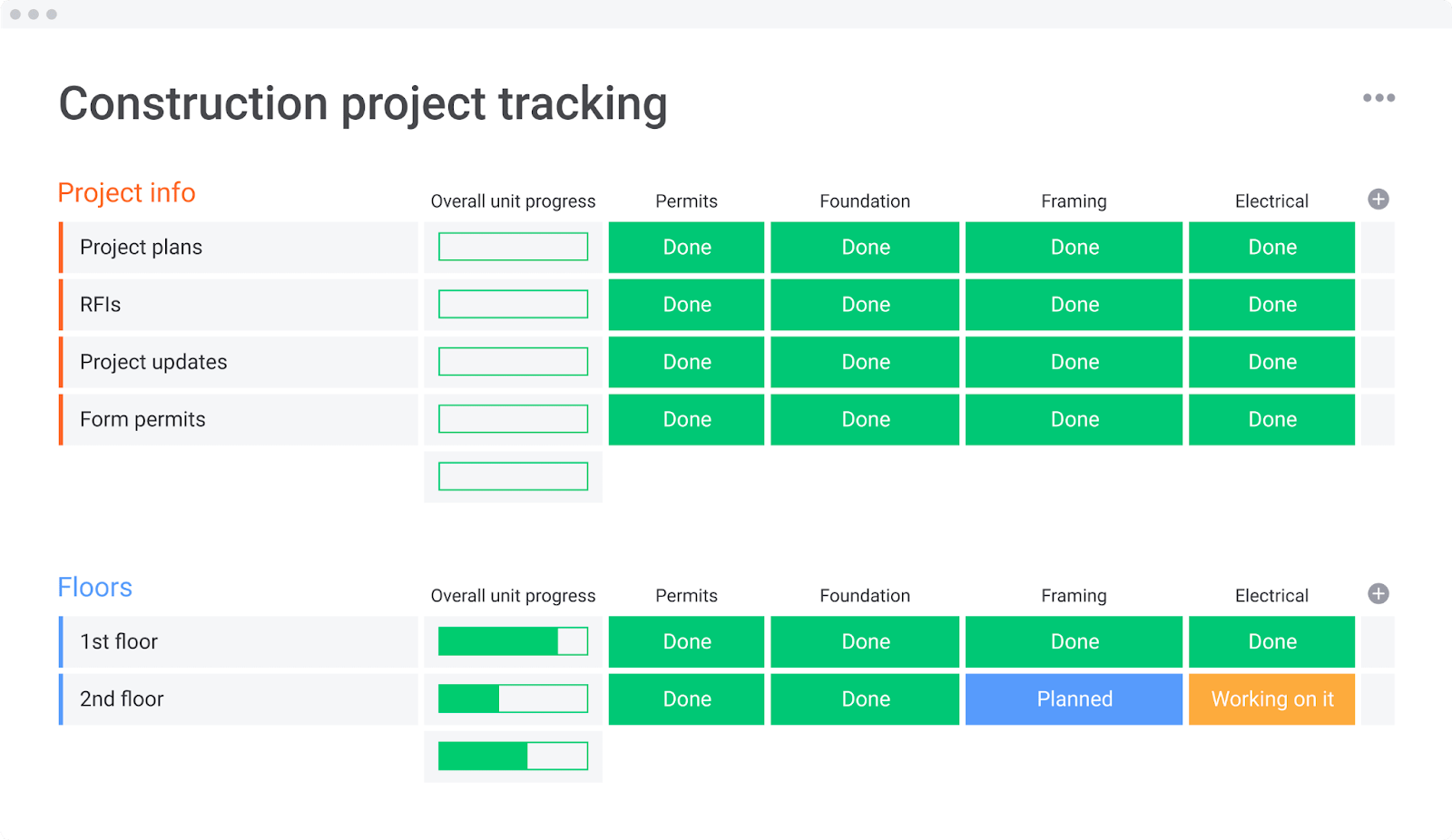 Finding the right construction software for your business
If you're apprehensive about using construction scheduling software, we get it. The idea of moving all your processes into one platform can be pretty daunting.
By using monday.com's construction project and task management software, you'll realize that it's an easy-to-use, customizable platform that is everything it's been built-up to be (pun intended.)
Try it now for free, no credit card required!