An on-the-go CRM for contractors
Every industry needs a way to constantly nurture customer relationships and construction is no different. Sync customer data, access customer information from anywhere, keep track of your construction schedule, and drive more business with monday.com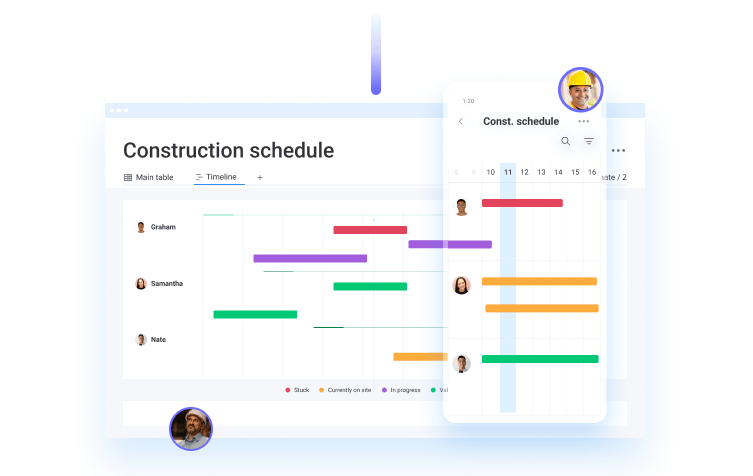 What to look for in a CRM for contractors
The best CRM for contractors allows construction firms to organize, schedule, and plan workflow in a cohesive platform. The most powerful CRM softwares for construction firms have several features that make it easy to foster customer relationships, track communications, meet deadlines, drive revenue, and streamline processes. Some of these features include:

Files so you can attach and store important documents, images, or information in one place

Integrations that allow you to use all of your tools on one platform for an effective CRM system

Views that let you visualize data and the sales process in several different ways

Dashboards to gain real-time insight into strategies and sales opportunities
monday.com has all the capabilities of a CRM for contractors, plus even more.
Our fully customizable, user-friendly platform lets you boost the customer experience, refine your internal processes, and centralize your information into a 'single source of truth'. Create your CRM platform from ready-made templates or easily tailor any sales pipeline, workflow, and process to drive real business impact. Here's what you'll get on monday.com:

Mobile app
Contractors often jump from place to place, which is why our CRM software is accessible with a mobile app. Let your employees work on the go, wherever they are. Get access to editable boards, add important live notes & Updates, and feel confident that any information you may need is right in the palm of your hand.

Intuitive interface
Our drag and drop functionality and visual boards make it easy to create workflows, see where projects or deals stand, and increase productivity. See all of the details you need to make smarter business decisions on one board.

File storage
Stay organized no matter how many deals or projects are in your pipeline with Files. Store and attach as many documents as you need to keep operations running smoothly. Give all team members access for seamless workflows.

Multiple views
Visualize tasks, updates, projects, and pipelines however you want. monday.com offers views such as: Calendar, Gantt chart, Kanban board, Timeline, Chart, Map and more. For instance, use the Chart View to see where deals or projects stand per contractor to gauge output.

Dashboards
Display all your important information in one place with custom dashboards. Increase visibility into whether goals are being met, budget status, activities per job site, and more. Run reports from a high-level view of your business down to tiny details, such as individual invoices .

Integrations
With integrations, you can manage your entire pipeline without needing to open several tabs. Choose from Slack, Google Calendar, Zoom, Zapier, Gmail, and more. Set up integrations in just a few clicks and create custom automation recipes without developer assistance.
Frequently Asked Questions
What is a CRM in construction?

Customer relationship management (CRM) software for construction businesses provide lead management and data organization, along with tools that help builders streamline and manage processes. This could include project management features, quote generation, and contractor operations management.

What is the best CRM for a small business?

One of the best CRMs for a small business is monday.com. monday.com is easy to set up and completely customizable to fit your needs. Manage your sales pipeline, projects, lead management and capturing, contact management, and more all from one platform.

Centralize all of your client information onto one central workspace, easily set up automations to help you close more contracts, get the full picture with customizable dashboards, and access dozens of other features that will help you manage every aspect of your business.

Which CRM is easiest to use?

Thanks to our low-code/no-code building blocks, any team in any industry can use monday.com to manage any kind of work. Add automations, integrations, loop in stakeholders, create documents, and more right from the platform without needing any developer assistance.
The best CRM for construction and contractors
monday.com helps over 152K customers work without limits. Create a customized CRM software that will help you keep clients happy and increase your bottom line.
Other CRM for industrial services