If you've found the perfect way to execute your internal business processes, it makes sense to document the steps required so you can repeat the successful workflow again and again. To do so, businesses use standard operating procedure (SOP) documents which improve efficiency and ensure compliance with industry regulations, too.
In this article, we show you how to turn your own processes into an actionable SOP. We also share monday.com's customizable, free SOP template, so you're all set to start documenting routine procedures in your workplace.
What is a standard operating procedure (SOP)?
A standard operating procedure (SOP) acts as a reference point for your staff and a formal explanation of "the way we do things around here." Far from being extra paperwork, following an SOP ensures consistency and produces high-quality results for teams.
For example, an events management company might use an SOP as a roadmap for organizing and executing events, such as conferences, corporate meetings, or weddings. The SOP would outline the steps required for tasks involving:
Client consultation
Budgeting
Venue selection
Vendor coordination
On-site logistics
By following an SOP, events team members use a standardized process when planning events, allowing them to deliver high-quality experiences for clients. This approach also ensures efficient resource management, reduces the likelihood of errors, and ensures all safety requirements are met during events.
What is an SOP template?
A standard operating procedure (SOP) document outlines internal processes by providing crystal-clear directions on the best or expected way to complete your tasks. An SOP aims to create a repeatable, standardized process to use every time you execute a particular type of workflow. You could use an existing SOP template to create your documentation or save your new SOP as a template to use for future internal processes.
To document procedures, companies use an SOP template to organize their guidelines in a way that's easy to understand. You might present the template as a checklist, step-by-step guide, hierarchical list, or flowchart, depending on the complexity of your procedure. In each case, the SOP will include a written set of steps that explain the task in detail and provide resources for additional information.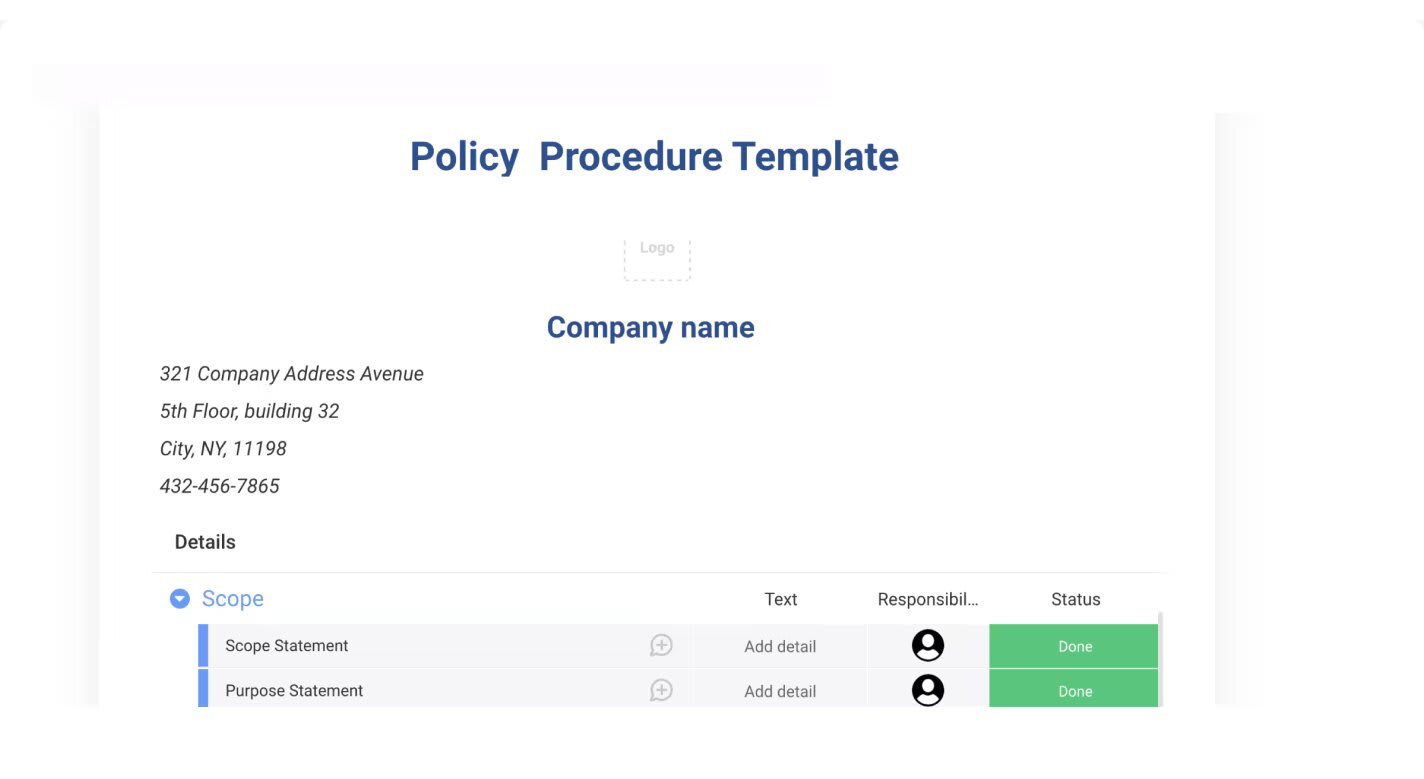 Why use an SOP template?
Implementing standard operating procedure templates in your workplace has countless benefits for your business processes. Here are some results you can expect from implementing SOPs in your organization:
Provides a guideline for achieving consistency
Improves quality assurance
Supports company safety standards by avoiding hazards
Saves you time and money by preventing errors
Simplifies company audits
Reduces employee training times
Helps you adhere to legal and compliance requirements
Transfers work seamlessly between team members
You can increase the advantages of an SOP template by customizing it to meet your specific needs. monday.com's Policy Procedure Template is easily customizable, allowing you to design an intuitive layout for your team to document any procedure.
How to write an effective SOP: a step-by-step guide
No two SOPs are identical, and must be customized to the specific business processes you need to document. However, the process of writing an effective SOP follows a similar set of steps, as follows:
1. Consider the purpose of your SOP
The main purpose of your SOP will be to provide clear and consistent instructions to a relevant audience on how to carry out a specific task in your organization. Consider what this means to you by defining who will read your procedure document and your overall goals for creating it.
For example, if your Human Resources department requires an SOP for employee onboarding, this should include specific steps for your people team to get new hires up-to-speed with the company as quickly and easily as possible.
2. Include the key elements of an SOP
Each standard operating procedure should include:
Title: Use a distinct title that ensures your SOP document is easily identified.
Scope and purpose: Outline what the SOP covers and who it's intended for.
Roles and responsibilities: Highlight who is responsible for completing each task mentioned in the SOP.
Procedure: List the steps required to execute your procedure, which will form the bulk of your SOP.
Related documents: Provide access or links to supporting documentation, such as training guides that the reader may require to understand the SOP.
Definitions: Avoid using jargon unless you're confident the reader understands it. Spell out abbreviations or acronyms to avoid confusion.
Turnaround times: Include expectations around how long each procedure should take.
Quality standards: Detail the industry standards your organization or process must follow.
Revision history: Date your SOP to clarify how recently you've updated it. This timestamp highlights whether the document is still relevant to your reader.
Approval signatures: Add approval signatures to your revision dates to promote accountability.
3. Choose your SOP format
The best format for your company and project depends on the nature of the work, the operating procedure you are outlining, and how much time employees have to review the material. Here are the four main types of SOP to choose from:
Checklist
SOP templates in checklist format are flexible, highly customizable, and suitable for various applications, from individual preparation for a task to project completion and preparing deliverables. You don't need to complete individual items or tasks in a specific order. However, getting through the list determines whether you're on track to complete a project or prepare for an event.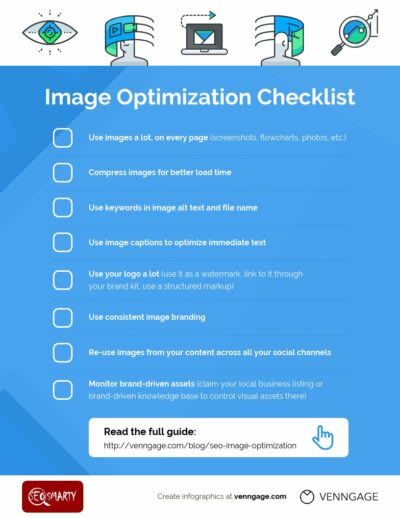 Step-by-step
Unlike your standard checklist, a step-by-step SOP requires that you complete tasks in a specific order. This is a useful SOP format for short, simple procedures requiring timeliness and precision. You can number each step that corresponds to an actionable task. Here are some examples of when you might use a step-by-step SOP:
Troubleshooting technical problems
Outlining manufacturing processes with strict rules on how to operate them
Designing research protocols, such as data entry and analysis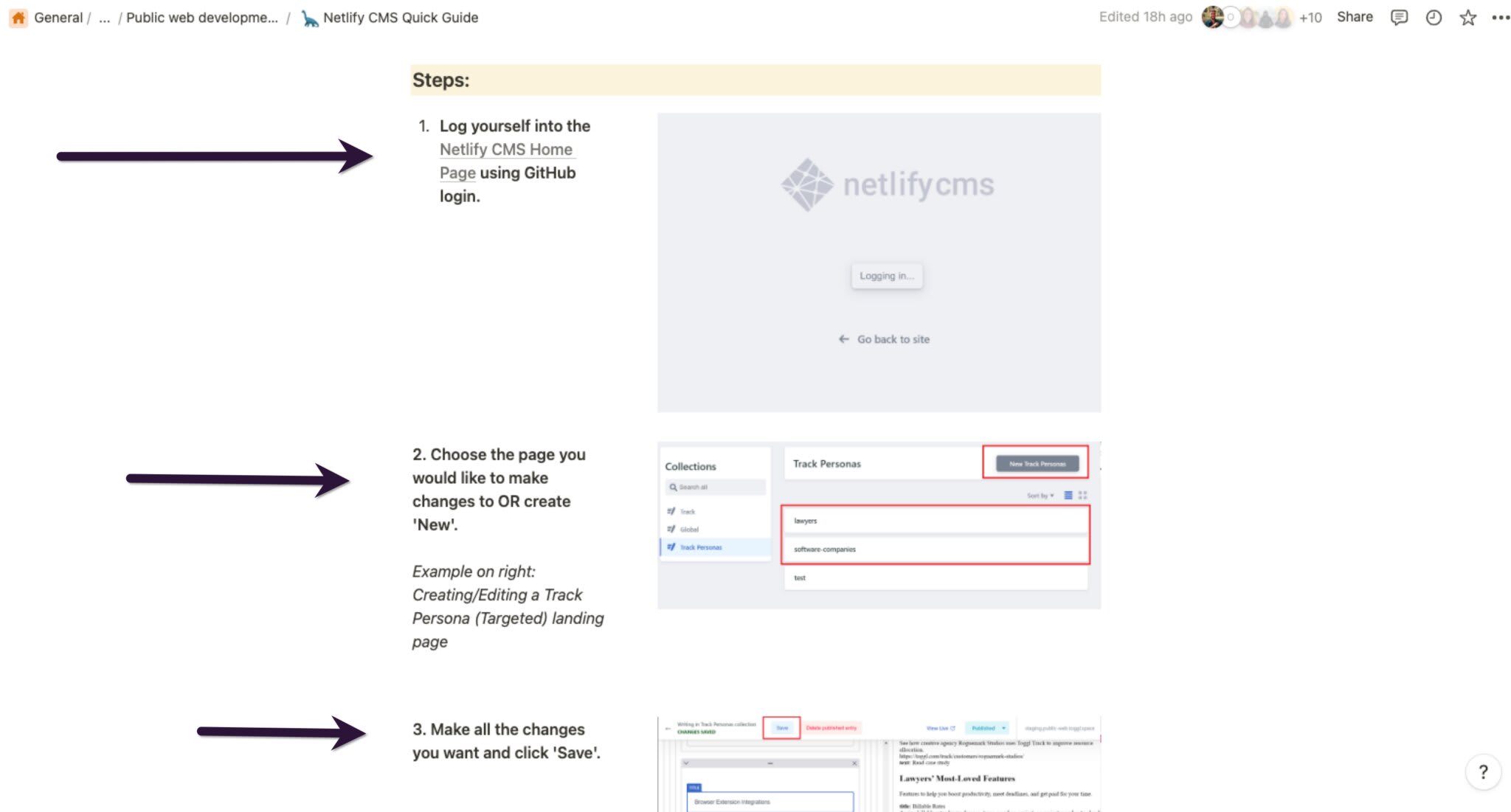 Hierarchical
Hierarchical SOPs are similar to step-by-step formats in that order is still important. However, they're more suitable for more complex workflows requiring multiple task dependencies, subtasks, and approvals.
For example, you might use a hierarchical SOP to document the approval process for making an organizational change. You could display this format as steps 1a), 1b), and 1c) or 2.1, 2.2, and 2.3.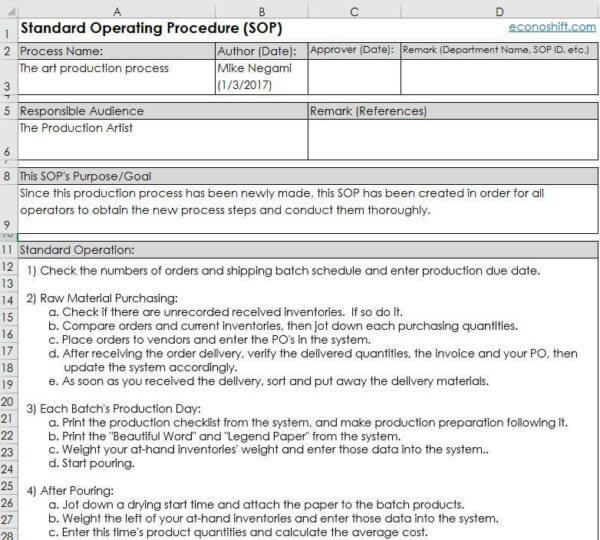 Flowchart
A flowchart provides a visual representation of your SOP. This format is useful for complex tasks with multiple steps and possible outcomes, such as troubleshooting technical issues or deciding how to proceed with a task based on various factors. When a task's result isn't predictable, using a flowchart to map out the various ways to proceed is a good idea.
Each step in the flowchart directs what to do next, depending on the results. You can structure flowcharts like hierarchical SOPs but present information visually through symbols, arrows, and diagrams.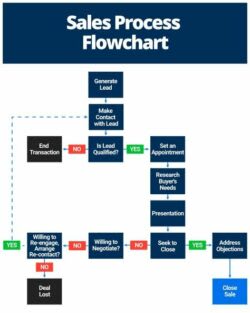 4. Write your SOP procedure
Building an outline is always smart before you start writing, as it allows you to collect all the details you need before drafting your procedure.
Before you start writing, ensure you've interviewed all relevant stakeholders so you know the exact procedure to document. Ensure you understand the process's start and end point so it doesn't overlap with other procedures that require separate SOP guides. With all the pieces in place, it's time to write your SOP template.
5. Review and adjust your SOP
Your standard operating procedure is only effective if it remains relevant. The tiniest change to your process must be updated in your SOP so it continues to make sense. Depending on the process in question, this may also be necessary for compliance. Jodene van Lienden, Founder and CEO of Open Mind Coaching & Consulting, explains,
"SOPs are living documents that adapt with evolving needs. Regular reviews foster a culture of improvement, driving innovation and refining processes."
Determine how often you'll review your SOP, then set reminders and notifications to keep track of documenting any change. For example, you might use monday.com to schedule automatic reminders to update your SOP once a quarter or annually.
7 types of SOP templates
Depending on the industry, role, or process you're writing an SOP for, a customized template is a great jumping-off point for drafting your guide. Here are a few SOP template examples you can create with monday.com.
IT SOP template
IT teams need an SOP template to execute day-to-day tasks like troubleshooting, bug reporting, security events, setup procedures, maintenance schedules, and asset management. Due to the fast pace of technology, make sure to update your IT procedures frequently, committing to reviews after every upgrade, system update, or software change.
HR SOP template
HR teams use standard operating procedure templates to document processes like onboarding new hires, delivering performance reviews, or reviewing employee benefits. This HR SOP template enables you to track these processes from beginning to end so your team can see who is responsible for each step and when to complete them. Keeping this information organized is key to building positive workplace relationships and enhancing the employee experience.
Manufacturing SOP template
Manufacturing is an incredibly detail-oriented field that requires strict adherence to safety regulations, production deadlines, and quality assurance processes. By outlining instructions for each task in the template, your team can work quickly and accurately on any project while remaining protected.
Restaurant SOP template
Running a restaurant involves liaising with multiple parties to ensure a smooth operation, particularly regarding food safety and quality control. Your SOP template could outline procedures for ordering supplies, daily cleaning and sanitation protocols, or even customer service expectations. This will help maintain consistency in staff training while ensuring your kitchen is well-stocked with everything needed to satisfy customers.
Retail SOP template
Retail stores must carefully document processes for customer service, inventory management, and store operations. Create separate procedures for routine tasks like handling refunds, running sales, or customer complaints. This ensures customers receive a consistent service regardless of which store manager is on duty on any particular day.
Sales SOP template
Sales teams need an SOP template to track leads, conversions, and deliver an exceptional customer experience. A sales SOP template could highlight how to score leads, when to progress leads to the next sales funnel stage, and who will be responsible for each process step. This will help your team work quickly and efficiently while delivering a streamlined customer experience.
Customer service SOP template
Regardless of the industry, any customer-facing business should create an SOP to provide clear instructions on customer service processes. Your customer service SOP template could outline protocols for responding to customers within X working days, resolving inquiries, and providing feedback.
Create any of these templates and many more by using monday.com's Policy Procedure Template as the foundation of your process. Available from our Template Center, this is a highly customizable framework for outlining the routine procedures you use in your organization.
Features of monday.com's SOP template
monday.com offers a Policy Procedure Template that makes an excellent foundation for your SOP Template. It provides your employees with a clear guideline for company best practices, and reduces the risk of human error. Here are the main features you'll love when using our template to organize your internal workflows:
Team planning: All stakeholders involved in creating your SOPs can easily come together in a single place, sharing notes and updates, so everyone has the information they need to create thorough documentation.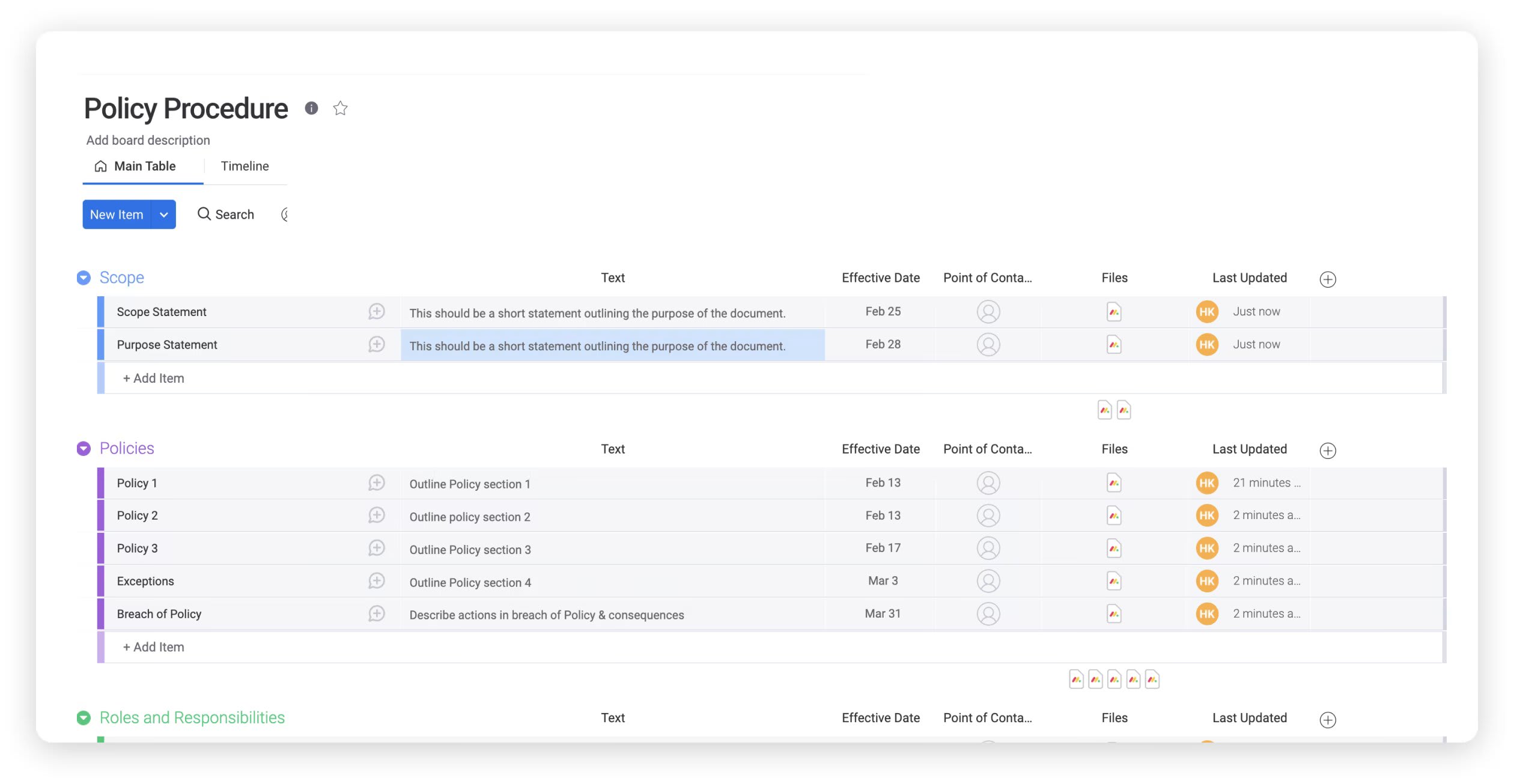 Views: The Policy Procedure Template includes a board and document view, so stakeholders can visualize the data in the way that makes most sense to them. For example, you might use the at-a-glance Timeline View to see your upcoming tasks.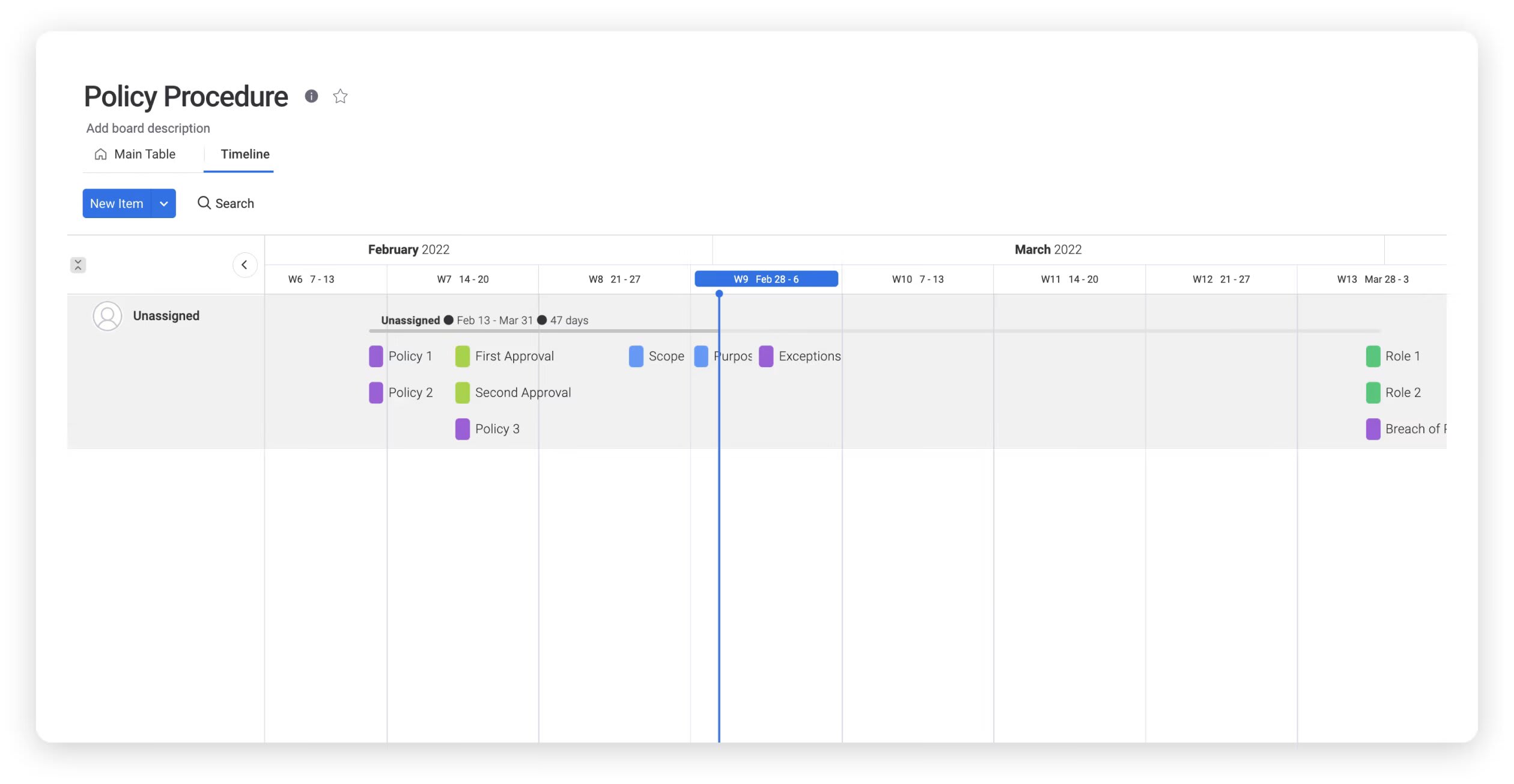 Automations: Set up automatic notifications to stay on top of reviewing your SOPs. For example, you might build an automation that sends an email to an SOP reviewer six months after the last review.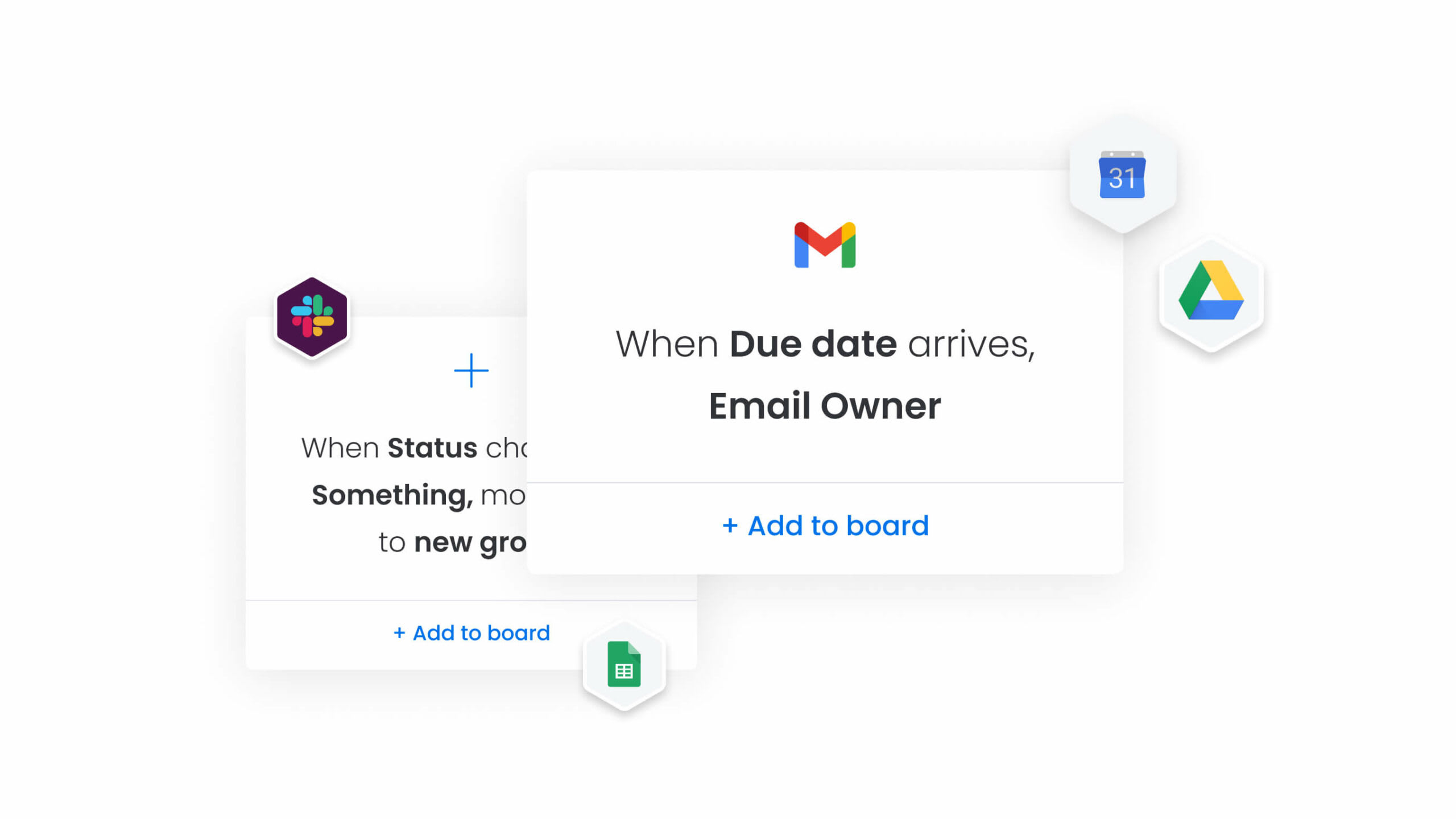 Integrations: monday.com offers 72+ integrations with other tools in your tech stack, so you can access all the information you need without switching screens. For example, you can link monday.com with Gmail or Slack to keep communication in one place, with Google Calendar to manage diary items, or with Microsoft Word to view, write, or edit your SOPs.
The Policy Procedure Template is simple and intuitive, empowering teams to lay out project workflows confidently. To learn more about how monday.com can keep your team on task and increase efficiency, sign up for a free trial below.
Related templates to SOP templates
A well-laid-out SOP template helps minimize employee training times and ensures team members understand what steps to take to adhere to company policies. In addition to using an SOP template to achieve these outcomes, we also offer other templates to increase efficiency and support employee development.
Project Workflow template
monday.com's Project Workflow Template provides a central tool for visualizing and coordinating various project aspects, ensuring everyone on the team can access real-time changes. Our Project Workflow Template is highly customizable, so you can adapt it to your business and match the workflow features to your team's needs.
A reliable workflow template prevents bottlenecks, facilitates planning, and creates transparency among team members. The template lets you assign as many owners as you need for your project, ensuring each team member knows which tasks they're responsible for completing.
Training plan template
monday.com's Training Plan Template helps you manage the process of training new hires. Our free template speeds up the onboarding process and your training plan development. In addition to onboarding and outlining company policies, this Training Plan Template covers topics such as safety protocols, executive training, and diversity training. There's some overlap between employee training plans and SOPs, so combining these templates can effectively manage new hires.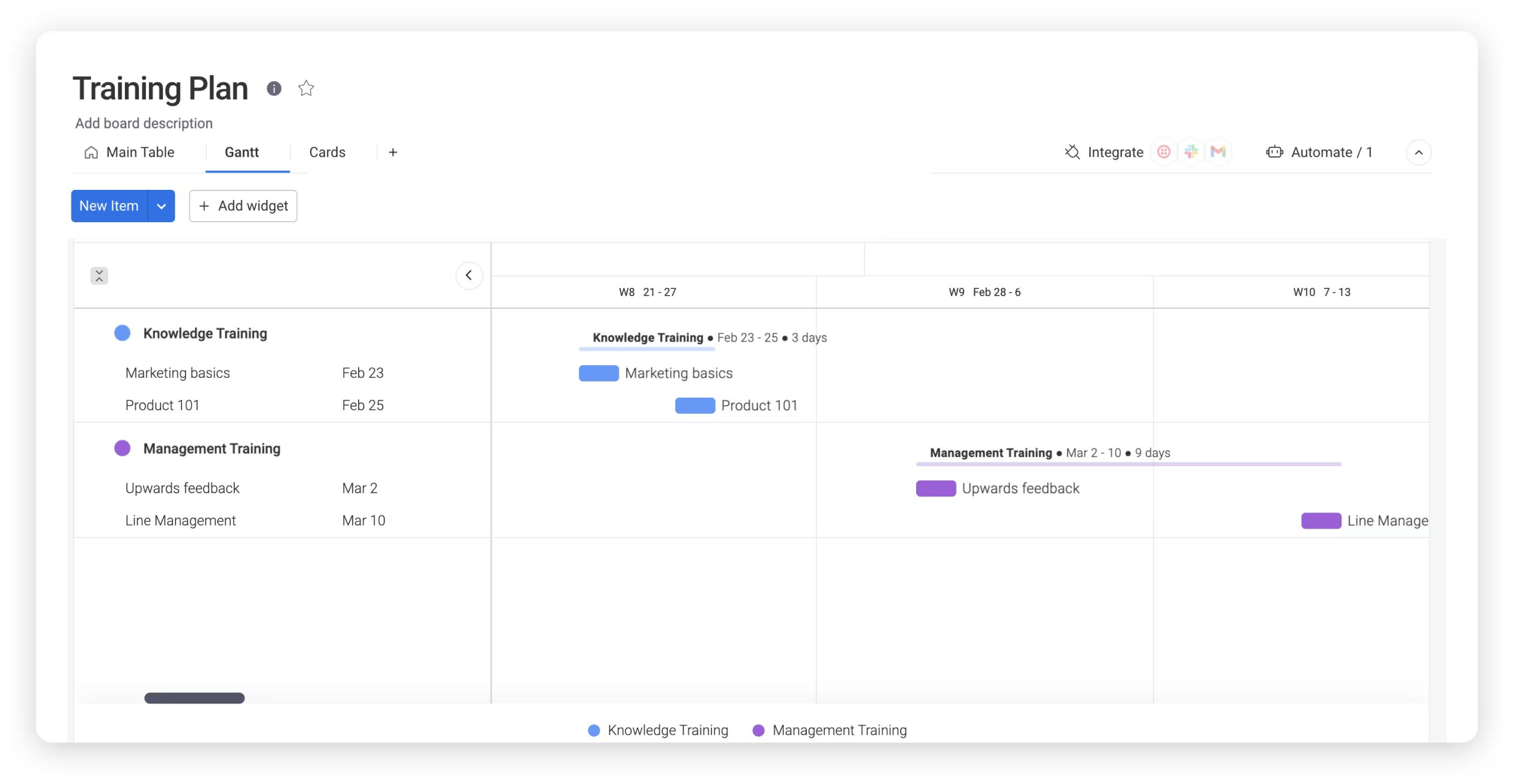 These additional templates help you develop a stronger SOP document for your company. When considering the most important components to include in an SOP template, check out the answers to some frequently asked questions regarding standard operating procedures and related templates.
FAQs about SOP templates
What is an SOP format?
A standard operating procedure format refers to the structure of the SOP document and the way you present the information. For example, you may choose to use a hierarchical, flowchart, checklist, or step-by-step guide. Whichever format you select, your SOP should start with a brief overview of the process or procedure, followed by an outline of the steps and a summary of related documents and resources. The right SOP format will depend on the process or procedure you're outlining in the document.
Who is responsible for writing SOPs?
The person writing your standard operating procedure should have experience with creating workflows and procedures at a high level—typically, it will be the company's management team, but may also include people in specialist roles. SOP writers don't need to be directly involved in the specific process being documented, although this would be a bonus. Where required, other stakeholders can lend their experience or offer contributions to ensure the SOP is accurate.
What is the difference between an SOP vs. a policy?
An SOP is a document that describes how to carry out specific operations and tasks. On the other hand, policies are rules or principles laid down by management that define acceptable behavior within an organization. While policies may be more general than SOPs, you should still make sure your SOPs adhere to all relevant company policies.