You've put in the groundwork to create a product that people love. Your advertisement campaigns are effective, and your ecommerce website is converting targets into customers successfully and repeatedly.
…now what?
Well, it's time to turn your attention to order fulfillment — a challenging and significant undertaking all on it's own.
You'll have to accept, process, and finally deliver your product to the customer without delay, making sure to produce the necessary documentation on both your own and the customer's end while monitoring each stage of the process to make sure the order is fulfilled.
Order fulfillment should operate like a well-oiled machine.
Failing this, customers will grow dissatisfied and you won't be seeing them return to your store anytime soon. This is especially true with ecommerce fulfillment, where expectations for speed are very high.
But you won't have to worry about that, this article has got you covered! We're going to break down the topic of order fulfillment piece-by-piece, providing an outline for streamlined order fulfillment with plenty of efficiency-boosting tips and tricks along the way.
What is order fulfillment?
Order fulfillment is the operational routine a company follows when accepting, processing, and shipping the orders they receive to end customers.
It can be performed internally, or by an order fulfillment company. A fulfillment provider will take care of the physical handling and delivery of the goods in the warehouse, but still requires you to provide essential data and instruction.
Naturally, the whole process is mostly relevant to ecommerce companies with physical products, though service companies can utilize some individual order fulfillment practices to deliver their services.
We can break down the fulfillment operation into the 3 distinct parts mentioned above, with some important additional consideration which we'll get to later.
1.Receiving
This is the first link in your supply chain, where your inventory is received by your storage location, which in most cases will be a warehouse.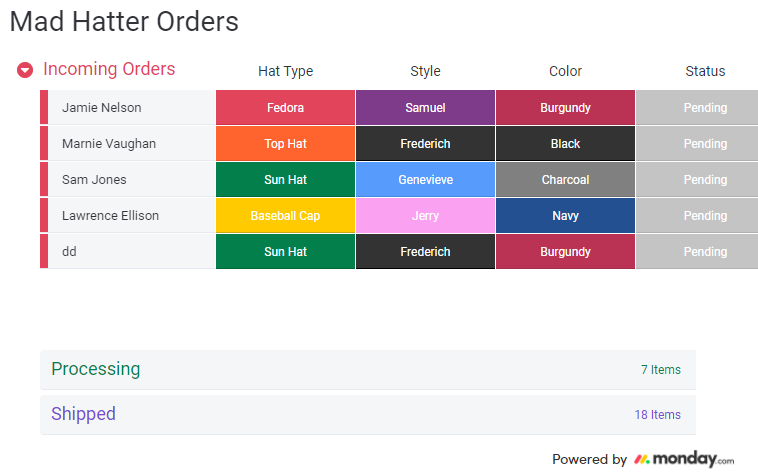 In this stage, it is important to inspect your inventory to make sure it's all there and hasn't been damaged in transit.
You will also have to add whatever form of stock tracking data you are using, whether it's SKUs (stock keeping units) and/or barcodes. This will help you track and manage the inventory on the front end.
In this stage, you will organize the storage of your goods, making sure to group everything in their relevant categories and dedicate a space for 'processing,' the next stage of the order fulfillment process.
2. Processing
If you've made it this far, congrats! You've got yourself an order. Typically, your ordering system will be linked with the fulfillment warehouse directly, so that when you receive a customer order, the warehouse will be automatically notified.
A warehouse employee will read the order sheet and pick the relevant items up from storage to take them to the packing station. This is called order picking.
At this stage, the final quality check can be completed for the items, and they're sealed in the box ready for the last stage — shipping.
3. Shipping
Once your goods are packed, taped, and labelled, you will weigh the entire package. At this point you can take the shipment weight to a selection of delivery partners to find the best shipping cost quote according to your preferred shipping method.
Once it's sent, the customer will begin to receive order updates from your delivery partner until it reaches its destination.
At this stage, you can, for all intents and purposes, finally say that the order has been 'fulfilled.'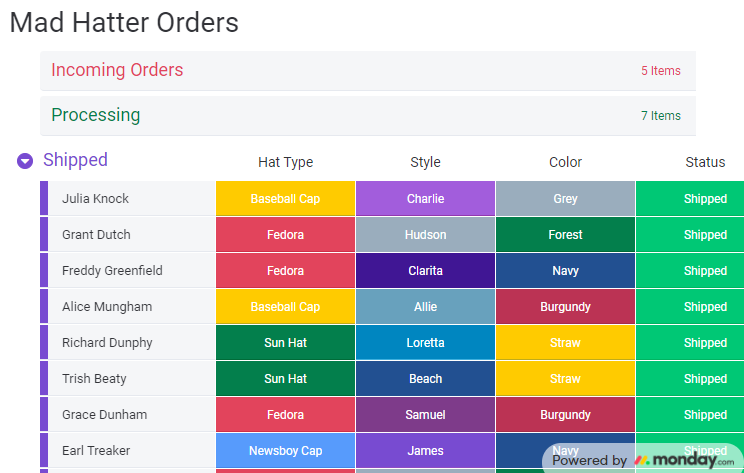 However, there's an additional consideration to take note of.
Returns
Despite its powerful effects on buying confidence and customer satisfaction, returns are often overlooked, probably because of their perception as existing outside of the order fulfillment framework.
But order fulfillment isn't finished without integrating a returns process. This is because you'll have to go back to square one if the customer's products are defective and you need to send out a replacement.
Make sure you have a clearly expressed, customer-facing returns policy. Then, follow up each purchase with a link for customers to begin the returns process if necessary.
Their choices should trigger actions that instate a refund or begin the process of fulfilling another order.
Once returns are considered, you can now calculate a per-unit fulfillment cost based on the fulfillment expenses of 1 inventory round divided by the number of units processed.
How can you improve order fulfillment?
OK, with order fulfillment 101 out of the way, we can get down to the real industry secrets that make order processing logistics not only faster, more efficient, and automated, but also much easier.
If you're not using an order fulfillment service, good software is your best friend when managing order fulfillment.
It has a place in every step of the process, and it's something we definitely know a thing or 2 about.
Inventory management, customer service, order processing, multiple orders, automated communications, real-time updates, and returns notifications. It all can, (and, as we argue, should) be handled by intelligent software.
This not only relieves a lot of labor in performing the dull administrative stuff, but also reduces the potential for human error, which occurs more regularly in the number and data-lead practice of order fulfillment.  
There are plenty of good management software solutions out there that can capably handle the order fulfillment process. But you don't want to be the 'goodest' company on the market, right?
Hell no, you want to be the greatest!
So be sure to look out for these essential features of order fulfillment software when designing your fulfillment strategy. They will save you time, money, and keep your customers coming back for more.
Flexible order management
Order management is the base of operations for your order fulfillment process. It's where the key information relating to placed orders is stored. The resulting database is then used to instruct the other elements of the process.
Every company is different, however, and in the domain of order fulfillment that couldn't be more true. Think of all the various return policies, shipping solutions, and lead-times of various companies, even in the same competitive space.
That's why it's key that your order management platform is flexible enough to account for these differences. You should be able to design the order management table according to the needs of your business, not the other way around.
monday.com: real-time inventory management solution
By now you've probably figured out that we at monday.com have developed a mean software solution that happens to be able to handle order fulfillment better than the rest.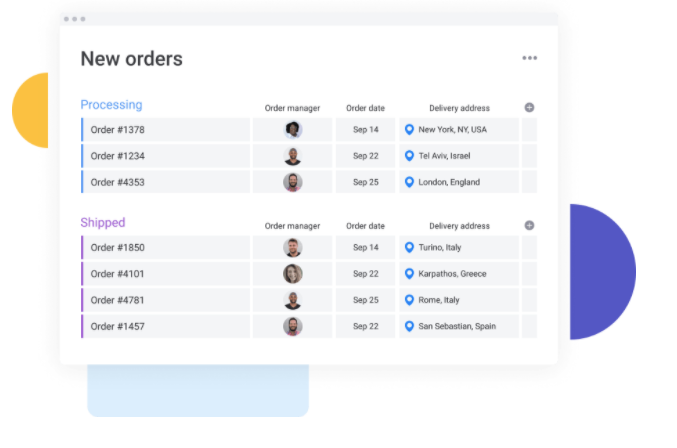 With monday.com, your order management table is just that — yours.
We've made it completely customizable to your needs, meaning you can add and edit columns according to the design of your order fulfillment system with drag-and-drop simplicity.
Customer communication
Next, it's important to look for software that can handle the necessary communications relating to order fulfillment, both internally and externally.
Communication is an essential component that has a presence in each step of the order fulfillment process.
Customers need to know when their order has been placed, warehouse employees need to know when an order has been accepted, and your logistics provider needs to know the order volume.
Typically, communication is handled by software in 1 of 2 ways: directly on the platform, or via integrations from external communication apps. A combination of both is the optimal mix, with internal communication happening both on the platform, and externally via integrations.
monday.com: keep customers in the loop with integrations
Did you know that monday.com lets you connect all of your favorite tools to the platform, so you can oversee the entire order fulfillment process and send out vital communications all in one place?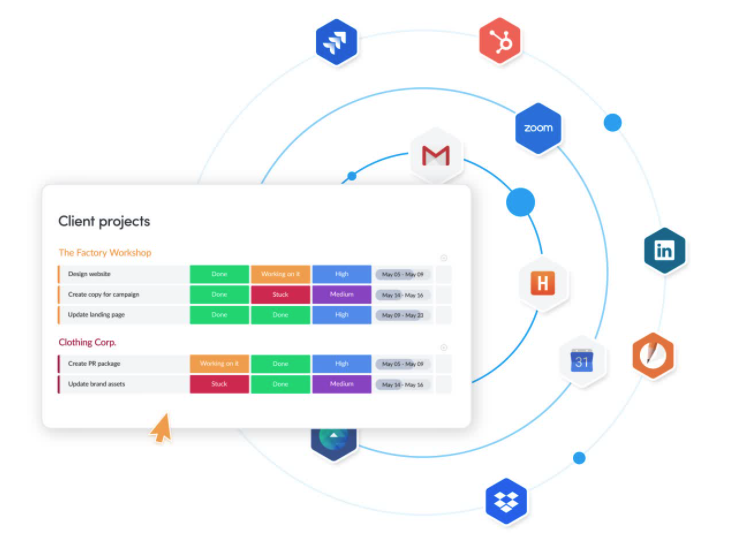 Connect Slack to coordinate internally, Gmail to easily connect with your customers, and Salesforce, Zendesk, or Shopify to manage customer relationships to your heart's content!
Automations
What's better than successfully performing all your order fulfillment duties?
Not lifting a finger, but still getting everything done!
This is possible when you utilize software with automation capabilities.
Automations are actions that are performed automatically as a result of a pre-defined behavior.
Let's use an example from inventory management. You could tell your software that when 'inventory' reaches a certain value — such as less than 5 units — an email should be sent to your suppliers triggering the purchase of another inventory round.
The applications of automations are endless, and an intelligent automation can not only save you untold amounts of time and labor, but also money.
monday.com: automations to set order fulfillment to 'easy-mode'
Ever dreamt of a future where robots can do all your boring work for you? That future is now! To date, monday.com has saved over 386 million human actions through intelligent automations. That's a lot of extra time created to put your feet up and watch the sales flow in.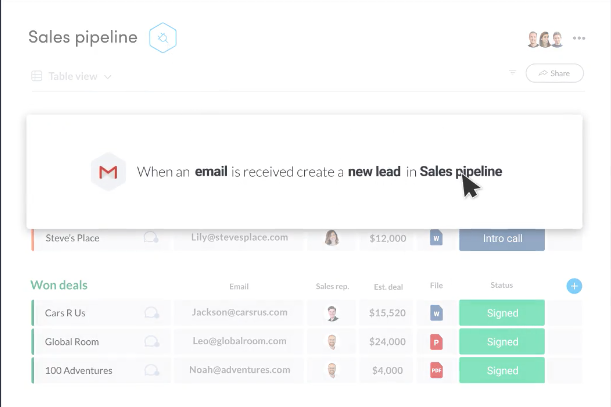 Trigger fulfillment steps, inventory level notifications, and more. The applications of our automations are limited only by your own creativity, so start thinking of what you're going to do with all your new spare time.
monday.com: the last stop on the order fulfillment express
We hope that you now understand the order fulfillment process from head-to-toe, and how monday.com is perfectly suited to making it not only more efficient, but also easier.
You're going to love setting up beautiful dashboards on our software that perfectly compliment your order management system. Your customers will thank you with many years of dedicated loyalty and repeat purchase.
If you want to get a taste of what we're talking about, head here to get a headstart with our order management template.
Remember, order fulfillment is both a science and an art. The data-driven practice of inventory and sales management needs to marry with the human touch of careful customer relationship management to create an order system that just works.  
You can't have one without the other, so make sure you nail the first part with monday.com. Here's a 14-day free trial to get you started.
The rest? Well, that's up to you. Good luck, we believe in you!