It's no secret that we think monday.com is the best work management platform around — and that's in part because of its intuitive, user-friendly interface. But that being said, it's still worthwhile to know exactly how you can get the most out of the platform.
That's why we at monday.com have put together this step-by-step tutorial for learning to navigate our software. We'll walk through best practices for setting up the platform, customizing templates, and collaborating with your team.
Picking the right product
We currently offer three product types, all built from the same building blocks within the intuitive monday.com Work OS. Each product was created with the goal of giving anyone the power to build and improve how their organization runs. But in order for you to best reach your goals with our software, it's important to start with the right product!
monday work management is our basic product offering, created for teams needing to manage any project, task, and workflow. It's created for organizations to easily build cross-departmental workflows, allowing them to focus on achieving efficient work processes, from strategy to execution, and reach shared goals at scale.
monday sales CRM is for sales and customer-facing teams to manage every aspect of their sales cycle and customer data in one centralized place.
Getting started with monday.com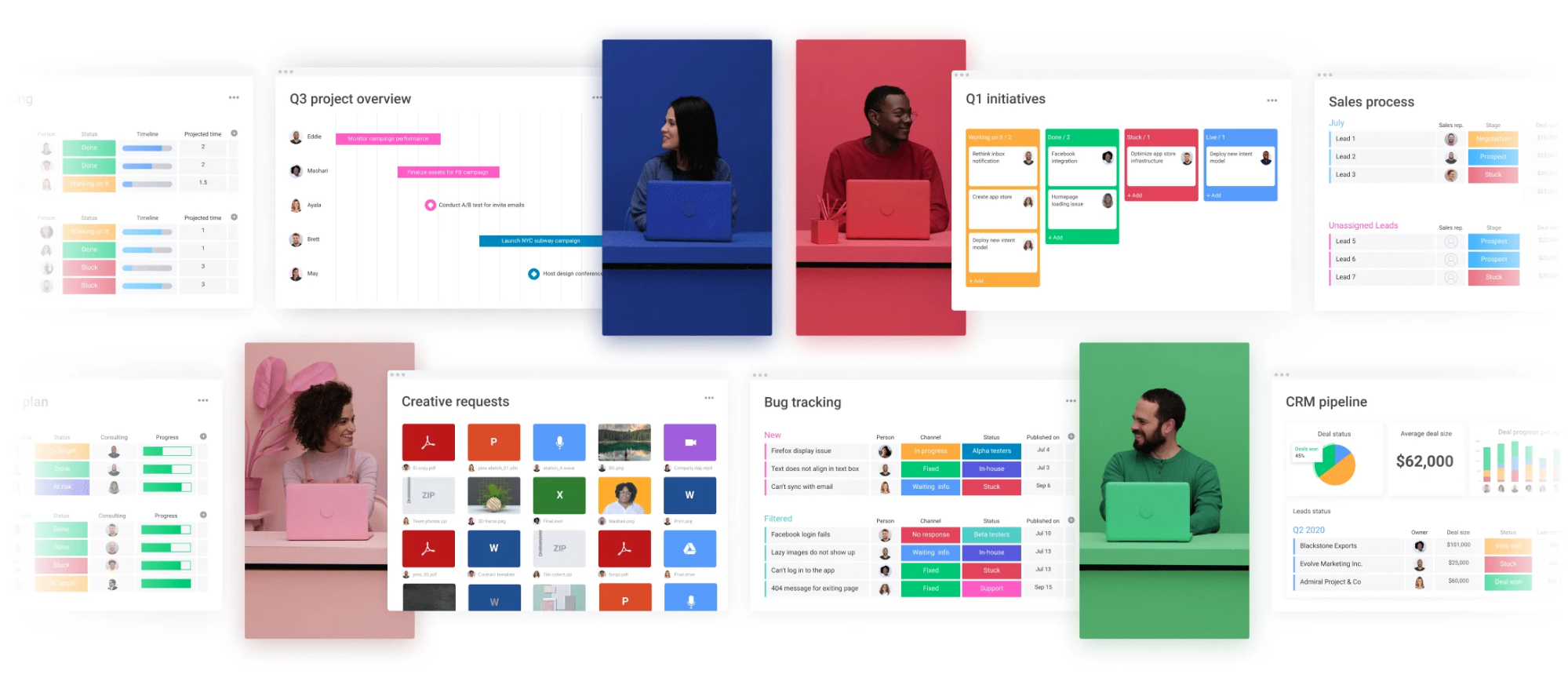 Getting started with monday.com, regardless of the product you've chosen, is super simple. Follow these key steps and you'll be set up in minutes.
How do I set up a new monday.com board?
So, you've created an account, and are eager to start organizing your workflows and reaping all the benefits of our platform. But where do you begin?
We recommend you start by putting together your first monday.com board. Boards, are the primary building blocks of our workflows. They're are made up of items, subitems, groups, and columns. Items can be clients, deals, meetings, purchases, and more. Each item on the board will track one instance.
It's easiest to create your first board with one of our 200+ customizable templates. With so many options, it's easy to find something that matches your business's needs.
For instance, if you lead your company's marketing team, you may want to use our editorial calendar and client management templates.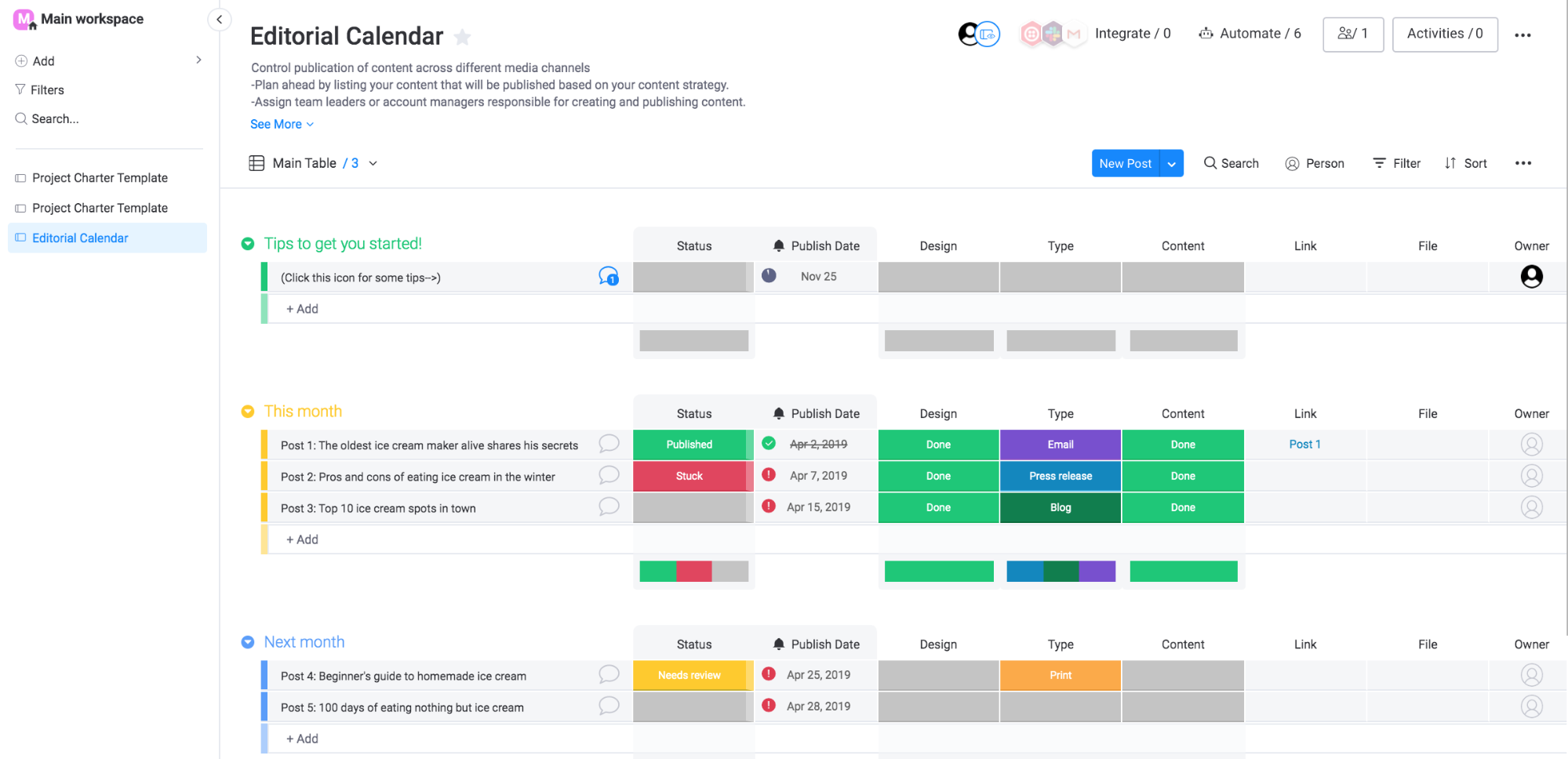 Managing growth projects, sales teams, budgets, HR, or a dev sprint?
Try the high level project plan template, the sales process template, the budget tracker template, the employee onboarding template, or the sprint planning template.
Or just check them all out in the template library…
Want to start from scratch? click "+ Add" in your left panel. Next, name your board, select the board's privacy level, and then choose what you'd like to call your items.
Add columns to organize important details, like email addresses, locations, and the status of an item. You can then go on to sort items into groups for more structure. The best part is, you can customize all boards to fit your vision.
Which view should I choose?
Depending on your business and project requirements, you may have a preferred way of displaying your timetables, workflows, and processes.
Some users like to work with calendar formats, so they can plan out their team's monthly workload, whereas others might prefer a brightly colored Kanban board that maps out each section of the project. We offer 27+ view types, so you can build your board in whatever way best suits your team's unique needs.
Kanban View is great for helping teams collaborate by displaying all project-related Workflows and sprints. Intuitive color-coding makes it easy to see what stage of the project each task is at.
Calendar View is effective for planning out and visualizing your team's monthly, quarterly, or yearly workload.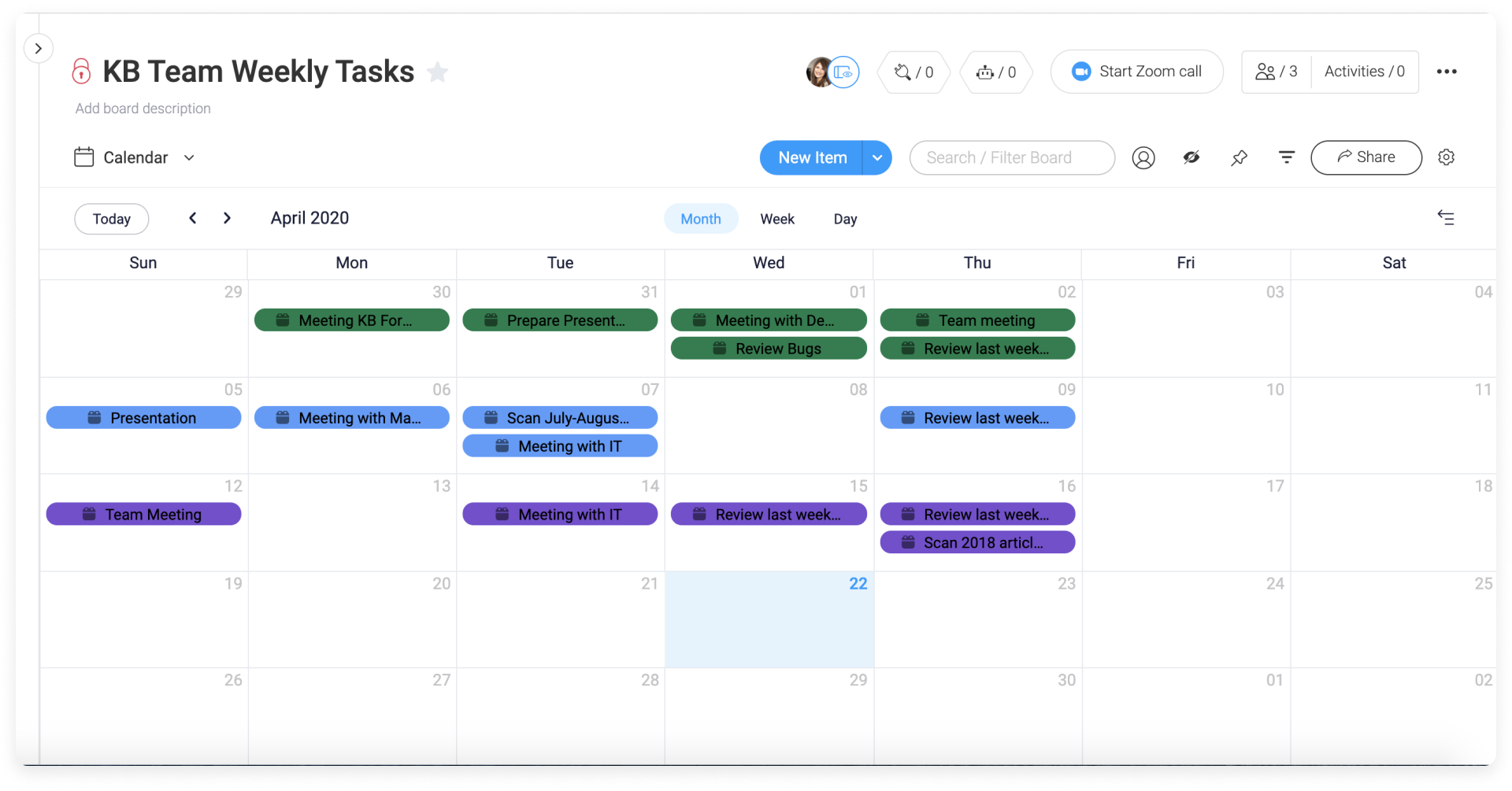 Gantt View is best for mapping out project deadlines and checking in on task timelines in the form of a Gantt chart
Chart View helps you review all your project-related events and tasks.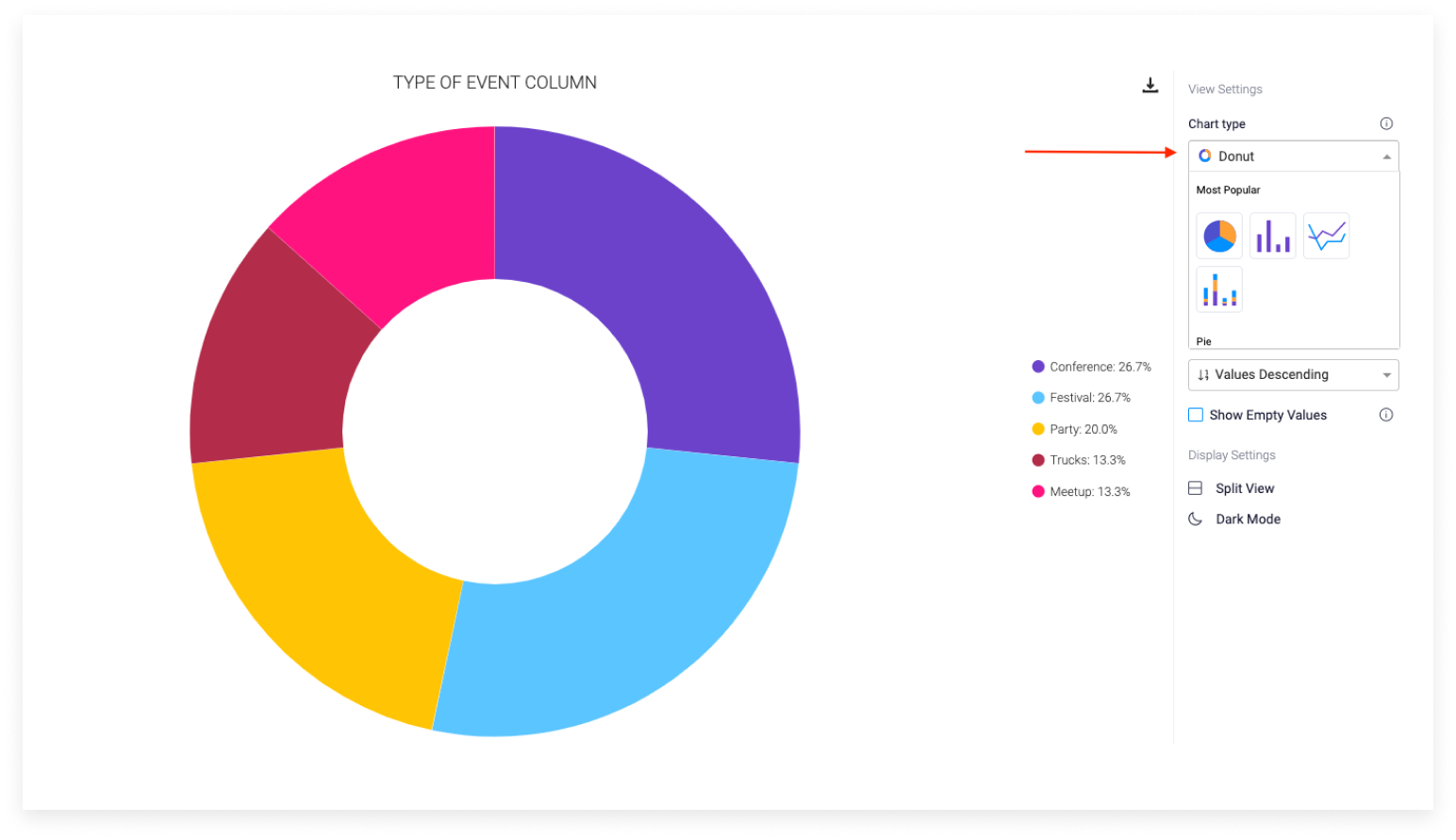 Timeline View is effective for giving you a full overview of who is working on which projects and when.
How do I organize my team?
Let's get your team(s) into and up and running in your shiny new board.
Adding teammates
When it comes to successful project management, open communication and team collaboration are key.
First, you'll need to click on your profile picture and select teams. Here, you can see all the existing team members on your account and add new team members. Once you've selected team members and named your team, we recommend choosing a team photo, which will make it much easier to identify who's working on what.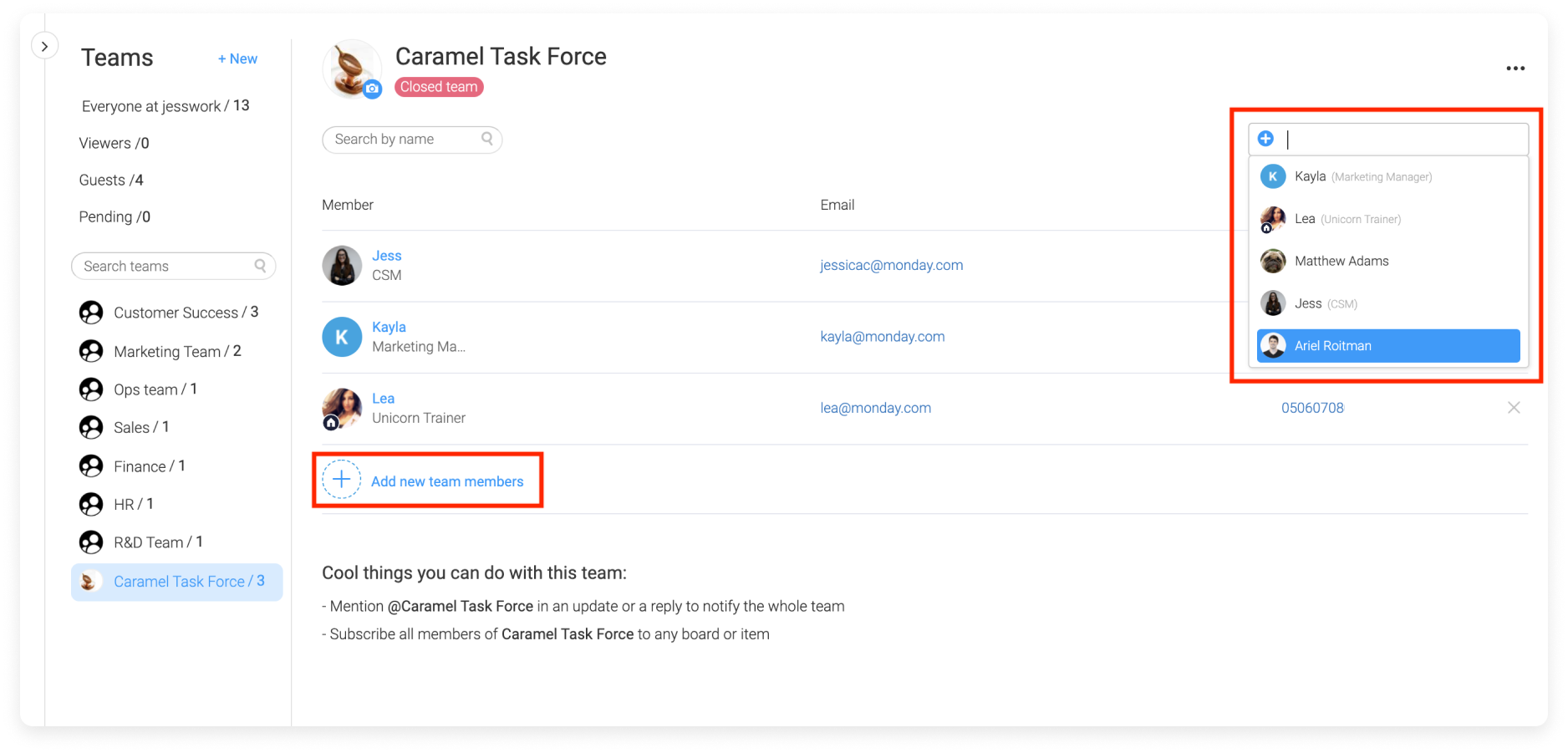 When you have teams in place, you can simply add whole teams to boards instead of having to add users individually. It's also easy to remove team members.
Check out our full guide to creating teams and adding members here.
Including statuses and dates
Hitting deadlines and keeping track of all the different moving parts is a fundamental part of effective project management.
Adding a start date and a finish time helps map out your project's overall timeline. You can include dates by adding a date column. Equally, a status column can give you a quick indication of how each task is going. Once you've added a status column, users can update whether a task is in progress, complete, or if they're stuck.
Communicate with the updates section
The Updates Section allows you to easily tag team members in messages, so you can efficiently communicate, keeping all the conversations about a specific task or project in the same place and in context. 
To @mention, simply click the "@ Mention" button, or type the "@" symbol and select a team or team member from the drop-down menu. 
You can even like and reply to updates, add images or GIFs, and upload files or checklists in your messages.
Using automations
We know that Manual work can be a huge drag on your team's overall productivity and set your project back. so monday.com automations are here to relieve some of this tedious work. The best part is that the platform handles the technical side and you don't need to do any coding. Automations allow you to set any event to trigger an action. For instance, when a team member completes a task, you could set it to trigger a notification to the team leader.
Try watching our recorded automations webinar for full details on how to set them up.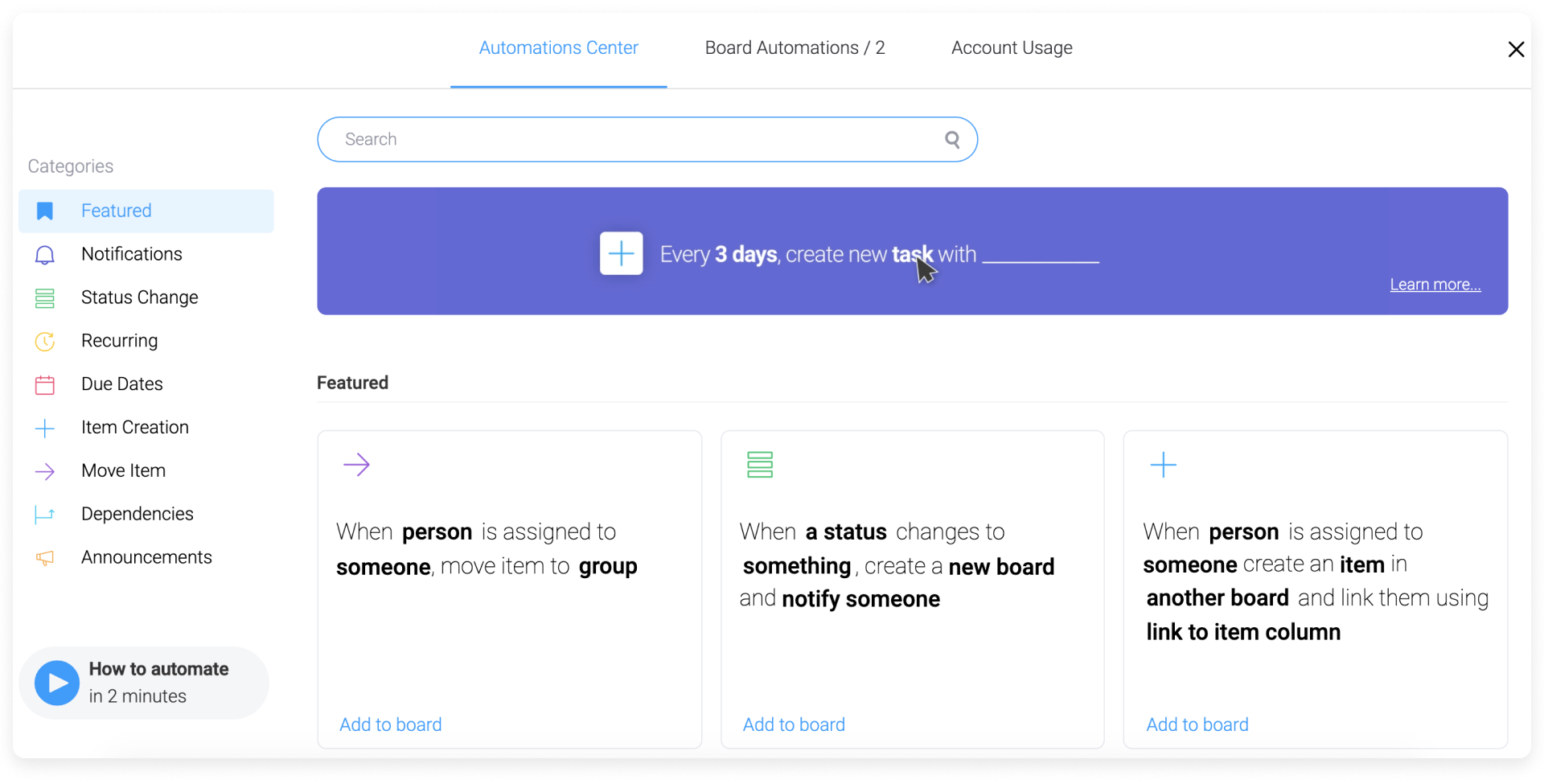 Build your monday.com dashboard
Once you've got your monday.com boards and team in place, it's time to set up your dashboards.
monday.com dashboards provide you with a clear overview of your current projects and boards. You can customize dashboards by adding different widgets:
Battery: The battery widget enables you to track your boards' overall progress in a single place. You can combine several boards in a battery icon so you can see all of your tasks' progress at a glance.
Calendar: Retrieve all date-related information from your boards and put them together with the calendar widget.
Chart: Take a look at the data side of your projects and pull key information like responses to polls you may be running on your boards — for instance, employee satisfaction.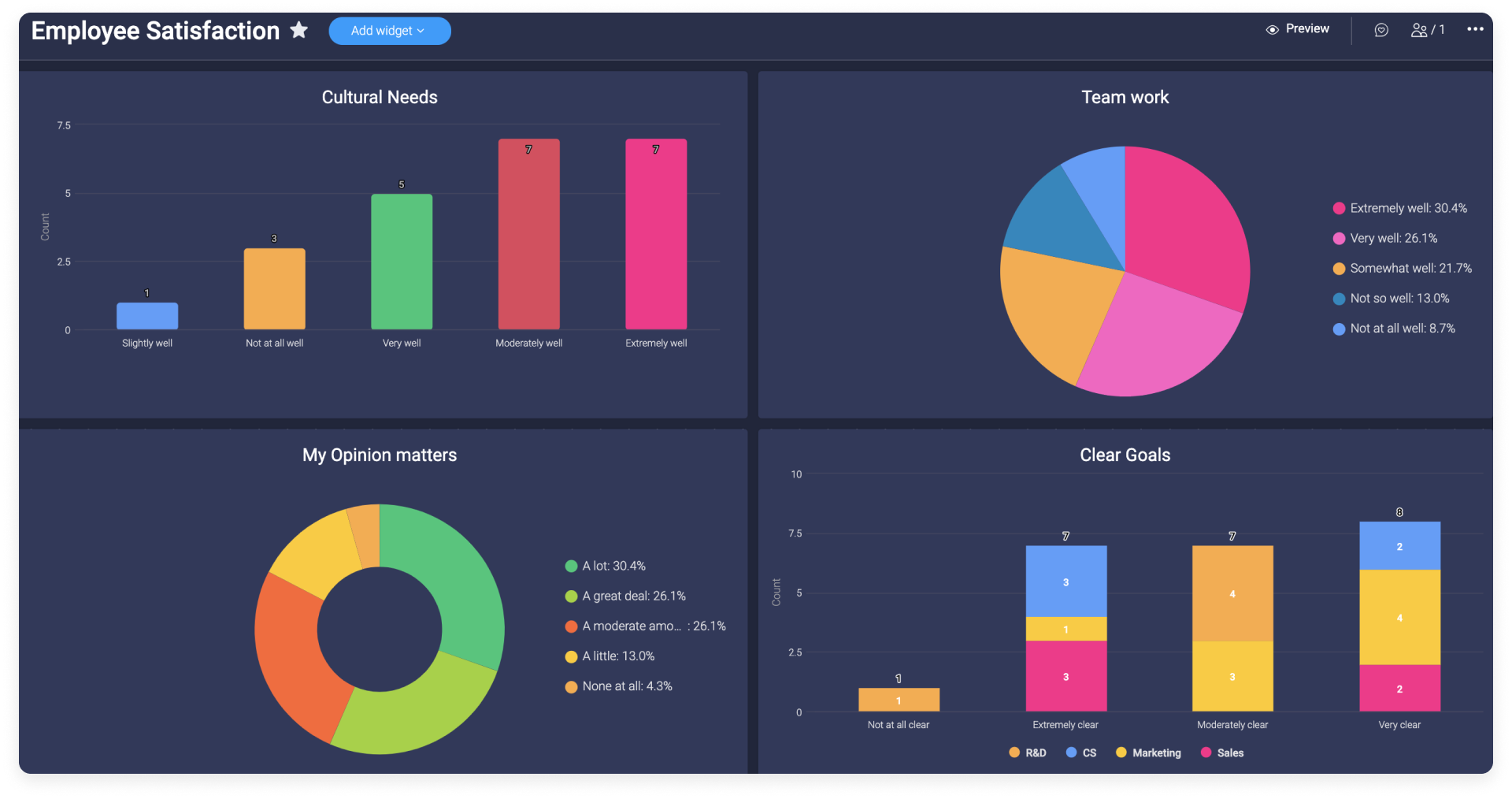 Workload management: Use this widget to allocate and distribute work correctly for better resource management.
Time tracking: See how much time is spent on different tasks, either from an individual or team perspective. This helps you monitor the spread of work and makes it easy to manage hourly billing. If you had previously used a Google Sheet or similar for the task, you'll love how much easier the widget makes task management.
These widgets are just the beginning of how you can customize your dashboards. Take a look at our guide to dashboards here.
More monday.com resources
After reading this tutorial, you'll hopefully have a solid foundation of the basics of monday.com, regardless of the product you've chosen.
To take your skills beyond the basics, check out this list of additional resources:
Why monday.com?
While many other services out there might describe themselves as powerful project management tools, monday.com is an all-in-one work management solution, completely customizable to fit your team's needs. With our highly customizable templates and dashboards have the power to transform the way your business works, easily.
From choosing multiple views to building your dashboard and collaborating with teammates, there's no limit to what you can create (and then manage) with monday.com. If you're ready to get started, give the monday.com platform a go and put all of these tips into practice.