It doesn't matter which industry, company, or department you're involved in — chances are, there are KPIs to measure and goals to hit.
These metrics are invaluable tools for managers and employees to understand their current performance and benchmark for future growth.
But you won't get there without a robust KPI reporting system to collect the data in real-time and perform the necessary number-crunching. You can do this manually, sure, but when it comes to evaluating employees — and yourself — there is little margin for error.
So, we're going to show you how you can design a totally customizable KPI reports system that regularly churns out these valuable metrics automatically.
What is a KPI report?
You've almost definitely heard of KPIs, and probably address many in your work, regardless of the industry you're in or the position you hold.  
KPI stands for key performance indicator, and they are values that measure the effectiveness of a certain business operation or output.
For a salesperson, an obvious KPI example would be the number of closed deals in a month.
That figure would represent the effectiveness of the salesperson's ability to convert leads. You can compare this with other salespeople on the same team, a competitor sales team, or even the salesperson themselves to track progress over time.
They are totally custom. You can generate KPIs within the specific context of an employee's duty or an entire team's output.
For a marketing agency director, a KPI target could be the number of clients onboarded over a certain period.
For a barista, it could be the number of positive feedback remarks made by customers over time.
Individually, KPIs are robust tools for monitoring progress, benchmarking, and setting realistic goals for the future. Collectively, however, they are much more powerful.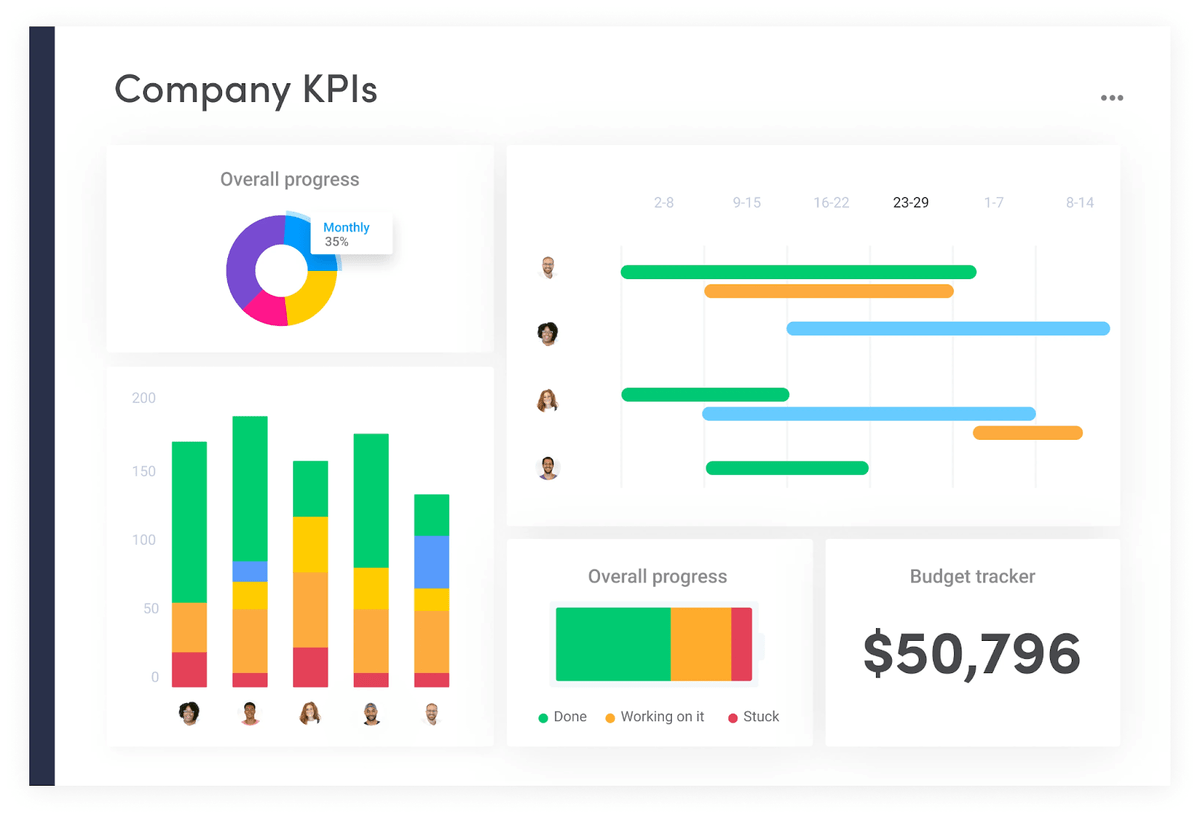 It's possible to group and organize KPIs by management teams to develop an overview for an entire department or even the entire company's performance metrics.
This is the basis of KPI reports and KPI tracking.
KPI reports are carefully grouped and arranged KPI measurements designed to give management the tools to track, analyze, and monitor the most important facets of their operational output.
When grouped together, strengths and weaknesses can be easily assessed, trends can be established, and goals can be set.
KPI reporting would have been undertaken manually in simpler times, with data collected from documents and databases produced over the period in question presented in a report.
However, the contemporary use of intelligent software tools has made the task of business KPI reporting simpler, more streamlined, and significantly more accurate.
Why are KPIs important?
If you're an employee who has had to receive and respond to your own KPI data, you're probably less convinced of their utility compared to the people who create and monitor KPIs.
But the value of collecting and proactively responding to KPI performance in a company cannot be overstated.
Here are just a few of the key benefits of regularly producing KPI reports:
Assess the effectiveness of operations
Is what you're doing worthwhile? Are you effective in your day-to-day operations? Are you achieving the stated company goals according to the mission statement?
There may be more tangible markers of company performance in real life, but these are abstract measurements and don't possess the accuracy and reliability that numerical KPIs do. Effective KPI reporting is the most robust method for tracking company performance empirically.
Benchmarking and business goals setting
"If you do not know where you come from, then you don't know where you are, and if you don't know where you are, you don't know where you're going." — Terry Pratchett
That quote rings true when it comes to KPI reporting.
Business growth is what everyone is aiming for, but growth as a concept requires a starting point to substantiate it.
KPI reports can be recorded and traced back for years, perhaps even decades, as evidence of growth. They provide markers with which to set a new strategic goal.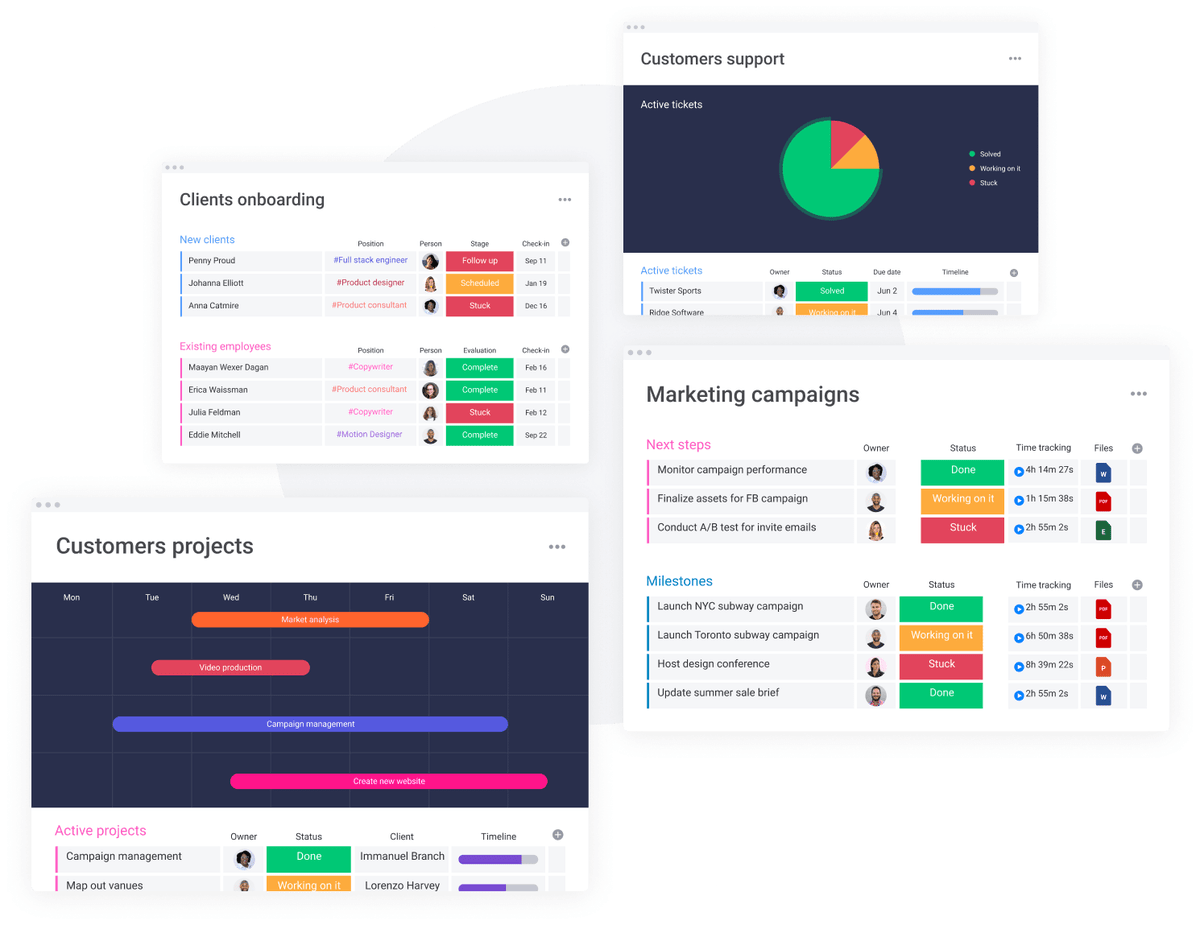 Identify strengths and weaknesses
Because the scale of KPIs is variable — individual employee performance vs. company-wide performance — they can act as great tools for identifying the strengths and/or weaknesses that are contributing to the current position.
It might be revealed through KPI reporting that, while the overall performance for Sales Team A is significantly better than Sales Team B, it's only due to a few star performers in Team A.
Adjustments to team arrangement or a sales target can then be made accordingly.
How to generate automatic KPI reports regularly
If you're in a management position, the prospect of KPI reporting set to automatic mode might sound like a dream come true.
You're getting regular, reliable KPI reports that can be adjusted on the fly, and all the number-crunching is done for you.
Thanks to software, this dream is a reality. Allow us to show you how it's done, step-by-step.
We'll show you the 3 stages of setting up automatic KPI reporting so you can level up your performance measuring, target-setting, and team evaluation.
All of this can be achieved easily and quickly using the monday.com Work OS.
There are many software solutions out there for KPI reporting, but we're proud to have developed the most intuitive KPI reporting tool on the market.
Integrate your databases
KPIs as a metric are almost always number-based, especially as it relates to financial KPIs. Accordingly, the data from which you will create the final KPIs will be extracted from one of your internal databases.
In most cases, this will be a spreadsheet. But it depends on the kind of KPIs you're collecting based on what industry or department you're in.
So, the first thing you need to do is create a new home for your prospective KPIs by feeding the data into a central digital location.
Ensure the software you use is friendly with third-party integrations, so the data can be extracted and re-routed fluidly and automatically, ready to be chopped up and worked out.
monday.com: integrations
On monday.com, you can seamlessly integrate a whole universe of third-party tools and apps for KPI monitoring and beyond.
Feed data from Microsoft Excel, Salesforce, Shopify, Zapier, and plenty more into your central hub, where you can analyze all your important metrics across departments in one space.
Create a KPI dashboard
You can connect everything you want to measure in a central digital location that updates in real-time. You can now begin to create your ideal KPI reporting dashboard.
It could be one high-level dashboard to measure overall company performance with a leading KPI or multiple individual dashboards to take a closer look at more finite performance markers.
Simply identify what you want to measure, and pick a visualization format that will let you present data in ways that make intuitive sense for your needs.
monday.com: custom dashboards
monday.com is collaborative software that gives a visual overview of where things stand at a glance.
Using our Work OS, you're equipped with a range of tools to create custom dashboards to track progress through timelines, calendars, charts, and other views for performance analysis at a glance.
Configure automatic report generation
Here's the really exciting part.
Your data is now intelligently connected to your central KPI dashboard, and you've configured it to present the right KPI or set of KPI data in the most logical, comprehensible way possible.
It's time to cook up some automations.
With automations, you can set up KPI reporting that pings out summaries of your KPI dashboards to relevant people at predetermined intervals without ever having to break out the calculator.
More than that, though, you can create automations that execute based on the results of certain KPIs. If a KPI metric suggests a sales team is lagging, send out an automatic notification updating them on performance. The possibilities are endless.
monday.com: automations
Discover how efficient your team can be with simple automation recipes on monday.com.
With no coding required, you can instruct a third-party integration to whip up a new KPI, send it to department heads regularly, and notify team members of upcoming changes.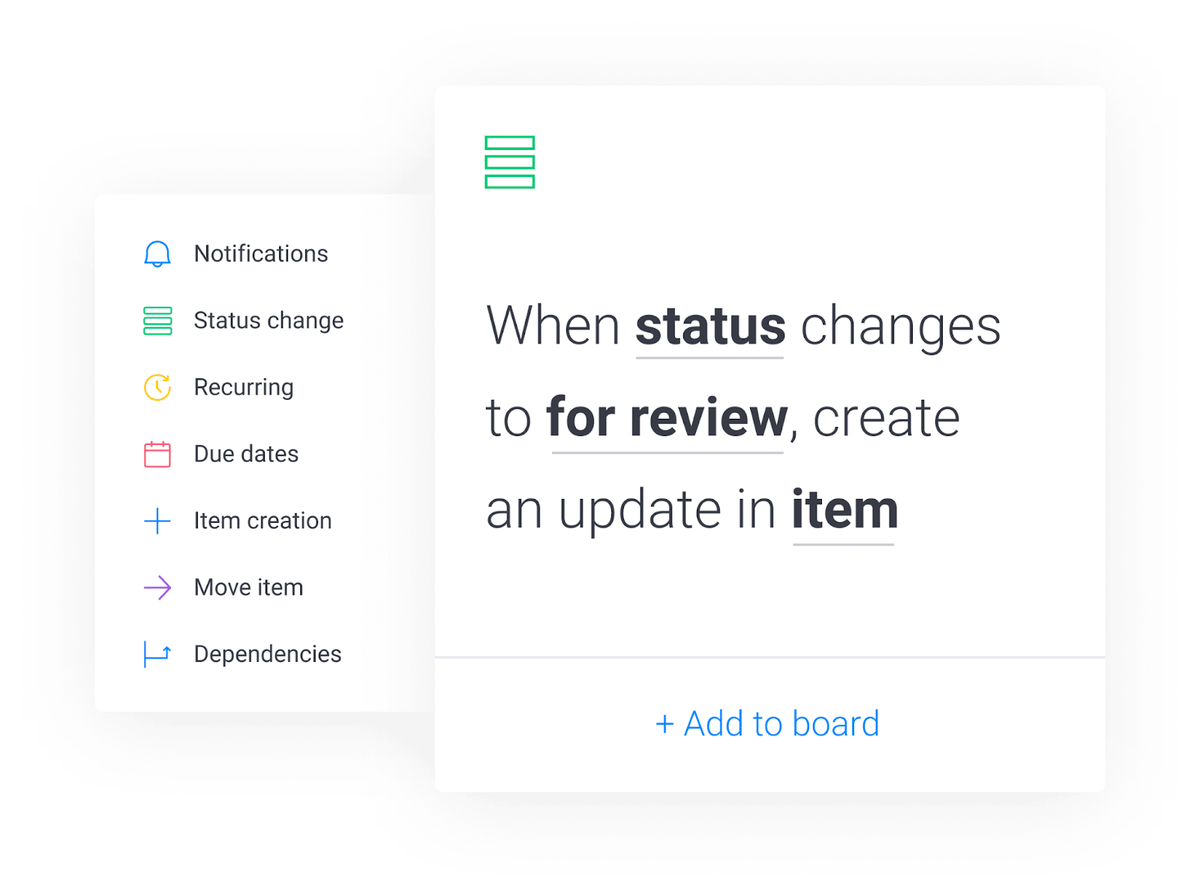 monday.com: reporting for duty
Love them or hate them, KPIs are here to stay.
But they don't have to be the administrative pain they are at present when software can easily take care of the heavy lifting on your behalf.
Don't miss out on the opportunities that a well-integrated performance dashboard, powered up by automations, can have on KPI reporting and performance measurement.
Discover more of what monday.com can do for your team. Why not take a ready-made KPI template for a spin? Enjoy 14-days totally free, with no credit card required.