The goal of any organization is to grow.  
Assuming you aren't working at a non-profit, you'll work hard to maximize sales, reduce costs, and drive more revenue.
But sometimes, trying to turn your company into the next Apple or Google ends up making it more complex (and less profitable).
Growing is awesome. Adding human labor and complexity to your business is less awesome.
That's why you need to adopt a systems-thinking approach and streamline every one of your processes.
Let's look at how to do it.
What's a business process?
Let's say you manage a small gourmet restaurant in Chicago.
From the moment a new customer enters your doors, you have a well-structured routine, a series of events that unfold to deliver a great experience.
For example, that routine might be:
Customer arrives
The hostess assigns a table and gives the menu to guests
Customer orders food
The waiter sends the order to the kitchen
Chef starts cooking
Waiter serves food
Waiter collects payment
Each of these "core processes" might also involve subtasks.
For instance, while customers review your menu, waiters may offer a bottle of wine or follow a predesigned script to drive upsells.
This is a business process in action.
In business gobbledygook, a business process is the sequence of structured inputs, or operations, to produce a specific output, or result.
This is often presented in the form of a business process map or flowchart, which might look something like this: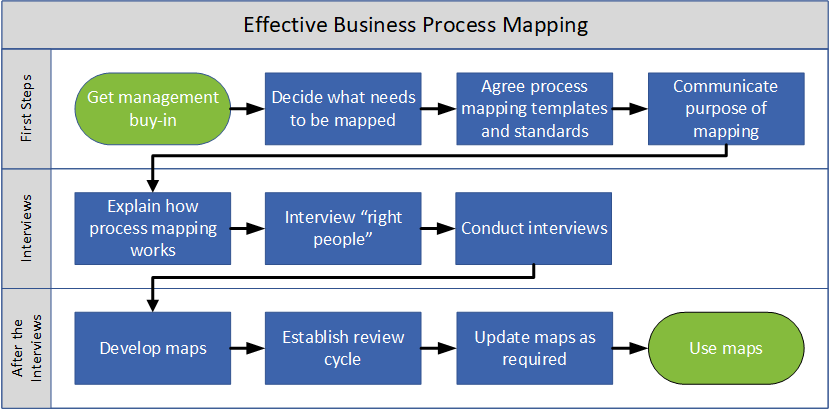 In the restaurant example, all our activities aimed to provide the best experience possible. But a business process may also aim to develop a product, provide a service, onboard employees, build an experience, avoid chaos, and much more.
To be specific, the 3 main process types include:
Managing process: any process that organizes and coordinates other processes.
Operational process: any business function involved in the production of products or services.
Supporting process: any process that aims to reduce chaos (payroll management, employee onboarding, etc.).
We'll dig a bit deeper on this later, but first, let's answer a vital question…
Why do business processes matter?
According to data from the Bureau of Labor Statistics, only 50% of businesses will "survive" their 5th year, and only 30% will see the 10th.
One of the main reasons is a lack of product/market match.
For example, some businesses provide value to an audience in the early stages, but as markets evolve, their products and services grow obsolete.
Another important reason is that most businesses don't know how to control the chaos. As organizations grow, so do challenges and complexity. Without well-structured processes in place, no organization can survive for very long.
Following the restaurant example, if you don't have, say, a process to prepare every dish on your menu, you'll get a different taste every time, which might hurt your credibility. That's why you need recipes.
Or, if you can't prepare dishes fast enough, you won't be able to handle increased customer demand.
The collection of the right strategic processes will build a functional system that'll keep your business together, especially today.
Why current business processes are more complex than ever
We live in a hyper-competitive world.
Customers are constantly looking for better experiences, and companies fight to meet the market's constantly changing demands.
Thanks to the pandemic caused by COVID-19, businesses are experiencing a dramatic change in how they work.
For example, a Gartner survey states that 8 out of 10 companies will allow employees to work from home at least part-time, while 5 out of 10 will consider letting them work remotely full-time.
An even more surprising study reveals that 78% of C-level executives believe that remote collaboration and business process automation are here to stay.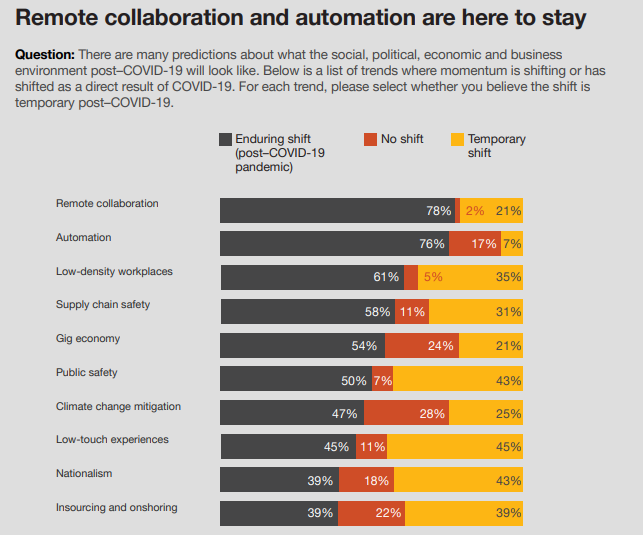 What does this mean for you?
Traditional business is coming to an end.
If you want to stay relevant in a post-pandemic era, you must adapt your processes to the digital transformation.
This can be extremely complex.
Both customers and employees will demand a "phygital" experience where they can merge the online and offline worlds. And without the right processes in place, that'll be a true nightmare for your organization.
The question is: how do you actually streamline these processes?
Let's answer that question.
How to find the right business process management system for your organization
To keep up with the constantly changing environment we live in, you must adopt software and AI to streamline, at the very least, your core processes.
And it's not just us saying that.
Roughly 50% of brands report seeing a continuous improvement in cross-team collaboration after adopting some form of software. Besides, 40% of teams state that software has been helpful for streamlining processes.
Now, what kind of software should you use?
That's a legit question.
Today, we can find a BPM solution for every department in your organization.
This includes:
Project management software
CRM systems
Accounting software
HR management solutions
Marketing automation systems
BPM software (Business process mapping)
And so much more
If we take a look at Capterra, one of the most popular software reviewing networks, we can find over 800 software categories.
Which of them can be the lowest-hanging fruit for your business?
Most importantly, which of them will bring the most value to your team?
To help you decide, we'll cover the most popular and frequently-used software types and explain the kind of business processes they automate.
Let's break them down:
1. PM (Project Management) software
At some point, every business deals with projects: marketing campaigns, product launches, office revamps, you name it. Even client work might be considered a project.
The right PM software helps you manage and streamline every step involved in the project management process.
How, you ask?
Well, this type of software helps you:
Centralize your information into one place and remove silos between departments.
Automate repetitive tasks and streamline processes.
Manage all your resources more efficiently.
Collaborate with your team under one roof.
Track progress and manage your work.
Keep management and stakeholders informed throughout the project.
In the case of the restaurant, for example, the right software could help you track new orders, organize important events, and measure how waiters are spending time. However, you could use it for many more things, like monitoring the cost of specific recipes.
For instance, with monday.com's recipe cost template, you can calculate your cost per plate by registering ingredient expenses, weight, and other variables.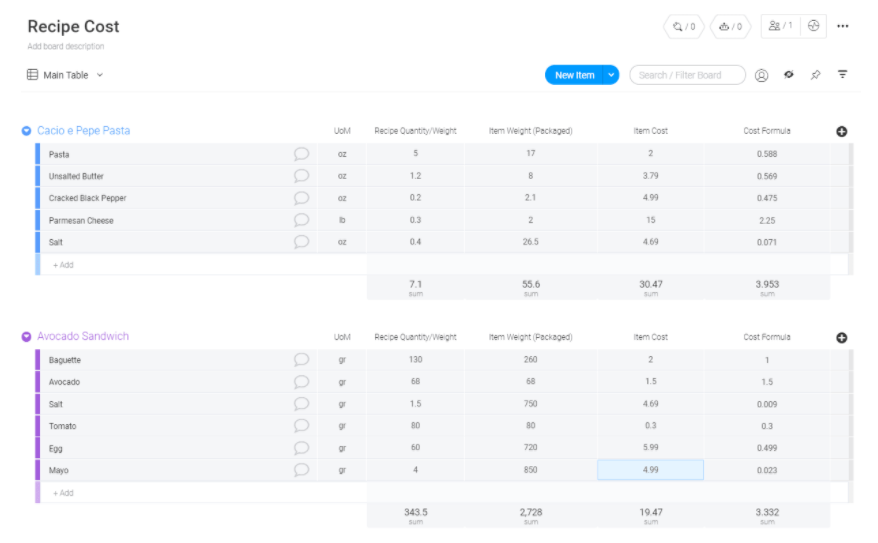 This is just a small example of what you can do with our platform.
To get a complete overview of how monday.com might help in the context of project management, please watch this short video:
2. CRM systems
CRM stands for Customer Relationship Management and, thus, CRM systems help you manage those relationships more efficiently.
A typical CRM system helps you:
Store contact information in the cloud
Score leads based on engagement levels
Manage your sales pipelines
Automate communication with customers
Track and optimize every customer interaction
Specifically, popular CRM systems help you manage and streamline marketing, sales, and customer service processes.
Let's say you own a small business consultancy. You could use a CRM platform to integrate all your sales and marketing channels into one place and use that information to create more targeted sales messages.
Your marketing team would nurture new leads with educational content and, once these leads are qualified, send them to your sales team, so they take the conversation to the next level.
With monday.com's CRM template, for example, you can register new leads, track how each deal is progressing, and even visualize who's in charge of each deal.

This is crucial.
With the increasing volume of information that current businesses deal with, you need a system that will turn raw data into actionable insights. Otherwise, that information will be pretty much useless.
That's exactly what monday.com helps you achieve.
With our customizable platform, you can store contact information but also structure that information in a way that makes sense to your team.
Some of the CRM features we bring to the table include:
Pipeline management: prioritize leads, assign them to specific sales reps, and visualize your entire sales funnel in one place.
Status tracking: see how deals are flowing through your sales process and notify your team every time a new lead requests information.
Contact management: store unlimited contacts with ease (and create forms to capture new leads).
Automations: automate some of the most repetitive tasks in the process in just a couple of clicks.
Customer tracking: visualize every customer interaction in the form of a timeline.
For a more thorough overview, check out our CRM features.
3. Workflow automation software
A few decades ago, business processes were mostly manual. Even when companies used machines to perform certain actions, those machines were operated by a person.
Thanks to AI, teams now have the opportunity to let the "robots" do the heavy lifting while team members focus on more relevant tasks, which can be a true competitive advantage.
But business process automation isn't a software category, per se. It's more like a subsidiary approach some platforms adopt to help businesses work more effectively.
Some project management solutions help you create new tasks automatically based on conditional triggers. Accounting software might automate invoicing and vendor payments. CRM systems could automate your communication with customers.
We suggest you look for a more flexible platform, though. A solution that helps you automate any type of workflow.
For instance, with monday.com, you get access to an "automations center" where you can automate up to 250,000 human actions.
The best part?
You can do it with one click.
You also get access to "if this, then that" process automation recipes, where you can automate:
Status changes
Item creation
Recurring activities
Notifications
Deadlines
Dependencies
And many, many more
You can use these automations to build a platform that fits your needs.
For example, Parvenu, a philanthropic organization, used monday.com to build a custom CRM solution with 150 automations.
And that's not even scratching the surface.
To take a look at how our automations center works, here's a quick video overview:
One platform to rule them all
Now that you understand the importance of business processes and the fundamental software categories to streamline them, let's answer the question: "how can I choose the right one for my organization?"
Rather than relying on multiple platforms, we suggest you look for a system that helps you "do it all" in one place. This way, you can cut costs and improve productivity.
That's exactly what monday.com is all about.
With monday.com, you can build a platform to streamline simple and complex processes, regardless of your industry.
Let's discuss how.
What's monday.com?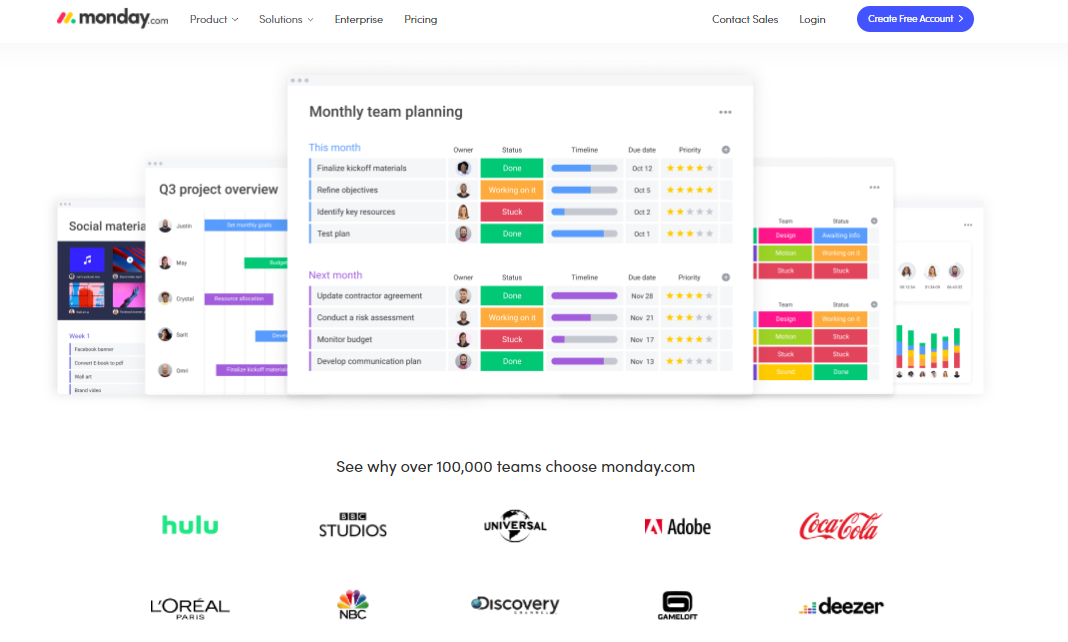 monday.com is a powerful Work OS used by over 100,000 organizations to streamline their processes and collaborate better.
What does that mean?
Instead of giving you a platform that works for a specific department — e.g., marketing, sales, HR, accounting, etc. — we let you build one that works organization-wide.
With 21+ dashboard widgets, 200+ templates, 30+ column types, and 40+ integrations, you get all the flexibility you need to optimize the way you work and build a platform that feels "perfect."
Features and benefits
Here are some of the main features we offer:
Visualizations: visualize your processes from 8 different perspectives.
Reporting: automate your reporting to keep stakeholders happy and informed.
Dashboards: build custom dashboards to see the data that's most important to you.
Task management: manage your entire team, communicate better, and measure the progress of any particular task.
Customizations: get access to drag-and-drop LEGO-like building blocks to create the perfect platform.
Process management: analyze, measure, and improve any existing process in one place.
Mobile app: download our mobile app and work anywhere.
Templates
With our templates, streamlining your process is much simpler.
Simply pick a template that makes sense for a specific process and fill it with your information.
From the start, we provide you with over 200 premade templates you can use in minutes. Some of our most popular templates include:
You can take a look at all of our templates here.
Your turn!
Sometimes, business owners focus too much on marketing, sales, and growth but overlook the power of a well-structured process.
The more you grow, the more complex your business will be.
To keep momentum without opening the door to chaos, you must embrace automation and streamline your processes and operations.
With monday.com, the job is way easier.
To start, we suggest you try our fully customizable business process management template. It'll help you simplify your business with speed.