If you do anything online these days, you are likely to encounter forms.
Sometimes called online forms or webforms or HTML forms, "forms" are webpages that have various input fields to collect data.
Need a new sweater for the holidays? Fill out a form!
Looking to schedule an appointment at the Apple store? Fill out a form!
Want to contact someone on the monday.com sales team? Fill out a form!
(As I type this sentence, I'm watching as the person next to me is filling out a form. See?!)
Forms are everywhere online. And if you are doing any type of business online (you are, right?), you WILL 100% need to incorporate forms into your website.
Yet while all forms collect information and data, not all forms are created equal. This article will discuss the various monday.com forms available and share how monday.com integrates with your current forms.
What is a monday.com form?
As the visual platform that manages everything, the monday.com Work OS helps teams plan, organize, and track all work in one place.
Forms are an integral part of any website and play a crucial role in day-to-day work and workflows.
We built an intuitive form creator to generate web forms and collect data without coding. That last part — without coding — is what makes our forms stand out.
Here is a short video explaining the ins and outs of monday.com forms:
As with all things monday.com, we've built something that saves you time and effort. Instead of receiving all client information and wasting precious time and resources inputting that data into the platform, use monday.com forms!
Forms are generated based on your monday.com board.
First, create a board — one that has the columns and fields that make the most sense for your project. Then, with a few clicks, you can generate a form based on that board and share it with your clients (by link or by embedding it on a website).
Each response will create a new item on your board.
Easy.
A few monday.com form options
You can use monday.com templates and boards to create just about any form you can imagine.
A few of our more popular form-related boards include:
Contact: Easily collect new leads by embedding this form on your website
Job Application: Manage job applications and record contact information from candidates all in one place
Order: Streamline all relevant order information using this customizable form
Work Requests: Service requests of other teams in your organization
Contact: The contact template helps your team manage all contact information in one secure place so you can stay up-to-date with all your deals.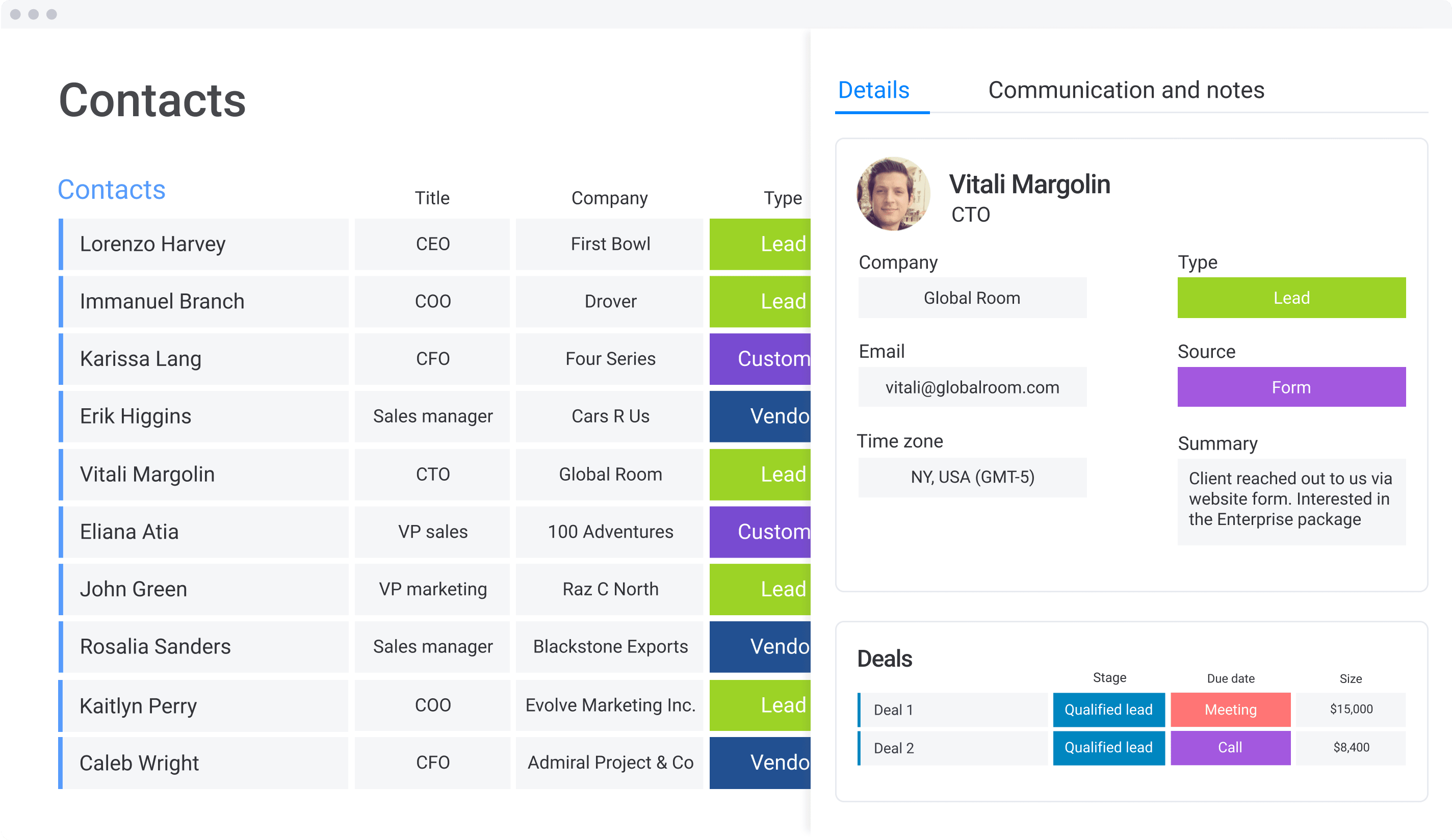 We love this template for many reasons:
First, contact management is so important to any great CRM. If you don't have a great system to keep track of your leads and contacts, you will not see the complete picture. The monday.com contacts template & form makes it super simple to organize each lead with contact information, eliminating duplicates.
The most popular columns for this template include:
Status: Get an instant overview of where things stand
Email: Email team members and clients directly from your board
Phone: Call your contacts directly from monday.com
Files: Add files to your item
Text: Add textual information (addresses, names, and keywords)
Date: Add dates like deadlines to ensure you never drop the ball
The contacts template also can store social networks like LinkedIn, Instagram, and Facebook. It helps keep track of all interactions, and each column can be sorted based on personal preference.
Job Application Form Template: Plan hiring campaigns from start to finish using a single, centralized workflow. This intuitive job application form template can help keep track of each applicant's previous employment history, social security number, job application, cover letter, and where they stand at any time in the recruitment process.
​​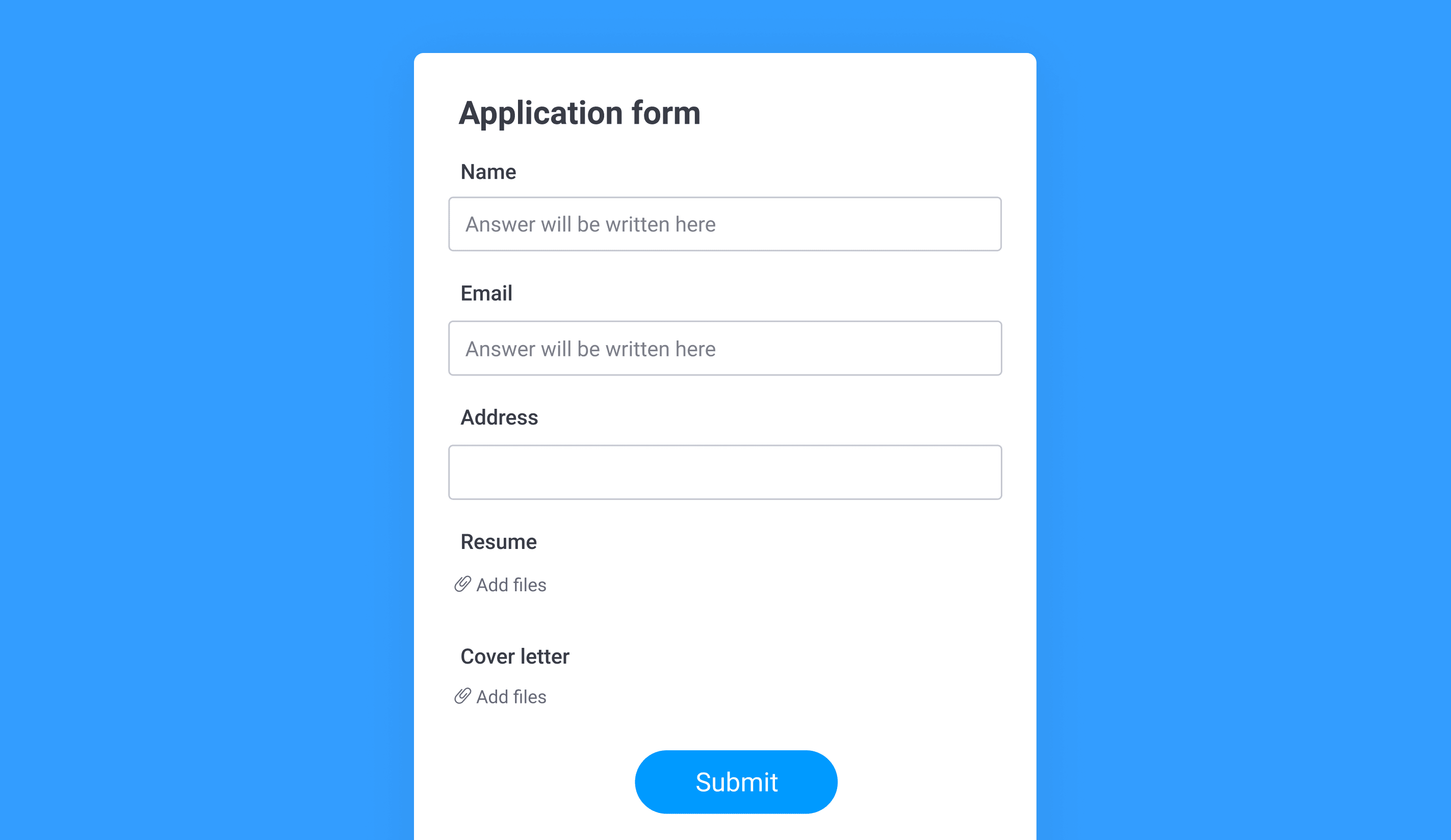 Use the job application form template to easily access all information you need in one visually appealing location.
You can even use this template to create automated email templates to send to applicants throughout different stages of the recruitment process.
With all monday.com boards, there are many ways to visualize your data ​​— from high-level dashboards to Gantt charts and colorful timeline views.
Order: The order form template helps teams save time, stay on top of all orders, and track order progress.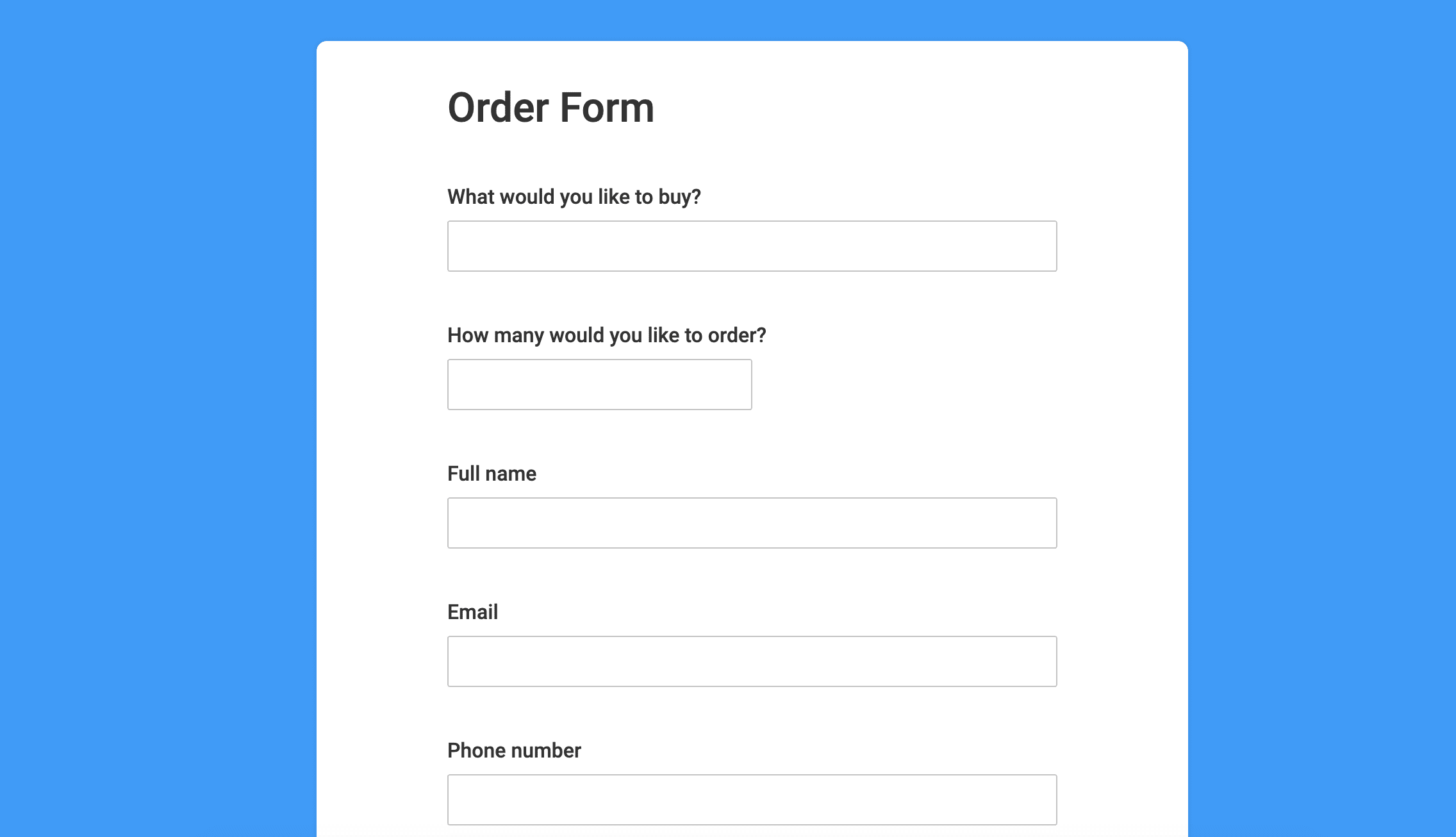 Run an efficient order process by collecting and storing info in one place. Organize those orders visually to help identify possible errors Easily access your order information and monitor all moving parts at a glance. Get real-time status alerts so you are "in the know" on where everything stands at all times.
Work Requests: This is actually one we use here at monday.com all the time ​​— for this very blog. When an image is needed for a specific article, the writer fills out the creative request form, like the one here:
We built in automations to ensure the board is up-to-date with updated task statuses and that it notifies the necessary parties when the image has been created.
Like this:
These alerts also appear directly in the specific boards.
Integrating your forms with monday.com
While we'd love for you to use monday.com forms exclusively, we realize there are other options out there!
Seamlessly integrate all of your favorite forms to streamline your organization's work in one place with monday.com integrations.
Our current form integration options include:
Typeform: Typeform uses conversational forms & surveys to help engage with your audience. It provides a straightforward way to display and analyze collected data.
The Typeform-monday.com integration means all form insights can be organized in your monday.com account by converting them into workflows to better manage leads, orders, projects, and more.
JotForm: JotForm is a custom online forms and data collection tool. This integration means you can gather all the information from the JotForm forms on your monday.com boards to better manage leads, distribute surveys, collect payments, and so on.
The key to both the Typeform and Jotform integrations (and all monday.com integrations for that matter) are automations.
Automations ensure menial tasks and other repetitive work and taken care of … automatically. Instantly send emails when due dates arrive, receive real-time notifications when tasks are completed, and so on.
The two most common automations for Jotform and Typeform integrations are:
Not seeing an automation or integration that works for you? Fill out this form for paid assistance through our network of certified monday.com partners.
Note: Another use of a form!
You need a form? monday.com has 'em.
The best way to learn more about monday.com and start using our templates and boards and forms?
Well … fill out our contact form, of course.
Our team is available 24/7 and happy to help!